If you've visited Les Gets and the Portes du Soleil in one season and not an other, you might find it interesting to check out some seasonal comparison photos showing your favourite spots with and without the white stuff.
As of yesterday, the 2018 summer season is officially in the rear view mirror! Next stop… Winter!
We often chat about how strange it can feel, in any season, that in just a few weeks it'll be completely different with different activities, vistas, visitors and a totally different vibe or, in inter seasons, very quiet.
Nina has 'rifled' through our digital albums to find a collection of photos to compare some places you may be familiar with.
Chanvannes Express, Les Gets
The trusty Chavannes chair is the facilitator of major fun for thousands of us in summer and winter. Skis and boards in the winter, bikes and hikers in the summer. This photo is taken from just below the mini jump park in Bike Park Les Gets looking towards Mont Chery. The new 2018 Crankworx pump track is on the left hand side of the Summer photo.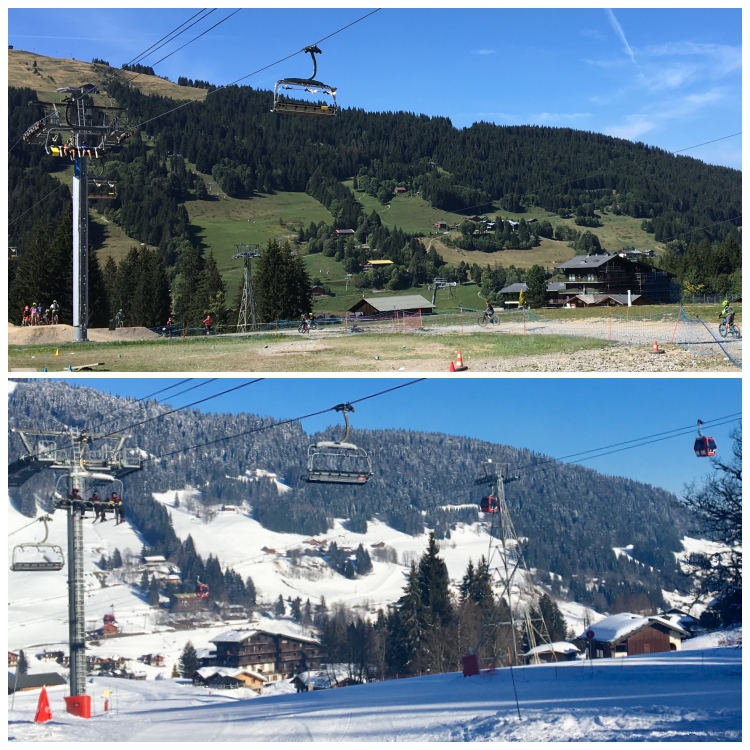 Lac Montriond, Montriond
There's not much action in these inter-season photos and as you can see from the trees, Autumn is kicking in in this one from last year. During the summer months, the lake is packed with people swimming, paddle boarding, kayaking, and rowing. It even held Morzine's first triathlon last weekend. Sunbathers line the banks and day trippers drive and ride by en route to Lindarets 'goat village' and Avoriaz beyond.
Water sports don't stop when the lake freezes over though. Those with a taste for cold, dark and claustrophobic (shudder) activities drop through a hole in the middle of the ice for a spot of ice diving. I'm pretty confident I won't be writing a post on us trying that!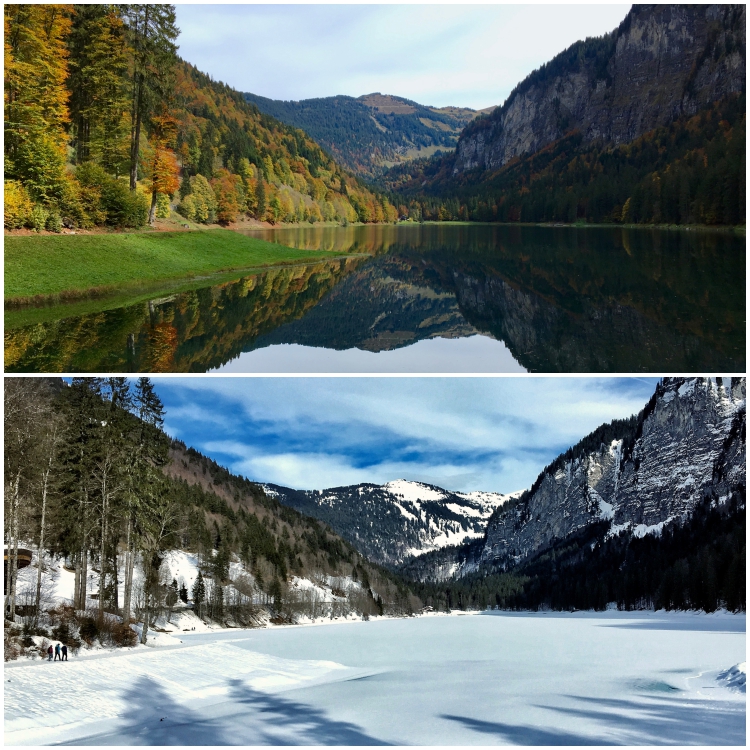 Folliets du Golf Lift, Les Gets
Mont Chery, Roc D'Enfer beyond with Folliets du Golf Lift just below.
Prolays lift, Lindarets
Awesome amounts of snow last winter demonstrated beautifully in this photo. Here is the base of the Prolays lift in Lindarets on the last day of the season. More of the same this year please!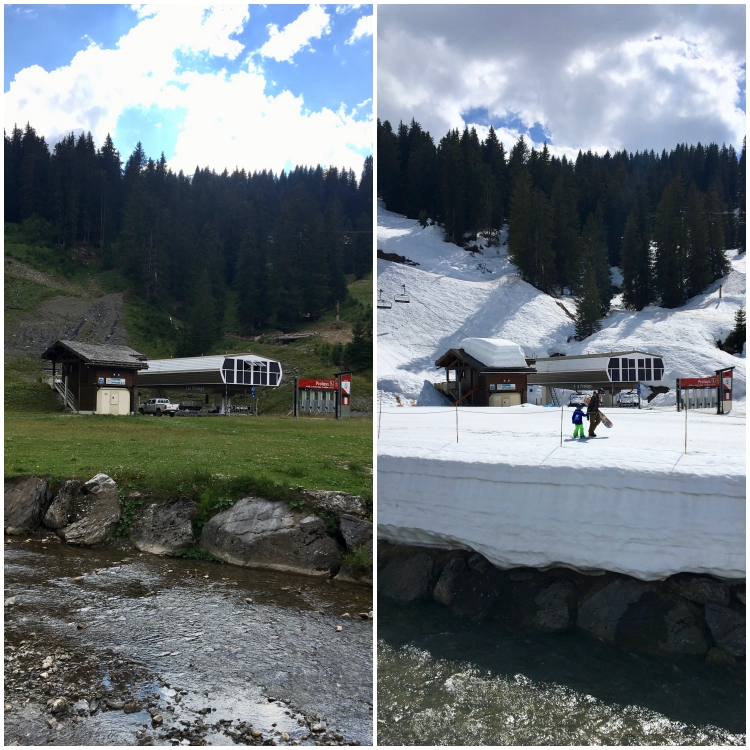 Blue de lac piste, Avoriaz
Like Marmite, the architecture of Avoriaz seems to divide opinion. We're fans and think it blends beautifully with the landscape as intended. Either way, it's an awesome place to ride and this is a lovely view of it from the Bleue de Lac Piste. This run down from the Arare is one of the earliest and latest you can ride as long as you're willing to hike for the privilege. In summer it's a good route to hike up to Hauts Forts, the biggest boy in the Portes du Soleil at 2466m.
Chavannes Lift Stations, Les Gets
Yikes! I'd forgotten how busy it gets in Winter. Chavannes lifts in Les Gets.
'Carry Area', ESF Office and Hotel Bellevue's L'AprèSki Bar.
This was the scene of celebration for many happy French footy fans this summer. Hundreds of them (and us) watched France win the World Cup on a mahoosive screen outside L'AprèsSki bar. If you've skied or biked in Les Gets you've probably enjoyed a post ride bevy here.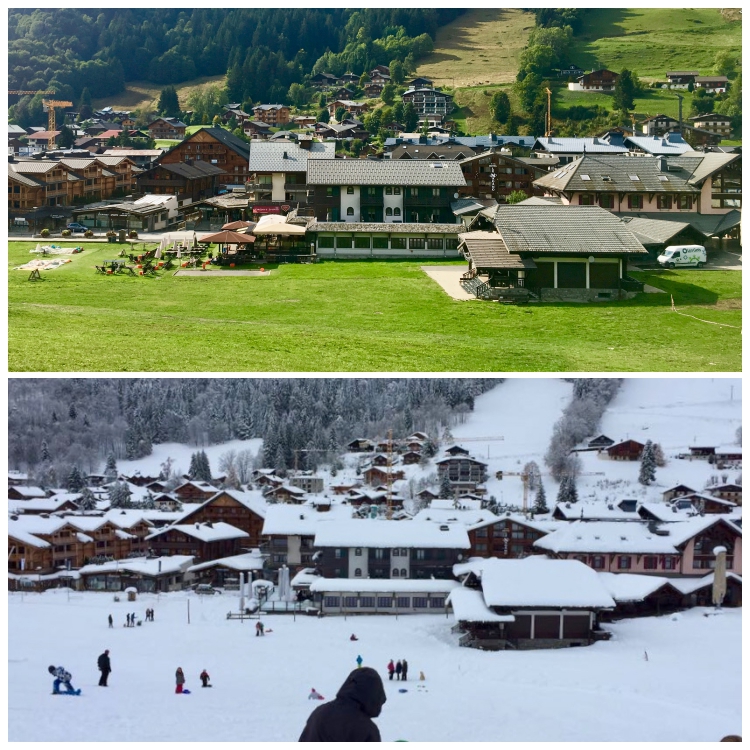 Well, not long now until it's all white again but in the meantime we'll enjoy a bit of peace and quiet. We'll be enjoying the colours of Autumn and having the bike park to ourselves for a bit. Wahoo!
Get yourself kitted out for Winter
Winter's coming and it's always a treat getting your new kit sorted!.. Our affiliate partner Blue Tomato is THE leading online shop for winter and trend sports, streetwear and fashion with over 450.000 products from over 500 well-known brands. Click here to see if they've got anything you fancy.