Next stop… Sant Celoni, Catalonia. Not a traditional stop on the tourist itinerary, you might think, but we were on our way to visit friends. We'd met these guys at their family apartment in our building in Les Gets. We get on well and the kids enjoy playing together, so when we mentioned we might head to Spain on a road trip we immediately received an invite to drop in and visit.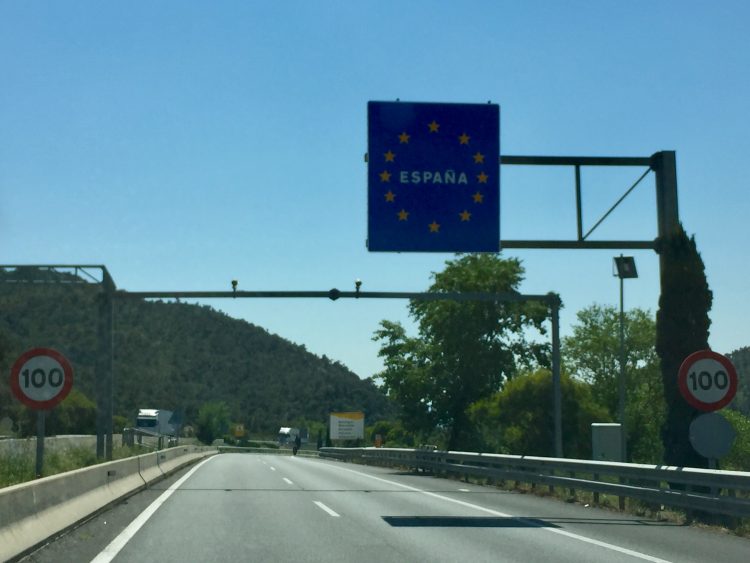 We spent the morning after the night before defrosting ourselves in Carcassonne with warm showers, football and playground tag. It was 12.00pm before we finally rolled out of the campsite gates. Typing 'Sant Celoni' into the sat-nav, we sped off towards the snow capped Pyrenees and the Spanish border.
As usual, food became a priority pretty quickly and we decided it'd be nice to get into Spain then head for the beach and find somewhere for lunch. Nina got on t'internet and discovered that the motorway to Barcelona runs parallel with the coast and a few miles inland. A bit more research revealed a sizeable coastal town called Roses (pronounced 'rosses'). Thinking there would be somewhere to grab a bite to eat, we filtered off and headed for the seaside.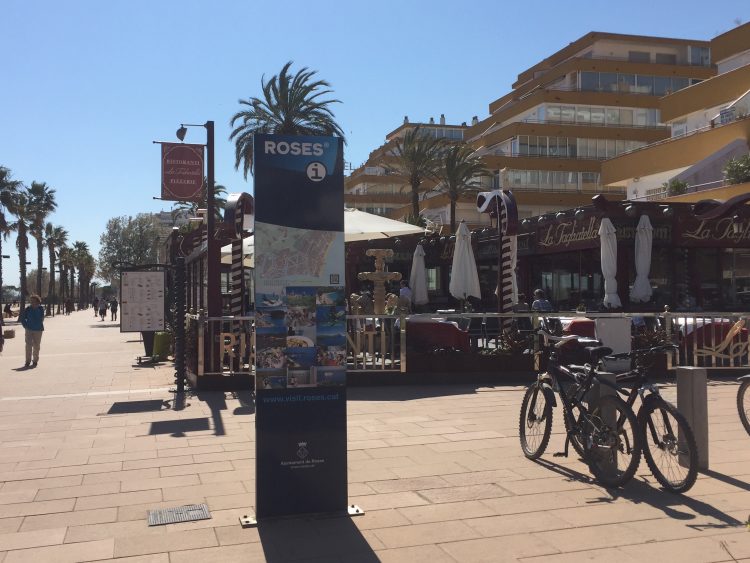 More tapping and Nina had a pasta restaurant on the seafront lined up. Number 2 on TripAdvisor and it sounded right up everyone's street.  Roses was a decent sized holiday town and was obviously out of season. We soon spotted the sea at the end of an avenue and parked up to wander down for lunch. It was warm'ish' but very windy. Apparently, this part of the Spanish coast is renowned for it's wind. As we walked on and the beach and sea opened up in front of us, it was evident that it was a popular destination for wind and kite surfers. Out of season or not, there were loads of them ripping around.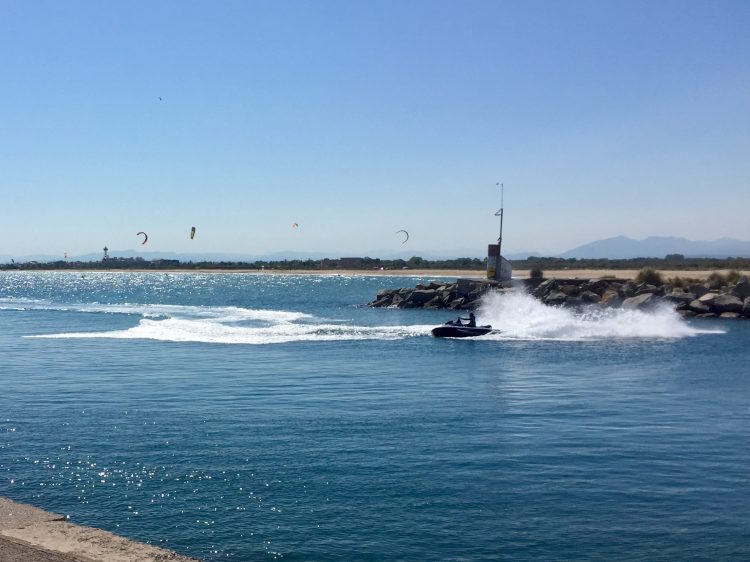 La Tagliatella was busy with great food and excellent service. We thought we'd found a hidden gem and raved about it to people for the next few days until we found another one in Barcelona and realised that our 'great find' was part of a chain of 160 restaurants spanning 4 countries… Ah! We'll keep that to ourselves then.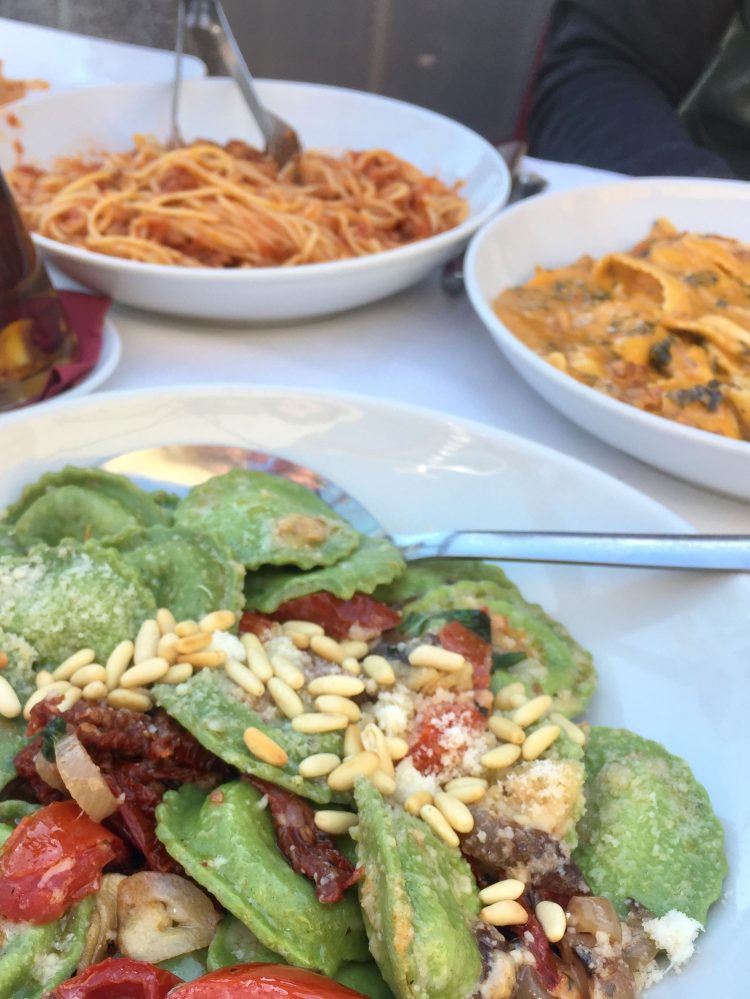 We let the kids run wild on the beach after lunch and have a paddle. It was great to feel the sand between our toes again and the sea was chilly – but not Barra chilly! After we'd had enough of being buffeted and exfoliated by sand-blast, we walked back to the van and cracked on to Sant Celoni.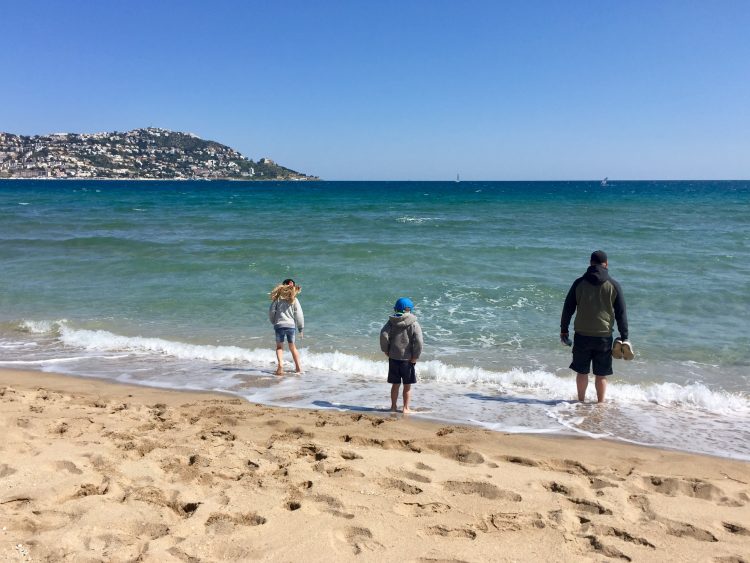 We met Louise at the motorway toll booth and she led us back through windy, mountainous, forest lined roads to her place. The kids wasted no time tearing off into the wilderness to play and we settled in for a cuppa and a chat with views over magnificent 2000m peaks across the valley.
Before we'd set off from Les Gets, Louise had kindly offered spare beds in the house but we had thought we'd keep it simple and camp out in the van. After last night's freezing, sleepless night though, I was already eyeing up the sofa bed, and when the offer resurfaced we practically ripped her arm off.
The kids returned from the wild, complete with dog poo squished shoes (shudder!.. My nemesis) and declared they'd had a fabulous idea to all sleep in the van. Great!.. Given the frequency of wees, Iz's tendency to wake up in a wobbler AND stories of an extensive local wild boar population, one of us (me) would need to sleep out there with them. (We could have just said 'no', of course but we are on holiday…)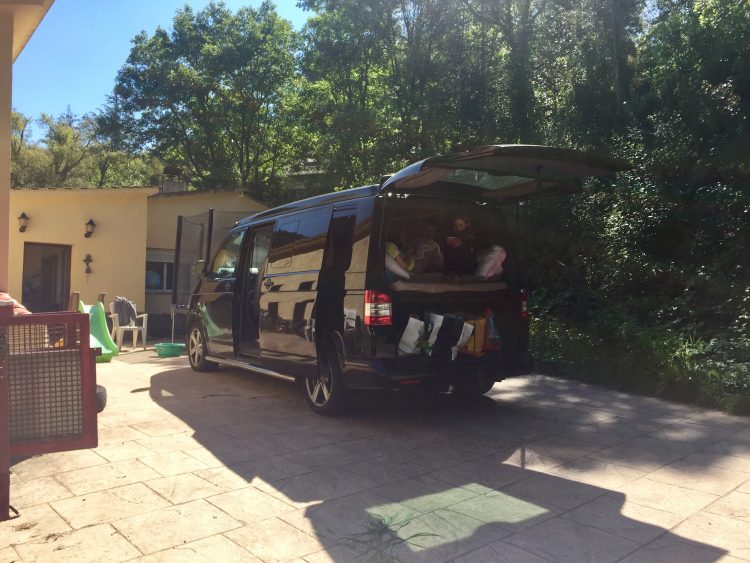 We had dinner, bathed the kids and put them to bed in the van before staying up to chat some more. Accomplished runner Louise had just returned from Israel, having made a film about her running 60km around the perimeter of the Gaza strip. Inspired by the March of Hope of the Women Wage Peace (WWP) movement, Louise and her running companion, Xavi, are hoping to raise awareness of the WWP movement in Spain and the UK. You can find out more about their inspiring self-financed project here.
I finally headed out to bed trying not to disturb the sleeping kids as I clambered upstairs in the van. Thankfully, it was altogether warmer than the night before and after only four bathroom trips(!), Iz eventually moved upstairs with me. When the sun began to rise, however, I was feeling pretty pooped ! Time to pack up and head into the city… Barcelona, here we come.