ROAD TRIP!! We arrived home on Monday after our first road trip from Les Gets and our first ever visit to the south of France.
With the kids breaking up for the summer holidays, we thought we'd head off for a little family vacation. We wanted to explore another corner of France and check out some of those exclusive destinations on the French Riviera. We also intended to take in a bit of Mediterranean beach-life as well as hopefully finding some quieter areas to chill for a few days. Ultimately, we were also hoping to find some new favourite places. Places that we'd be able to nip away to in the future if the weather forecast in Les Gets was looking a bit pants.

Our rough plan was to drive from Les Gets down the scenic Route De Napoleon. The N85 follows the route of Napoleon's six day march from Cannes to Grenoble, marking his return from exile and ahead of the battle of Waterloo. We'd have a look at France's Grand Canyon, the 'Gorges du Verdon' on the way. After this, we'd make our way to Monaco for a game of 'F1 driver spotting' and a lap of the track, then work our way back along the Côte d'Azur coast through Cannes, Nice, St Tropez and on to Marseilles before pointing the van north. This would take us up the Rhône valley, through lavender fields and vineyards on our way back home to the Haute-Savoie.
'Van-life' plans have a habit of changing for all sorts of reasons but on this occasion they changed following another senseless act of violence. A tragic week for Nice and another heartbreaking incident for the French people. Luckily for us, we were 100 miles down the coast when the Bastille day attack happened. Our thoughts and love go out to the people of Nice and to anyone who has been affected.
Despite the horrific events in Nice, we had a lovely holiday with the kids and they adapted brilliantly to an extended road trip. This bodes well (very well) for more of the same in the future.
We set off from Les Gets last Monday with our initial plan still intact. We hopped over the mountains to Cluses before heading towards Geneva and turning south in the direction of Annecy, Chambéry and Grenoble. We stopped for a refuel and 'comfort break' near Grenoble and I had the bright idea to throw in the first 'change of plan' of the trip to take a detour up into the Alps and to France's highest city, Briançon, near the French/Italian border.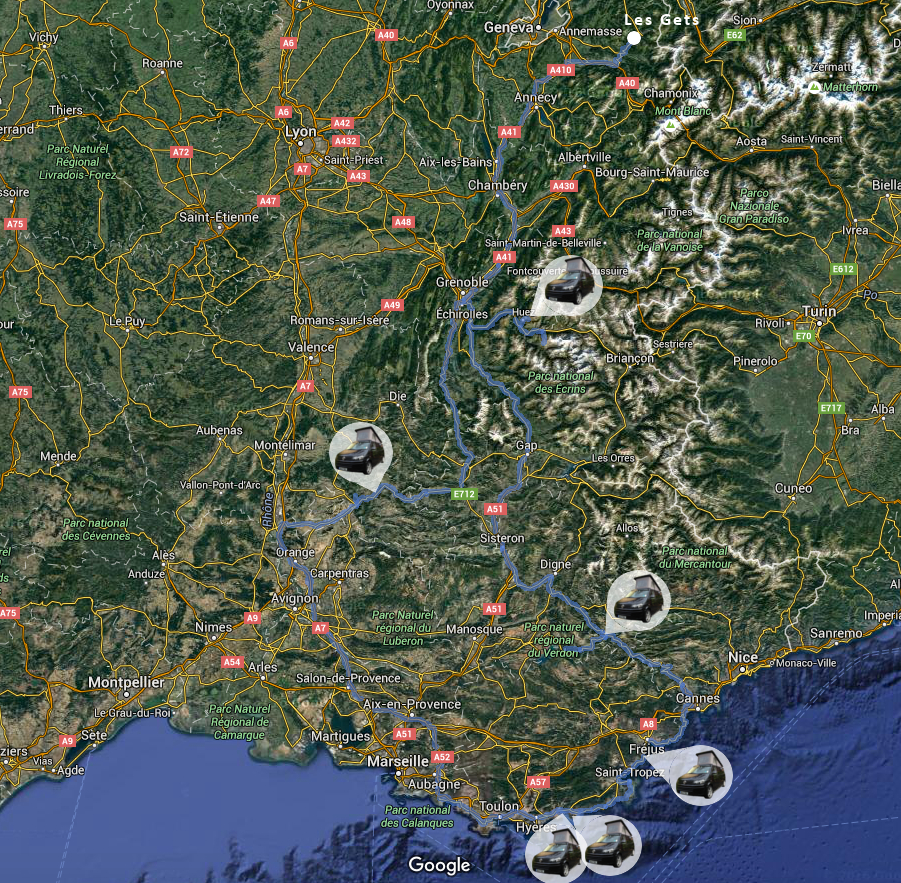 My inspired (ahem) detour lead to a seriously wild camp in Alpe d'Huez. We made it through a slighty sleepless night and motored on to eagles, vultures and a viewpoint bonanza at the incredibly beautiful Gorges du Verdon.
We eventually reached the south coast, turned right, hugged it all the way to St Tropez then got more than we'd bargained for on a drive through town. We spent the evening watching Bucks Fizz on stage with Bryan May on drums (Not really, but you get the '80s' picture;)) during the Bastille Day celebrations.
A few days in, we'd readjusted to van-life and found the gems we'd been hoping for at the stunning beaches of the Cap Benat peninsula.
After a couple of days chilling on the beach, the busyness reached a crescendo and we headed home in 38°C heat. We topped of a long day in the van with a sweaty, mozzie ridden hike to watch the sunset and a scary, grisly find on our last wild camp of the trip!
All in all, another truly memorable ad hoc 'us' family holiday!