Powder and T-shirts in one week! It's been a week of contrasting conditions here in Les Gets. It started off with the storm that we battled back from Switzerland. This had left behind an enormous dump of snow and sub zero temperatures.  By Saturday, however, the thermometer was knocking on 20°C, there was slush galore and Nina was even boarding in a T-shirt!!
When the snow comes (especially this year!) you drop everything and go for it – that IS why we're here after all! With all that fresh stuff to play with, we did drop everything, including the kids at school and hit up Mont Chery on Monday and Tuesday for some fantastic fresh pow riding. Waist deep powder aplenty and an armful of equally excited people to share it with. Joy!
 Launching Iz into the fresh stuff!
Tuesday was another contender for for best day of the season, in fact, I've even heard a few people saying it could even be the best day of the last few seasons!  Two days of snow and 40+cms of fresh snow overnight on Monday meant that the school run was complete mayhem. A blocked road and false rumours from the local feds that the school was closed led to total log jam and confusion. By the time we finally reached Mont Chery, our powder crew were long gone. You know what they say: "No friends on a powder day!"
After a big weekend of riding with the kids and an action packed Monday powder morning, my legs were feeling it just when I needed them most. In between some sweet, sweet runs, I got into a cycle of falling, getting stuck and sapping my remaining energy climbing out until we were eventually spent. We bailed at lunchtime and headed for home. Another truly spectacular day and we both spent the rest of it battling rolling eyes and droopy eyelids whilst trying to get some work done.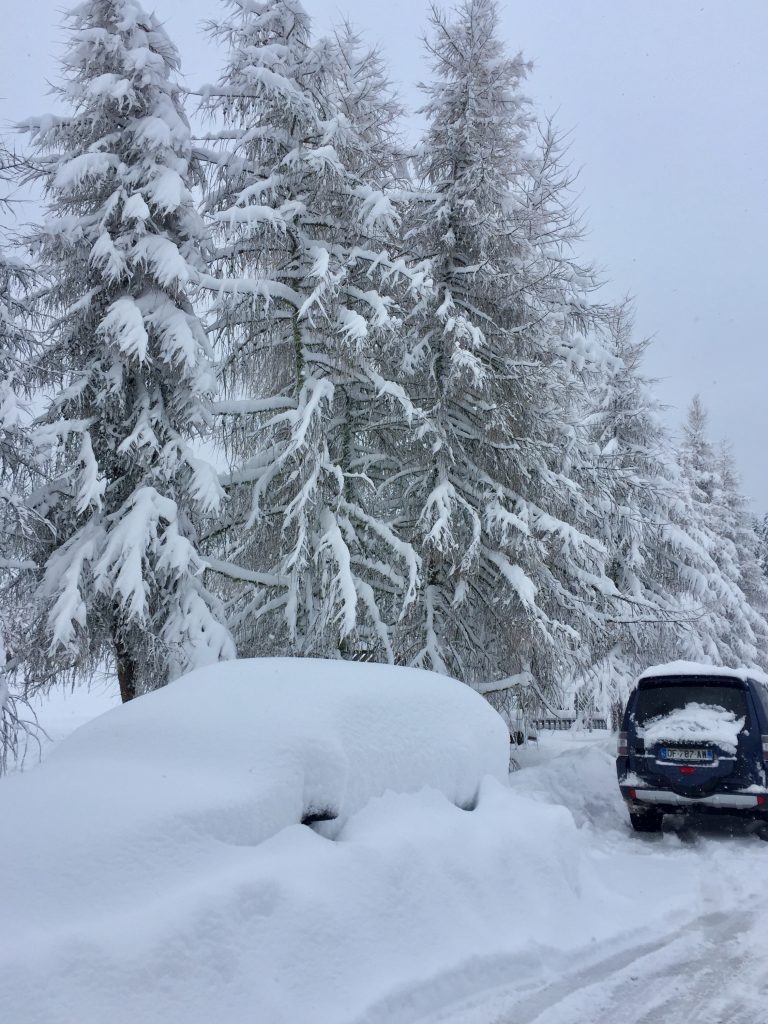 On Wednesday, we'd arranged to meet friends, who were staying in Morzine, for a ride in the morning. Without much time to recharge the batteries, I picked up where I'd left off on Tuesday and proceeded to land in several heaps in front of everyone. They were no doubt expecting me to be a half decent boarder having been here for the last year!
Legs had a rest on Wednesday afternoon with our annual trip to the toboggan park in Leysin, Switzerland. We posted about it last year and it's well worth a visit if you're ever nearby. It was a bit warmer and slower than last time but still a cracking couple of hours entertainment and the kids love it!
The fine weather at the weekend gave us the opportunity to get some footage of the kids skiing for the first time in a while and they are really coming on. The ESF ski lesson program has been fantastic this season. We've been so impressed with how the instructors have been with the kids, how organised the operation is and how beautifully their skiing is progressing as a result of the tuition.
The instructors take them everywhere, off through the trees, through the park, over jumps, blasting through any and all types of snow conditions and generally messing about with all sorts of games. The kids are kept well entertained and there is always a secret stash of Haribo in the ESF uniforms, ready to be dished out like doggy treats! Iz has only got 2 more lessons before her Gold Star speed test then she'll be ready to join the Les Gets ski club where they start race training. Not bad for the grand old age of 8! It's a pretty inspiring environment with Olympic medalists, world medalists and numerous champions in the club and the ranks of the ESF!
We also managed to get a little clip of T on his snowboard. He's obsessed with trying to do tricks and is magnetically drawn to every side-hit in sight!
Another brilliant week in Les Gets and as well as the contrasting conditions there's a contrast in outlook between the residents. The winter grafters are breathing a sigh of relief that the half-term madness has come to an end and that their end of season holidays are in sight. Then there's those of us who are here for the snow and feeling the urgency to wring as much fun as possible out of the time that's left.
Luckily, there's still plenty. Lifts close in Les Gets on the 17th April and it looks like there's a bit more of the white stuff on the way! Scratch that!… I just looked again and it's rain! Eek!
Get yourself kitted out for Winter
Winter's coming and it's always a treat getting your new kit sorted!.. Our affiliate partner Blue Tomato is THE leading online shop for winter and trend sports, streetwear and fashion with over 450.000 products from over 500 well-known brands. Click here to see if they've got anything you fancy.