Nina came home last week and said "T's been invited for a sleep-over on Saturday and I was thinking we could see if Iz could go to a friend's house as well and then we could…"
No need to finish, I'd filled in the details in a nanosecond: A few hours together in the bike park, a leisurely beer in the sunshine at the Après Bar, a nice 'grown-up' meal out (somewhere where they don't sell chicken nuggets), home for a cuddle on the sofa, a nice lie in and heck… I might even sleep in the buff for old time's sake! TMI?
"… hike somewhere to camp and I can get some sunset and sunrise photos." She finished…
Ah… Okay…
My vision immediately turned to dust and fell to the ground. Don't get me wrong, I love a hike and a camp but you may recall, just two blog posts ago, we camped out… Twice!
Not exactly what I'd had in mind for a kid-free night this time around but you never know, maybe the weather would be bad and we'd have to cancel (evil cackle). No such luck – clear skies and sunshine.
Anyway, Nina was mad-keen to get more photos while the weather's still good and her enthusiasm was enough for me to get on board, I mean get behind her, I mean… Nevermind.
You're always glad you've made the effort on things like this so let's do it.
The spectacular and distinguished 'Dents du Midi' were the primary photographic target and after some extensive planning and map poring, we decided we'd aim for the flank of Pointe de Chésery. It looked like there might be some interesting foreground and a nice perspective of the Dents.
We dropped the kids just before 5.00pm and the countdown was on. The sun would set at 7.50pm so we wasted no time driving to Lindarets. We saddled-up the camping and photographic equipment and marched off up towards the GR5 hiking route bound for Lac Vert.
The going got more pleasurable once we got off the track and onto the walking trail. I began to wonder whether I had a problem as I spent the whole time picking bike lines and thinking about riding down it or up it on my enduro bike, an e-bike, a trials bike, any bike, bikes, bikes, bikes.
I digress. It's a beautiful trail, with amazing views and scenery and a real pleasure to enjoy it in the hazy evening light as the sun started to lose it's strength.
We reached the point where we'd leave the path and head cross-country to gain some more height and the old adage 'be careful what you wish for' reared it's head. The skies were looking ominous, brewing and darkening ahead. Not now! You're late – I needed this at the planning stage. 😂
We found a lovely level spot to pitch but there was a problem. There wasn't quite as much of the 'Dents' visible as we'd hoped! And what was visible was only peeping out of the cloud now and again. My head went into 'options' mode, running through what else we could do and the pros and cons of each.
Nina, meanwhile, had ditched her 'let's go on a gap year' rucksack and was now scampering all over the hillside in the distance stopping periodically to crouch and snap a shot.
To make matters worse, we weren't far from the Refuge de Chésery and it looked like it was a full house tonight. The sounds of chatting and laughter were already carrying over and having made the effort to get away from it all, I wanted to be a bit more away from it all.
I called Nina back: "Whistle!! Come on shep, away to me, come by, there's a good girl."
I shared my thoughts that maybe we should crack on to the col past Lac Vert and see what things looked like from there. Maybe we could even head to the top of Mossettes where we'd get awesome views in every direction tonight and in the morning. We could complete a loop tomorrow, walking back down along the ridge towards Vorlaz and back in the Lindarets valley. She agreed.
Our legs were already tired and we were mentally prepped for snacks and the plastic-milk-bottle-decanted-red-wine (pure class!) but nope, not yet. We hoiked the packs back on and set off again. The going got harder and another 30 minutes later we reached the col… Meh! Not bad, but the summit would be better.
Nina's 'one man and his dog' antics had taken their toll on her energy levels but after a bit of persuading she agreed to push on. We were losing light but once we got up there, we'd be near the Cookie Cafe and if we had to, could throw our mats down, jump in our sleeping bags and sleep on the deck.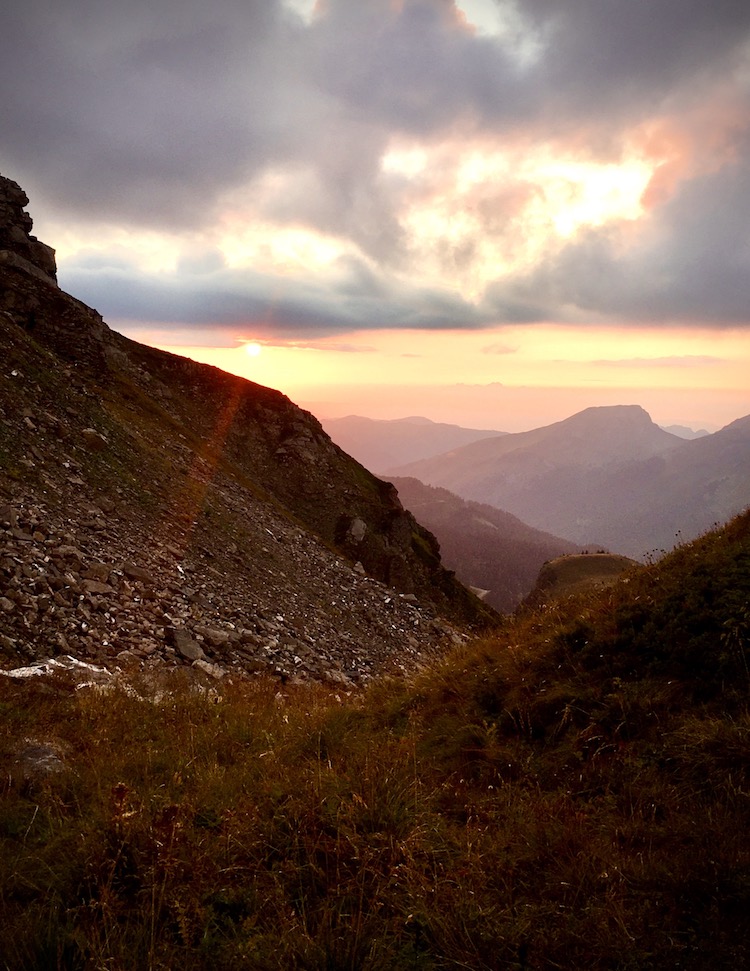 I'd got it in my head I wanted to be on top of Pointe de Mossettes before the sun disappeared. The closer we got, the steeper it got and as we rounded the last couple of corners we were going to make it. Nina was snapping away deep in the undergrowth and I cracked on to the summit.
Oh my days! The view up there is incredible! If you ever go up the Mossettes lift in summer or winter, it's worth hiking the short extra distance to the summit for the absolutely breathtaking 360 degree views. We tried to absorb as much of the stunning beauty as possible as the sun made it's final descent and felt massive appreciation for being up there and able to experience it.
Before we lost the last of the light, we pitched the tent, grabbed the wine and the nibbles and headed for a nearby bench looking back down towards Lindarets. We sipped and nibbled and chatted as we gazed out at silhouetted peaks and ridge lines, dotted here and there with clusters of lights nestled in cosy clefts. Yep… This is the life!
I turned the romance dial up to 11 by rustling us up a couple of tasty pot noodles for dinner and with thick cloud, no light, no stars and as the wind was starting to rush over the summit, we turned in, zipped up and hit the sack.
Nina's dedication (and alarm) woke us both up at 6 and whilst she got busy getting ready to get out and get some shots, I debated rolling over and going back to sleep before realising I'd definitely regret that and dragged myself out of the tent too.
Crikey Bob! The skies had cleared overnight and the colours were already magnificent. We climbed the short hike back up to the Summit and spent the next 2 and a half hours cooing, gazing and taking snaps. MAG-nificent!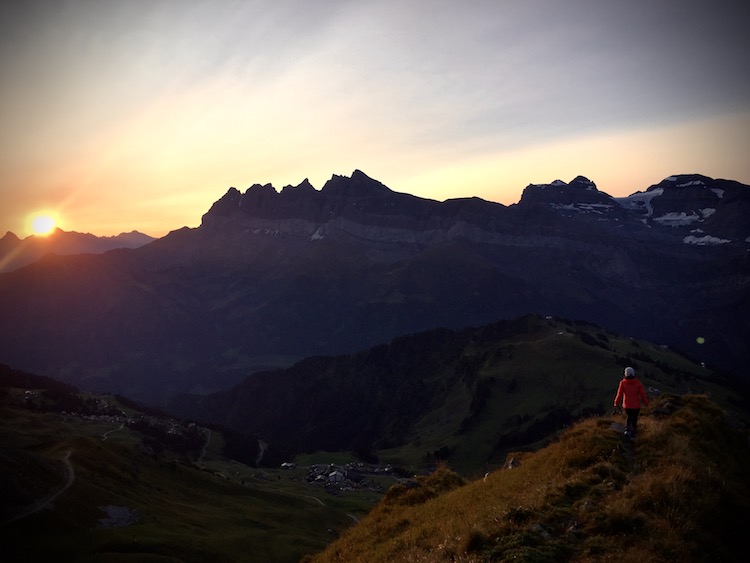 Only one thing missing from the equation now… A nice hot brew. We fired the stove up and I had the bright idea of hanging all our kit out around the lift station to dry.
We had T-shirts and mats on the catch net, fly sheet over the railing, tent body on the deck and all our bags and cooking gear arranged on a handily positioned chairlift chair. One of the mats decided to make a break for freedom and slid into the middle of the catch net and much to Nina's amusement I had to launch a rescue mission. Just as I was spread-eagled on the net we caught the sound of a dirt bike climbing the track below.
I don't know why but in a situation like this I often assume I'm going to get told off… Maybe he's seen us making ourselves at home on a webcam and is coming up to read us the riot act. Now he's seen me scrabbling around on this net he'll be properly peeved!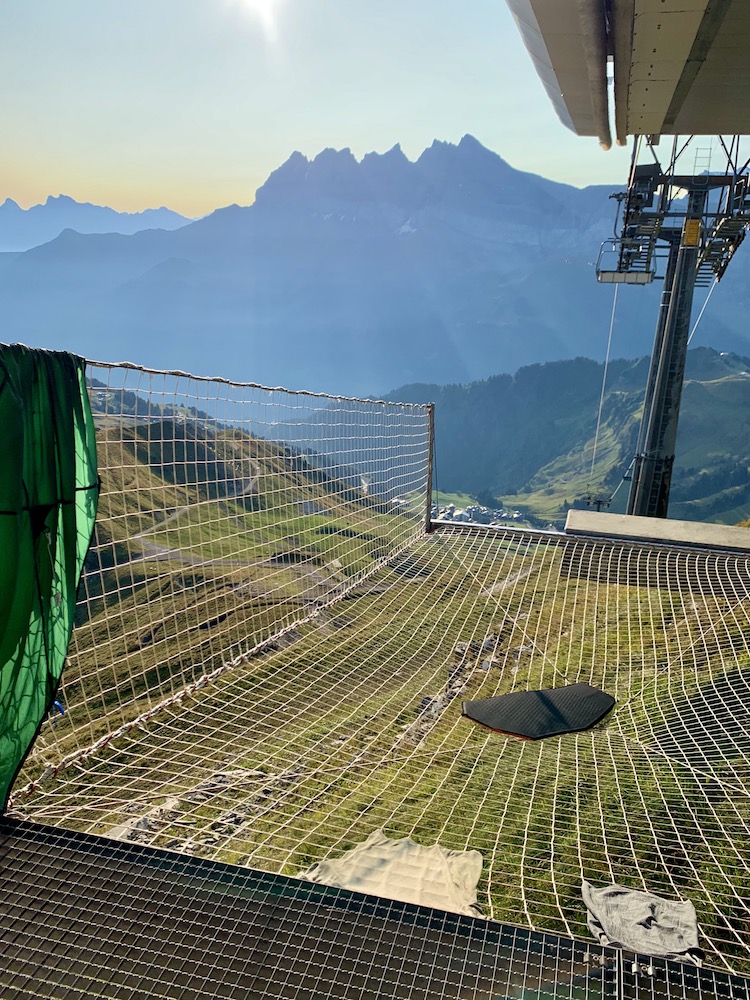 The bike sound trailed off, we carried on sorting kit and forgot about it. Then, suddenly it appeared again and rose. The next thing, he rounded the corner, headed straight for us, popped straight up and onto the deck, turned his bike off and hopped off. I noticed the Portes du Soleil uniform and got the apology in early and said we were just drying stuff and we'd move it. No problem he said, grinning at his presumption that we had camped right there! He was a nice bloke and we had a bit of a chat before he casually mentioned the lift would be opening in 10 minutes. Action stations!!
We'd forgotten that the Mossettes chairlift on the Swiss side is open (on and off) until 1st November and as soon as it did open, civilisation started to trickle up and affect the ambience. We finished packing up, had one more gaze from the summit and bugged out.
Our toenails got the good news on the long descent back to the car at Lindarets and Nina did another 100 squats with her heavy pack on as she crouched to form a steady base for more shots. We were a bit jaded and hobbly when we arrived back to pick up the kids and unfolded ourselves out of the car.
A lovely night though, a real pleasure, some amazing views, some cool shots for Nina and a decent hike to boot. Now though, there was only one thing that could sort out my sleepy head and sore body… Bike Park! Wahoo!
Get yourself kitted out for Winter
Winter's coming and it's always a treat getting your new kit sorted!.. Our affiliate partner Blue Tomato is THE leading online shop for winter and trend sports, streetwear and fashion with over 450.000 products from over 500 well-known brands. Click here to see if they've got anything you fancy.