Since the summer chairlifts closed, we've been getting out and about on foot exploring more new places. There's a few peaks we gaze up at on an almost daily basis and I had hoped we could make it to the top of a few of them while the weather and ground are still good. We picked the kids up from school on Tuesday and decided to head straight out and see if we could tick Pointe de Nyon off the list.
Pointe de Nyon is a 2019m peak in the Morzine ski area. In winter it's accessed by the TS La Pointe chairlift which ends about 50m or so below the summit. This peak is one of the first things we see, peeping down at us every morning on the school run. It's also on the left hand side of our home page header picture which looks out over the Les Gets/Morzine ski area from Mont Chery.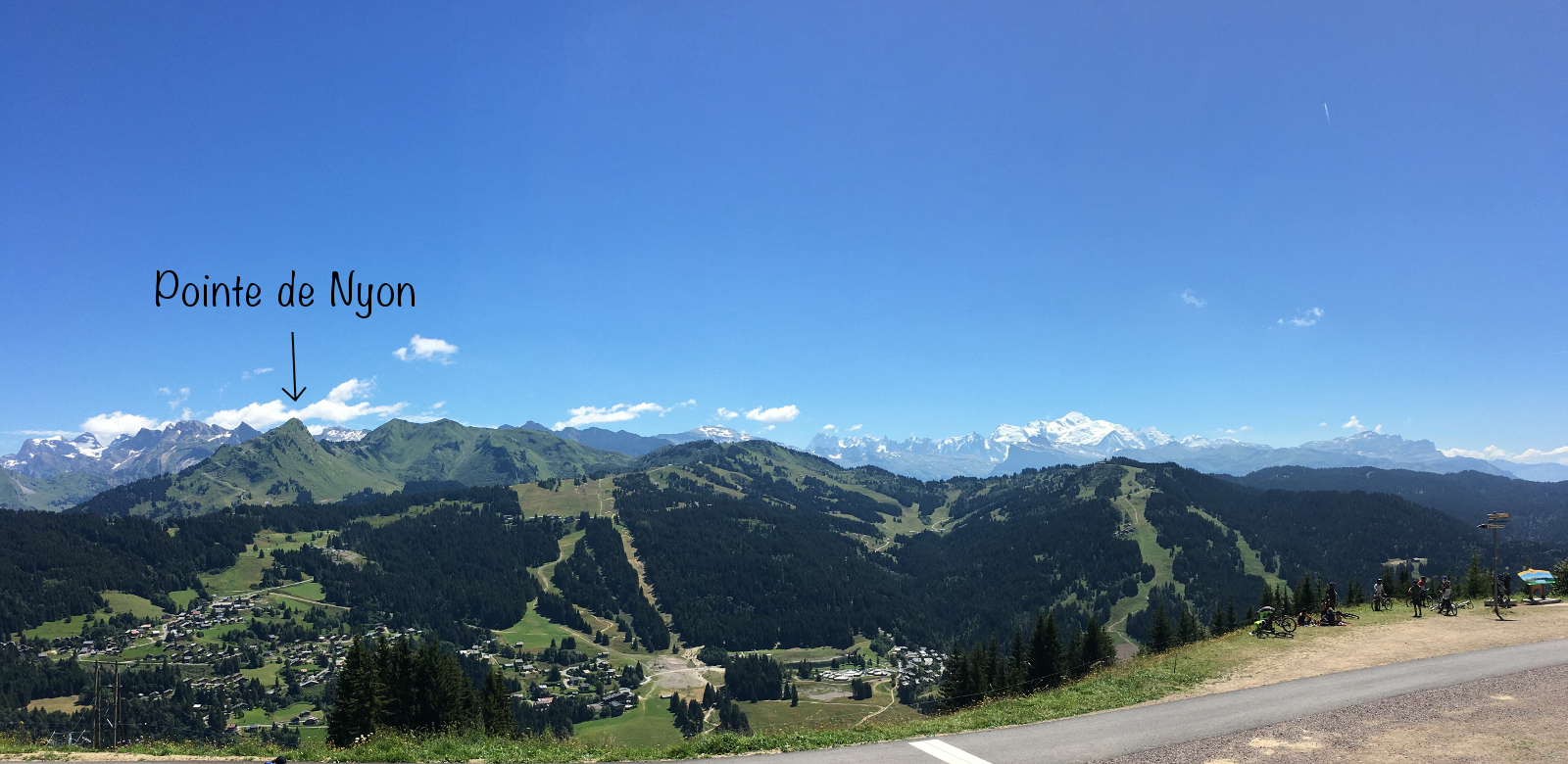 I wasn't sure how far we'd get before the kids decided they had had enough but it was another fabulous day and we wouldn't need to walk too far to get another breathtaking view. I knew there was a substantial track all the way to the top of the lift and nothing too serious most of the way so we thought we'd see where we got to.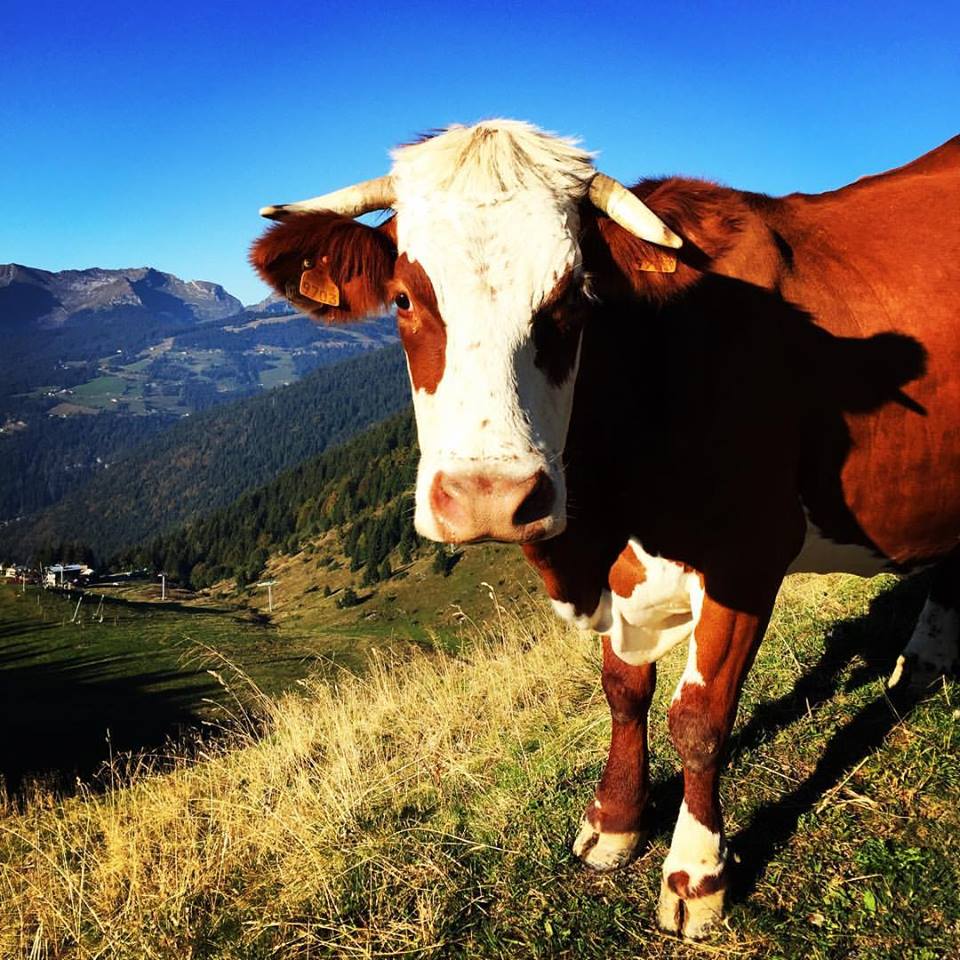 We drove down to Morzine and back up the road towards the Col du Joux Plane where the Tour de France guys tore down a few months ago. We turned left and drove up to the Nyon Plateau. It's quite bizarre seeing these places in the summer without snow and thinking that in just a couple of months, they'll be thick with snow again. In the winter, this place is a cluster of lift stations and mountain restaurants and the road we just drove up to get there is a piste!
We parked the van near a shuttered up restaurant and dodged the cow pats before getting on the track and starting to climb. It wasn't long before T was flagging. A ten minute shoulder ride took his mind off it and we managed to crack on to the first couple of zag-zags that we'd been gazing up at all summer. Then, with no toilet for miles, he decided he needed a poo!.. Ahh, the joys… We persuaded him to hang on and climbed a bit further.
It wasn't long before Iz started to struggle. She'd been poorly last week and still wasn't back up to mountain goat status. We admired the view for a while and decided to call it a day and turn back down. Nina said "you go on if you want and you can catch us up on the way back." I decided to see how far I could get in 15 minutes and if I wasn't near the top I'd come back.
I plodded on and 20 minutes later I was debating turning back but I could see I was only a zig and a zag from the top of the La Pointe chair and knew the top wasn't much further. I gave Nina a call to check they were OK if I went for it and pushed on. I reached the lift where the rocky track came to an end and was replaced with a rocky muddy footpath to the summit. It was getting pretty nippy in the shade now and at this altitude, the ground was still frozen in places from last night's frost.
I soon reached the top and was treated to a magnificent view in every direction. I took a few moments to enjoy the peace and gazed back over at the snow capped Mont Blanc to the South, round over the Les Gets ridge lines with peaks shrouded in hazy sunlit cloud and further round to Mont Chery with the Roc d'Enfer behind. Morzine nestled low in the valley below with Nantaux (another one on the list) behind, then pivoting round to Pointe de Ressachaux and back up the Vallee de la Manche with the imposing, rugged, rocky peaks behind.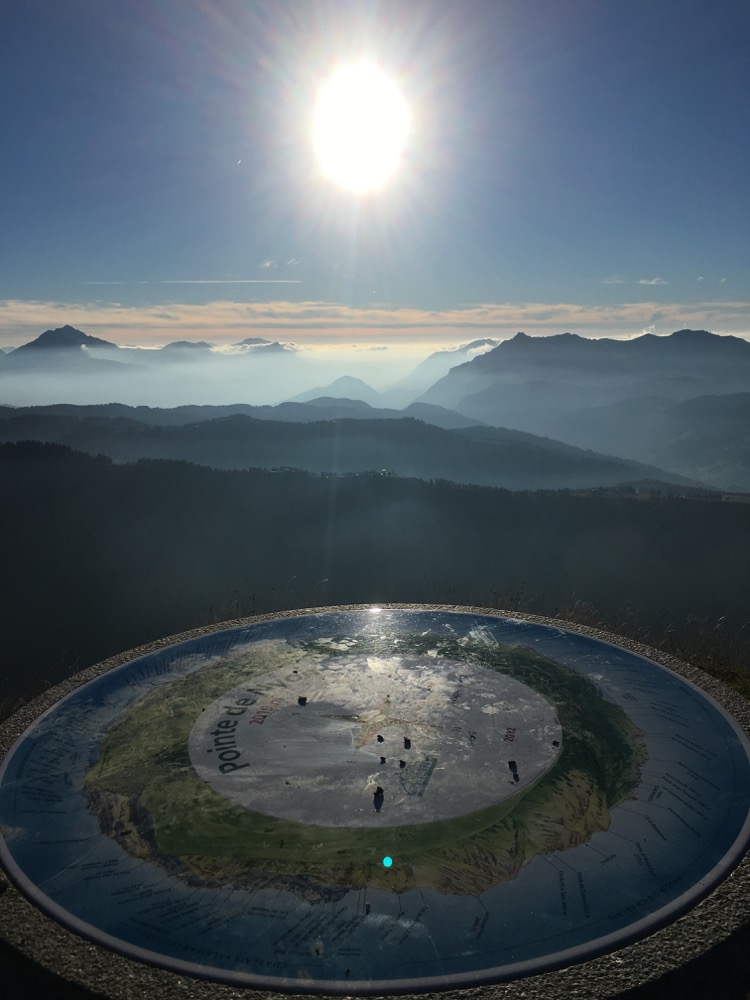 I didn't want to hang around too long. The kids were flagging AND it was a school night to boot. After a couple of photos, I carefully picked my way back along the footpath to the track before trying to make up some time by running the rest of the way down to the car. By the time I got within earshot of T's foghorn voice, my thighs were burning and my quads were tensed rock hard from the unfamiliar exercise of downhill running.
Iz and T played with a football and a bike while Nina filled me in on their descent. Apparently, T's call of nature returned shortly after we'd parted ways. Nina was now feeling mildly traumatised after having to improvise in order to facilitate T's al-fresco poo… We'll spare you the details.
It was a shame we didn't all make it to the top of Pointe de Nyon but I don't think I'd actually have taken the kids up the last bit anyway. I was pleased I'd made it and that we'll all had a good walk on a gorgeous afternoon. Bring on the next one!
Don't miss out on any new posts by entering your e-mail address and subscribing to our new post mail-out list.
Feel free to comment below and if you do enjoy the blog, don't forget to like, comment and share. Cheers!