This is the third summer we've been out here and on Sunday I finally got around to doing the PassPortes du Soleil 2018!
Now, I'd never heard of it before we moved out here but it seems like a lot of people back in the UK have. People have also said it's the best day out they've ever had on a mountain bike… I've watched over the last couple of years as muddy, tired looking riders pour through Les Gets, shovelling goodies and the odd beer into themselves in the food stop and thought, "I like the look of that."
Here's the gist: The event is a lift-assisted tour of the Portes du Soleil spanning the Franco/Swiss border. The event takes in the resorts of Les Gets, Morzine, Avoriaz, Châtel, Les Lindarets-Montriond, Champéry, Les Crosets, Morgins and Torgon.
Riders cover 80km in the day, with 6000m of vertical ascent (lift assisted) and 6000m of descent (gravity assisted). There are numerous food stations refuelling the riders with different local specialities. It runs for three days and entrants book tickets for one (or more) of them to leave from a specific resort which evens the flow around the circuit. There's even a number of 'options' around the route to dip into harder DH sections if you fancy it.
If you like the sound of this, you need to be prepared. Tickets go like the hottest of hotcakes. Having lined up an Englishman an Australian and a Frenchman (insert your own joke) to join me, I readied myself at the keyboard on release day to book our tickets for Saturday. The bookings opened and I filled out one application no problem. By the time I went to enter the next name, it had sold out for Les Gets on Saturday! WTF?!
I quickly cancelled that one and tried again for us all on Sunday. Result! We were in! My French mate had got onto a couple of his French mates and they managed to get in, too so we'd be a 6 man multi-national squad.
The Crankworx whirlwind hurtled through town the week before last and the subsequent come-down was quickly perked up by the prospect of the Pass'Portes du Soleil the following weekend. And, it looked like we'd be blessed with another stunning day!
The lifts open early for Pass'Portes and we all met at Les Gets Tourist office at 7.30am on Sunday. We collected our passes, number plates, and goodie bags. These contained some bumph which I've not read yet, a mini tin of WD 40 and a pretty decent waterproof jacket. We set off up the Chavannes lift before saddling up and riding off towards the Les Gets golf course and on to Morzine.
It was still early but it was already hot and there's a bit of a climb up to the golf course. One of our new French mates was used to his bikes having a bit more horsepower and it was obvious he was going to be sleeping well by the end of the day!
Despite "just taking it steady", "not pushing it" or "not fully fit", we set off downhill at a rowdy pace. Before long, we rolled into Morzine where we met up with another pal who was joining us for the day.
The first bottleneck at the Super Morzine bubble saw us queuing for 20 mins. We rode up and on to the Zore lift before taking a long traverse and fun descent to the bottom of the Mossettes lift in the Lindarets valley and another lift queue. It was only about 10.30am by now and reading 38°C at the lift station. Sure it was warm but I reckon that thermometer must be due for calibration.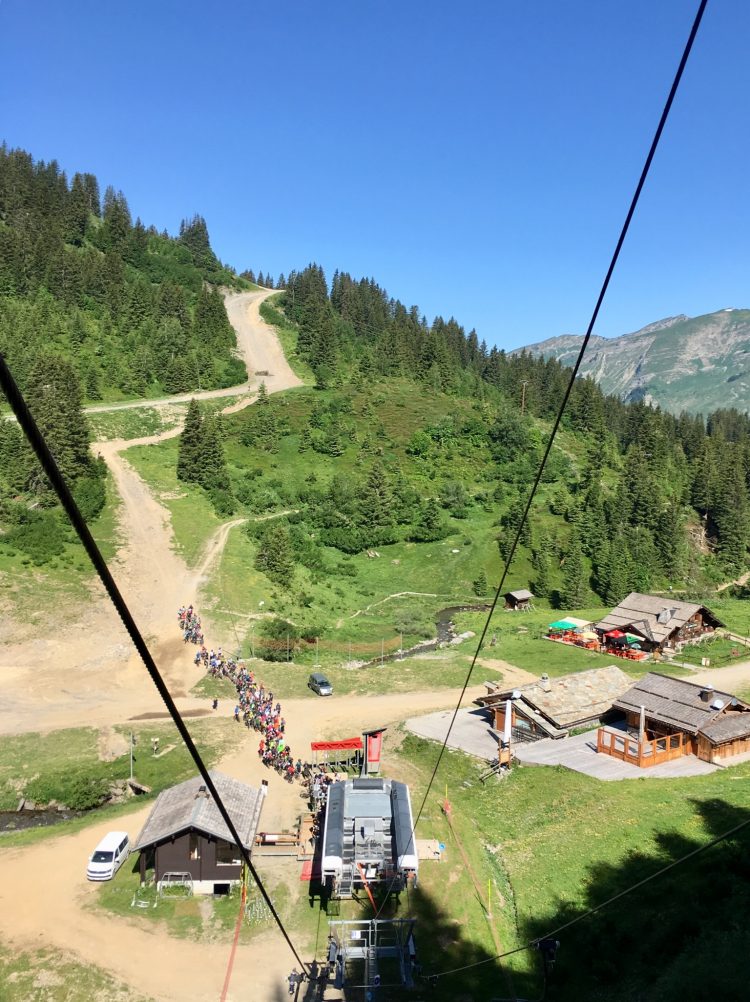 Up the Mossettes to the highest point on the tour (2,250m) before descending into Switzerland and down towards Champéry. It was quickly becoming clear that if we were going to do the whole thing, we'd need to crack on.
We had gravely fire roads and drifty corners for a while before some rocky paths through the woods and road sections to finish. Pretty much 1000m in one descent. We paused for our first food stop and shovelled in cheese, meats, bread, raclette, potatoes, pickles, fruit and chocolate. Washing it down with cordial and fizzy pop created an interesting combo with the potential to cause problems.
We got the big cable car out of Champéry before riding a fun little red DH section into Les Crosets. Back up to Mossettes from the Swiss side before another lengthy descent out towards Morgins. More gravely tracks and sharp corners here, which proved great fun as we all tanked on before hauling on the breaks and sliding it through the corners. Everyone likes a bit of single track and there were big grins all round on these dusty tracks. We had a bit of a climb before crossing back into France and descending through the woods into Châtel.
Everyone was hot and ready for another food stop with diots (sausages) on the specialty list this time. The afternoon was getting on now and it looked like doing the full 2hr30ish Torgon loop, just to arrive back at this point, might be a step too far. We had a debate about just heading straight to Châtel and doing some downhill laps in the bike park. This seemed to be a popular option but somehow we agreed on doing a shorter Torgon loop instead.
Time for the first mechanical pitstop of the day as I pulled my bike out to find a flat tire (dammit!). A quick tube change and off we went for the Super Châtel bubble lift, then on up towards Torgon. I'm super glad we did, as the scenery was different again and we got some lovely single track through lush, green high mountain pastures.
We finally made our way back to the bottom of the Super Châtel lift and settled in for by far the most challenging part of the day. It was roasting now and we had a steady pedal up what felt like mostly uphill right the way out to the Linga area of Châtel. We lost a lot of time here and most of us were flagging a bit in the heat. A stop, drinks and head dipping at a fresh water trough revitalised everyone and we pushed on. We were clock watching a lot and needed to make sure we were at least in the Lindarets valley ASAP so that we didn't have a major hassle to get home if the lifts closed.
Dropping into a super-fun run into the Lindarets bowl, the tell-tale rear wheel squirling sensation informed me of another puncture. I limped it back down to the base for another tube change while the lads had a food & beer stop.
There was another big queue for the chairlift and as we waited, we realised we might need to skip the descent to Montriond. We got to the top at 5.30pm and as far as we could tell, the Pleney lift (our last uplift out of Morzine) closed at 6pm. Speed time! We motored down the road from Avoriaz, catching two cars up at every switchback. What could have been a bit of a disappointing but necessary detour turned into another high speed highlight of the day!
We rolled into Morzine, across the suspension bridge, pedalled through town and pulled up at the turnstile with 4 minutes to spare! Phew!
The last descent into Les Gets from the top of the Pleney was a beaut and the potential to stuff it with the end in sight was high… We sent it on the jumps but started to relax.
After such a hot day, the ice cold beers at L'AprèSki Bar were like nectar of the gods. The great company, deck chairs and setting sun topped off a perfect end to an awesome day out!
Cheers boys!
Time for a quiet weekend after all this excitement?.. No chance! It's the epic Megaavalanche in Alpe D'Huez for me this weekend. Yikes! (Check out my blogpost on that here.)
If you're interested in taking part in the Passportes du Soleil 2019, you can find out more on the Pass'Portes du Soleil website.
Get yourself kitted out for Winter
Winter's coming and it's always a treat getting your new kit sorted!.. Our affiliate partner Blue Tomato is THE leading online shop for winter and trend sports, streetwear and fashion with over 450.000 products from over 500 well-known brands. Click here to see if they've got anything you fancy.