We were a bit late to the party with the latest dump of snow this week. We've missed the best of the fresh pow but with a project completed last night, Nina and I decided to head out for our first tracks of winter 2017/18! We've been watching other peoples' playing-out posts popping up on social media all week and it was time to get some ourselves!
We got our kit sorted… The magnitude of this undertaking never fails to surprise. There are so many bits and pieces of winter kit spread around the house that needs to be switched out with the summer kit. It's useful to start getting in the habit of sorting and prepping the boarding gear for us and the kids before it arrives for real! We loaded up the van and set off for Avoriaz.
The whole area is looking amazing this week with clear blue skies complementing the fresh dusting of snow. You forget how much light you get in this environment! You can almost feel the vitamin D charge!
We drove down through Morzine before winding up the road to Avoriaz. It proved to be properly buzzing ahead of the season. Everyone was out and about getting jobs completed before the roads get covered in snow and the season kicks off in a few short weeks.
We pulled in to park near the top of the Prodains lift and just outside one of our favourite burger joints, 'Changabang'. It's not open for business yet but there's a shiny new deck area under construction. There were plenty of like-minded people parked up around us as well. Some people were skinning over into the Fornet bowl. A few more were getting kitted up ready to skin up the Arare where we'd be heading. There were also a few who'd obviously set off early and were already roosting back down on their skis with big grins on their faces!
The snow had had a few days to settle in and we'd heard that Avoriaz had groomed some pistes. With this in mind, we decided to travel light. We set off, traipsing up the side of the piste without snowshoes. (We haven't actually got any of our own anyway!) Three more skiers carved round the first corner and we waved as we recognised two of them as our mates, Tim & Lisa from Torico skiing. Lisa skidded over to say hi and informed us that the snow was terrific!
It wasn't long before a group of touring skiers passed us. We trudged on, admiring the views and wondering whether sun cream might have been a wise idea.
An hour or so later, we arrived at the top of the Lac Interets lift. We were congratulated on our effort by a couple of French gents who informed us – to their obvious amusement – that randonnée skis were a much better idea! We joined in on the laugh and wished them a "Bon Descent". Walking beyond the lift station, we took some more photos and had a hug as we stood to appreciate our stunning surroundings. Soon after, we were strapping in and riding back down for our first tracks of winter 2017/18.
Ooh yes! It felt good to be back on the board. In all honesty, I've enjoyed riding my bike so much this summer that I wondered whether I'd got a new No. 1 love but no… much like the kids, I love them both equally!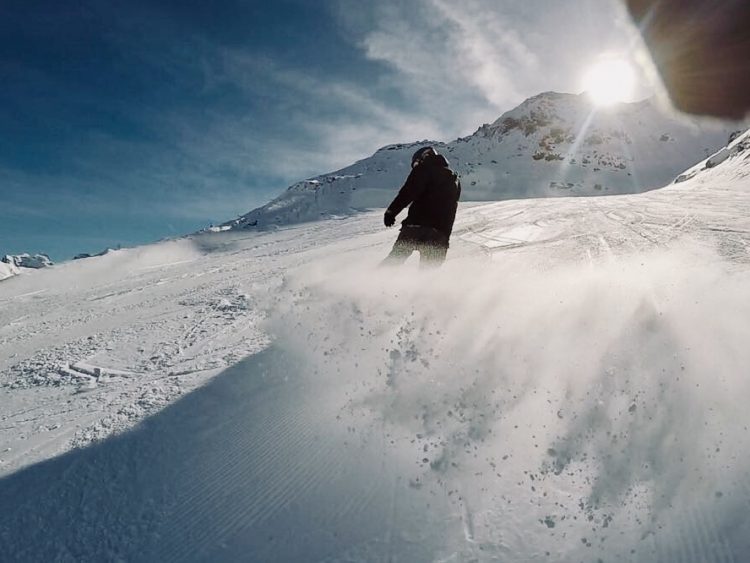 The snow and the piste were excellent! Lovely, dry and fluffy. Fast and grippy. Beautiful! Even some of the shaded edges had lovely deep pockets of fluffy pow still sitting there waiting for a slash!
On our way down, we passed more people hiking & skinning up who met us with waves, smiles and "salut's" as we whizzed past.
Love it!
We slid to a halt back at the Prodains, chucked our kit in the van and set off home for our well deserved lunch. What a day!