As you may have seen in our last post, Les Gets Bike Park opened for business last weekend. Just weekends for now and just Mont Chéry for the first week at least.
I had plans to get out bright and early but an impromptu BBQ with friends at the lake on Friday night turned into a late one and those plans went well and truly out of the window.
I did try though… I wearily rolled myself out of bed while Nina opted to stay at home and chill out with the kids. I'd suss out how busy it was before deciding whether or not to come back and get them.
As with any first activity of the year, I couldn't find anything. It took yonks to get my kit together. I searched high and low for my winter season pass to get the discount on the summer pass. I had to empty the whole cave (store room) to get to my downhill bike. It then had a soft tyre so I had to go back inside to get the van keys to get the pump from the van. I then trudged back inside again to put the keys back afterwards.
I finally got myself organised and rolled down the hill on the DH bike for the first time this year. Even though it was just on the road, it felt gooood!
I stopped off to collect a mate of mine and we both rode through town to the Mont Chéry lift station.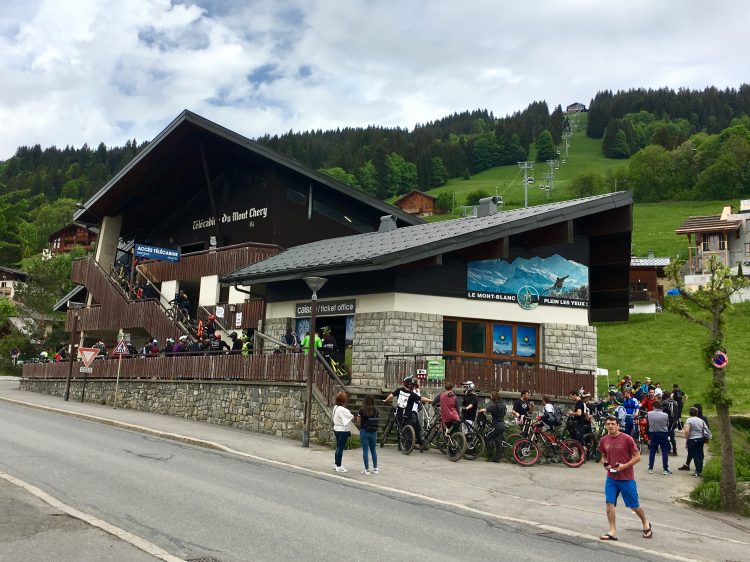 OKAAAY! It was always going to be busy on opening day but this was crazy! The queue was stretching down the side of the building, all the way along the front before looping back on itself under the station and then back up the stairs. It took us a nano second to decide to sack it off. We were dressed and ready to go though, so we decided to throw the bikes in his van and go up the 'unopened' Chavannes side for a blast back down.
There was a few others up there with the same idea. For a short while, we chatted to an American dude who had a good grumble about the Chav not being open before ripping down the jumpy blue 'Tomahawk' trail. It was in good shape with a few added pine cones for extra challenge. We've already pedalled up there on the enduro bikes recently and were both grinning with excitement at how good it felt to be back doing it on the big DH bikes and how much speed we were carrying. We followed the red 'Rue Libre', dipped into a rooty section of the black 'Canyon' before picking up 'Rue Libre' again to the bottom. We passed a decent sized group of people lapping the mini jump park on the way down as well. They must have dipped out of the lift queues too. (Bike park map if you're interested)
I had a climb ahead of me to get back home and get T ready and off to bike club, so I bid farewell to my mate. I pedalled off, promising to come back ASAP and take him up to collect his van as he had a whole bunch of stuff to do that afternoon.
We rushed around getting T ready, shovelling food in, packing his backpack and checking his bike over before racing back into Les Gets. When we got there, we realised we hadn't got his lift pass and he'd need it. I legged it to the tourist office, CLOSED! So I legged it across town to the Chéry ticket office and got PDS season passes for the family before running back to T and the group. Still there! Phew! That had all got a bit hectic!
We waved him off and chatted to some other parents before heading off to find somewhere for lunch. After all that racing about, it was nice to chill a bit in the warmth and we moseyed around to see where was open for lunch. We settled on one of our firm favourites, Case K2, and sat down with a drink in the sun. I took my phone out to check for messages and "Shhhiiiiiii….ver me timbers", there was a message from my mate: "Can we go and collect my van soon please?"… 45 minutes ago! I'd TOTALLY forgotten!
I bolted from the table, legged it to the van, drove to his house and shouted through the cat flap… No answer… I rang his phone and could hear it ringing inside… Damn! I shouted again, still no answer. Oops! Sorry mate.
I set off up the road to the Chavannes, hoping I'd catch him before too long and made it about halfway before I caught up with him pedalling away with his headphones on. "Really sorry mate!" He was very good about it but I'm sure he'd had a good chunner to himself about it. Haha!
I eventually made it back to Nina, Iz, my chicken burger and chips. (Absolutely tip top as always, despite being a bit on the cold side).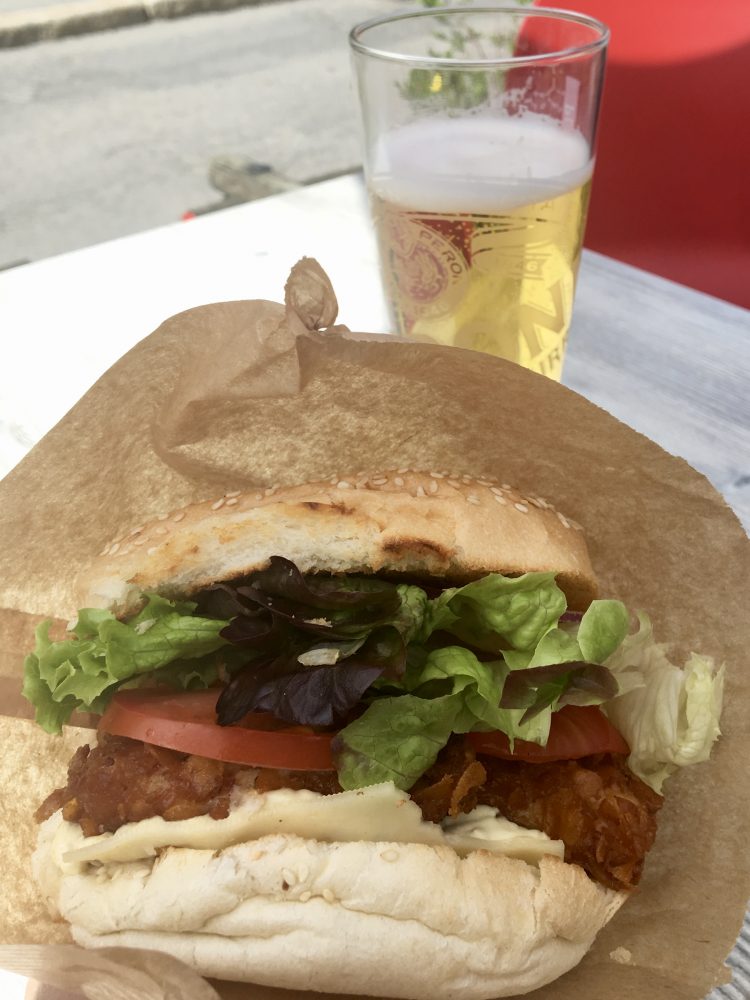 Later on that afternoon, the queue had died down at Mont Chéry and I jumped at the opportunity to get an opening day, lift assisted ride down 'Dans Le Gaz' in. Sweet! The crowds had gone and the rain had just arrived making the smoothed line slippy as heck!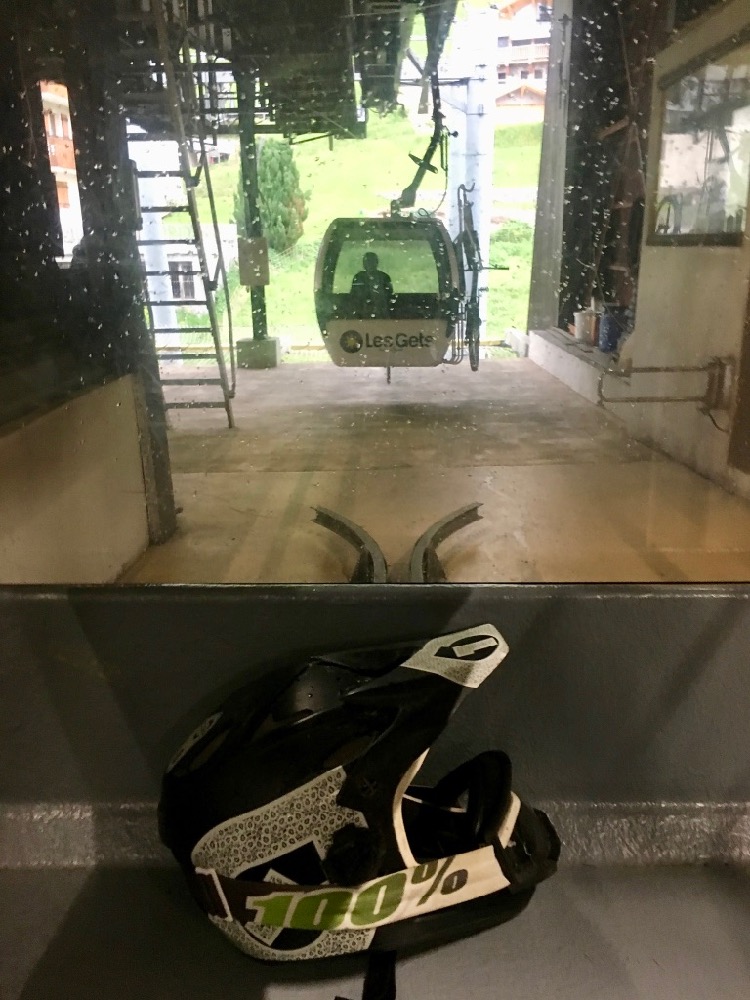 Sunday was Mother's day in France. After we'd given Nina her presents, including a lovely cup and saucer T had made with the girls from the Les Gets Pottery, we decided to head out for the first family DH ride of the summer. Wahoo!
We were better prepared this time and made it out of the house much quicker. Thankfully, the lift queues were much shorter than Saturday.
And what a day for it! Blue skies, sunshine, juicy green foliage and snow capped peaks. It really is stunning here. We did a couple of descents of the green run 'Piste des Biquettes'. This goes down the access road from the top of the Mont Chéry lift station before dipping into the woods and popping out at the pottery and back down the road to Les Gets.
Two runs was enough before the kids were ready for a pit stop so we decided to try 'Le Comptoir at L'As des Neiges'. This place only opened in December and we hadn't got round to trying it out. It was pretty good… Pizzas, pasta & salads in Le Comptoir with a more fine dining experience in the neighbouring and connected L'As des Neiges. We enjoyed a delicious Belgian beer and Nina finished off her lunch with a rather potent looking mother's day Irish coffee!
We headed back for more lifts and a few more more descents. When the kids started falling off, we knew it was time to call it a day and slowed the pace to make it back to the van without any more incidents.
A lovely day and a top weekend. I love the vibe in the summer.
Well, the lifts are opening again this weekend but just the Chavannes side and not Mont Chéry this time. Whatever, we'll be there! Full lift and piste deets here.