Well… That's 'rentrée' (back-to-school) 2020 done and dusted. The heat shields held up, the parachutes deployed and the reception parties made reintegration smooth and seamless. Once they'd got the first morning out of the way, our two were made up to be back and we couldn't have hoped for any more than that. 2020 may inadvertently have made a whole generation appreciate school!
I love the space-age/sci-fi aspect to some of these French terms. 'Re-entry' is a good one but the best one for me so far, which we've seen a lot of in C19-2020, is the term for intensive care… Wait for it… 'Reanimation'!! Come on! "I like, high five!"
Just before re-entry and the end of the summer holidays, we squeezed a couple of last minute family camping trips for a change of pace and a change of scenery… And, no family holiday would be complete without a tummy bug, a trip to the pharmacy or a visit to A&E so we squeezed one of those in too.
First stop, Lake Annecy, for a couple of nights in the van. It's close, it's convenient, it's hot, there's water and we'd had a recommendation for nice campsite with a cracking little pool and 3 water slides!
We lobbed some gear in the van, locked up the chalet, scoffed a naughty 'McDoh' (French for Macky D's – See!.. I am learning the essentials) on the way and an hour and a half later we were bombing off the high diving board at a lovely little municipal beach at Saint-Jorioz on the western banks of lake Annecy. Magic!
I've done a reasonable job at keeping skin on my body this year whilst biking but immediately undid all the good work by slipping on the diving platform and skinning my elbow. Grrrreat! (Note to self – Stick to biking, much safer.) Nothing serious though so… Geronimo! SPLASH!
As the afternoon went on, the beach went 'a bit Bournemouth' and we were all eventually 'bombed' out, so we headed over to Camping International to check in.
The recommendation stood up: Nice site, great pool, friendly staff, restaurant, bar, bike-hire, on a cycle path and most importantly, spotless bathroom facilities. That'll do pig.
We hit the pool, the slides, the restaurants and used the facilities. After a couple of rounds of 'poo' head (card game) we hit the sack for a welcome night's sleep.
The next morning, armed with choc croissants from reception, we set off to find some kayaks to hire. With loads of options along the lake front, it didn't take long and we were soon zigzagging our way across the lake from Château de Duingt. It took a while to find a rhythm. T and I even somehow managed to go in a full circle before we got the distant cliffs in the crosshairs and the race was on!
We won! By a whisker, and we'd arrived at a small cave in the cliffs on the Eastern side of the lake. We had a little peep in the cave before Iz, T and I moored the kayaks with Nina and we jumped ship. There was a well-trodden scramble up to a ledge on the cliffs for what we reckoned was a decent 7m cliff jump.
Iz led the way and we had several leaps each, plunging into Annecy's delicious fresh, azure waters before heaving ourselves like seals back onto the kayaks for the slog back across the lake to base.
All that paddling had worked up quite an appetite and it was time for lunch! During a previous visit, we'd happened on a lovely lakeside restaurant called Bistro Du Port that I definitely wanted to re-enter (see what I did there ;))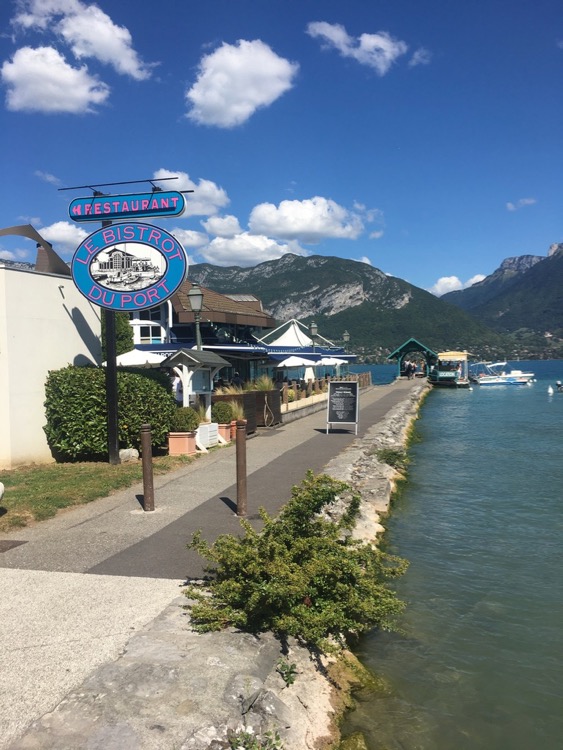 Le Bistro du Port is right by the water, is obviously popular, has a nice 'Sunday lunch' vibe, The service is great and the food is lovely. They do a 'lunch menu' with a range of reasonably priced menu combinations.
Refuelled with 'perche frites', sticky desserts and a half bottle of rosé, we spent the rest of the afternoon hanging out at the campsite pool, swimming, sliding, lounging and digesting.
T was shattered from the rowing, swimming and sliding and declared he was going for a late afternoon snooze in the van. When we went back to wake him for a shower, he didn't mention that he'd whacked his head when he got in the van. We noticed a couple of spots of red on his pillow but didn't think much of it given our graze-prone lifestyle and it wasn't until nearly an hour later that I noticed a big cut in his head that definitely needed stitches!
Beer and lollies at the bar went out of the window and we set off in search of a medical centre or an A&E. Typically, everything was now closed until we eventually arrived at A&E in Annecy. Only one parent was allowed to accompany him, due to COVID restrictions, so Iz and I were banished to the van in the car park.
An hour passed, then two, then three, then three and a half. Then the clock struck 11pm and we had a problem. The main gate at the campsite locked automatically at 11.30pm and it was a 20 minute drive away. We'd rung reception but it had closed for the night. Iz and I would just have to drive back, get the van onto the site and Nina and T would have to get a taxi and climb over the fence if necessary!
10 minutes into the drive, we got a text from Nina saying he was just going in to see a doctor (typical again), 3 minutes later, (no words…) he was out, with three shiny new staples. There wasn't time to go back and pick them up before the gates closed so Iz and I carried on and set up camp…
Never mind… We're in and hopefully the taxi won't be too much… €45 Euros!..
It was nearly midnight now so we had a delicious, nutritious and slightly claggy supper of rice cakes and breadsticks before hitting the sack. Not quite the evening we'd had planned but at least T was OK and his head was sorted.
Swimming and paddle boarding plans were now off the menu so after an early morning ping-pong sesh, we packed up and headed home for a good nights sleep in our own beds…
Just one though… I had another plan up my sleeve! One that definitely no small person was going to moan about. (Sarcastic eye roll.)
We (Nina and I) had been wanting to do another wild camp for a few weeks and what better way to round out the summer holidays and make up for our lame last night in Annecy than with a camp on top of a mountain with a sunset and a sunrise, beef/veg stew and marshmallows on a camp fire.
I'd wanted to go as wild as possible but club schedules meant late finishes and if we wanted to go high and catch the sunset we needed something with easy to access. We opted for the top of Ranfolly with one last night of good weather on the forecast.
As expected, the moaning started when we broke the news but we quickly headed it off by telling T that it meant a campfire and burning stuff and that he'd need his penknife. An affirmative answer to Iz's inevitable follow up question "Can we toast marshmallows!?" stopped her in her tracks too. Parenting win!
We packed a tent, sleeping bags, food, water and marshmallows into rucksacks. In fact, I managed to pack everything for everyone except a coat for myself! T and I drove up to Col Du Joux Plane, parked up, hiked up and set up.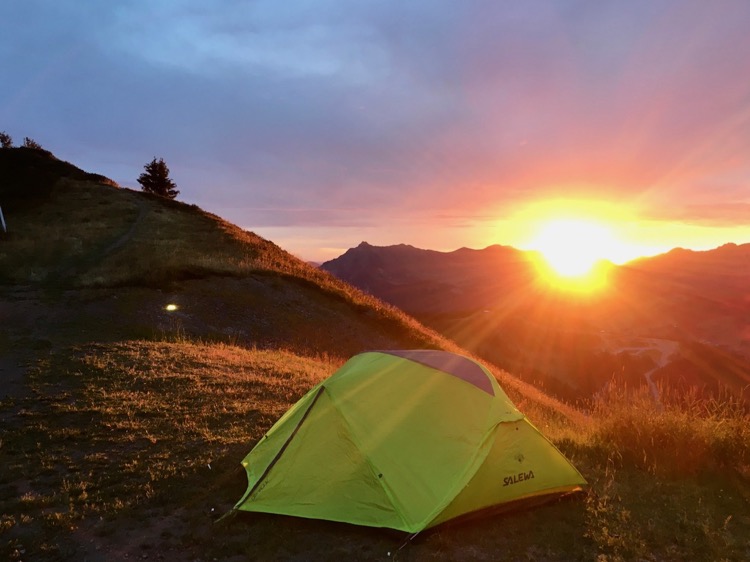 The girls joined us about an hour later and just in time for the tail end of the sunset. We lit the fire, heated and ate the stew and toasted a whole bag of marshmallows. T burnt everything he could find that would burn and we settled in for a cold and uncomfortable night's sleep. Aaaah!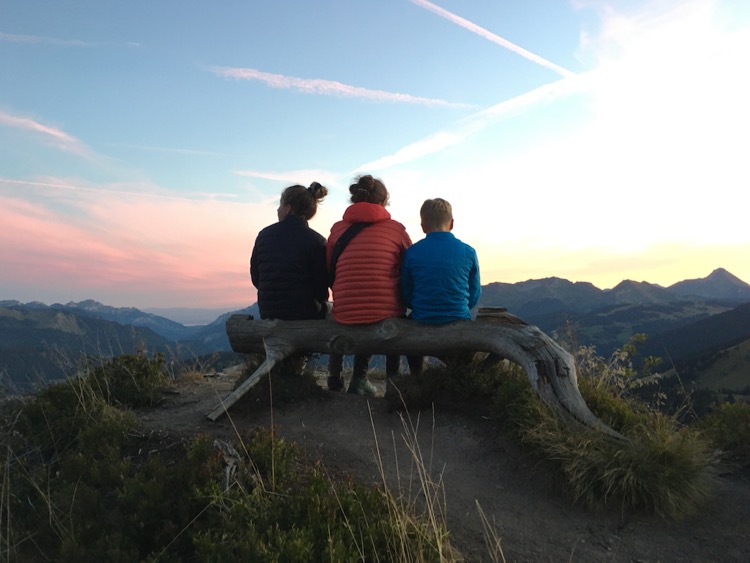 A night like that's not about the comfort though, it's about about the views, the mountains, the peace, the fresh cool air, the sunset, the stars (even a shooting one!), the sunrise, the fire, the marshmallows and the fam! For me, you can't beat a sunrise after a cold night wild camp – especially up high.
Seeing the colours build and spread over the mountains in every direction and feeling that warmth and light bathing everything is just magic. A perfect end to what had turned out to be a lovely 2020 summer despite reserved expectations.
There was 4 days of shockingly cold, wet and windy weather after that and before they actually went back to school but we won't mention that. 😉
Get yourself kitted out for Winter
Winter's coming and it's always a treat getting your new kit sorted!.. Our affiliate partner Blue Tomato is THE leading online shop for winter and trend sports, streetwear and fashion with over 450.000 products from over 500 well-known brands. Click here to see if they've got anything you fancy.