After a couple of quieter family weekends, this one was a non-stop whirlwind of social activities, fun and new friends. It filled in even more of the detail of our vision of what life out here would be like and for the first time since we got here, we shed the expat security blanket and spent some quality time with new French friends.

The rough plan for our weekend was as follows:
Saturday 8.30am – Take part in the Les Gets voluntary clean up crew. Litter picking on the slopes in preparation for summer and a good opportunity to do a little bit to contribute to the community and get the kids involved.
Saturday Afternoon – Local brewers' beer festival at the Abbey in St Jean D'Aulps.
Later Saturday Afternoon – An invite to a gathering at our French neighbours and Iz's school friend's house as they were having some friends over.
Sunday 10.00am – Playgym party in Lausanne, Switzerland for our friends' son's 5th birthday.
This is how it went down:
Friday turned out to be another 25 degree scorcher and after severely roasting my forehead on a lunchtime walk up to the top of Le Ranfoilly with Nina, we took the kids down to the pump track after school for a blast on the bikes. It wasn't long before one of our school mum friends spotted us from her office and popped out for a chat. A few minutes later, some other neighbours of ours stopped off to say hello and introduce us to their son who had flown over from the UK for the weekend. A few minutes later, another Brit family we'd recently met turned up with bikes and settled in for a chat.
There are two primary schools in Les Gets and these guys' kids go to the other one so we hadn't met them until recently. Before long, a group of their friends and kids turned up and after a round of introductions we were part of a sizeable social gathering. A nice bunch of guys and it wasn't long before someone had the excellent idea to let the kids continue racing about and relocate across the square for a beer in the sunshine.
An hour or so later, we left them to it and with our heads buzzing with new names, interesting backstories and heaps of advice, we herded the kids home for a 'cereal tea', no bath and straight to bed. "Busy weekend ahead".
The alarm clock shattered a blissful slumber at 7.00am and as the Mayor is the big cheese in town, we didn't want to be late so we got ourselves fed, watered, dressed and organised then promptly met up with our friends at the 'Mairie' at 8.30am. There was a good turnout and a table full of coffee and juice to fuel the troops. The Mayor listed the separate areas and we got into a group and chose the lower slopes and car parks to clear. We set off armed with gloves and bin bags and started zig-zagging our area. Iz disappeared off up the slope with her friends to clear the high ground and T made the most of having free reign to pick up whatever dodgy or dangerous bits of rubbish he could lay his hands on without objection.
A few hours later, we'd covered the whole area and wearily headed back to base for drinks and a full spread of bread, cheese, cold meats, delicious quiche and wine. Nice work French dudes, a lovely atmosphere and a great incentive to get involved.
We sat around chatting for a couple of hours before heading off to the beer festival in St Jean D'Aulps. We'd driven through St Jean a couple of times and not stopped the car but we'd fancied a look at the Abbey and a beer festival is as good a reason as any to take in some historical architecture. Nina offered to drive while I sampled a couple of the local brews and we sat in the sun marvelling at our surroundings.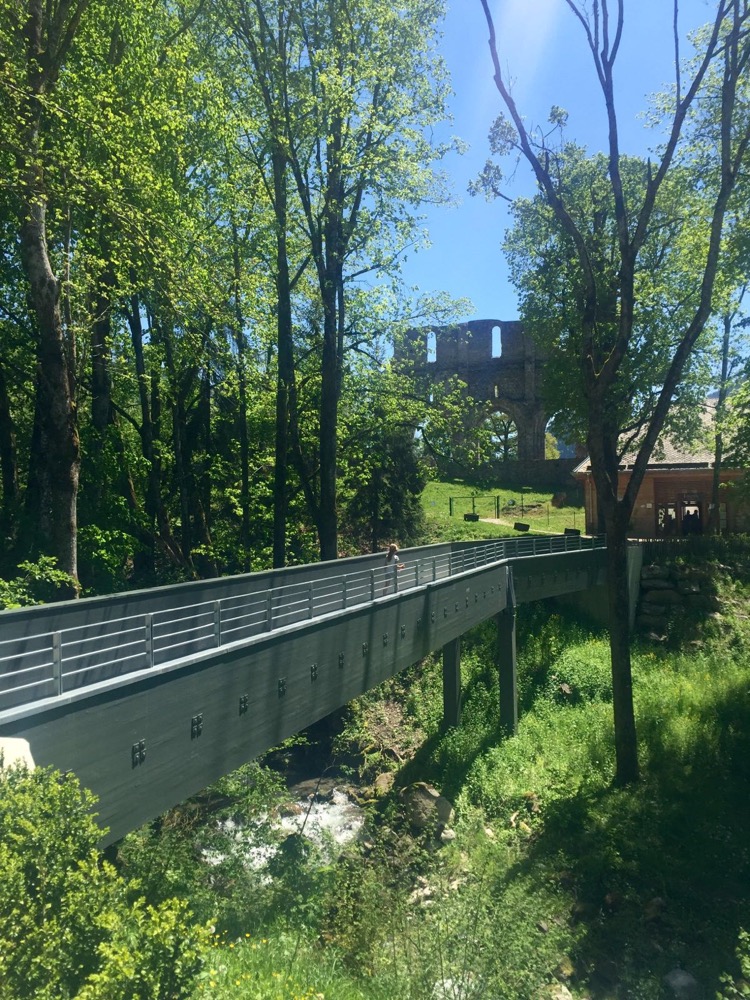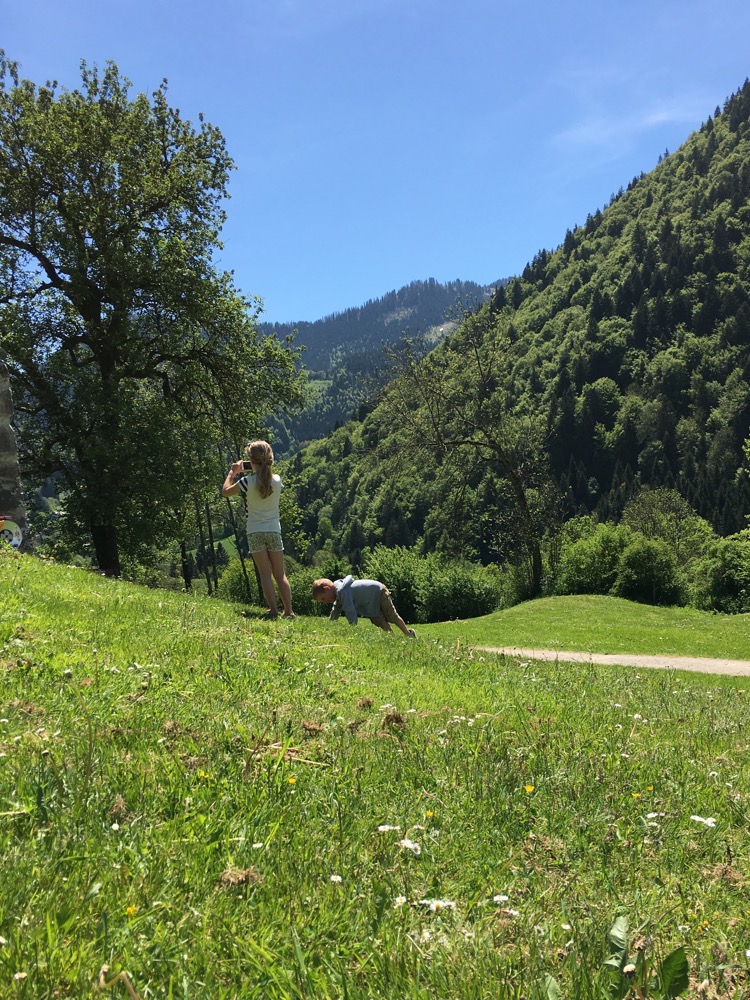 We didn't stay long before heading home for a freshen up and to grab a bottle to take round to the neighbours. I always get a bit anxious before a social gathering and the language barrier was making it worse. I'd also managed to get sun cream in my eyes whilst attempting to protect my already lobstered face and I now had bright-red bloodshot eyes to match the face. If the prospect of struggling to communicate wasn't making me anxious enough I now had the appearance of the world's angriest man. I think 'rabid' might be the best description. Terrific!
We popped round at 4.00pm and figured we'd stay for a little while, play it by ear and not head home too late with the kids as we needed to be up early for the party nearly 2 hours away.
There were only a couple of others there when we arrived which gave us a chance to have a good chat and a tour of the house. Their house is an old family farmhouse with stylish renovations inside and lovely touches everywhere like copper 'marmalade pan' sinks, a polished concrete kitchen worktop and outside a chic but cosy covered seating area complete with a kids' swing! A stream-fed timber fountain and water trough acts as the mother of all drinks coolers / veggie washers. All this with stunning panoramic views over the other side of the valley and the mountains beyond.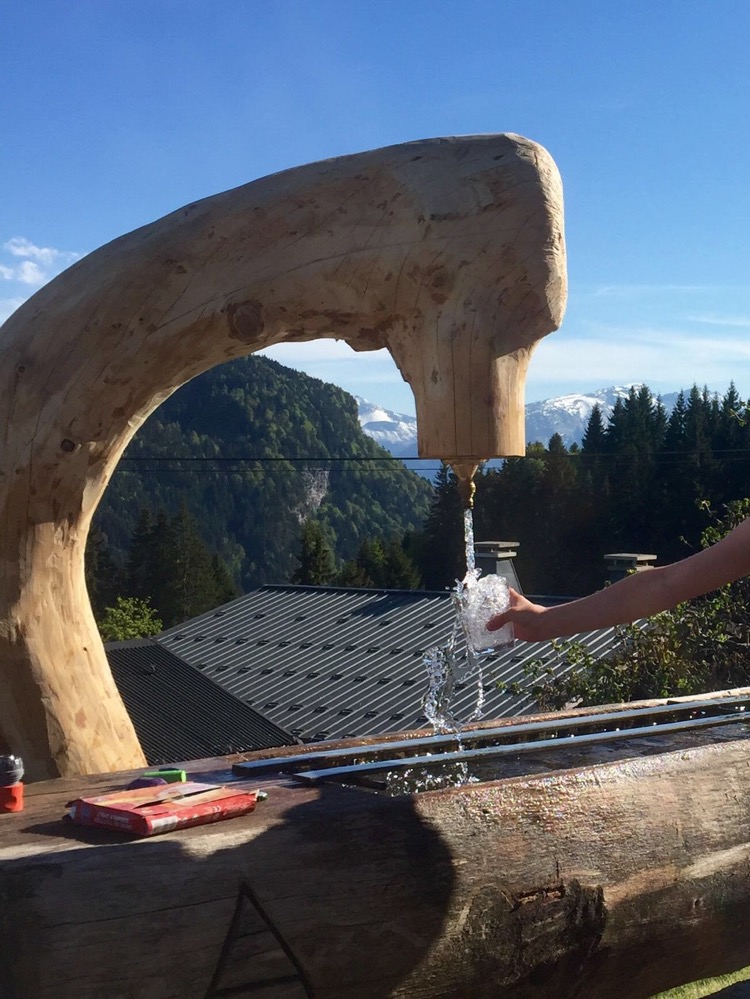 The kids got down with the important business of playing out and we cracked a beer, sat down and relaxed. These guys spoke pretty good English but were keen to learn more and we Franglais'd our way through the conversations. Nina's already flying but my French came on loads. In fact, we made the discovery that beer seems to improve your ability to speak a foreign language. That's not something we've seen recommended anywhere. Watch out Rosetta Stone, we could be on to something.
These guys turned out to be great hosts and great fun, as were their friends who arrived from far and wide as the night drew on.
I don't know whether it's their thing or a French thing but this is something we'll be pinching in the future. They prepped all the food bite-size. You could nibble away on BBQ'd pieces of steak, chunks of sausage, oven roasted tomatoes, cheese, radishes, carrots the lot without needing a plate. You could just get on with chatting and having a drink without having to deal with a plate of food and it spread the food over the whole evening. Brilliant!
It got later and it got busier and the music got louder. We got treated to a beautiful full moon rise on the other side of the valley and quite a few of us including the kids ended up dancing in the kitchen wearing some of their collection of novelty 'party' sunglasses. It was a great laugh but our 'play it by ear' had crept on to midnight. Eek! We said our 'thank yous' and 'bon nuits', walked home and climbed straight into bed.
It felt like we'd been asleep for 5 minutes when the alarm went off. We had to get a move on though to get to Lausanne for 10am and I groaned my way out of bed and padded through to the kids' room. After 7 years of being woken in the morning by one of these two I could count on my digits the number of times I'd had to wake them up in the morning. It took some effort this morning though. An hour later we were in the van heading for Geneva. We drove through the city before hanging a right and following the North shore of Lake Geneva to Lausanne. The sat nav guided us towards the play-gym and another bunch of new people to meet. I didn't fancy my chances remembering any names today though.
If this one is anything to go by, the play gyms in Switzerland are very nice, everyone takes their shoes off and there's not a sticky carpet in sight. Luckily it wasn't too busy or too loud considering our slightly delicate state. We met some more of our friends friends and Naomi's Aunt and Uncle. Cake, tears, bouncing, bright-red sweaty faces (not mine!) and a nosebleed for the Birthday boy later, we streamed out in convoy for an impromptu lunch at a Buffalo Grill before heading back to their place in St Cergue for a brew.
A couple of hours later we wound our way down the Jura to Nyon with happy kids and blue skies and sunshine blazing above the Alps feeling pretty flipping grateful for our lot. Life is good.
I reckon we must have met (including kids) 80 people this weekend. Cheers to all our new friends and 'sante' to our new French friends.
Just to make it all even more mental, after a weekend of shorts, sunburn and blue skies, we woke up on Monday morning to this…