We'd arranged to meet up with some friends of ours in Chamonix for lunch on the last day of our trip. Whilst we were there, I was really hoping to go up the incredible Aiguille du Midi cable car which I've been wanting to do for years. This lift goes from Chamonix town at around 1030m elevation to the Aiguille du Midi at 3842m. I've heard stories of people falling flat on their faces when the doors open at the top due to the lack of oxygen at altitude and then having to sit down with their feet up and wait to head straight back down again.
A ride up there has always been thwarted by bad weather or poor visibility simply making it a pointless trip. With calm weather and wall-to-wall blue skies, I was hoping today was the day.
There are incredible viewing areas up there and – most exciting of all – it's a perfect jump spot for wingsuit pilots so hopefully we'll get to see some of those nutters taking the plunge!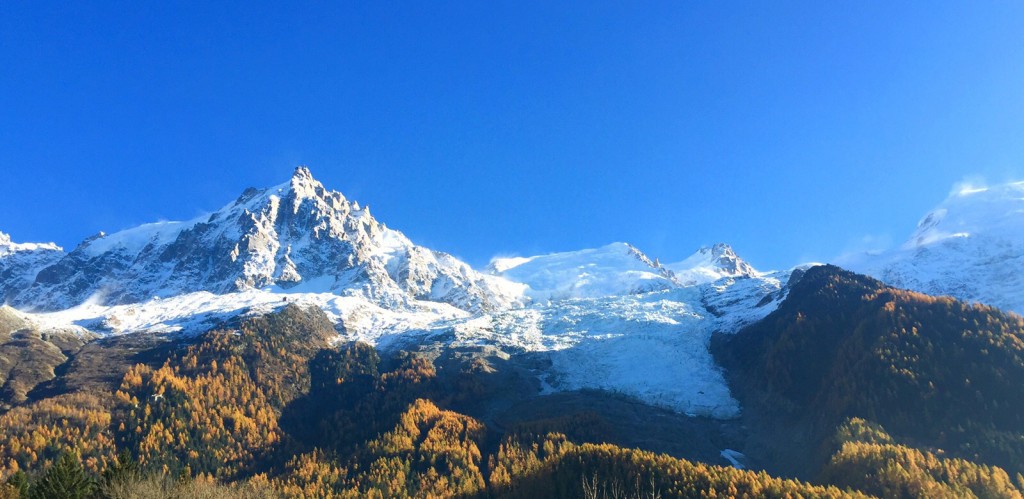 We got ourselves sorted and wolfed down our Igloo breaky whilst swapping house hunting stories with some Welsh dudes who were also out here on a property search. Their estate agents didn't seem that interested in selling properties either. I guess when you've got multimillion pound chalets on your books you can afford to be a bit snobby.
We jumped in the car and set off back towards Cluses to join the motorway towards Chamonix.
The journey into Chamonix is always exciting. The mountains hugging the valley start to rise away from the road, turn rockier and more imposing and then the road follows suit. Arching into a huge towering concrete road bridge, the A40 sweeps up into a gorge and leaves the valley retreating beneath. Everything seems to be building the senses for the high octane energy of Chamonix. You pass through a tunnel and then the shoulders of the Mont Blanc Massif begin to open up ahead. Everything is so much bigger!
We pushed on into the valley with the Aiguille Du Midi and Bossons Glacier towering above us on the right hand side of the valley.
The place was buzzing with people lapping up the great weather and even though it was rammed, we found a parking space right beside 'Chambre Neuf' where we were meeting our friends for lunch. They were already sitting at a table outside tucking into a frosty cold beer. We had some tasty burgers for lunch although we need to remember to order them 'well done' in future as these guys were still creeping across the plate. It was busy and the service left a lot to be desired but we had a pleasant lunch and catch up with our buddies. We then went for a wander through town and to have a nosey at the swanky hotel they were staying in for the weekend.
To say I don't like shopping is an understatement but in Chamonix nearly every shop is up my street: Quicksilver, Volcom, Boardriders etc. Normally shopping is something to be avoided at all costs but I could do myself a serious mischief in this place.
Handily our friends' hotel was right next to the Aiguille Du Midi cable car so after a coffee and a look around, we said our farewells and made for the ticket office.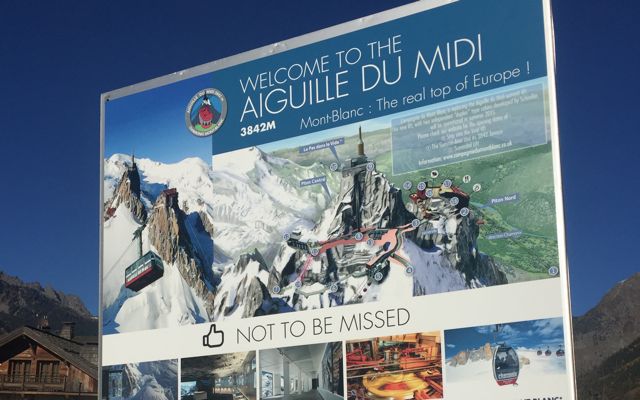 "CLOSED DUE TO HIGH WINDS."
WHAT??!! It's a beautiful day. Not so at 3842m it turns out. I asked if that was it for the day and the lady said "Oui, c'est tout". Daym. Scuppered again. One day my friend, one day. Actually, it's nice to have it still to look forward to and we can take the kids as well. I'll get them excited about it.
We traipsed back to the car park and set off down the road. Chamonix is an awesome place and a mecca for hardcore mountain people but it's big and it's busy and we ruled it out a long time ago as a place to go and live because we wanted a more intimate Alpine experience. I do love it though and I'm super excited that this place will be less than an hour up the road.