Day two of our recce was to start with an estate agent appointment before exploring further a-field down the valley to St Jean D'Aulps and beyond where the property gets more affordable.
After a couple of Alkaseltzers and a shower, we jumped in the lift to get down for our inclusive L'Igloo breaky.
Fed, watered and headache free, we popped into the 'agence immobilier' bang on time at 10.30am. After introducing ourselves, we were informed that the lady (and owner) we were supposed to be meeting was out and wasn't due back for a while (!). We explained we had viewings booked and after a few answerphone messages she got in touch and passed on an apology that she had totally forgotten! We agreed that this was a bit of a relief as after last night we thought we might struggle to communicate properly. With her on the back foot we had psychologically gained a bit of leeway.
Half an hour later, we were in her car and on our way to property number 1 (in fact, the only realistic option) on our list. This place is a farm in Essert Romand which has some lovely features but needs total renovation (right up our street!). It's condition means it's more affordable in the short term and it has the crucial ingredient that part of it is currently habitable. We could buy it and move in in the short term and renovate, get comfy and add value later. Perfect!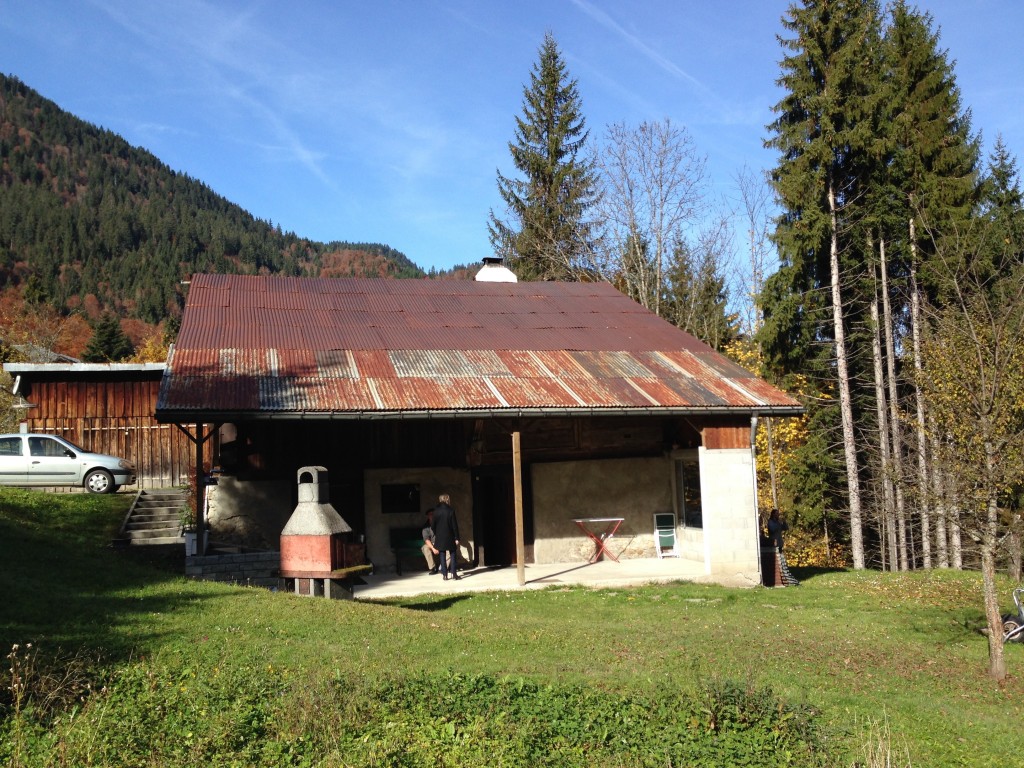 We liked it straight away and it had good potential but the more we looked around, the more sticking points cropped up. The lovely open area which appeared to be part of the garden on the agents photos turned out to be a separate building plot, access to which cut across the parking to the farm. Half the ground floor was below ground and would need tanking. Underpinning would be required and a lot of the fabulous old timbers were quite rotten. Not insurmountable problems, but given the scale and cost of the job, a plot and new build would make better sense and leave us with a decent sized garden. The main pull though was still the fact that you could move straight in for now and worry about forking out for improvements later. Hmmmm, food for thought…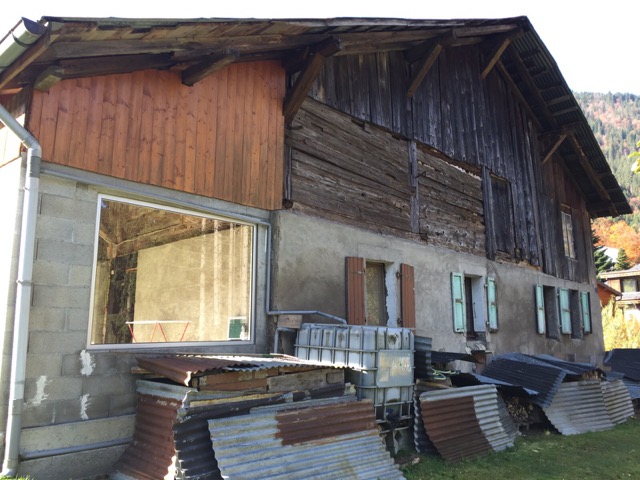 After we left the agent we decided that, as it was a beautiful blue sky day, we'd have a drive up to Avoriaz to look at the views.
We then decided to have a drive down the valley towards Thonon and Lake Geneva to have a look at the villages of St Jean D'Aulps, Le Biot and La Baume. Apparently, prices in Essert Romand are about 30% cheaper than Morzine and St Jean D'Aulps are 50% cheaper so it was definitely worth having a look around!
We had a lovely drive about in the warm sun, admiring the stunning scenery but we were both starting to suffer a bit from our night out and Nina faded quickly after St Jean and slept through Le Biot, La Baume and the journey back to Morzine!
We pulled in at L'Igloo and I thought it'd be a good idea to just send Gary a text to say thanks for meeting up and for all the info. Seconds later I got a reply. "I'm in Dixies with some of my lads if you fancy a beer?"
Ding ding! Round 2!
We maintained control this time and only stayed for a few before making our excuses and heading off for dinner. We'd spotted a place called Rotonde not far from Igloo, it looked nice as did the menu so we moseyed back up and wandered in. It was buzzing inside (another good sign). We got a table and had a terrific dinner. The fillet steaks were tremendous and our waiter kept the complementary Genepis flowing after dessert. This place is definitely going on the list pf places to bring friends.
We headed back to L'Igloo in a much better state than the night before and well satisfied. We're going to like it here…