Well hello there! It's been a little while since our last post and if you've read the last couple you'll know that we were gearing up to move out for a week while the owners of our apartment were in Les Gets for a half term holiday. The mid-season mayhem of the last few weeks ended up being a bit of a mission with lots of moving, cleaning, buzzing about as well as a whistle stop trip back to the UK and an almighty storm!
2 weeks ago, we packed up and moved the bulk of our non-essential gear into our friends' barn up the road. A day and a half later, we dropped the kids at school, packed the rest of our stuff into the van and gave the apartment a thorough going over. I dropped Nina at school in the afternoon to do English lessons with the diddy ones (5/6 year olds) and nipped down to Morzine to unpack a fully laden van at high speed before returning to pick everybody up and head back down to our new pad for the week.
There was no time to rest before getting ready, picking up our baby-sitter and heading out for a friend's 40th party! The rest of the week rattled by with school runs, work, snowboarding and before we knew it, we were packing up, cleaning and moving out again. We dumped another load in our buddies' barn, picked the kids up from school and set course for Geneva airport. I'm pleased to say that after our earlier debacles, we're starting to get the hang of Geneva airport. Thankfully, getting there, parking and checking in was a breeze this time.
We had decided it was a good time to do a trip home to visit our families and our Dads who were in the middle of round 2 of heads, shoulders, knees and toes. My Dad had just finally managed to get his second knee replaced and Nina's Dad is now patiently waiting for a toe to drop off of it's own accord!.. We'd be away for 5 days, the busiest weekend in the season and the start of the kids' two week mid-winter holiday. Another massive bonus was that we were going in the opposite direction to the flow of half term holiday makers so return Easyjet flights for the four of us had cost just £145! The flights back for the kids were only £2.97 each!!
We had a lovely time in the UK catching up with family and in a flash we were off again. We arrived home late on Tuesday and spent the next day moving our stuff back out of the barn and into our pad again… Phew! And relax…
We'd only been away for 5 days but high temperatures and sunshine had been doing their best to decimate the snowpack. Our last post was a contender for best snow day of the season but since then there'd been no new snow and as we pulled out in the van to take the kids for a welcome-home slide, the thermometer was reading 15.5°C! Eek! The pistes were still surprisingly good though and at least the throngs of holiday makers were going home with a healthy dose of vitamin D and some well defined goggle marks!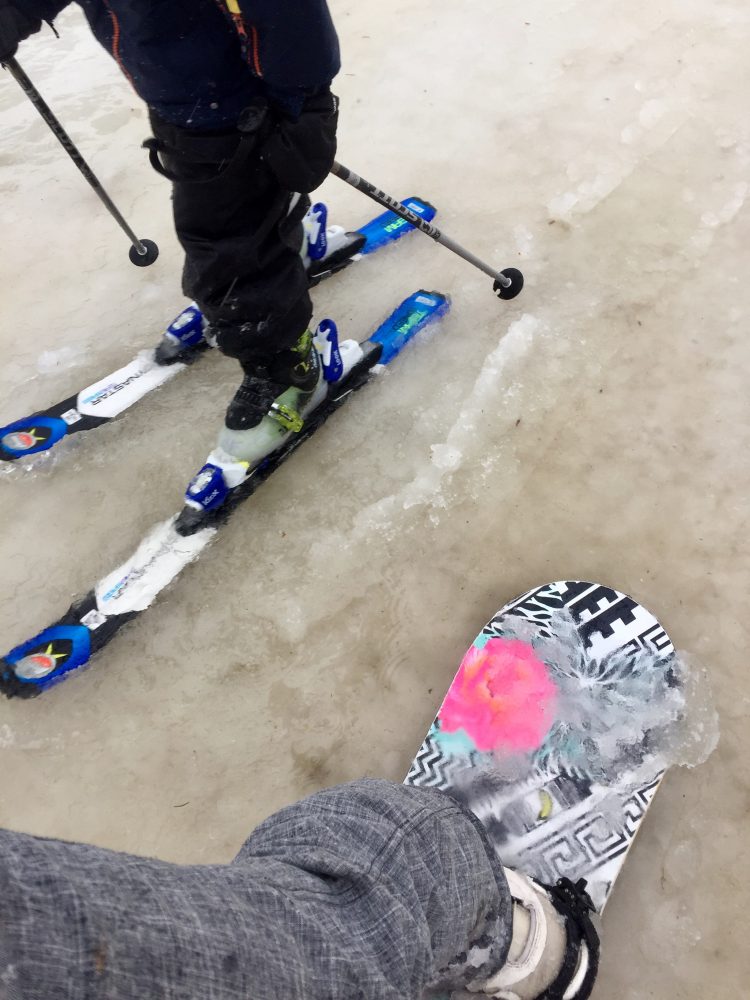 Luckily there was hope on the horizon and that hope materialised in the form of a massive gert snowstorm on Tuesday. And what a storm!
As Les Gets locals, T and Iz get lower cost ESF (Ecole du Ski Francais) lessons which run most Saturdays throughout the season. If there's room, they can also piggy-back holiday-makers' group lessons so, for this second week of the holidays, they've been having daily lessons and working through their 3 star and bronze star badges. We dropped and waved them off on Tuesday and returned home just before an almighty thunderstorm erupted with lightning, driving high-winds and thick snow to match!
We know from the summer that the lifts shut down in thunderstorms and I headed straight back down to the ESF meeting point to see if the kids had returned. They hadn't and whilst I was a bit concerned, the instructors are highly trained and the brilliant ESF runs like a well oiled machine so I knew they were in good hands and wheelspun my way home trying not to worry.
An hour later, we picked the kids up and they were full of tales of excitement and adventure. They'd been stuck on lifts, beaten by wind, scared by thunder, sheltered in cantines and fed with hot chocolates, biscuits the lot! T informed us that he'd seen a tree get knocked down by lightning and he was even adamant that he'd seen a dead body below one of the lifts! Massive pinch of salt required me thinks! (Me hopes!) We thought they'd both over-egged it a bit but more reports started coming in of people being evacuated from lifts, trees coming down, the Folliets lift being hit by lightning, power cuts and pisteurs guiding large groups back down off the mountain. Sounds like it was carnage out there!
Thankfully, we've not heard of any casualties, T's imagination is obviously on fine form and the storm very kindly left behind a hefty dump of fresh pow which I gratefully spent a couple of hours tearing up the next morning!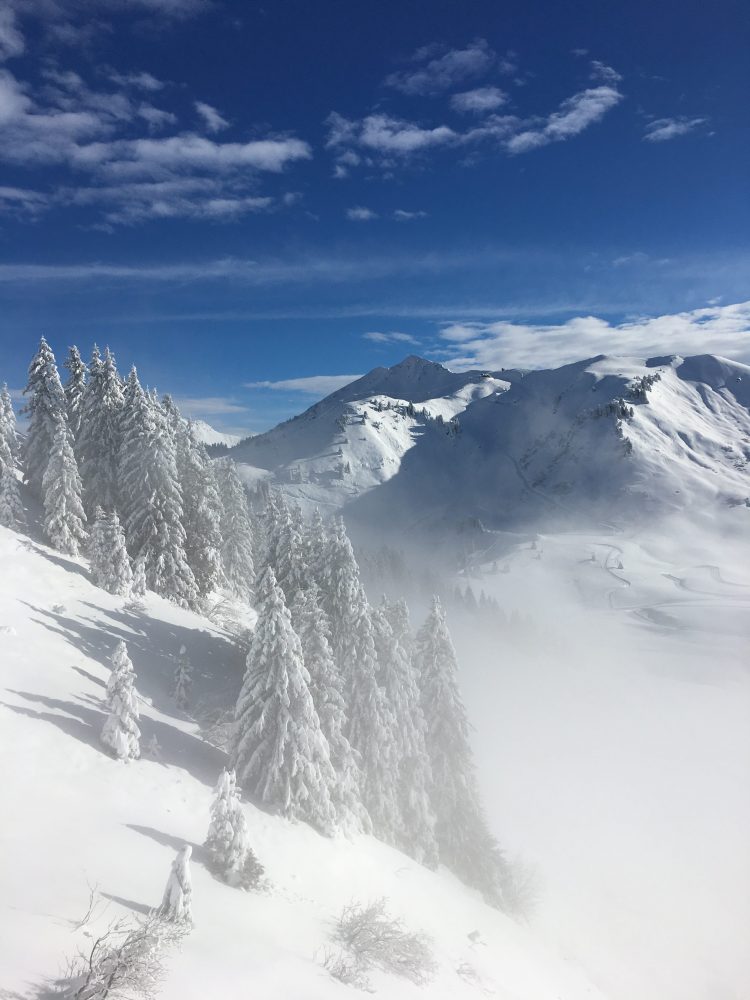 The kids finished the weeks' ESF lessons and were awarded their new badges yesterday so we had celebratory crêpes at the Après bar and a beer with some friends we'd bumped into. T and a three year old pal of his spent a joyful hour and a half playing in a freezing cold slushy puddle, getting totally soaked through without a word of complaint!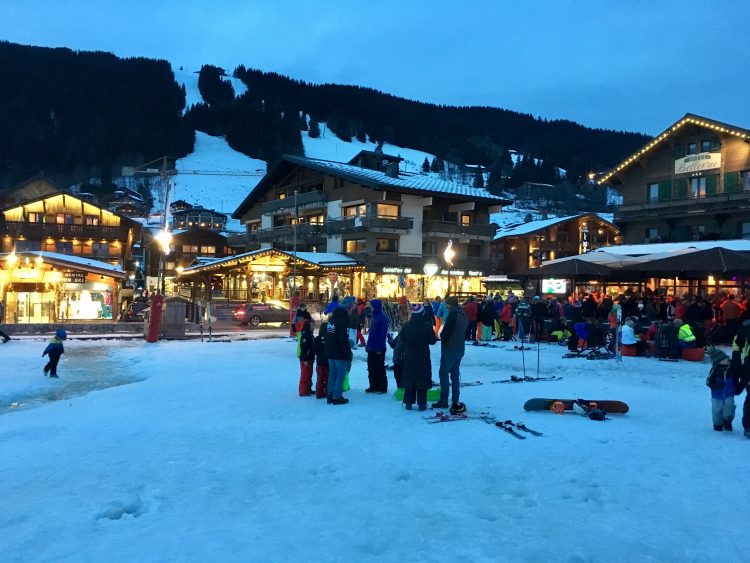 Apparently, 'they've' been calling it 'saison du merd' and when we got back it was indeed looking pretty pants. All it takes though is a day or two of dumping and low temperatures and it's back on!
We've settled back in nicely now, are ready for school next week and there's more wintry weather on the way!
Get yourself kitted out for Winter
Winter's coming and it's always a treat getting your new kit sorted!.. Our affiliate partner Blue Tomato is THE leading online shop for winter and trend sports, streetwear and fashion with over 450.000 products from over 500 well-known brands. Click here to see if they've got anything you fancy.