Le Bout du Lac is located at the far end of Lac Montriond as you travel from Montriond to the Ardent lift with Lindarets beyond.

A week ago we had Granny over for a visit while Grandpa remains grounded in the UK following his toe op. The kids were bouncing off the walls with excitement but poor Granny came accompanied by a rather nasty chest infection. Doing as Grans and Mums do the world over, she soldiered on, sucked it up and got on with having as good a time as possible without complaint.
JACKPOT!! This is where everyone has been hiding out!
We rolled out on Sunday in search of somewhere to have lunch and a bit of a 'Sunday driver' drive around to admire the scenery and show her the surrounding area of our new home. We figured we'd find somewhere in Morzine to grab a bite.
As I've mentioned a couple of times, it's inter-season, and after half an hour of Sunday driving around Morzine, dodging the tumbleweed and slowing down to peep in restaurant windows only to see chairs stacked on tables, the wee man had had enough. We needed food and we needed it soon! Whilst the 'hungry children ticking time bomb' ticked in the back of the van, we decided to roll the dice and have a quick drive up to Lac Montriond to show Granny the spectacular green water and towering cliffs. We were also hoping one of the restaurants might be open for lunch.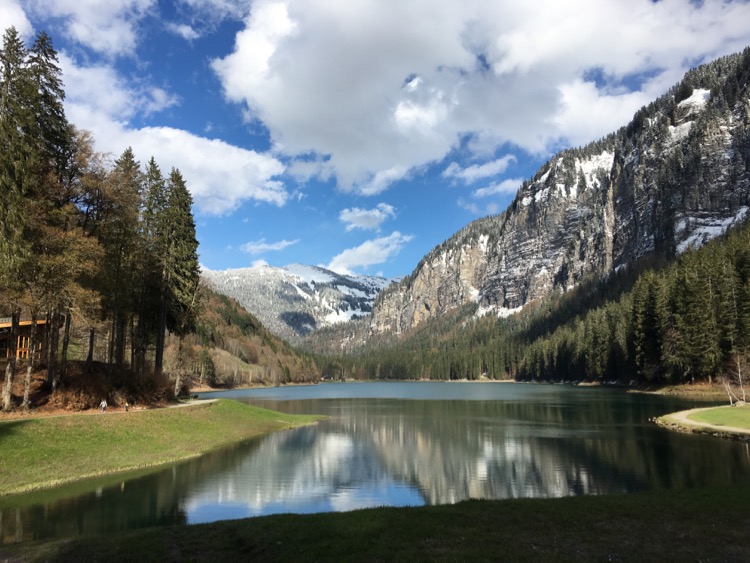 JACKPOT!! This is where everyone has been hiding out! The car parks at both ends of the lake were heaving and the outside seating areas of the two restaurants up here were packed with diners basking in the spring sunshine. We reached Le Verdoyant and a quick recce by Nina told us it would be 3.00pm before seating. That's no good. A short drive to Bout De Lac at the other end of the Lake and Nina jumped out, popped in and came back with the thumbs up. Result!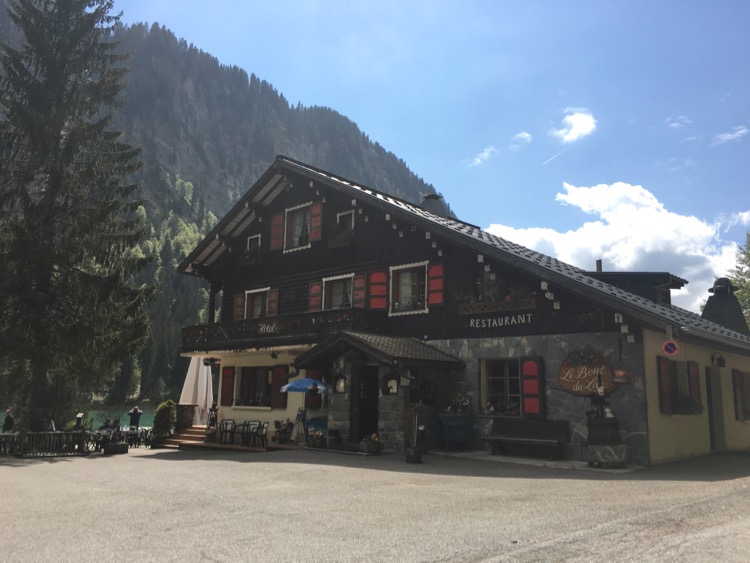 As we hadn't made a reservation, we were squeezed in and had to sit inside by the entrance door. They have an incredible view down the lake from Le Bout du Lac and there are several tables in front of large picture windows framing the view over the length of the lake, the waterfall streaked cliffs to the left and the valley beyond. We only managed a peep at these views when we popped to the loo but we agreed that it'd be worth booking one of those tables in advance in future.
The place is a traditional Savoyard establishment with the usual steak dishes, fish, tartiflette, fondues etc. and a kids' menu that consists of the standard limited number of dishes, in this case ham, fries and salad or a ham omelette.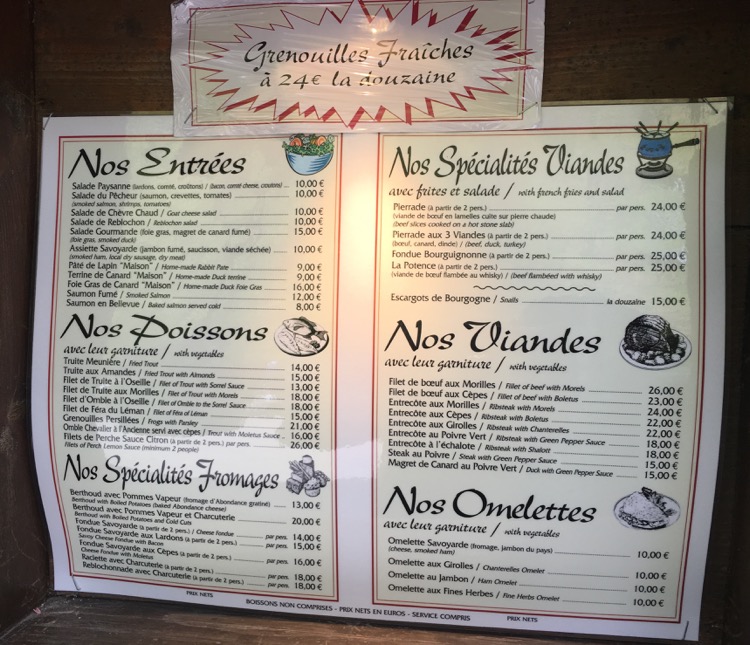 Granny, Nina and I all went for steaks and the food came 'old-school' style on single porcelain plates. Not a slate, board, basket or clog in sight! Our juicy ribsteaks were well cooked and served with a choice of sauce (as long as you choose mushroom! Just kidding, there's green pepper and shallot too;)). The best surprise was the effort that had gone into a range of delicious and attractive vegetable accompaniments which weren't mentioned on the menu but were deserving of full individual descriptions. We'll take photos next time and spend a bit longer trying to identify what they are rather than excitedly wolfing them down.
We were served by one of the owners who seemed a little stressed at first – probably due to the fact that the restaurant was packed to the rafters with local diners. She was, however attentive and considerate of the kids' needs, ensuring that their meals were served promptly. She appeared to relax as service progressed and all of our meals came quickly and piping hot.
Since we went to Le Bout du Lac, we've heard good things from other people. Apparently, the couple that run it have been there for many years and it's a favourite with the French locals. Well, we really enjoyed it too and we'll most definitely be back!
UPDATE: We did go back… Last weekend (Sept 2016). T'was a little disappointing compared to the first time. We ordered the same thing but all the tasty veg bits were missing. It was empty too. That and the food may have been down the the fact that everything had just closed for the summer season but… We'll not be rushing back.
Don't miss out on any new posts by entering your e-mail address and subscribing to our new post mail-out list.
Feel free to comment below and if you do enjoy the blog, don't forget to like, comment and share. Cheers!