Childish… Yep… But we've sent a good few people into La Cave Gêtoise to ask Thierry about his sausage and (perhaps pathetically) it makes me chuckle every time.
I kid you not about the sausage though, it might not be much to look at but it's meaty and the flavours… Wow! On several occasions, I've unwrapped it for a little taste and ended up polishing off the whole thing…
Those people we've sent over are friends, who've had a little teaser at our place, and then have to go see the man himself for a piece of his meat to take home and enjoy in private… It's that kind of sausage.
Hopefully, if you visit Les Gets after reading this, you'll pop in and he'll get even more requests. 😂 I don't know if that will get old quick, or just get funnier and funnier. Probably the former for him and the latter for me. Haha!.. His mum and dad still work there from time to time though, so keep it clean. 😉
In fact… His mum and dad ran it before he took over and the shop has been supplying quality regional produce since his grandparents, Berthe and Alfred opened it in 1945!
When he was younger, Thierry went off ski instructor-ing, being cool and impressing the ladies with his equally renowned 'rubber knees'. He honed his English during a stint instructing in New Zealand and used it to help lure one of the natives (Sarah) back with him. After a stretch working for Salomon, he returned to Les Gets, took the reigns and got his delicatessen game on!
It's not just sausage either, La Cave Gêtois is a treasure trove of local artisanal products and treats. There's a range of quality meats, cheeses, preserves, conserves honeys, liqueurs, and wines.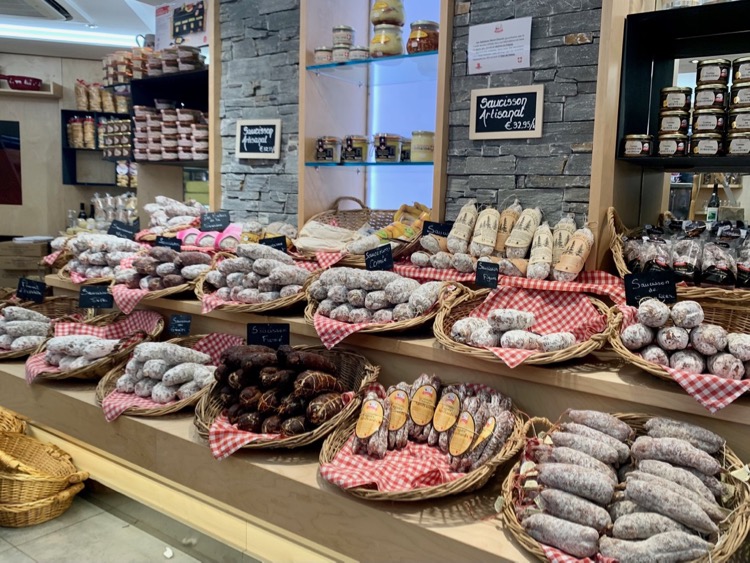 It's the perfect fodder for a tasty lunch, delicious dinner or an nice little apres-ski charcuterie spread. It's also great stuff to pick up and take home as gifts and if you need information about any of it Thierry's a man who knows his onions… I'm not sure he actually sells onions but he sure as heck knows em'!
And, if you're the sort of person who likes to drop a bit of cash on something a little bit special to quaff, La Cave Gêtois's got you covered. There are some pricey bottles in there which we've never tried but I'm assured are delicious. 👌This time next year, Rodney. 😂
Joking apart, we have had the pleasure of sampling a range of things from Thierry including some of his delicious wines. I helped him out with some Internet stuff and he turned up on the doorstep with a hamper of goodies which we happily devoured.
This year is a big challenge for lots of businesses in these communities and it's going to be a very different holiday for those of you that do manage to come in the next few weeks. With ski-lifts still closed and restaurants only allowed to offer take-out food, there's a lot more cooking and eating in. La Cave Gêtois is an excellent option for nibbles, drinks and meals.
There's also a curfew (which may soon come down from 20:00 to 18:00) to bear in mind if you are ordering. You'll need to get in early so you can pick it up and get it home before we're bolted in for the night.  No big deal when you've got good supplies.
La Cave Gêtoise website is a work in progress as is their facebook page so the best option is to pop in or give them a call. Thierry's a lovely bloke with quick wit, good banter and a ton of knowledge.
Oh and it's a toss up between the black pepper and the hazelnut sausages for us. If you're going to eat it soon, get him to slice it. If not, it stays more moist if you don't.
Bon Appétit!
If you'e got a product or service you'd like us to try out just drop us a message. 👍
Get yourself kitted out for Winter
Winter's coming and it's always a treat getting your new kit sorted!.. Our affiliate partner Blue Tomato is THE leading online shop for winter and trend sports, streetwear and fashion with over 450.000 products from over 500 well-known brands. Click here to see if they've got anything you fancy.