Back in January, my mate said. "Hey, d'you fancy doing Megavalanche this year?" "Yeah, sounds good…" I said, without really thinking. Next thing, we'd booked in online and it was in the diary.
As the dates approached, the nerves started to kick in. Whilst we'd known about the event for years and whilst I'd always fancied a go, we didn't really know what was in store other than that it looked mental.
If you're not familiar with it, Megavalanche is a mass-start, downhill mountain bike marathon race. "The longest and craziest DH mountain bike race in the world" apparently.
Hundreds of riders set off at the same time from an altitude of 3300m at the top of the Pic Blanc at Alpes d'Huez and race down the snow of the black 'Sarenne' ski piste before clattering across rocky mountain terrain and scree, onto grassy Alpine single track, then finally dropping through miles of dusty, rooty woodland. 30km after setting off and 2600m of vertical descent later the finish line beckons, with the top boys making it there around the 40 minute mark!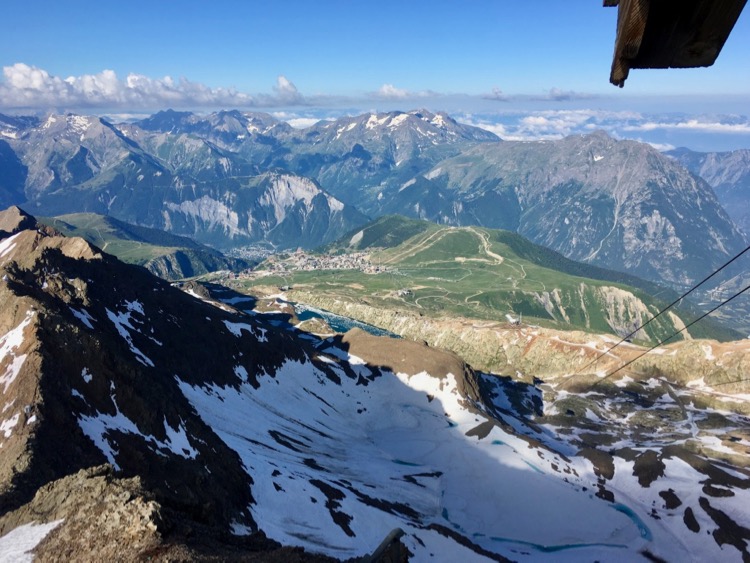 We were both busy in the run up and wouldn't be able to make it there for the Monday to Thursday practice days. Agreeing to just go on Thursday, we'd hopefully get a bit of practice before qualification on Friday.
We arrived at lunchtime and met up with some of Jacko's mates from the UK who had been there all week. They'd done it before and after we'd registered, Jimmer took us up for a practice run of the qualification track and gave us some tips.
He said the qualification track was as gnarly as anything on the main race course so not to worry about coming across anything much worse than that.
"Don't let go of your bike if you fall in the snow. It stops but you don't and then you have to hike back up for it."
"The snow gets rutted quickly so get in a rut on the steep bits and get a foot or two down. Back brake on lock and sit on the wheel if that helps."
"On the steep bits, some people jump off the bike and slide on their backs while they hold the bike."
"There's a whole bunch of luck involved in staying clear of crashes, not getting a mechanical problem, and not getting stuck behind slower riders where you can't pass."
We also discovered that we were too late to ride the full length of the qualification track. Getting a bit of practice on the middle part before showtime the day after would have to do!
Jimmer joined us for the first run, then left us to it for the second. There wasn't time to memorise it but we made a mental note of a few tasty sections to watch out for. Half way down, I got a puncture. Great! If I wasn't nervous before (which I was), I was now.
We agreed that getting down in one piece was the main priority, anything else was a bonus. We got showered, grabbed a bite and hit the sack for a good night's sleep.
Megavalanche 2018 Qualification
I was in the first qualification wave which meant getting to the DMC lift at 7.30am – ish. We had to take the DMC lift to the mid-station before disembarking. There was then a couple of miles pedalling along a track to the Alpettes-Rousses lift. Following this, it was on and up to the start point at Dômes des Rousses at 2800m.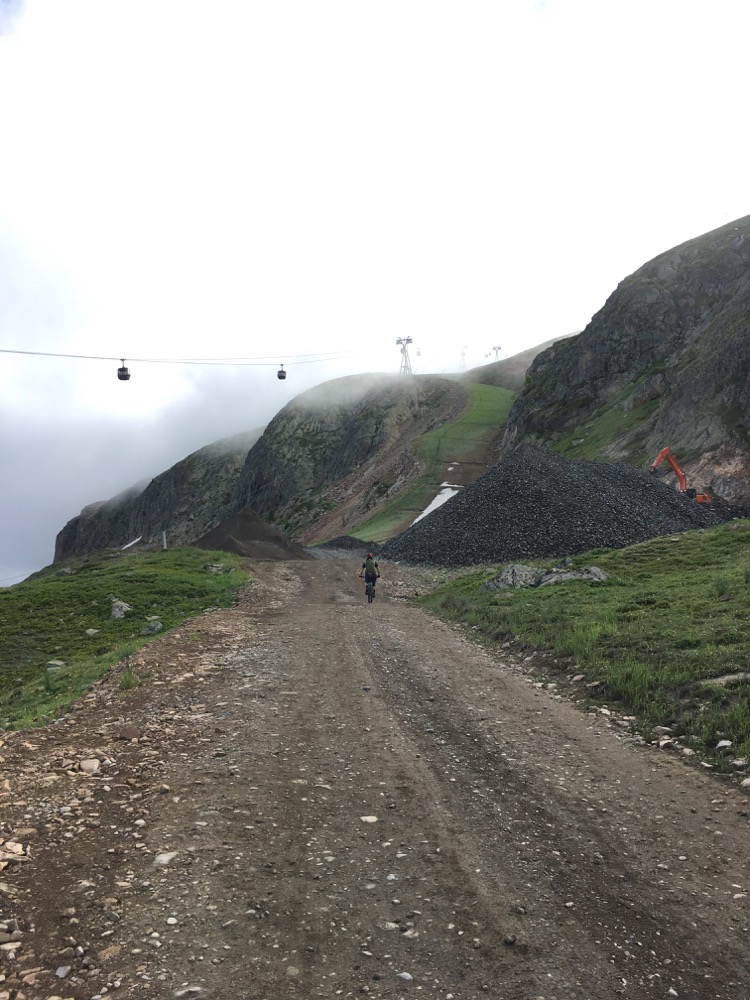 It was flipping freezing up there and windy, too. Probably 100 of us were huddled around the back of the small building up there, squished in like penguins. The more people arrived, the more sheltered it got, which was good.
I had a wander round, looked at the start and could see we'd be heading down a zig-zagging snowless piste of big, sharp chunks of stone.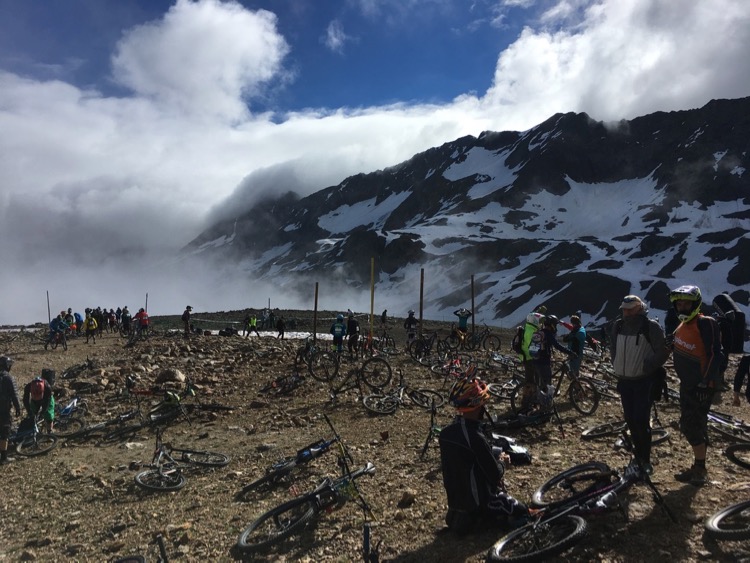 It's the first time I've competed on a bike, let alone in a mass start. The adrenaline was really pumping by the time they lined us up on the start. They revved us up even more with some techno music, accompanied by whooping and hollering! The 30 second countdown came then 10… 3,2,1. HOOOONK! We're off!
The start was frantic as everyone got busy with the pedal strokes. I just sat in with flow until I realised there was already a huge pile up right in front of me ahead of the first corner. I managed to swerve round it and fell back in with the pack. Suddenly, a bloke came flying past me and the group in front of me. I realised I was going way slower than I needed to be! I ground out some pedal strokes, got after him and started climbing some places. Just making it down in one piece hadn't lasted long… I was going for it!
We'd been told places 1- 35 would be in the main Megavalanche Race. From 36 – 70 go in the Mega Challengers with qualifiers 71 – 95 in Mega Amateurs and 96 + in Mega Affinity.
After several switch backs, a rock plateau, a snow field and a traverse, the field started to stretch out and we reached the bit we'd ridden the day before. Inexperience and lack of track knowledge was already taking it's toll. Riders streamed past on better lines as I joined the masses and skirted for what looked like the 'safe' routes.
It was true what everyone said about it being hard to pass and as we descended we kept bunching up for the more difficult sections. One bloke teetered to a standstill at the top of a small drop only to be knocked off it by the next guy going into the same place too hot.
Most of us yelled "ca va?" and "are you alright?" but the odd nob just got aggy at the hold up.
I was panting like a good'un by now but really buzzing at the whole thing. What a rush! I'd make up a few places only to lose them again at the technical bottlenecks.
Two thirds of the way down there was a little climb on a track and I was shattered. I was looking forward to this bit though with a series of big rollers that were great fun to launch off.
20 odd minutes after setting off, I'd reached reached the bottom of the DMC lift and the last section before the finish line. This was new ground again and I immediately stuffed up by launching off a small blind drop only to discover it fell away significantly to a flat bed of sharp stone. I landed heavily, bottoming out my suspension and bending my seat.
Dammit! I'd made all that effort and was going to end up with two flat tyres this close to the finish line.
I immediately decided that I was just going to ride on whatever state the tyres were in. It was a relief to find that both had held up. The extra pressure I'd put in after yesterday's puncture may have made it a bit more challenging on the way down but it had done the trick when I really needed it.
Pedalling in to the finish area, I crossed the line. Phew! I was shattered but that was awesome! Shaking with adrenaline, I immediately made friends with a bunch of guys who were in the same jittery state as me.
I calmed down a bit, snaffled some free cake and drinks and went back up to cheer Jacko and Jimmer on their way down. Stopping at the scene of my seat bending 'send to flat', I found I wasn't the only one making that mistake.
A bit of a crowd had gathered and there was a collective "Ooooo!" every time a rider launched of it. This was followed by mass flagging down of oncoming riders as someone uncrumpled themselves from a heap in the bottom or a massive "CHEER!" as they rode out of the other side.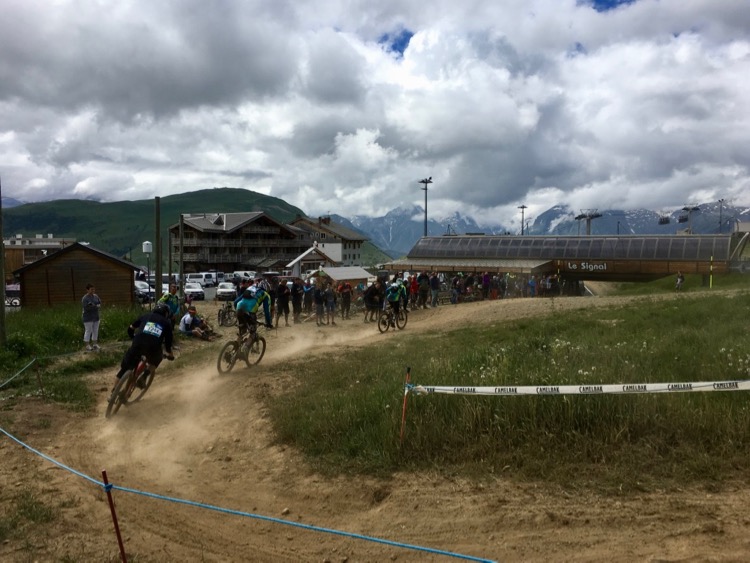 Josh Bryceland came through fast and sent it big with a fully committed crowdpleasing 'no footer'. This was accompanied by a concerned chorus of "Ooooo!" followed by a pause, then a massive cheer as he sped out the other side unflustered.
Jacko came through and I cheered him on before making my way back to the finish line to meet him. He was buzzing, too and we swapped stories as he shovelled in some cake.
Megavalanche Challengers
We met up at the rider expo village at 6.00pm for free beers, trials show and results. Jacko bumped in to a bunch of other riders he knew from the Morzine crew and we found out we had done OK. We would be joining Jimmer and some of his mates in the Mega Challengers race the next morning. We'd all be getting up at different times though due to our start line letters. Jimmer invited us back to their chalet for a huge (and most appreciated!) spread of food before we headed back and hit the sack ready for another early start.
I was first up again and headed out feeling a little anxious. This was totally new territory now…
Loading hundreds of people, with bikes, in qualification order onto the Pic Blanc was like a military operation and was very well executed by the organisers.
I waited at the DMC for my letter to be called and joined the queue before boarding the lift. We stayed on it past the mid station this time and got off at the top before joining the next queue (in order) for the Pic Blanc cablecar.
Emerging at the top was an interesting sensation. It was colder again than the day before and it felt like a small exposed space for the amount of us already crammed up there. The deck already seemed fully packed with bikes and riders and I knew there were tons more to follow. We were directed to stack our bikes in start order and I figured I'd join the queue for the toilet and get that out of the way in good time.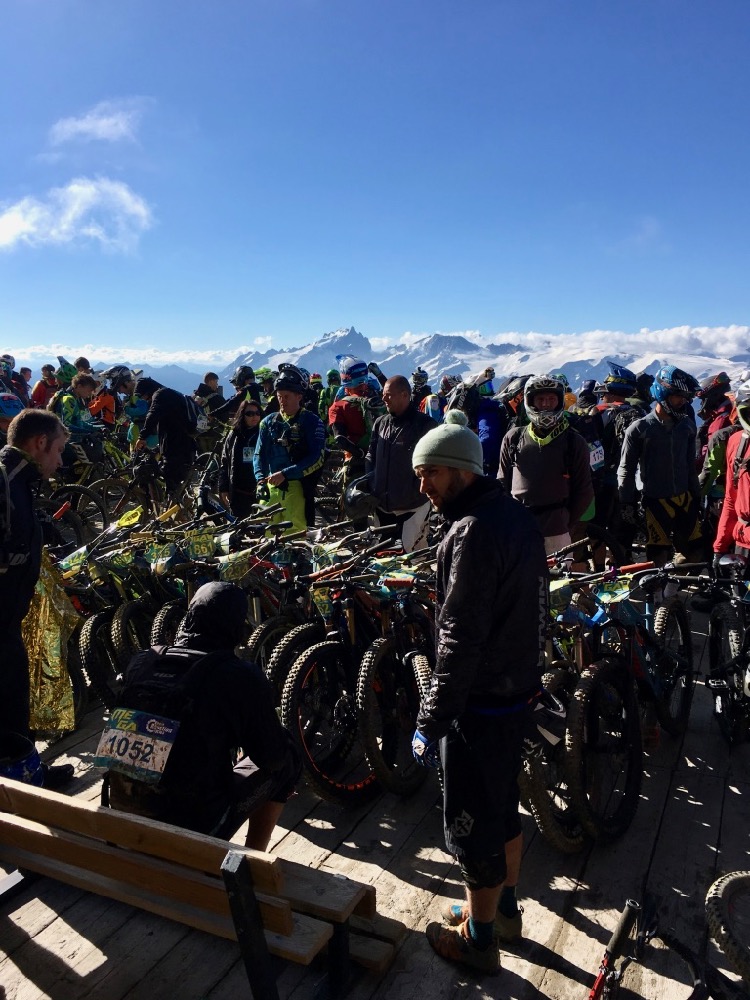 I was queuing next to a female firefighter from Essex. She didn't help my nerves with her reaction to me saying I hadn't ridden the course before: "What… NONE of it?!" she said.
She was a seasoned repeat Megavalancher and caught up with friends every year she'd made on the way. She reiterated some of the tips Jimmer had given us and talked me through the route. As we queued and chatted I started feeling lightheaded and dizzy with the altitude. Jeeze! I could do without that as well. Luckily, once I'd had a pee and got back outside, I felt much better. I wished her luck as she headed off for the women's race.
I had a wander about, to see what was what and watched the ebikes lining up for their race. I found Jimmer for a quick chat then soon after, Jacko turned up. Before I knew it, they were calling for my qualification group to make our way to the start.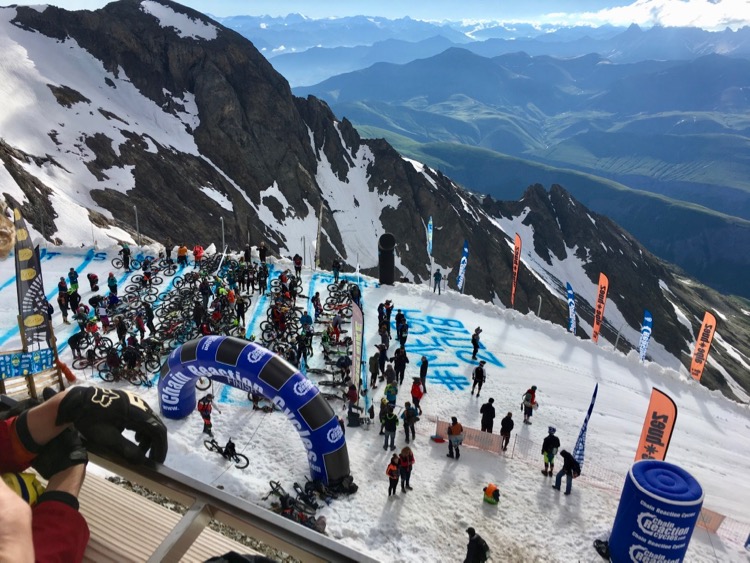 Next thing, I was lined up, squashed in the middle of 200 other guys. We were 3300m up at the top of a black piste, having had no practice and no real idea of what was to come. I also noticed that my ginormous backpack was not the norm. I'd packed plenty of water, food (for some reason?..), spares, tools, first aid kit, the lot. Haha! I'd be paring that lot down if I did this again. Some guys just had an inner tube taped to their frame!
I squashed my jacket into my pack next to the kitchen sink and got ready for the music… 3,2,1 HOOONK!! We're off!
I didn't make it far down the piste before I lost it and was off and sliding. I'd had a lot of pointers for this snow covered section but sliding upside down and backwards wasn't one of them. Having tried it, I wouldn't recommend it either. At least I managed to hold on to my bike…
Luckily, a bit of a pile up gave me chance to slow, regroup and give the right way up another go. I started experimenting with no feet, one foot, two feet, back wheel, knees and settled on seated with one foot. I realised my seat was too high though and by the second steep pitch I opted to jump off and back slide which worked pretty well.
The field started to thin and the snow run levelled a bit. I started getting a feel for the snow when my chain got snagged between the chainset and the frame, leaving my pedals locked in an awkward position. I hung on 'til I got off the snow and pulled over to hook it back on. Riders flew past panting until I freed the chain and got back on it. 'Competitive Jim' was back and I was already rueing the fact that I'd wasted good time sprawling around in the snow.
We started out traversing the more rocky section of the mountain and crossing patches of sun shaded snow. I lucked out a couple of times by getting in a rut and overtaking a whole load of people bunched up in a different rut. There were a few technical bits here and there where the flow backed up and they were good opportunities to get past if you knew where you were going.
We eventually crossed the ridgeline and started heading back towards the village of Alpe d'Huez. This was full on! I was pedalling and panting like mad and feeling the buzz of sustained effort and concentration. The track swooped, wound and zigzagged and people were taking spills all over the place. My chain snagged again, dammit! If this thing snapped I'd be well peeved!
I arrived at a section we'd ridden the day before and the short pedally climb. This was now extended and lined by spectators cheering us on. One of them in a stripy jumper and beret was coaxing people on with a baguette on a fishing rod! Haha! Classic.
I tried to get some water on board but was struggling to suck it in between panting. Note to self: Less water next time would save weight and the buffet I'd packed was definitely unnecessary.
We pedalled up and over another ridge and got a glimpse of the village of Allemont in the valley below. It was miles below! It felt like we'd been going for yonks and there was still miles left! I was thoroughly enjoying it though.
We'd been down snow, rock, scree, single track, alpine meadows, a track and were now winding across a hillside and into some seriously dry and dusty woodland. I'd caught up with another group and we were all jostling for position looking to get past people. I got past one, then my chain snagged. "For crying out loud!" It hadn't snapped though so never mind. I got it back on and got after them again.
The woods were great fun and they just went on and on. The dust was making it even more challenging. If you got too close to people in front you couldn't see the ground, roots or ruts well enough to properly to pick a line. You just had to trust that following the path of the guys in front would work out OK.
The trail popped out onto roads and tracks here and there before dropping back in. I took the opportunity to pedal hard and get past a few people on these wider sections. Some others did the same and got past me. I got clear air for a bit in a section of woodland, got the hammer down and started charging. Then I hooked a wheel in a corner rut and spat myself down the hill. I didn't lose much time but it was a reminder to just keep it together in these late stages.
Eventually we emerged alongside a river course and I knew I must be close to the end. A couple more turns and I was in the finish area and across the line! What a buzz! That was awesome! I was in one piece AND I'd had a reasonably good, clean run.
I guzzled water, ditched my bike and headed off for free food, drink and red bull which left me totally wired!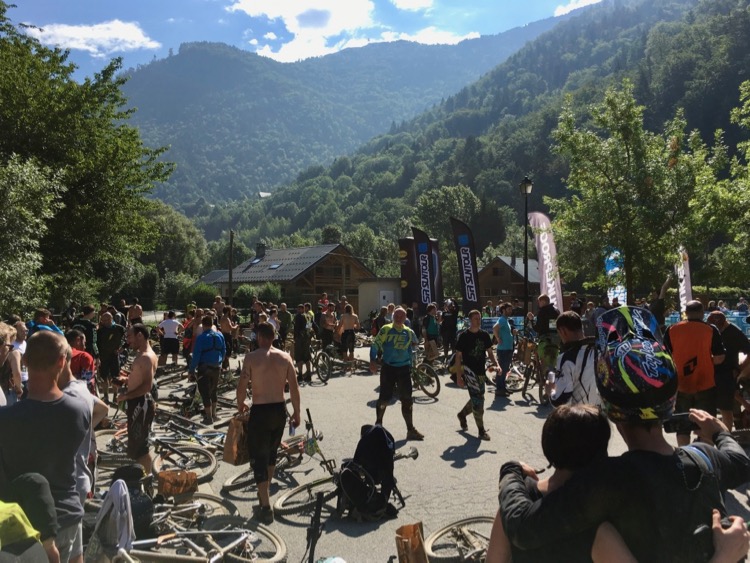 One by one Jimmer and his mates came in but there was no Jacko. I gave him a bell and he was fixing a puncture. He'd been making good time but had hit a sharp bit of tarmac edging where the trail popped onto a road and bust his tyre. It wasn't long before he turned up and we joined the hundreds of others excitedly swapping stories in the July sunshine.
Another of Jimmer's mates had driven his van down so we loaded the bikes and piled in for the windy drive back up to Alpe d'Huez.
Jacko and I both had stuff to get back home for and with our race done, we decided to skip the last night. It would mean us missing the main event on Sunday but we were ready to head back to Les Gets.
All in all, Megavalanche was an excellent experience! Well organised, great atmosphere, lots of friendly people and (on the whole) good camaraderie. LOVED IT!
It's definitely addictive and that element of luck causes lots of people to go back time and again. A mechanical issue, fall, injury, or just getting held up can scupper qualification chances or the main race.
I must admit that I spent the next week or so running through all the things I'd do differently to do better. And… I wouldn't mind going again to see if I can make it into the main race and make a better job of the snow… We'll see…
Fancy a go?.. Megavalanche website
And here's how it should be done! POV Winning rider Damien Oton:
Get yourself kitted out for Winter
Winter's coming and it's always a treat getting your new kit sorted!.. Our affiliate partner Blue Tomato is THE leading online shop for winter and trend sports, streetwear and fashion with over 450.000 products from over 500 well-known brands. Click here to see if they've got anything you fancy.