Last week was our final opportunity to squeeze in a last 'cultural' jolly in the van with the sprogladites, before the end of the school holidays. Getting to dip in and out of neighbouring countries and easily expose the kids to a range of languages, foods, cultures and nationalities was another huge reason for moving over here in the first place. Time for an Italian ROAD TRIP!!
In true family road tripping fashion, we aimed for an 8.ooam departure on Tuesday and set off at 12. We only had a rough plan to head for Genoa, have a look at the coast on the way to Pisa to see the leaning tower (kids' request), then in towards Florence before turning back north for Bologna and Milan with maybe a quick peek at the Italian lakes on the way home if we still had time.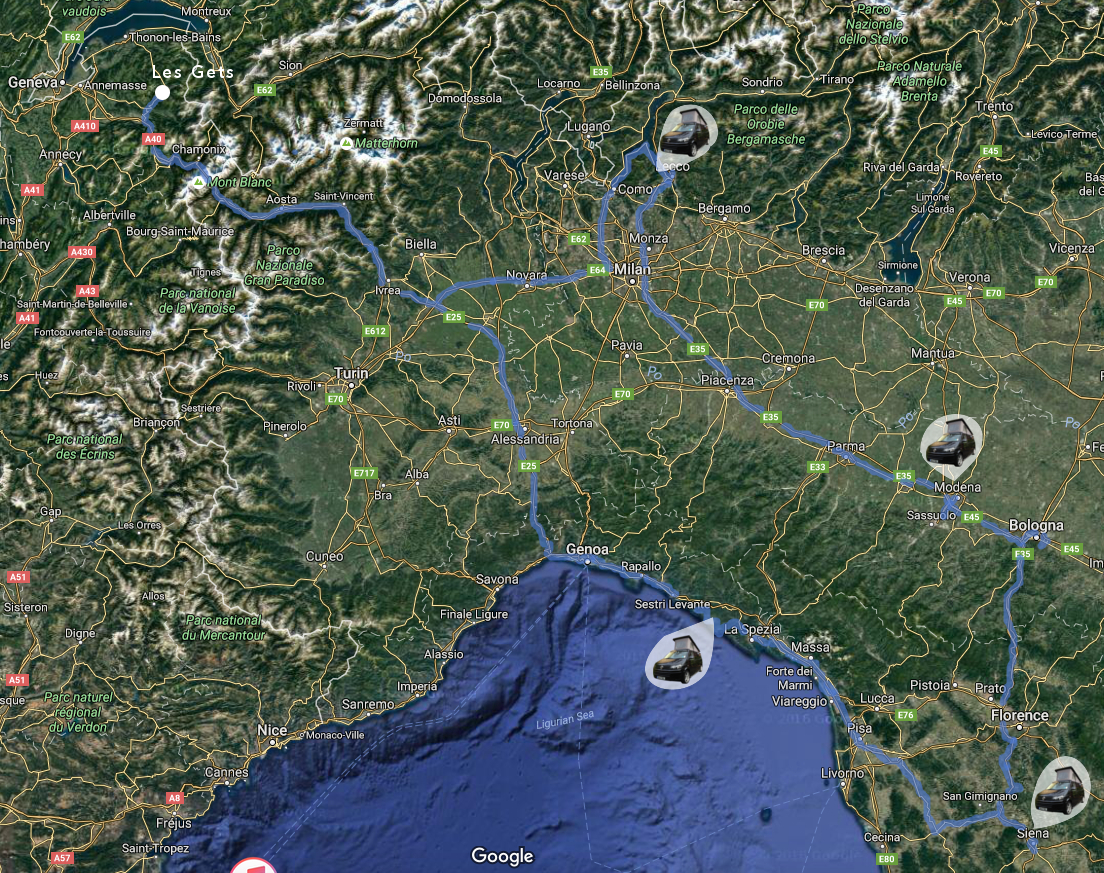 We loaded the van with camping gear and some supplies and rolled out of Les Gets. 20 minutes later we made the traditional and nutritionally sound (?) pre-road trip pit-stop at McDonalds in Cluses. We ate up and turned left for Chamonix.
We sped down the ever-spectacular, waterfall lined valley towards Chamonix before climbing up the raised roadway and winding into the cleft of the mountains before the sight of Les Houches and Mont Blanc reared up in front of us. A trip to Chamonix always gets the juices flowing and craning up at the Aguille du Midi brought back memories of the last time we were here and finally got to go up and be lucky enough to see some wingsuit pilots making the leap!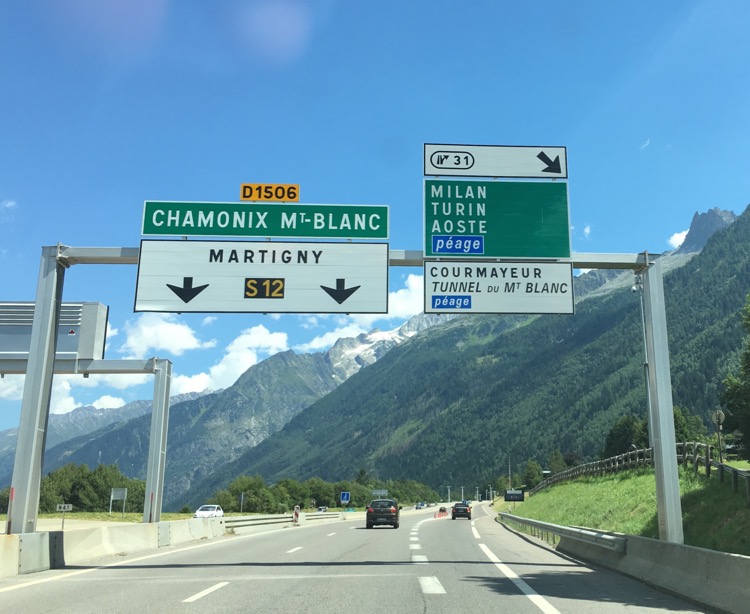 We'd be leaving the motorway before Chamonix this time, peeling off for the Mont Blanc tunnel and our quickest route into Italy. Less than an hour from Les Gets and we would be in Italy! Brilliant! We'd been warned about tunnel queues which could be 1, 2 or more hours wait and the last time we'd been to Chamonix they were backed-up along the motorway! This time though we kept moving… and we kept moving, all the way to the ticket desk. Result!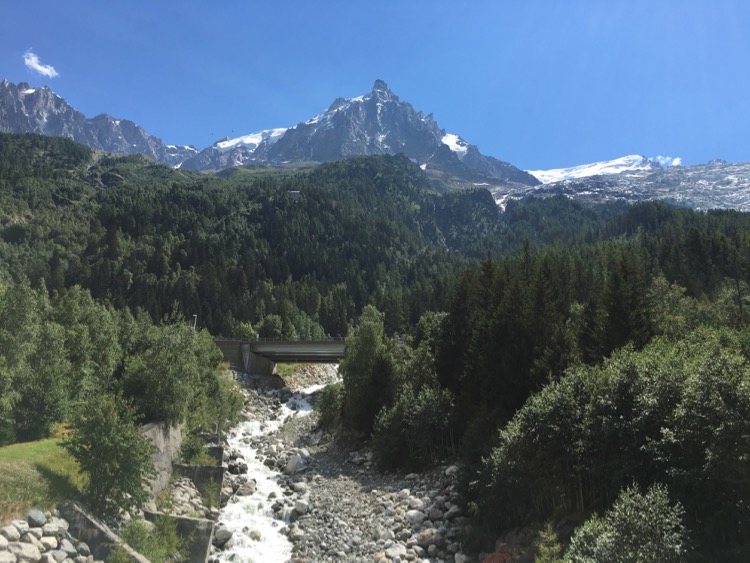 There's a 50 kmph minimum limit and a 70 kmph max limit through the tunnel and blue lights on the walls to show you the mandatory 150m spacing required. They also stagger the release of each vehicle to maintain the gap. We bought a return ticket for €54.30(!) and dove straight in. We took bets on how long we'd be in it and popped out 12 minutes later with Iz the winner, 3 off with 15.
First impressions in Italy, brrrr! The thermometer was reading 29 degrees in Chamonix amongst brilliant blue skies. We were now looking at 19!! AND spots of rain! What the?.. The forecast had told us we'd be leaving thunder and cloud behind for sunshine. Hopefully this was just a blip…
Second impressions on the road. Wow! The Italians like to tunnel. There's loads of them! They also appear to be partial to unusually massive lay-bys in contrast to tiny on/off ramps! Good to note and something to be prepared for!
The mountains petered out as we made progress down the Aosta valley and as we crossed the flatter plains, we passed stone yard after stone yard with enormous chunks of marble, granite and whatever else lined up in rows with monstrous gantry cranes astride.
We pushed on across country past Ivrea, Alessandria and on towards Genoa. The earth crumpled up again as we neared the coast and it was tunnel time again and this time, tunnels alternating with bridges. It even started a family chant: "Tunnel!.. Bridge!.. Tunnel!.. Bridge!.." We arrived in Genoa and a raised roadway gave us a perfect platform to take in the colourful buildings and harbour front on our way through.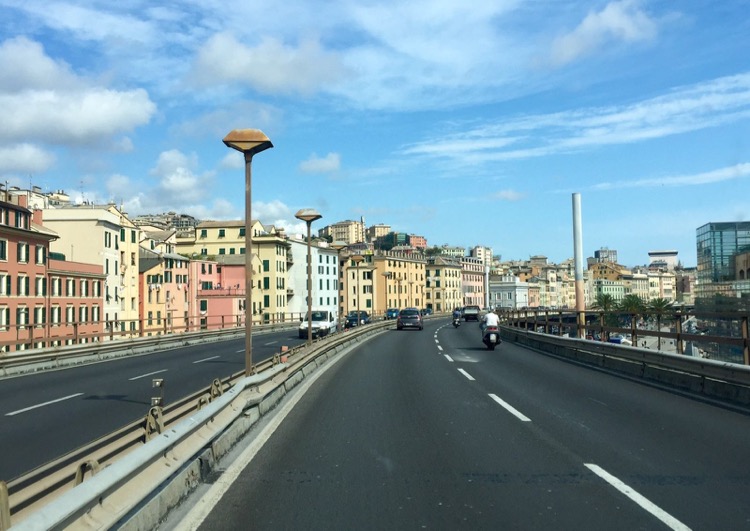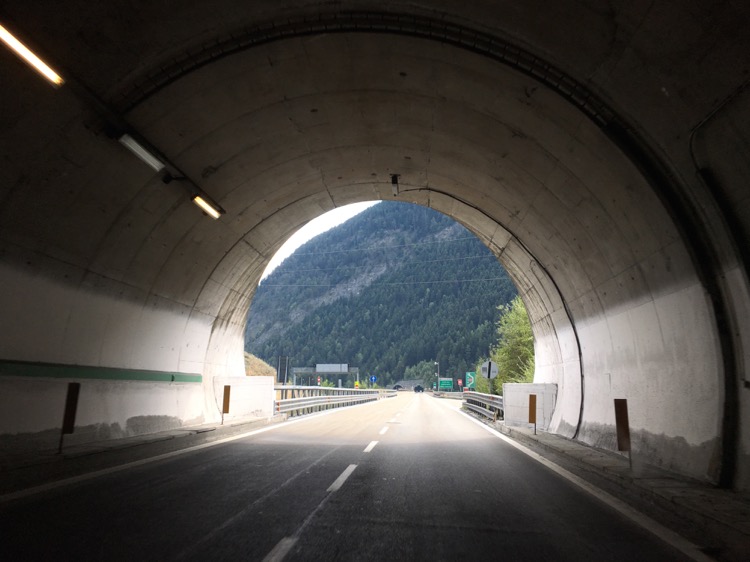 We missed our turn out towards the motorway but rather than turn around, we opted to follow Sat Nav's recalculation and stay on the more 'interesting' coastal road. For future reference, this is seriously slow going on narrow windy roads. Scooters are definitely the best mode of transport in these here parts. Tuk-tuks are evidently popular, too. We hugged the rugged, rocky coast, winding, rising and dipping through narrow roads, picturesque villages and towns.
This stretch of coastline was strikingly different from our road trip to the South of France with rugged cliffs plunging into the sea and only the occasional small stony beach. The mountainous backdrop here looked like it got more than it's fair share of rainfall with vegetation protruding in every available space.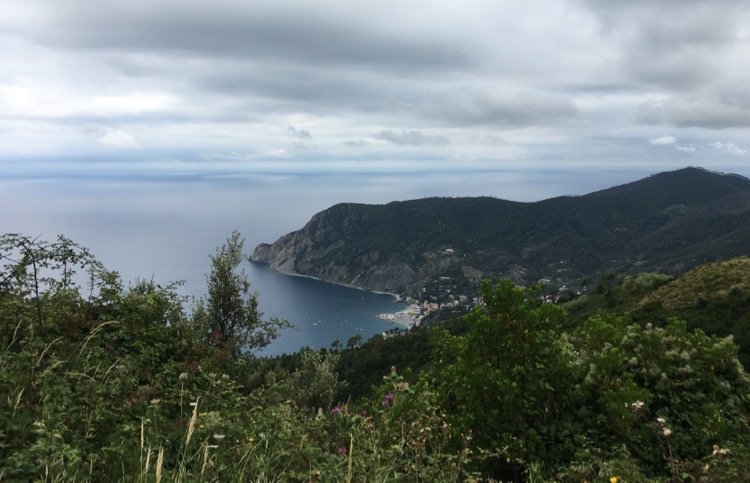 This scenic detour was really taking it's toll. It was 7.30pm and apart from a couple of minor stops, we'd been on the road for 7 and a half hours. We'd not seen any evidence of wild camping so far, despite the massive lay-bys, and not wanting to be moved on in the middle of the night by the Guardia, we ruled a wild camp out of the equation.
A friend of ours had mentioned a national park called the Cinque Terre (meaning 5 lands). Nina had been pouring over the Lonely Planet Italy on the way down, learning that it was a national park and UNESCO world heritage site. Located on the Ligurian coastline, it is made up of five coastal villages and the surrounding hillsides. We decided we'd head in that direction towards a coastal village called Deiva Marina just outside the park which appeared to have a couple of campsites.
As we descended into the valley, the forest gave way to a spattering of habitation. We rounded a corner and a camping sign appeared on the right. This one hadn't been on the Google Maps' list and looked a little 'rough around the edges'. We slowed a little but rolled straight past. 'Valdeiva' campsite that we had been looking for was just a few metres down on the other side of the road. Nice looking site, restaurant, bar, pool, new stuff. We pulled up to reception. Full! Further down the road there was a third campsite, 'La Sfinge'. Also full! The scruffy one it is then and luckily they had a space for us.
A quick look around revealed that it was more of a holiday park with touring caravans in-situ and all manner of extensions, gardens and canopies added to them over the years. It seemed to be all Italians in contrast to the multinational park across the road strew with shiny white behemoths. I guess with this amount of rain and vegetation, nothing was going to look particularly tidy after sitting here for a while! Reception was like the set for a 1930s spy film with the dated 12″ cathode ray 'portable TV' on the wall sticking out like a sore thumb from the future. Interestingly, the toilet block facilities turned out to be some of the cleanest and best we had all week… Once the hot water finally decided to put in an appearance that is!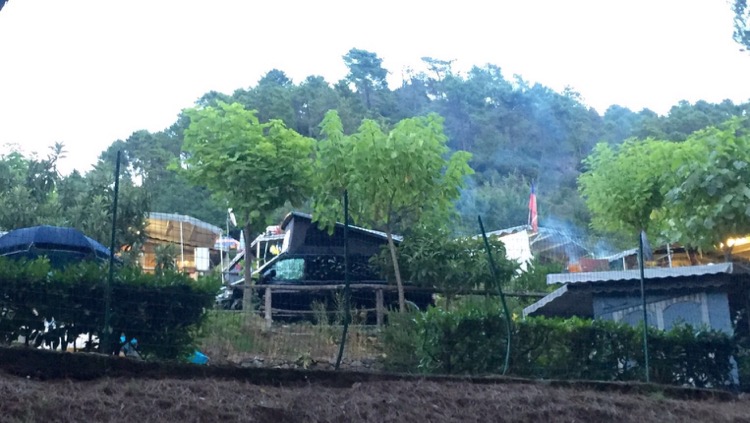 We'd spotted a restaurant 'La Pergola' down the road whilst lapping the strip. We set up camp, wandered down, got a table and ordered a couple of very welcome beers and our first bona-fide Italian pizzas. Not bad at all! The boss topped of the meal with some complementary Grappas (Ew!). 'Saluti!' I had to drink Nina's as well as mine and we wandered back to the van happy and full.
It sounded like party time at our campsite bar so we headed up there for another drink and a game of Uno with the kids. We had some international sign-language banter with the people at the bar whilst we tried to order drinks. We moved outside and acknowledged a table of old fellas and got one of our own (table, not old fella) before a group of Italian kids descended on us. A 10 year old girl translated and taught us a useful handful of Italian words. T met his Italian counterpart and they communicated for a while with fart noises and wetting themselves laughing. Soon after, the heavens opened and we drank up and after a long day on the road hit the sack.