Is mountain biking the best sport EVER!?..
Sure is… Thanks for visiting… Have a nice day… 😂
Alright… I might be a bit biased, especially when it comes to the descent/freeride side of things, but there are so many aspects to mountain biking, so many benefits and so many outstanding contradictions that I can't help thinking, it might just have it all. 🤔
There's speed and aggression balanced with the artistry, style and personal flair. Fitness and strength, matched by precision and finesse. It's individual, cooperative, competitive yet collaborative. It can be edgy and intimidating, inclusive and inviting.
–
You need perseverance and patience as you build your skill, then commitment and courage when it's time to step-it-up and fulfil.
Risk, reward, resilience and resolve. Camaraderie, progression and technique to evolve.
Focus and concentration merge to zen-like flow and there's that little voice of intuition that's useful to know.
Masterpieces of engineering lead us away, to the mountains and woods for good times and play.
There's the trails, the travel, the thrills and the spills, the connection to nature as you rip through the hills.
–
For most of us, this love affair has blazed for a long-long time. Sparked into existence when we wobbled, weaved and nervously cranked those first few pedal strokes in life… And then you're off!..
And you are off… FREEDOM!.. Freedom, friends, good-times and play… Emotionally-charged memory, branded on the subconscious mind, for life! *sizzle*…
I know I still feel like that same kid when I'm playing out on bikes with m' mates… And now with my kids, and their mates. Wahoo!👌
If I'm not very much mistaken, that vibe percolates right to the top. Beneath the pressure, the dedication, the competition and the razzmatazz, it does seem like most of those top riders are big kids, playing out on bikes, with their mates… And getting paid for it… 👊💥
The journey of progression
Those first few pedal turns set the wheels in motion for a life-long pursuit of personal progression. First comes wheelies, bunny-hops, "look mum, no hands" and lining your mates up on the floor to see how many you can clear. 😂
Then come the trails and the woods and the mountains. Those feelings as your confidence grows, you're looking further ahead, riding faster and steeper. Refining your technique and improving position, sending the jumps rather than braking and squashing, relaxing into the flow as the dots connect, pumping for speed, accelerating through corners and daring to commit.
Adding the tweaks, the tricks, the whips and the flow, ticking off the features and challenges as you go. Blasting over obstacles that once were a dream. Getting faster, bigger, smoother, cleaner.
Mountain biking for mind, body and soul
Riding takes fitness, strength, concentration and skill, and after a day's hard riding you 'feel the the burn' in bits of body that you didn't even know you had!
And when it comes to the downhill, some might say: 'That's not exercise, you're only rolling downhill'… Well, I've taken some of those 'some' out for a few hours and given it 'full beans' until their muscles are pumped and they're panting for breath. 😂 It definitely isn't easy if you're riding hard and I don't think I've come across anything else that leaves me feeling so comprehensively 'used'.
Then there's the mind… Mastering challenging trails, harder features and new skills takes concentration, judgement and persistence. Figuring out manageable steps to maintain progress on a tightrope of self-confidence vs self-preservation with a backdrop of fear management can be a serious mental workout… And then there's that point, that moment of commitment, when you've done all the prep, the little voice seems satisfied and it's time to press 'send!'
When it all comes together, the sensations are sensational. Mental chatter dissolves from your mind as your awareness is dominated completely by total focus on the trail ahead. Then there are times when you're pushing hard (sometimes too hard) and it slips into 'flow'. It's as if you become a passenger to another level of consciousness taking control, scanning the trail and the obstacles ahead, zooming in, panning back, running calculations, making adjustments and reacting at speeds that makes your conscious mind think, "Holy cow! Hat's off big boy. How on earth are you doing that so fast?!"
After all that mayhem of speed, noise and physical sensation, as you buzz and grin from a hefty shot from the internal chemical cocktail factory, it's over… You swing your leg back over, load your bike on a lift and settle quietly back into the chair to be peacefully rocked back up the hill like a baby in a cradle… If you're the pedally flavour, it's time for a grind and some space to let your mind wander and unwind.
In my mind, this is the mind/body equivalent of running out of a hot sauna and diving into an icy lake for the circulatory system… Sensory assault, then total peace. It'd be interesting to see what scientists might make of the physiological and psychological impact of that contrast but I, for one, reckon it feels pretty sweet!..😂
And, if I'm on my 'tod' and nobody's looking, I'll close my eyes, have a little 'grey-out' and let the thoughts and sensory input slip away for a few minutes 🧘‍♂️before the lift reaches the top, I swing the leg back over and the sensory assault starts again.
And if you're not on your tod, you're probably catching up for a chat and a laugh with your mates or making some new ones.
Camaraderie
From the outside looking in, it can come across a bit intimidating. The full-face helmets, the googles, the dirt, a penchant for black and the potential for harm.
But from within, and on the whole, it's an awesome tribe, a community of support and mutual respect. We're all on ladders of tips and information, sharing the knowledge up and down. Bike handling techniques, technical knowledge, maintenance, trails, line choice, features and speed, where to brake, where to let fly, what to watch out for and "D'you want a tow, you can follow me in?" And, ultimately, we're all looking out for each other if it goes sideways.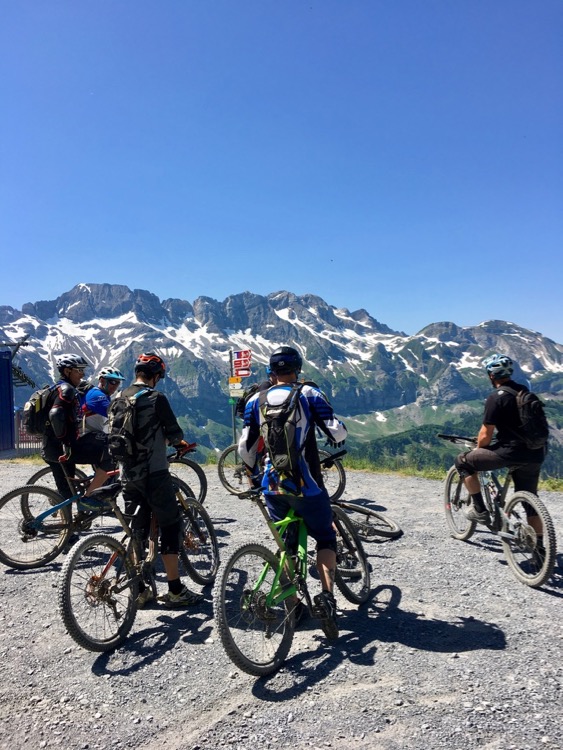 The common passion leads to so many shared experiences. The timeframe from meeting a new person to forming a friendship is slashed! "Oh right, you ride. Just give us a shout if you fancy heading out for a few laps?" Boom! We're off!
In the last couple of weeks alone, I've ridden with all sorts of people : good mates, new mates, big groups, little groups, on my own, with people I'd only just met, different nationalities, young, old, slow, fast and full on shredders… It's always different but it's always fun… Unless you crash, then not so much. 😂
Creativity Art and Style
And it's not just the speed, the thrills, the risk and the rush, it's an activity awash with creativity, artistry, imagination and style. There are infinite ways to ride the same terrain, with line choice, tricks, tweaks, speed and personal flair, adding individual expression and a unique air. Masters of the sport use gravity's engine to trace magnificent trails of movement across the ground and though the air, pushing the boundaries of possibility in pursuit of artistic creation.
Connection to nature
The connection to nature's a biggy too. The mountains and woodland where we love to ride, bring peace and tranquility from a connection deep inside. Harmonising with the surroundings, the environment and the weather is part of the game. Building an intimate knowledge of the characteristics and monitoring the changes is not just beneficial to your riding but a joy in itself.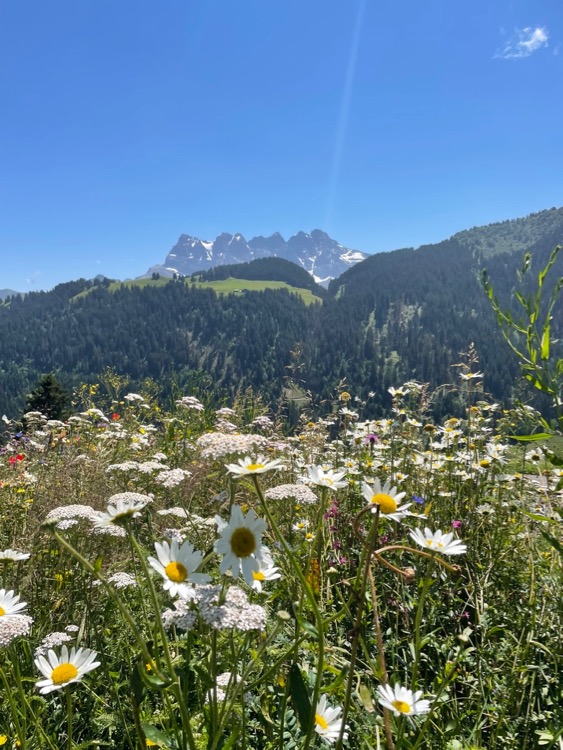 The trees, the roots, the rocks and the shrubs. The peaks, ridges, valleys and streams. The dirt, the loam, the moss, mud and the clay. The berries, the bugs, the shrooms, the birds, the flora, the fauna. The smells and the sounds and the ambience. 👌☺️
I always try to remember to take a proper pause and drink it all in. If I could only remember the power and accessibility of this when life gets a bit stressy and I'm in the thick of it.
Funnily enough, and relating to the connection to the natural world, a few of us had a lengthy conversation on Sunday over some end-of-season-post-ride-beers about the scale of moisture content of the dirt and our preferences along the spectrum. 😂
The tracks, terrain, travel
Through that vast natural canvas are the tracks and the terrain we yearn to explore and to learn. From roller-coaster bike parks, to local builds and wild natural trials. The famous ones and the hidden gems that you find on the way and the joys of the travel to get you out to access where you'll explore and play. A whole world of possibility and endless exploration awaits.
Preparation, resilience and self sufficiency
Let's not forget the tools of the trade, the bikes and the kit, the planning and the prep. The supplies, the tools, the navigational skill, the knowledge required to be self-sufficient in the event of mechanical issues, injuries or unforeseen circumstances. Imagination and ingenuity can be priceless qualities with problems 'on the fly' often requiring solutions that are beyond conventional.
And if it things don't go right or you do get hurt, the desire to get back on that 'horse' stokes the fires of determination to recover and refocus, building new reserves of resilience and strength.
–
Well… It's physical, it's fun, there's friends and there's thrills. The progression, the tribe, the creativity and skill. There's a mind /body balance and something else within. The terrain, the environment and the return to the wild. Techy, ingenuity, resilience and loads of big smiles.
–
So, 'Is mountain biking the best sport ever?' Well… There are so many aspects, angles, benefits and lessons, so much room to progress and develop, the chance to build reserves of resilience and respect for yourself, others and the environment, it might just be…
Actually… Who gives a monkey's? It's just damn good fun! Time for a ride… 🤘
Get yourself kitted out for Winter
Winter's coming and it's always a treat getting your new kit sorted!.. Our affiliate partner Blue Tomato is THE leading online shop for winter and trend sports, streetwear and fashion with over 450.000 products from over 500 well-known brands. Click here to see if they've got anything you fancy.
Jeff might not be on everybody's Christmas list...
But he helps us earn a few dollars too.
If you're doing some Christmas shopping, or any shopping on Amazon for that matter, click through this link first and we can generate a bit of commission. Thanks ;)