Is mountain biking a sport!.. Derr… Yeah!.. Maybe even the best sport ever!..
Dictionary.com defines a sport as: "An athletic activity requiring skill or physical prowess and often of a competitive nature." –  Skill, physical prowess, competition – Tick, tick, tick… It's definitely a sport, big-time!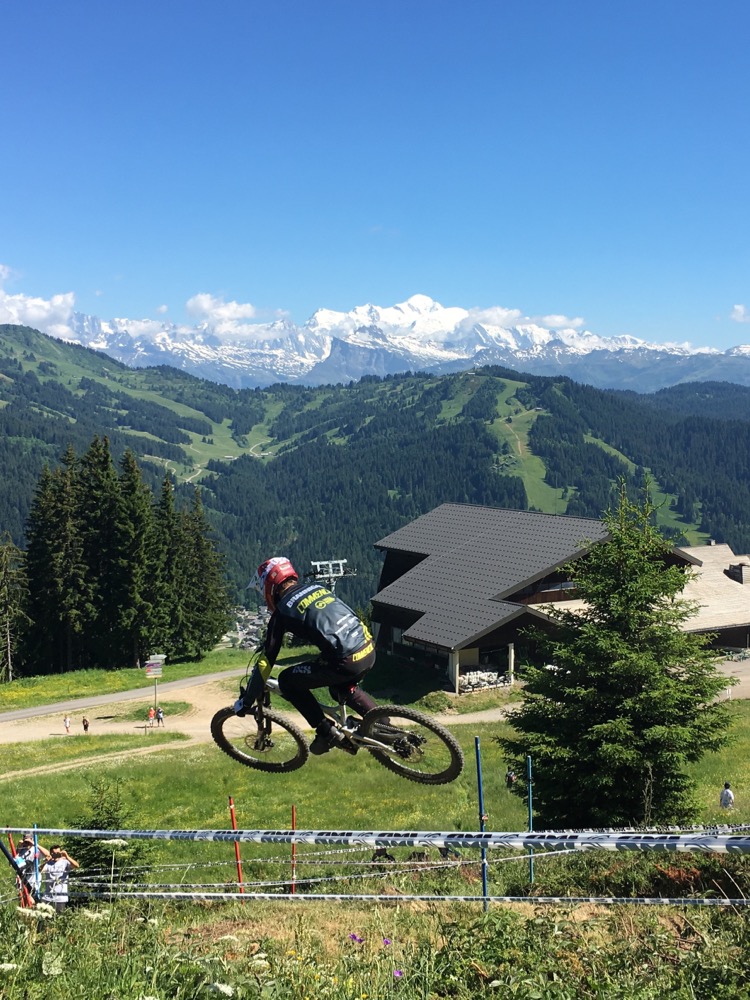 I actually think it's more than just a sport… It brims with style, expression and individual creativity. There's the culture, the lifestyle and the camaraderie. It requires you to measure risks and overcome personal fears to make progress when the stakes can be very high.
You're out there immersed in the natural environment, sometimes in exposed situations. It requires self-reliance, resilience and often teamwork. It definitely calls up a level of awareness and focus that clears out all other mental chatter. Dare I say it, it's almost spiritual…
And fundamentally… If you remember playing out on bikes with your mates as a kid?.. It's that… For every age group.
I'll gush about it some more in another post but here we'll have a quick look at mountain biking as a sport.
Mountain bike disciplines.
The term 'mountain biking' can encompass a range of disciplines from cross-country, enduro/all-mountain, downhill and freeride through to dirt jumping, slopestyle, 4x and pump track.
Each discipline has it's own specific equipment, skill sets and even sub-scenes.
Cross country
Cross country is at the endurance and distance end of the spectrum with lighter more rigid (often hard-tail) bikes designed for climbing and descending in equal measure and covering greater distances off road. Riders often have minimal protection with smaller, breathable helmets and tighter fitting clobber.
Enduro/All mountain
Enduro/ All mountain lurches in the direction of descent and freeride direction. Full suspension bikes still climb well but are designed more for descending, jumping and ripping in a wide range of terrain. They've got longer travel, slacker geometry and are ready for steeper, tougher, more technical terrain. In a competition format, riders complete a number of timed downhill stages during a day. They have an allotted time to ride the link climb between each timed stage and for the start of the next timed descent.
Downhill
Downhill does what is says on the tin. DH bikes are designed to descend steep, rough terrain and tackle big features, fast. Burlier builds, longer travel suspension and slacker geometry allow them to do this but at the expense of climbing ability. Downhill riding generally involves rider and bike being transported up the mountain on a lift or trailer.
Freeride
Anything goes. This type of riding involves riding natural and / or manmade features. It's about getting out there, having fun and challenging yourself. A lot of the content we see on social media of riders hucking huge drop offs in the woods, squirrelling at speed through steep, natural woodland, blasting across northshore or sessioning a home made kicker can all fall into the freeride category. Enduro, DH, freeride or custom build bikes are all used for this type of riding.
Pump track
Pump tracks are short tracks built with multiple rollers and berms. By timing the weighting and unweighting of the bike over the rollers and through the berms, riders can generate speed without the need to pedal. This is an excellent skill to develop for all types of riding. You can ride anything but specific bikes are smaller, lighter, hard-tails with minimal front suspension to maximise the amount of energy and speed retained from pumping. This format makes for a short, sharp, exciting one-on-one competition format.
Dirt jumping
Dirt jumping is like riding a pump track with the frequency turned-up, accentuating the peaks and troughs on the track. Kickers are steep and often gapped to the landing, giving riders plenty of time in the air to whip, spin and flip with all sorts of combinations, flair and style. Bikes are smaller and lighter, usually hard-tail but sturdily built. Streetwear like jeans, shirts or Ts is common clobber with lid choice ranging from BMX style helmets to enduro and full face.
Slopestyle
Slopestyle is like dirt jumping on steroids. The man-made features are bigger and more complex, facilitating higher speeds, more air-time and bigger tricks. Bikes are similar to those used by dirt jumpers but riders usually opt for full face helmets and a little more protection.
Dual Slalom / 4X
Like BMX mixed with downhill… 2 or 4 riders compete on the same course at the same time. Fast, explosive and exciting to watch, it's a downhill sprint over a rough course with jumps and banked corners. Riders use small, stiff, light, hard-tail mountain bikes to maintain maximum speed.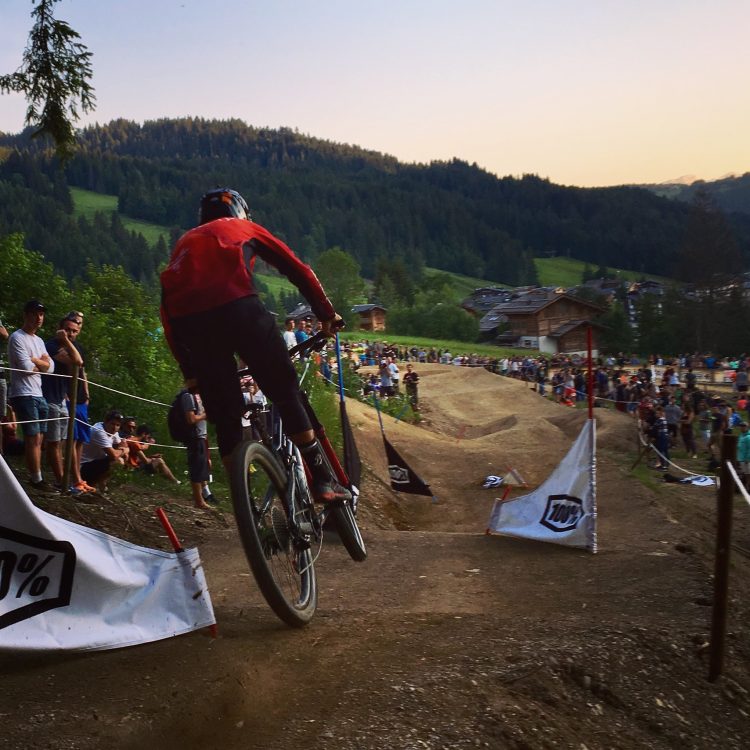 Mountain bike competition.
In terms of competition there are a whole bunch of events in every mountain biking discipline at global, national, and local levels.
The Union Cycliste Internationale (UCI) is the governing body that oversees international competitive cycling and the big events are as follows:
World Cup
For cross-country and downhill riders the top competition series is the UCI World Cup circuit. This involves several stops around the globe. Points are awarded for each event leading to overall male and female winners in each discipline each year.
XC riders have competitions for short circuit, olympic and marathon distances.
The DH guys tackle a marked course, in-turn, against the clock and each other.
World Championships
As part of the World Cup Circuit, each year, one event is designated for the World Championships venue. This is a sought after title because competition is condensed and intensified to one day, one race. Winner takes it all and gets to wear the rainbow jersey until the World Champs the following year.
There's currently competition in downhill, cross country short circuit, cross country olympic, cross country team relay, e-mountain bike and 4X.
Enduro World Series
The premier race series for enduro racers is the Enduro World Series (EWS).  There are several stops around the World on the calendar.
Olympics
Cross-country MTB is the only mountain bike discipline included in the Olympic programme since it's inclusion in 1996.
Others
There are a ton of other awesome events for gravity-fuelled riding enthusiasts like ourselves including Redbull Hardline, Red Bull Rampage, Crankworx and events like Megavalanche and Mountain of Hell.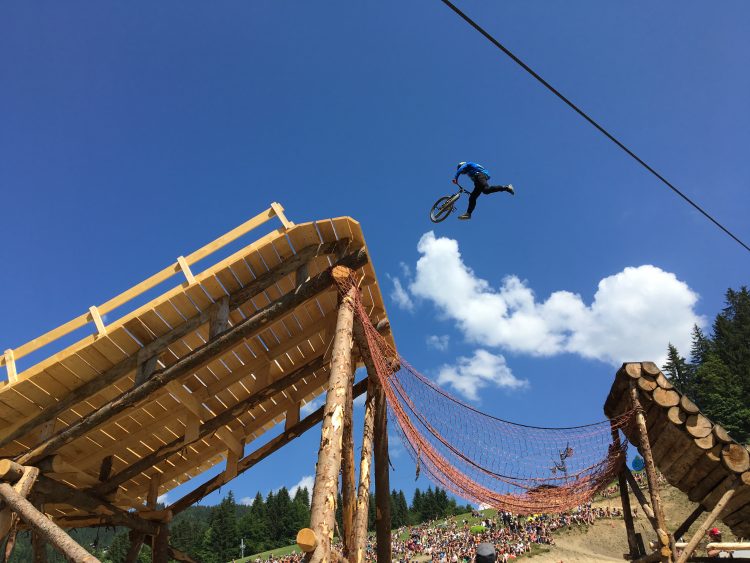 We've been lucky enough to have UCI Cross-country and Downhill competitions here in Les Gets over the last few years. We also had three years of Crankworx until 2018 and The World Champs are scheduled for next year (2022).
This 'Is mountain biking a sport?' article is part of the mountain biking section our Up Stix website… We're a family of four who live in the Portes Du Soleil and love to bike, board, ski and play-out in the mountains. If you'd like to find out more about us and what we've been up to recently, you could check out our blog feed here.
If you'd like to know when there's a new post, sign up to our e-mail alerts or follow us on Facebook or Instagram. We're on Youtube and TikTok too.
Get yourself kitted out for Winter
Winter's coming and it's always a treat getting your new kit sorted!.. Our affiliate partner Blue Tomato is THE leading online shop for winter and trend sports, streetwear and fashion with over 450.000 products from over 500 well-known brands. Click here to see if they've got anything you fancy.