We came back from our balmy Spanish road trip last week (post to follow) and woke the following morning to a fresh dump of snow! It didn't last long in Les Gets before melting away but with the lifts closed and blue skies and colder temperatures on the cards, a mate and I decided to head up on Saturday for a little hike and ride in Avoriaz.
Life is a bit disorganised at this time of year as our place is overflowing with outdoor kit. We've unpacked and dusted off the summer gear including bikes, helmets, camping stuff etc.  However, every time we start packing the winter stuff away, the weather changes it's mind and we drag it all out again! Add to that the fall out of just arriving back from a week's camping road trip into the mix and we've got a serious Spring sort-out on the horizon!
Apparently, there's a local saying about the weather at this time of year:
"En avril, ne te découvre pas d'un fil. 

En mai, fais ce qu'il te plaît."
(In April, don't remove a thread (of clothing). In May, do what you please.)
I got up on Saturday, burrowed through the heaps of kit and kissed goodbye to Nina and the kids. I met my mate, borrowed some snow-shoes, dropped our van off at the bottom of the Prodains lift, jumped in his and drove up to Avoriaz. We hadn't been very quick off the mark and there were already loads of fresh tracks snaking tantalisingly down the slopes. There was a good crowd of people up there too, many of whom were on their way home. "It's getting a bit heavy now" was the general feedback.
There was also talk of a lady getting avalanched and rescued the day before. Word has it that she'd been skinning up alone without avi kit, got caught but had luckily been spotted by another guy who raised the alarm and helped dig her out before she was flown out in the rescue chopper. With the temperature rising, we'd be sticking to the 'sensible' lines on the way down. (Read our post on Avalanche Safety)
As we kitted up in the bright sunshine, the penny dropped that I'd failed to pack my sunnies and my sun cream! Nice work, Jim lad!..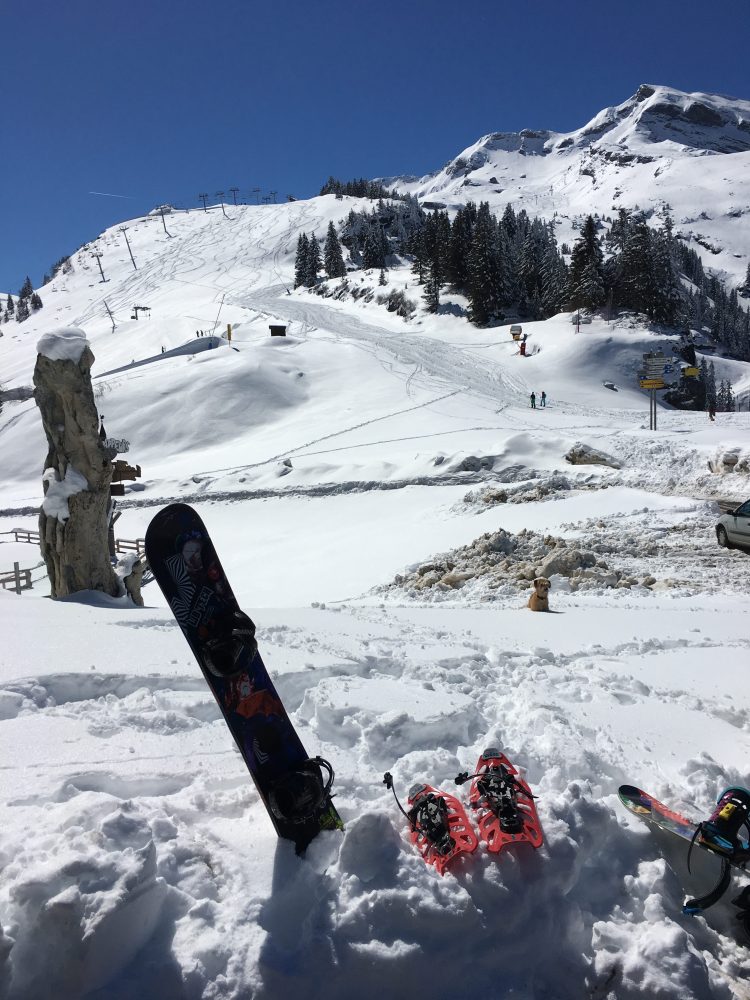 We schlepped off from the Prodains lift towards the Village Igloo (or what's left of it!). We continued on, around the corner to the top of the Stade lift and past the Arare Snowpark. I'd been a bit nervous about this hike. It's not that far but Jacko is regularly scuttling up 'them there' hills to speed-fly back down again. My fitness levels, on the other hand, had tapered off a bit at the end of the season. On top of that, I'd just spent the last week touristing in Spain, bulking up on a diet heavily weighted in the 'Estrella' and tapas direction!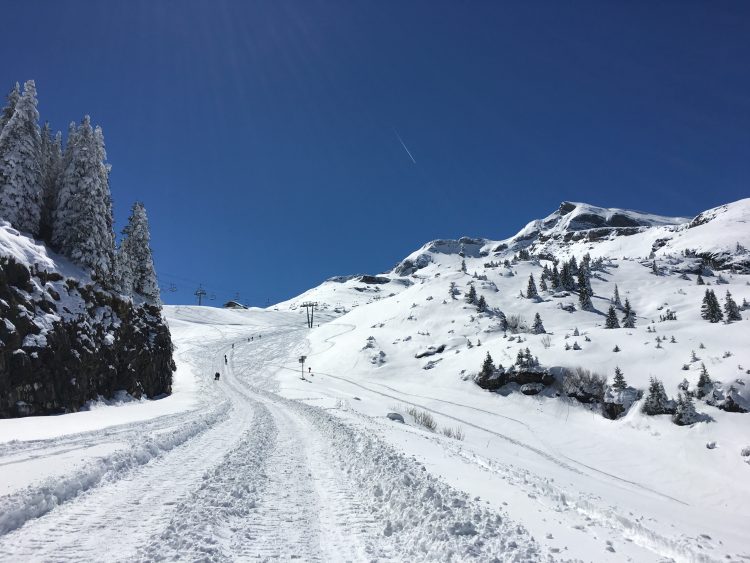 As I stumbled upwards in what felt like Saharan temperatures, I made a mental note to add poles to the increasing list of things not to forget next time. Thick board pants and googles were upping the perspiration levels significantly and I snaffled handfuls of snow in an attempt replace the waterfalls of fluid pouring down the inside of my trousers (sweat people, sweat!).
There was a piste-bashed track to follow which made life easier but over the last few hundred metres, I gradually fell further behind Jacko. I decided to stop and take a couple of photos to cover my flagging tracks!.. Genius!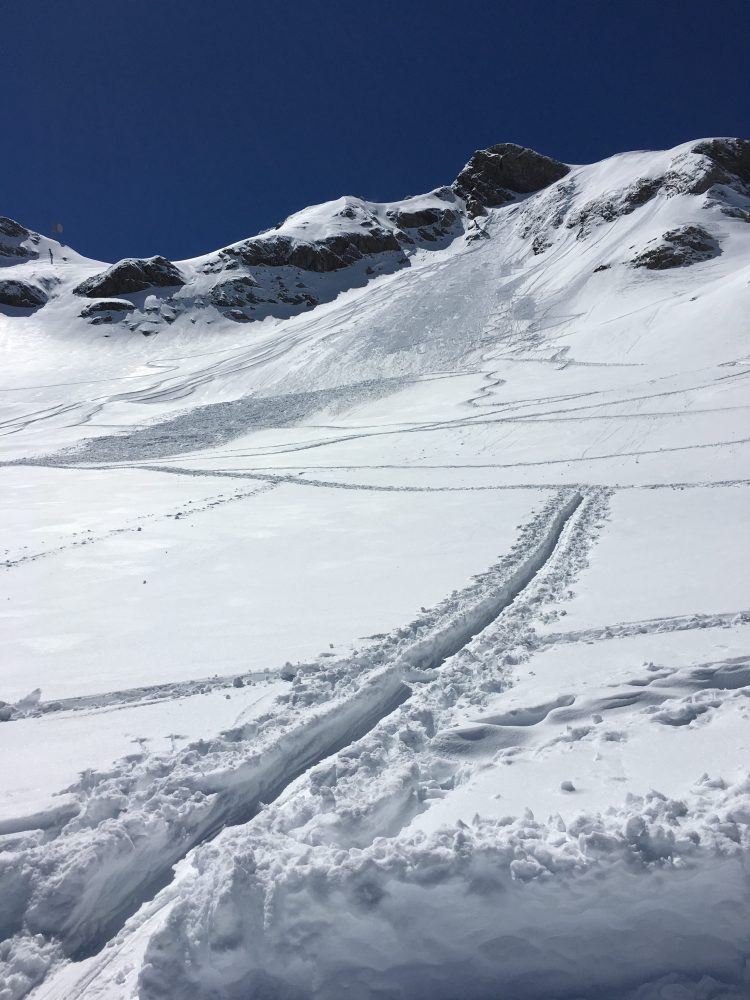 The bashed track finished just short of the top of the Grandes Combes lift and we waded through some knee deep pow to find a spot to drop in. I waited until I was in front of the only big group of people up there and timed it perfectly to finally lose my balance to a degree that only poles could recover… I landed in a heap on my loaded backpack before flailing for a minute like an upturned turtle!
A quick rest in the welcome breeze at the top, a snack and a drink did the trick. After putting some layers back on, we packed up the snowshoes, strapped in and shuffled forward to break a trail. We set off down the ridgeline of the Coupe De Monde piste. 'Thick snow' was an understatement and within seconds our back legs were burning. Even while straightlining at full speed, trying to keep the nose up was hard work. It was great to be back on the board though and especially good being back in some nice deep snow looking down over a freshly dusted Avoriaz. It hadn't looked like this for weeks and as the board feel started to come back, we got more playful, bouncing off the odd pillow on the way down.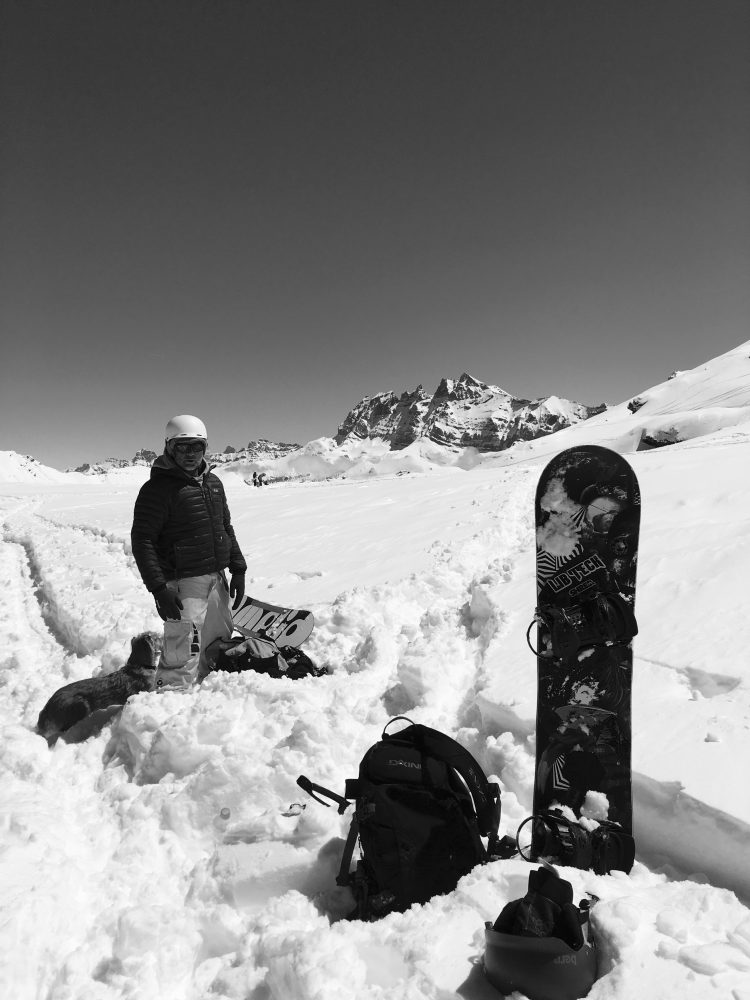 We didn't make it all the way back to Prodains as we'd hoped. Following a second heart-wrenching SCRAAAAPE across a thinly shrouded rocky patch, we ditched the boards and hot-footed it the rest of the way down to our van.
After driving back up to collect Jacko's, I headed home, drank a gallon of water, ate everything in the fridge and jumped in the shower to get ready to join Nina and the kids at a birthday party next door. Ouch!..What the?!.  My face had felt a bit tight as I chewed on the contents of the fridge but some hot shower water had confirmed that forgetting the sun cream was my biggest mistake of the day!
I must admit, I'm not totally sold on the idea of 'earning my turns' all the time but at this time of year, with the lifts closed, it's definitely worth it for a good shred fix. Looking forward to the next one!