Holy cow! This is way harder than I'd expected.
I thought heading 'off piste' with the writing would be liberating but there's so much flying around in my head, mixed with a fear of looking like a nutter, that I've been struggling to know where to start. Haha!
As Nina finished a proof-read of the last article about our 'end of summer camping trips' she said:
"It's OK, but when's the 'different' stuff coming?" And I knew that was coming.
After going round in many circles, I've decided to start with a story…
There's some exciting and special memories in this one for me, along with a really interesting 'coincidence' which added more credence to my thoughts that there's a lot more to all this 'reality' malarky than meets the eye.
Anyhow… A few years ago I organised a trip for my brother, a few mates of ours and me to go to and watch the Isle of Man TT races.
I'd been wanting to go for years! Having grown up near the Lake District and with the ferry crossing at Heysham not far away, we were always well aware of the annual influx of bikes and bikers from across the world making the pilgrimage to the races.
I'd watched it on TV since I was a kid and, weirdly, my gran(!) had always been a massive fan. I never knew her husband, my grandpa, because he died when I was very young but he was apparently mad-keen on cars and bikes too.
We also had a distant relative who was a sidecar racer when I was young, so everyone (my Gran especially) would keep an eye on how he was getting on. When Dad was working, my gran would treat my mum, my brother and me to the odd holiday on the island, so we'd had plenty of good times there outside of race weeks. We were still well aware that it was the theatre for monumental feats of skill, nerve and drama!
I'd missed a trip with a group of my mates when I was in my 20s and after that I had just put a trip to the TT down as one of those things I'd get round to doing in the future.
The years ticked by, Gran passed away and the docu-film 'TT: Closer to the Edge' was released, bringing an even more intimate perspective of the races to the masses (well worth a watch if you haven't already). Then for some reason, in 2014 and in the run up to TT week, I just kept bumping into people where the conversation ended up on the TT and they'd said it was the most amazing thing to experience and I should definitely do it… I had a word with my bro and he was up for it and, in honour of Gran, that's it, we're doing it!
You've got to get in early with the TT bookings and I messaged a few mates who I thought would be interested. They were, so as soon as the ferry crossings were released, I booked us onto a ferry for TT 2015 and in for 3 nights at the Glen Lough campsite.
If you're not familiar, the TT takes place over a two week period in June. The first week is practice and the second is a series of qualifying and races on different classes/sizes of motorbikes and sidecars in a time trial format completing multiple laps of the 37.73 mile island circuit.
There's TT zero (electric), sidecar, lightweight, super-sport, super-stock (which are basically production sports bikes) and the big boys, the super-bikes! Many of the same riders ride bikes in different classes and the week is bookended by opening and closing 6 lap super-bike races. The second of the two is the climax of the event, is the blue ribband race and is known as the Senior.
Races comprise multiple laps of the main public circular road on the island with a single lap covering a 37.73 mile loop through towns, villages, countryside and up and over Snaefell mountain. The 6 lap races are roughly equivalent to travelling from London to York on A and B roads in an hour and three quarters!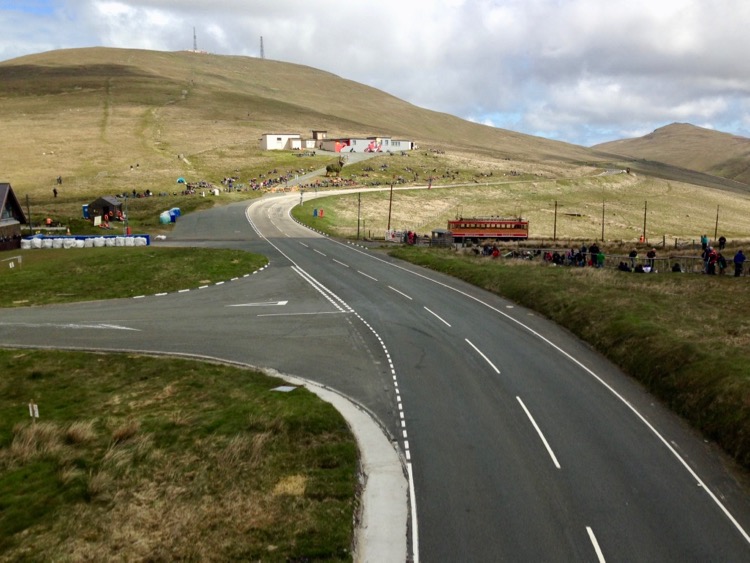 Top riders are now averaging speeds of over 130mph during the races, hitting top speeds over 200 mph! That's all whilst whipping between houses, pavements, trees, hedges and stone walls! It is bonkers and the risks are as high as they get but the riders are supremely skilful. Whilst tragedy does strike, the fact that many racers enjoy long careers is testament to their focus, nerve and skill as well as the professionalism of the teams.
Unfortunately, we couldn't all commit to a whole week away so we had to compromise with an early Sunday ferry from Birkenhead, returning on Wednesday lunchtime. Disappointingly, that meant we'd miss both super-bike races which took place on Saturday and the Final Senior race on the Friday. I soon left any disappointment behind in the wake of the fact that I was going!..
Anyway, I'd just have to go back and catch one of the super-bike races sometime in the future 😉
As the year passed and the months, weeks and then days counted down, we were all getting pretty excited. I knew I was the keenest of the bunch and started planning some of the iconic places we should watch the different races. Bray Hill, The Bungalow, Union Mills, Glen Helen, Creg-ny-Baa, Start/Finish.
As the TT window approached, the weather forecasts were looking horrendous. Practice week started and as threatened, the weather on the Isle of Man was appalling. Practice session after practice session were being cancelled due to high winds and rain. Tents and stands in the paddock were blowing away and it wasn't looking promising… I just had my fingers crossed that the weather would pick up a bit and that it'd go ahead, that the riders would be safe and that we'd at least get to go and see something!
It got to Friday and there was a big question mark over the opening races on the Saturday – including the super-bikes. The question mark was still there on Saturday morning, then they announced they were postponing the super-bike race until Sunday. Wait, what?! NO WAY. That meant we'd be there in time to see the opening super-bike race. Get in!
They were also going to squeeze up the schedule so there was going to be pretty much wall-to-wall action for the whole time we would be there!!
I was super excited now. In the space of a few days it had gone from looking like the whole thing might be a wash out to being on, to being packed every day  aaaannnd we'd get to see the opening super-bike race. Wahoo!
The 5 of us met at my mates house on the Wirral then set off early on the Sunday morning for the ferry. There were bikes everywhere and the sound of engines ticking over and revving would become our sound-track for the next 4 days!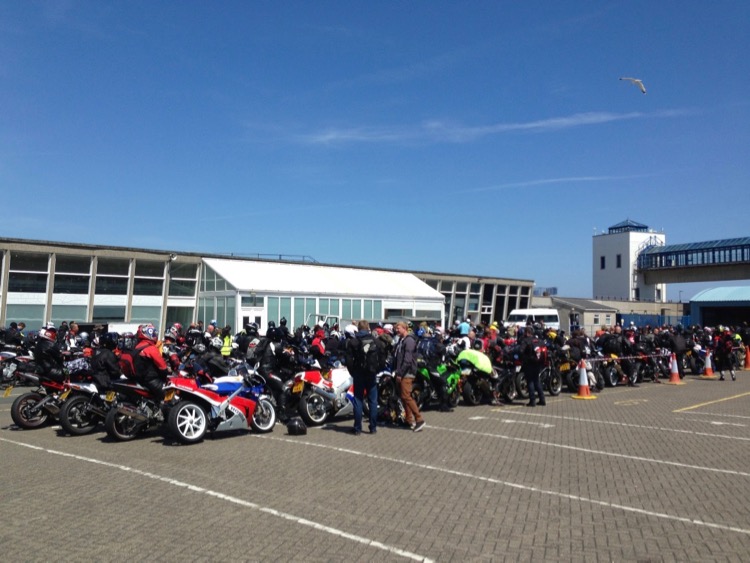 I could barely believe our luck and as the day continued to break, it was becoming obvious that the weather wasn't just going to be better, it was going to be a belter! Blue skies, sunshine, not a jot of wind. I kid you not, as we drove off the ferry and across the island towards our campsite you could literally feel the atmosphere. I have never felt anything like it! The disappointment of a washed out practice week followed by postponements, then the go-ahead and now perfect hot dry weather for opening race day had amplified the sense of excitement for everyone there and across the whole island and, the atmosphere was still building!
We set up camp and caught the bus back to Douglas to get a spot at the bottom of Bray Hill. I'd decided that was the best place for maximum effect as we popped our TT cherries. It would also allow us to take in the action as we made our way back up the track to the start/finish for the end of the race.
The racers set off from the start line in Douglas and accelerate downhill through a built-up area. By the time they reach the bottom of Bray Hill, where we were stood, they are travelling at 180mph! They tip right and compress into the dip, often to the point of sparks from the belly pan before decompressing and heading up Quarterbridge Road and a take-off over Ago's Leap.
As the crowds continued to build, so did the atmosphere and then suddenly the marshals started shuffling into action, shepherding us back into the spectator zones before hemming us in with metal barriers. The roads were closed and a few official vehicles and bikes came through, including bike-fan, team-owner and Prodigy front man Keith Flint, who got a massive cheer! (RIP Keith 🙁 ). Then, finally, a marshal bike came through with a high viz over his leathers and travelling at a mach 2! If that was the speed at which the marshal checks that the track's clear then we were in for a treat when the racers come through!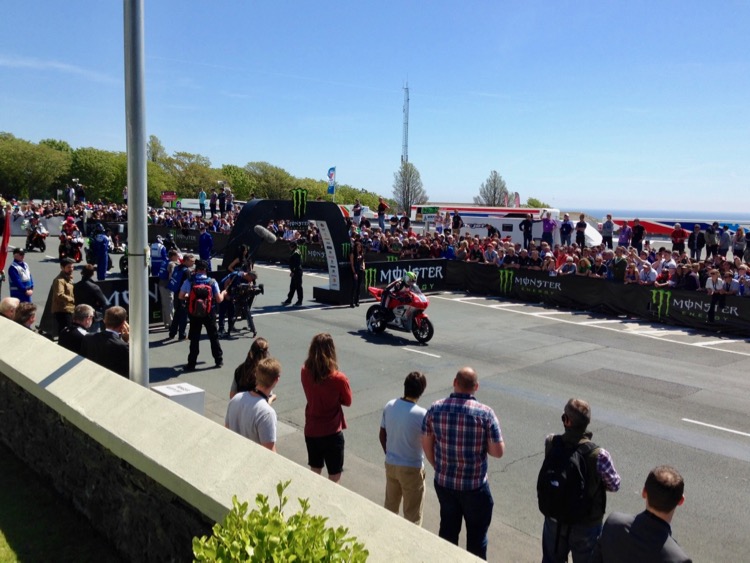 We tuned into the race radio broadcast and waited. Then it all kicked off. John McGuiness was the first man out and he was off! The sound of the engine slowly came into earshot and then quickly rose. As it rose, you could hear the bike angrily clawing it's way to even greater speed as it dove down the hill. The engine noise built and built and then fffeeeooOOWWW!!! Holy moly! That was SO fast! It was almost difficult to take in what just happened as he blurred past.
We exchanged glances and had a little chuckle as a hit of 'adrenaline by proxy' flooded our systems. The sound of his engine squirrelled and roared up, over Ago's Leap and off into the distance up as he embarked on an hour and 45 minutes of maximum focus and a ferocious assault on the senses.
Then next one, James Hillier, came into earshot fffeeeooOOWWW!! Jeeze! and then Michael Dunlop, and the next! The speed of the first 10 riders or so was just mind boggling then, by comparison, it got a bit easier to comprehend as we went down the field.
17 minutes later the top guys were back! They just done 37.73 miles in 17 minutes and were on their way out again! ffeeOOWW!! – ffeeoOOWW!! – ffeeOOWW!!
We decided to move up, alongside the track for a different perspective and I remember feeling lucky to be enjoying such an intense experience and grateful that the stars had aligned for us. If we'd had to go home now I'd have been happy. But no need, more to come…
We moved a few side streets up the track and found one with no-one at the barriers, the road swept left here and as the riders came round they were hugging our side of the road. You could've literally reached out and touched them as they roared past. When we looked at the footage on our cameras, some of it was actually breaking up and glitching as it tried and failed to capture the speed.
Being part of and so close to the action of such a raw, violent almost gladitorial spectacle where the stakes are so high is exhilarating. It doesn't just require force and cajones, it requires nerve, calculation, skill and finesse and your heart goes with those riders and their families as they scream past, hoping they have a blast, race hard but above all else that they all make it back safe.
We spent the rest of the race plugged in to the radio commentary and working our way up the track, finding spots all over to watch the action. We timed our arrival at the start/finish perfectly as the first riders came home. Bruce Anstey had taken the win and made his way into the winners enclosure. It was surreal having watched all of this on TV so many times and now we were here. Immense!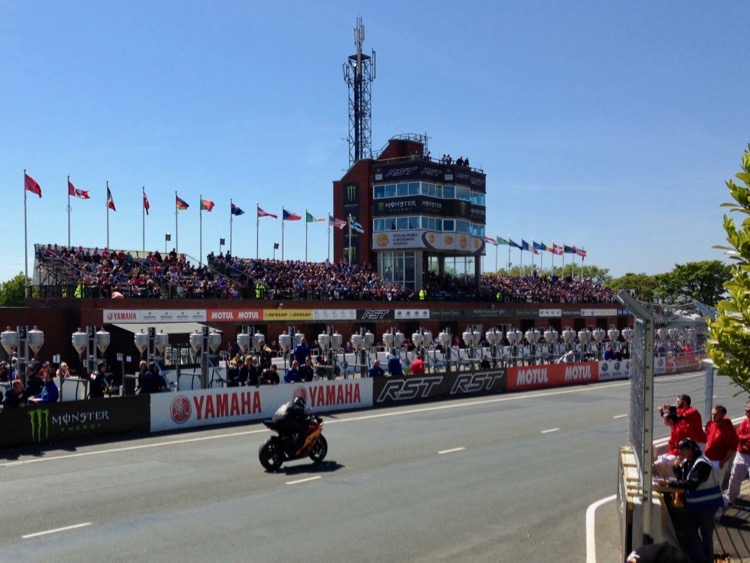 We watched the burnout and press bits before heading behind the grandstand for a quick walk round the pits and then an nice cold beer at the beer tent. Yum.
It was the first of a few as we buzzed and chatted about the day and worked our way via a curry towards Bushy's Beer Tent on the promenade before getting a late-ish taxi home, crawling into our tents and passing out.
WHAT A DAY!!. What a day!
Now, the rest of our trip was equally awesome. We went all over the island being blown away by the place, the people, the bikes, the riders, the racing, the hospitality, the beauty of the island, the weather, the intensity of the spectacle and the incredible atmosphere but that first day was something else…
It was really interesting to have experienced such an intense and sustained emotional sensation and when I got home I was in for another surprise.
For a few years I'd been building a website called The Self Build Guide which was/is an information resource for self builders (although it needs a bit of TLC now). The site and the content is free to use but designed to attract visitors via organic search engine results. It is monetised with adverts and links to affiliate products/partners/services. When a visitor clicks on an advert, I receive a payment, when they click through and buy an affiliate product or from an affiliated partner I receive a commission. Once it gets going, it keeps ticking over, generating a steady stream of revenue.
Now the site was doing pretty well at that time but when I reviewed the figures from our time away there was a spike… A considerable spike!
This spike coincided with that Sunday and it wasn't just a little bit of an increase, it wasn't double, or triple. It was 5 times the average daily income!.. 5!
Now, there are other spikes from time-to-time, but to this day, nothing comes close to comparing to that one.
I knew I was experiencing intense elevated emotions on that Sunday. Given the history, the build up and the collective excitement I was lucky enough to find myself in a prolonged state of exhilaration and then somehow, simultaneously, a completely unrelated aspect of my life delivered extraordinary results… Coincidence?…
Now, you may be thinking: "Wow. Cool." Or… You may be thinking: "Pft! Yep, coincidence."  I obviously can't say for sure whether there's a link or not but…  Other things like this have happened… And… Some of them happened when I had applied some things I'd learned…
I'll get to some of these in future posts but to be honest… I LOVE all this quantum field, heart/mind, vibration, law of attraction, mindset, meditation, visualisation stuff and I know a lot of other people do, too. If nothing else, I know that using certain techniques makes me happier, clearer, more focused, calmer and more satisfied.
There is growing scientific evidence now that the application of mind, particularly in relation to intention and elevated emotions can have an affect, certainly on our health but also potentially on many other aspects of our lives.
Anyway. I'm going to keep learning and experimenting because they're things I love to do and I think it's interesting. I'm excited to write more about it and I really hope it'll be enjoyable to read.
If any of it sparks a story, experience or example in your mind that you'd like to share, please feel free to comment or drop me a message.
Ooo! Baby! I told you I was going off-piste! Hopefully I won't get abandoned out here. Haha!
Hey, this is interesting too!..
As I wrote this post yesterday and sifted through my memories, I re-lived the emotions of that day and the run up to it. As I was doing it, a thought crossed my mind. "I wonder if because I'm feeling those emotions again, the same thing happens with the site revenue?"
Well, I just finished writing this and I thought, "I'll just have a quick look" and guess what?… It did indeed spike for TSBG yesterday… No word of a lie, yesterday was the highest daily income since the 9th March and it was 3 times the daily average over the last 30 days… Spppooooky!
Get yourself kitted out for Winter
Winter's coming and it's always a treat getting your new kit sorted!.. Our affiliate partner Blue Tomato is THE leading online shop for winter and trend sports, streetwear and fashion with over 450.000 products from over 500 well-known brands. Click here to see if they've got anything you fancy.
Jeff might not be on everybody's Christmas list...
But he helps us earn a few dollars too.
If you're doing some Christmas shopping, or any shopping on Amazon for that matter, click through this link first and we can generate a bit of commission. Thanks ;)