Good question!.. How high is Les Gets?.. Incidentally, this is one of the most-searched phrases relating to Les Gets online and in this day and age, with climate change, increasing temperatures and rising snow-lines, it's hardly surprising.
Anyway, the town of Les Gets' elevation is officially recorded as 1172m above sea level.
It sits on the col between the valleys of the Dranse river which runs through Morzine and the Giffre running through Taninges. This is the lowest point on the saddle between the peaks of Mont Chéry (1826m) and Tête des Crêts (1661m) which is right next to Lhotty's restaurant and the top of the Nauchets Express chairlift.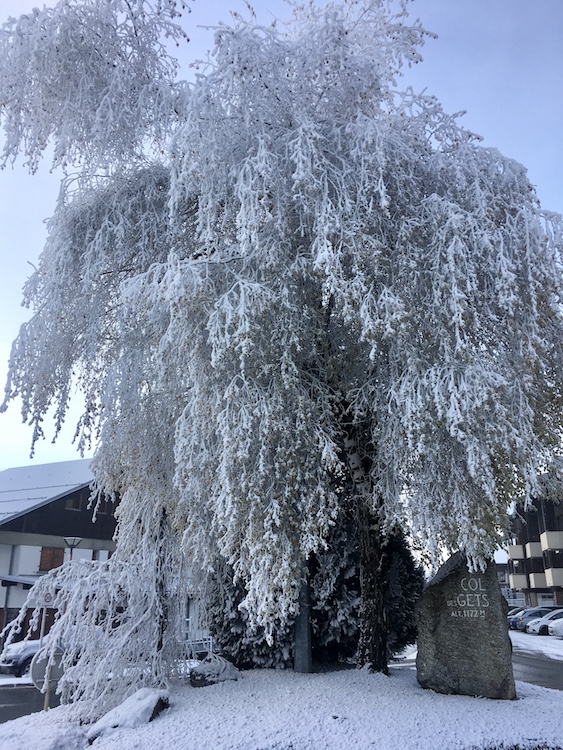 The col is marked by an elevation stone found on the roundabout near the Mont Chéry Lift station, on the Route Des Grandes Alpes passing through Les Gets.
Les Gets ski area includes elevations ranging from 1172m to 2002m with high points at the top of the Ranfolly lift at 1826m and Mont Chéry at the exact same figure of 1826m. The Chamoissière is also included as part of the Les Gets/Morzine area at 2002m
As an integral part of the larger Portes du Soleil ski area, Les Gets is linked to 11 other resorts through a network of ski-lifts and free transport. This allows access to and the use of a vast area of ski runs and includes the high altitude resort of Avoriaz at 1800m The Mossettes lift on the border with Switzerland boasts the highest access in the whole area at 2277m.
Here's a link to the official Portes du Soleil Piste Maps if you want to get your bearings.
Meanwhile back in Les Gets… Mont Blanc, the highest peak in Western Europe and all round alpine celebrity standing at a majestic 4810m can be seen from many points in the Les Gets ski area including the top of Ranfolly, Rosta and Mont Chéry lifts.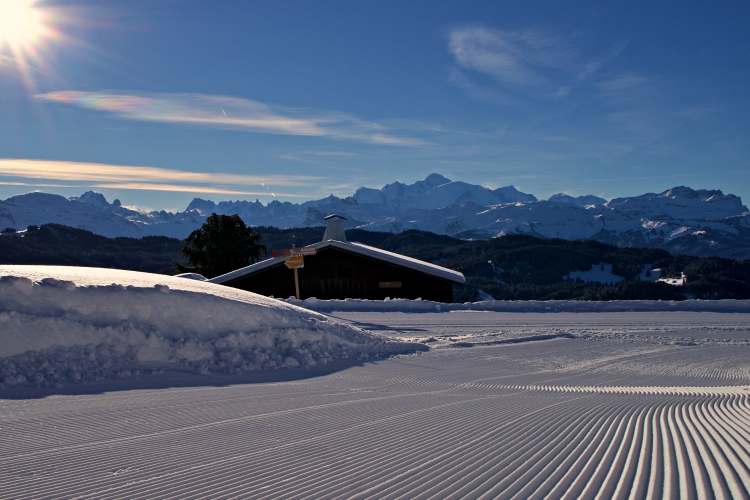 In fact, you don't even have to get out of the car to see it because as soon as you get above about 1250m on the South facing slope of Mont Chéry, Mont Blanc starts peeping into view.
In Summer, you can drive all the way up to Mont Caly which at 1489m is almost 150m higher than the summit of the UK's highest peak. The views of the Mont Blanc massif from here are incredible and enjoying them with a beer, iced lolly or a meal at Les Chevrelles after a good hike is one of our favourite summer or winter activities.
Whether you're searching for ski holiday destinations or to buy a property in the Alps, I hope we've not only answered your question of "how high is les gets?" but expanded to a bit more useful info.
Up-Stix has loads more useful information about Les Gets and The Portes du Soleil as well as our personal experiences of moving to, living in and playing out here. Click here to go back to our page about all things Les Gets related or visit our home page to have a look around more of the site.
Get yourself kitted out for Winter
Winter's coming and it's always a treat getting your new kit sorted!.. Our affiliate partner Blue Tomato is THE leading online shop for winter and trend sports, streetwear and fashion with over 450.000 products from over 500 well-known brands. Click here to see if they've got anything you fancy.