As the summer season approaches, we've been wanting to shift our 'winter layer of cheese' and get beach-body ready for those sunny days at the pool and lakes. I've been trying to exercise more and we've both been eyeing up the surrounding peaks again now that the snow's disappeared.
I had a 'quick' hike with a couple of friends in Les Gets last week that ended up being a 2 hour, 12.5km affair. After that, we decided that we all fancied having a go at the impressive and imposing Pointe de Nantaux. When the skies are clear, Nantaux is an ever present companion in Les Gets, gazing majestically back over the town and peeping between the buildings along the Front de Neige.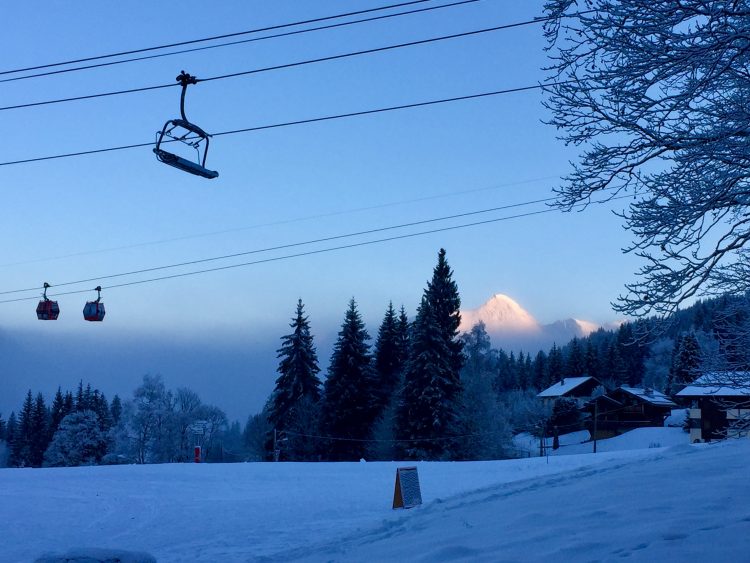 James had other stuff to do today, so it was just a couple of good friends; Beth, Lisa, Sophie the dog and me who were going to be scaling the 2170m summit. With clear-ish weather forecast and our bags packed with snacks and plenty of water, we set off after school drop-off. Driving out to the small parking area in Essert La Pierre between Morzine and St Jean D'Aulps, we began our ascent. We'd been told that it takes 3-4 hours to get up and 2-3 hours to get back down and, being somewhat competitive, our target had been set.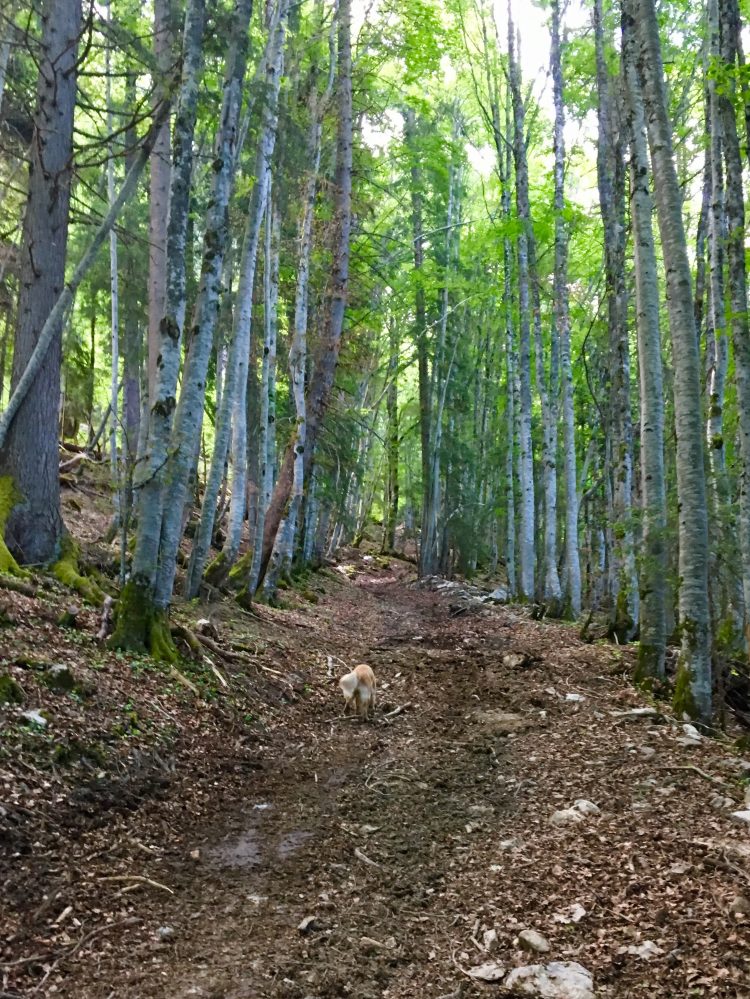 The path cut across a field into relatively dense woodland and is steep (very steep in my opinion), muddy and rocky. After about 45 minutes we were all puffing away heavily in the muggy 20° heat as we reached a perfectly located bench for a welcome rest and a water break. We pushed on through more mud, rocks and woodland before the trees opened out into a pretty clearing and fantastic viewpoint back towards La Côte d'Arbroz and Mont Chéry .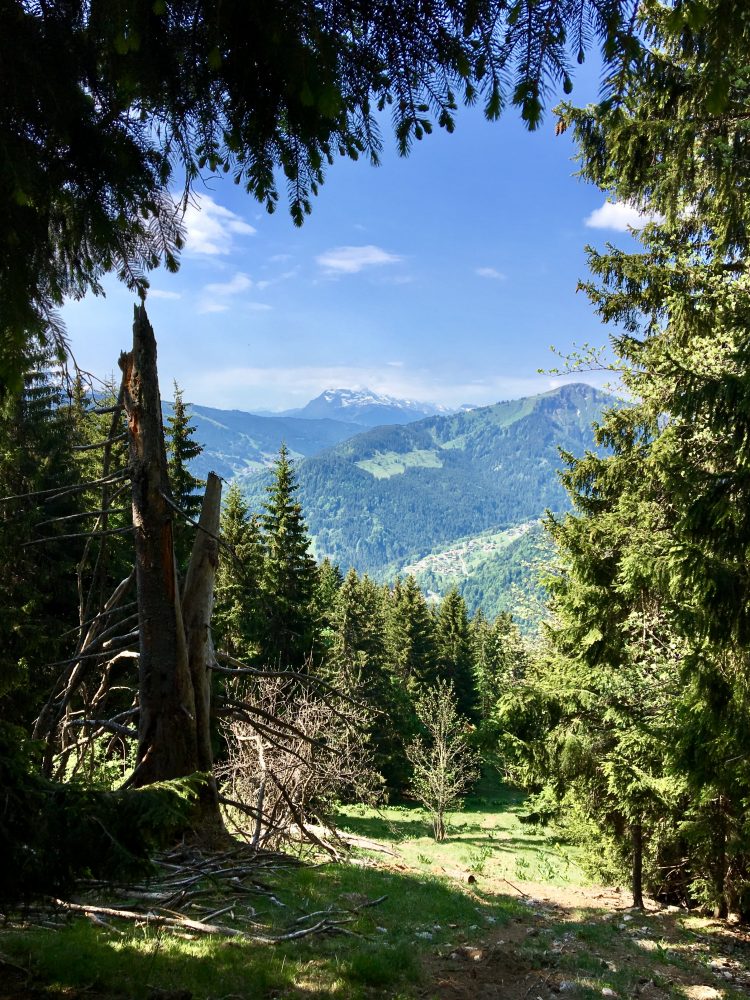 Sophie the dog was parched by now and we all had a breather and admired the scenery while she got stuck into a bucket of water. I was starting to lag behind a bit and managed to 'admire the scenery' several more times on the next slog! We passed a flock of sheep who had the right idea and were just chilling in the sun. My legs were getting a bit tired and wobbly and we took turns with our one set of walking poles to help keep our footing.
After a couple of hours and almost 5km hiking with 1000m of ascent, the end was in sight! I struggled to muster a "yes" when Beth asked if I was OK but I was, just, and we'd made it to the top! It felt awesome! Our four-legged companion headed for the shade of the massive metal crucifix at the summit while we sat to eat our lunch and enjoy the magnificent views back down over Avoriaz, Morzine, Montriond and beyond.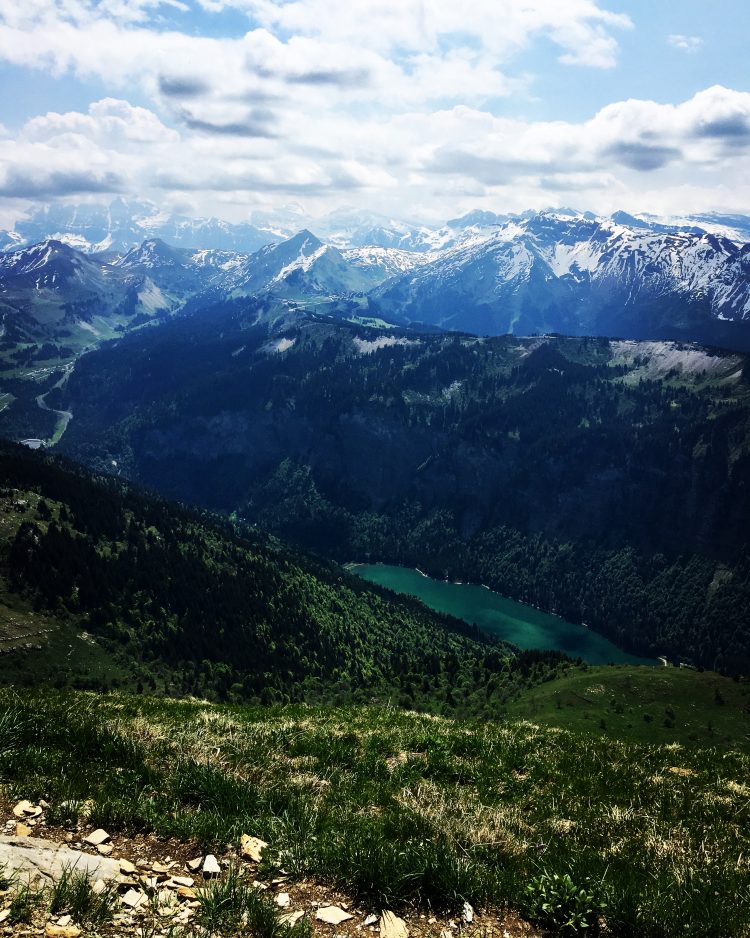 As heavy grey clouds began to loom, we decided it was time to head down to give ourselves enough time to get showered before hobbling back in to do the school run. Just as we were leaving the summit, Beth and Lisa spotted a small snake in the grass. It can be seen at the end of the quick video above…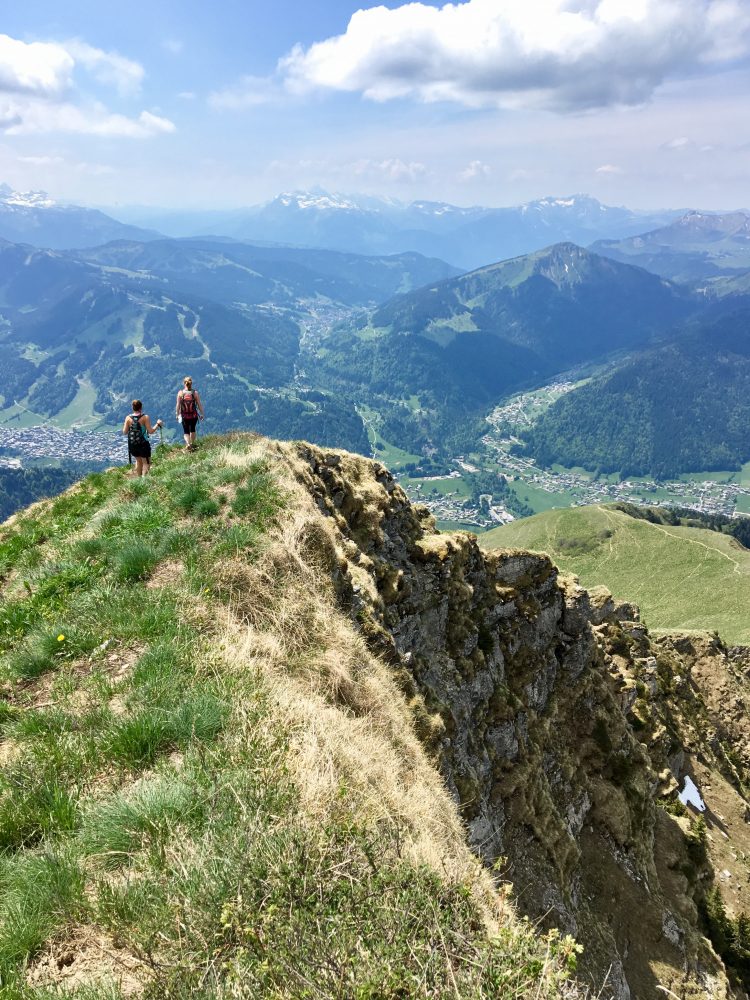 The descent was hard going but we made it down in around an hour and a half and beat the estimate. Result! We'll take a set of poles each next time and a bit more water but we'd had a great time and we're looking forward to the next one. Maybe not quite as epic next time though… I think I need to either up my game or find some less fit hiking buddies! 😉
Don't miss out on any new posts by entering your e-mail address and subscribing to our new post mail-out list.
Feel free to comment below and if you do enjoy the blog, don't forget to like, comment and share. Cheers!