If you're looking for an early ski fix and somewhere a little bit different, Glacier 3000 is only 2 hours from Les Gets and it's already open daily!
It's that time of year where we're all getting super-exited for winter. Our social media feeds are starting to fill with pics and vids of people having fun in the first dumps. So, having just had an excellent day out so early in the season ourselves, we thought we'd throw this post into the mix.
We had some decent early November snow in Les Gets and the Portes du Soleil and people wasted no time hiking, rando and riding all over the place.
With kids… this isn't always an easy option… Not unless you're prepared to maintain a conveyor belt of sugary snacks, carry all their kit, drag them along on their skis and listen to 2 hours of whinging, all for the reward of a 5 minute descent!
When a post popped up that Glacier 3000 was opening on the 9th of November and we were free, it was game on!
Glacier 3000 is a little gem and a favourite of mine. I've been wanting to take Nina and the kids for a while. It's a bit different and I've had some epic days there in the past with mates when the snow's been a bit pants lower down and we thought we'd roll the dice and head higher. It has ALWAYS delivered.
It's only a couple of hours from Les Gets so well worth a day trip.
We blew the cobwebs off our winter gear and loaded the van. The kids had outgrown most of their stuff but it'd do, we'll squeeze 'em in!
We dragged ourselves out of bed at 6.40am on Sunday morning and set off on the drive down to Morzine and on to Thonon. Following Lake Gevena along to Villeneuve, we crossed the Rhone flood plain to Aigle and climbed back up through the Swiss vineyards and into the mountains towards and beyond Les Diablerets. Almost exactly 2 hours later, we pulled up at a the Col du Pillon Glacier 3000 cable car station.
We stuffed the kids into their dolls' clothes, grabbed some passes and boarded the packed cable car with loads of other grinning riders and sliders.
If you've not been Glacier 3000 before, it's a glacier… At 3000m.! In between Les Diablerets and Gstaad, they both claim it as part of their ski area but it's not actually lift-linked to either.
There are two cable car stations that connect from the road and we'd boarded the Col du Pillon telecabine from the valley bottom to the lift station at Cabana before taking a second cable car to Scex Rouge station at 2971m where there's a gift shop, restaurant and above those, the first and only peak-to-peak suspension bridge in the world.
The views and the light up there are magnificent with the Matterhorn, the Eiger and a bit of Mont Blanc all clearly visible. Being among the peaks on the plateux feels other-worldly and there's always plenty going on with the snow park, dog sleds, cross-country skiers, parapenters and speed-riders alongside the regular boarders and skiers. I've even seen a skidded byplane beach itself in the middle of an enormous chest deep powder field before the pilots jumped out and started digging. I still don't know whether it was a mistake or a training exercise.
The first few turns of the season always feel a bit sketchy but we were soon carving about the place with a few laps of the chairlift-serviced Scex Rouge piste.
It's a more physical day out at 3000. There's a bit of scooting and hiking to contend with to get across some parts of the plateaux and because of the glacier, there are more T-bar lifts, so your legs don't get chance to rest on the way up.
We buzzed about the place checking out the open pistes, the park and even scored fresh tracks in some decent foot deep powder off the edges of the pistes. Yes! It's good to be back.
We worked up quite an appetite and I was keen to check out another draw for me at 3000, Refuge L'Espace. This hidden gem is a small silver insulation-clad cafe perched on top of a cliff beneath the monolith of rock called 'the devil's quill'. To add to the atmos, vultures ride the thermals right in front of you. It feels like a cosy, welcoming isolated outpost in the wilderness and is run by a lovely couple who rustle up goodies on a gas stove in the corner.
Unfortunately, the lift that would get us there easily was closed so we were going to have to earn it.
We shoved some snacks in the kids and started dragging them along the flat pisted trail. We then opted for a boot pack shortcut which meant carrying their kit. 'Pink' might be an understatement for the colour of my face when we arrived. I could see the mild concern in Nina's face as she caught sight of me! I'd put on every layer I had in my early season naivety and was now baking hot.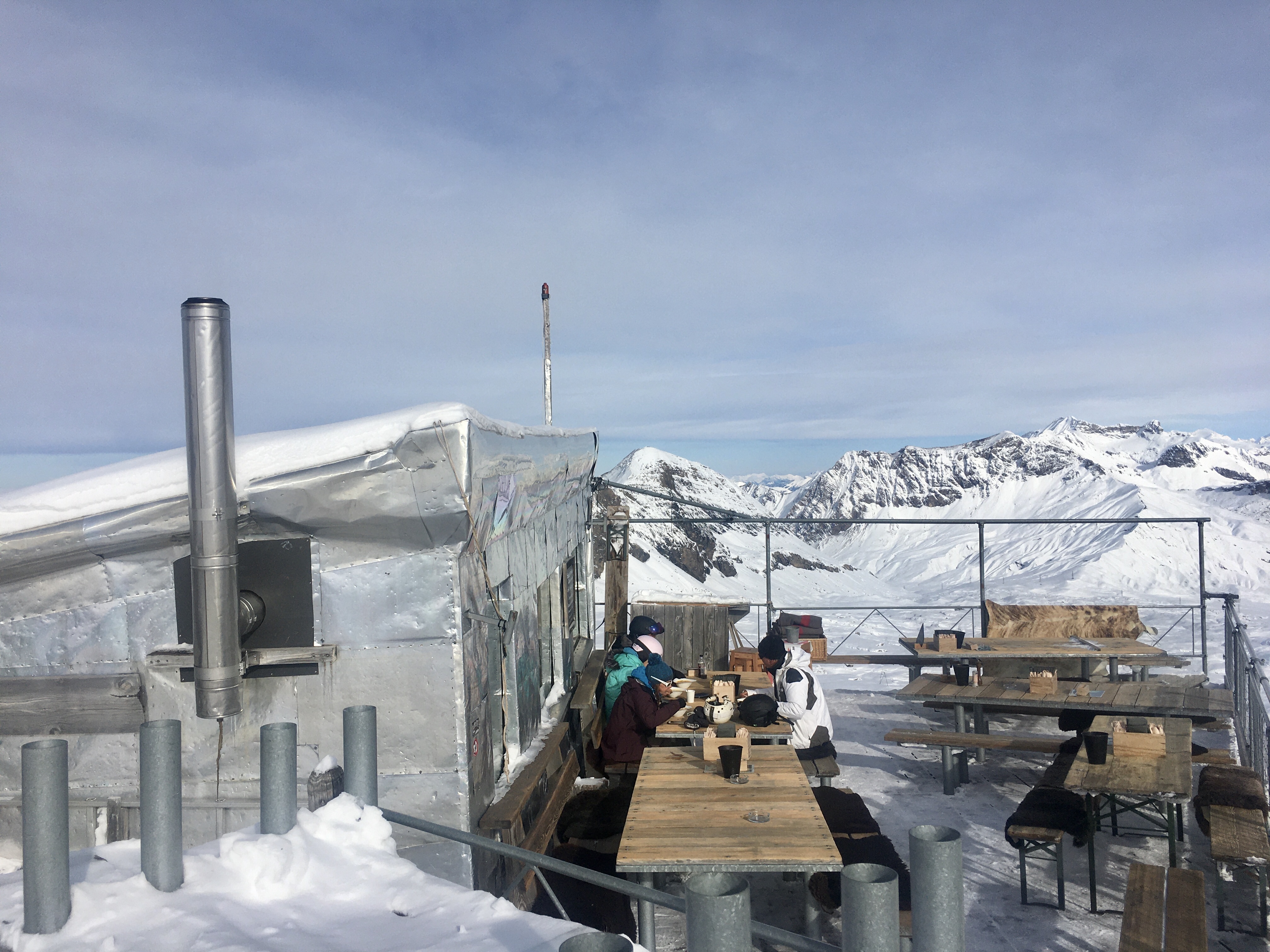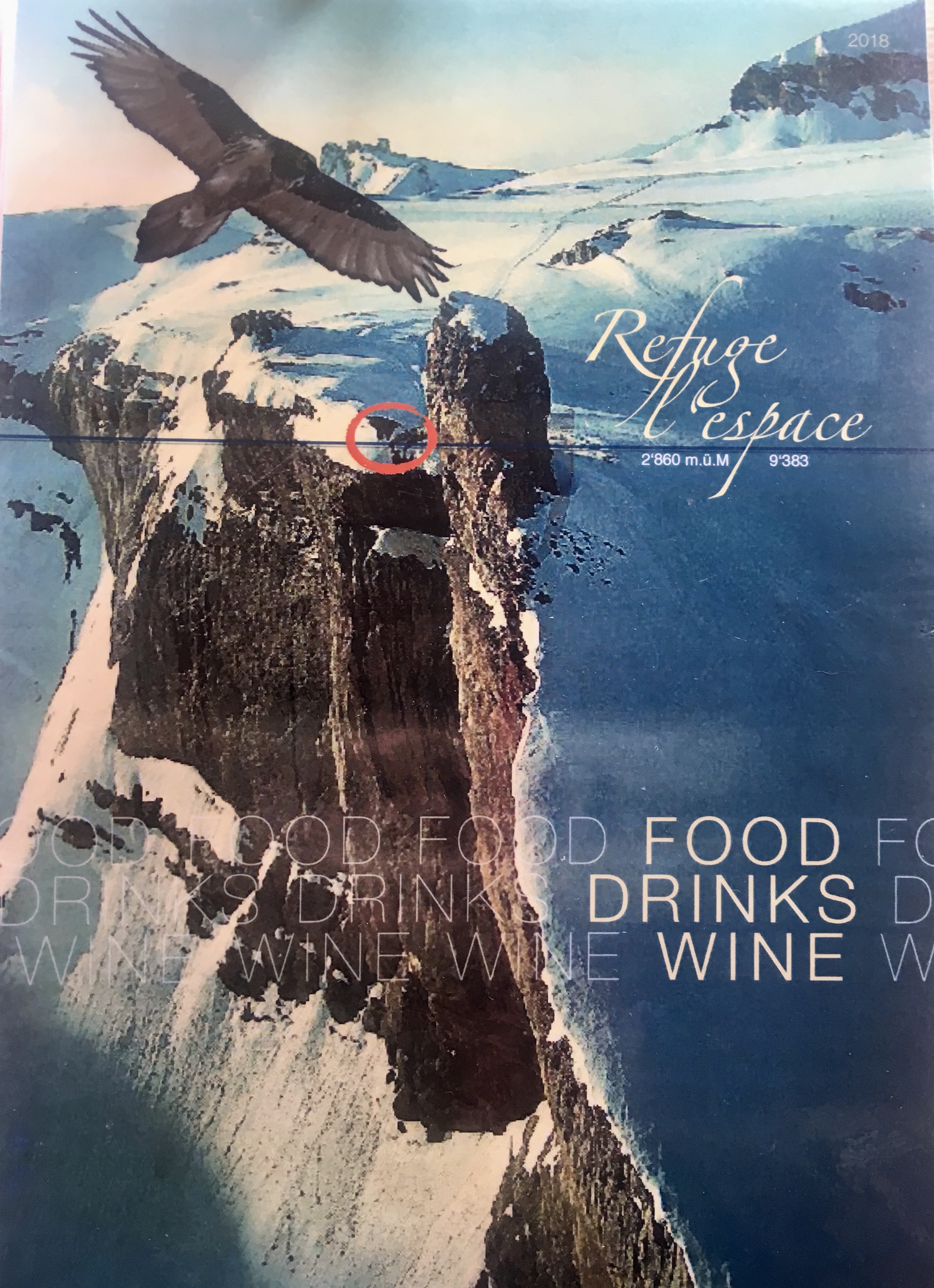 No worries… 'Cafe Refuges' to the rescue – Coffee, Baileys and Irish whiskey with cream and chocolate sprinkles sorted us out. Yum! We followed that with their Swiss/German sausage Schuldig and hearty soup. Amazingly, the kids got stuck in enthusiatically… That is after T loudly announced it's resemblance to another type of wiener. EEK!
Refuelled and toasty, we headed back out for the afternoon and more blatting around in the lazy sunshine. The girls were first to fold and if it hadn't been for T's keenness to carry on I'd have joined them. As it turned out, we rode until the lifts closed and I was ruined! An awesome day out and well worth the early start, long drive, whinging and effort.
The journey home whizzed by and it wasn't long before we hit the sack and slept for 11 hours straight!
Get yourself kitted out for Winter
Winter's coming and it's always a treat getting your new kit sorted!.. Our affiliate partner Blue Tomato is THE leading online shop for winter and trend sports, streetwear and fashion with over 450.000 products from over 500 well-known brands. Click here to see if they've got anything you fancy.