With all this fresh snow and a bluebird day in Les Gets on the cards, I met up with a mate of mine on Saturday morning for my second hike up and board down of the week. The Les Gets mountain guys groomed the slopes on Friday which is an excellent sign for the winter season. It would also make hiking up a lot easier for us, as would the newly acquired and kindly loaned snowshoes!
We woke on Saturday to another dusting of the fresh stuff and met up in town at 9.00am We left Jacko's van in town, drove ours up to the Chavannes and set off up for the high point at Ranfolly.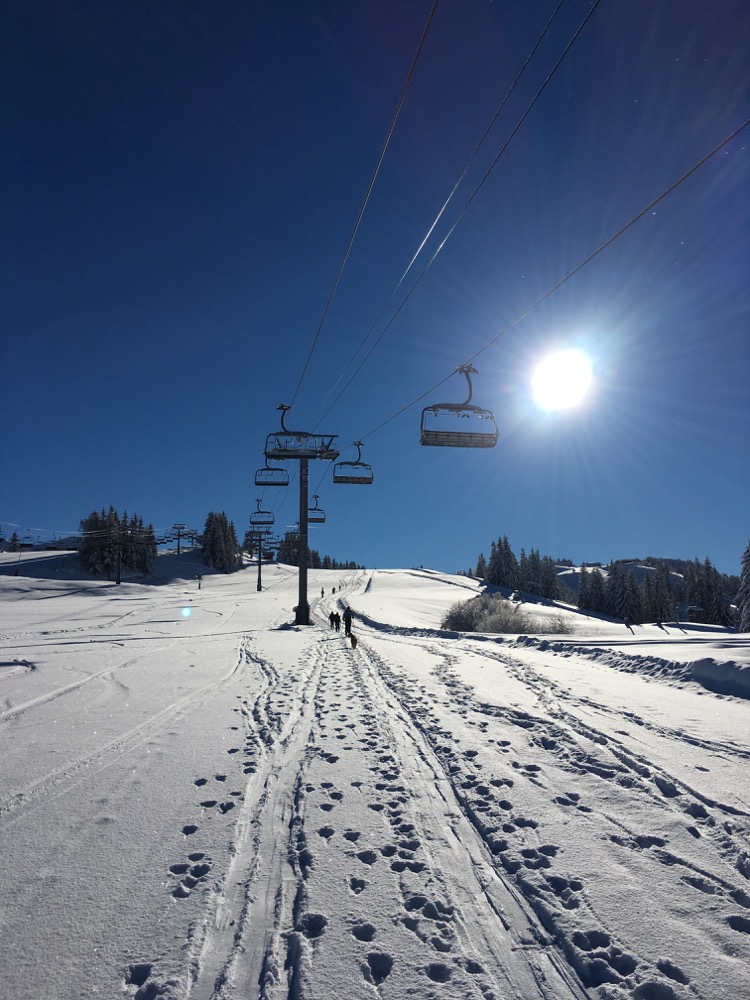 Days like this and Wednesday are the icing on the cake of moving over here: The little bits between the full-on mayhem of the seasons, the bits I hoped would happen before we came. I love how there are so many people out there making the most of the same natural wonders. As we hiked, everywhere was already covered in tracks with ski and board marks running back down the pistes and turning off here and there through tantalisingly fresh powder fields.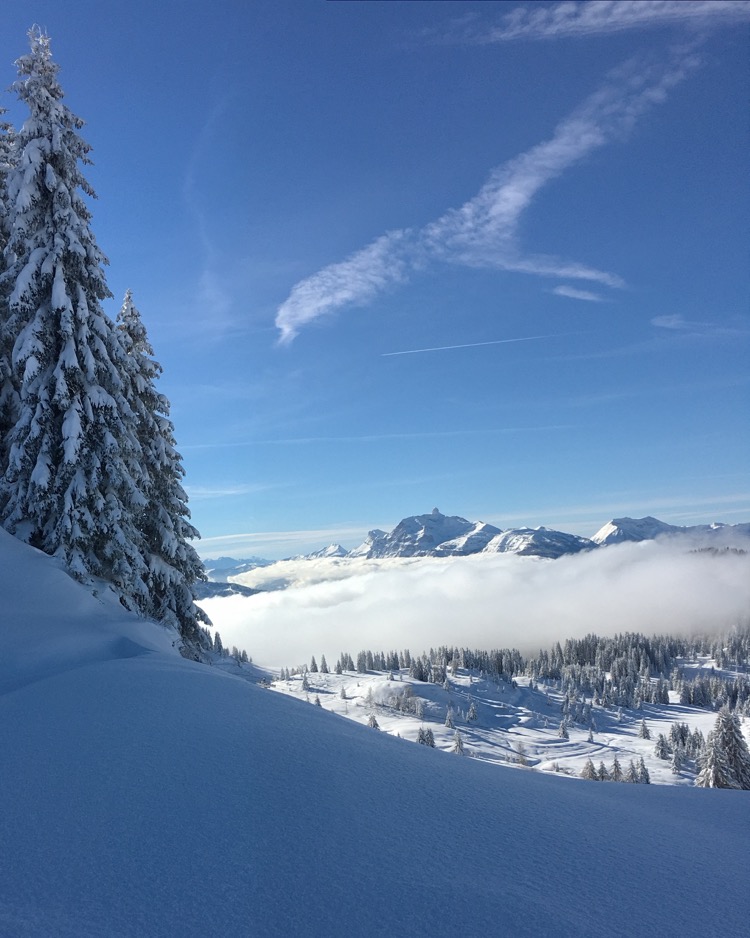 There were all sorts people out enjoying it. Babies in slings with Mums on snowshoes to 70+ year olds skinning up with their buddies. It felt like the first day of summer in the UK when everyone is buzzing, happy and super-friendly. Brilliant! We saw Iz's teacher on her randonées and bumped into Mr Bambin de Bois and his son near the top. So cool! It's a great feeling to live in a place where most people who live there love the same things you do… Basically, playing out!
45 minutes after setting off from Chavannes, we arrived at the 'Tulipe' piste (I think?) near the top of Ranfolly but our goal wasn't as close as it looked. Jacko had brought his dog along. She's still young and this is her first winter. She was going bananas all the way up, joining in the excitement but when we got to the intersection we realised she'd disappeared!
It turned out she'd run quite a way back down the cat track and for some reason had jumped over the edge into deep powder snow on a steep slope. She couldn't get back up. By the time we got there, some kind French dude had already taken off his skis and was down the slope buried up to his waist trying to coax her out. She's young and timid and wasn't having any of it so we pulled him back up and Jacko went down for his pup.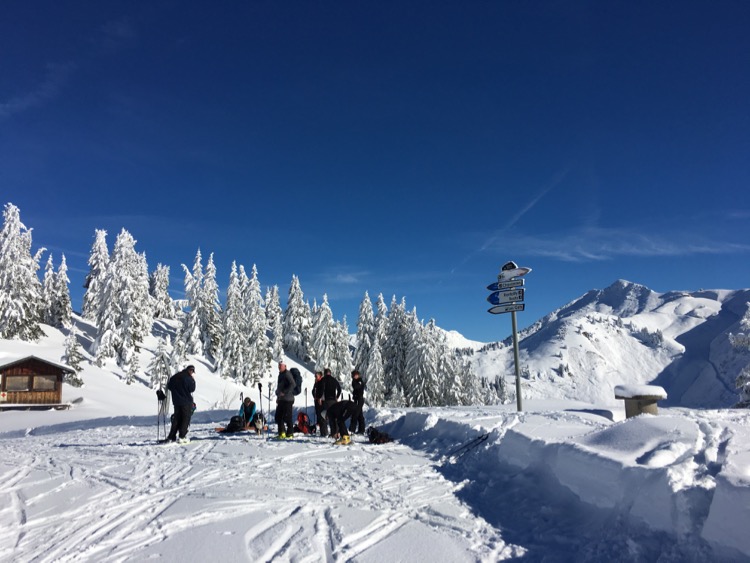 We finally made it back to the top of Ranfolly and hiked a little higher to strap in and drop in through some lovely crystaline powder before hitting the piste and retracing our route back down. I sometimes forget what a great feeling it is boarding on fresh snow and the run down was loads of fun. There were a few bits of fresh powder at the sides here and there to dip into but the best stuff had definitely been at the top and had been well worth the effort.
As we boarded back through Chavannes there were 'loads' (not half term loads!) of people and the snow got harder and heavier as we boarded all the way back to town.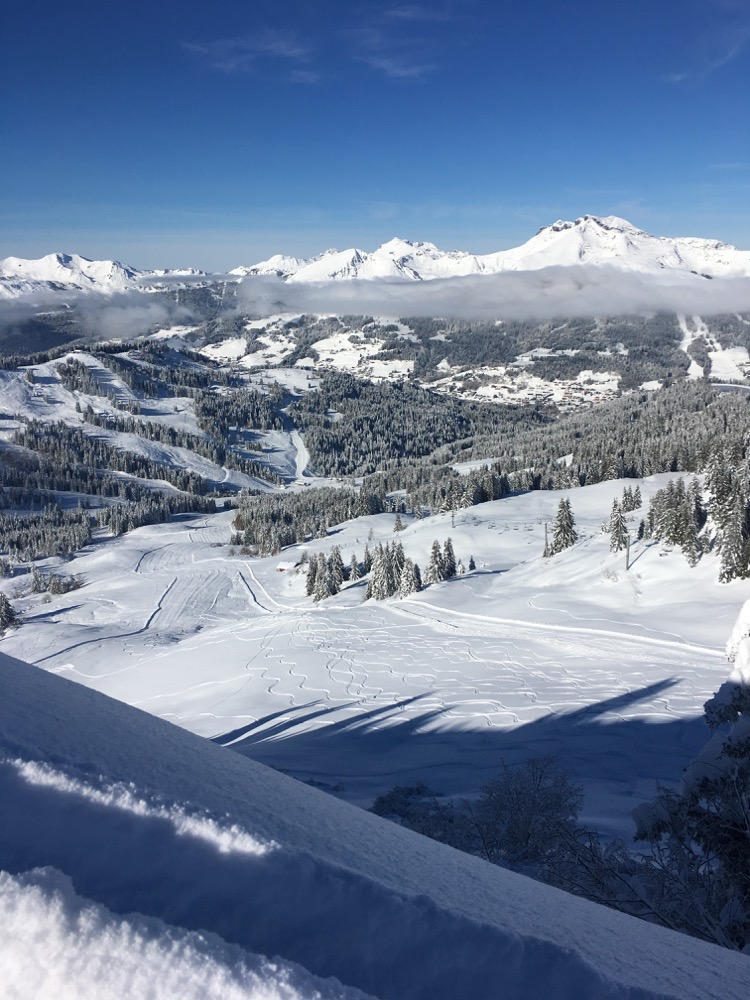 The effort wasn't over for me just yet. On the way back up the Chavannes to pick up our van, Jacko's tyres rolled over and gave up! His winter tyres were in the back of his van waiting for a fitter appointment. . I had another km or so to cover on foot to finish my Saturday morning workout.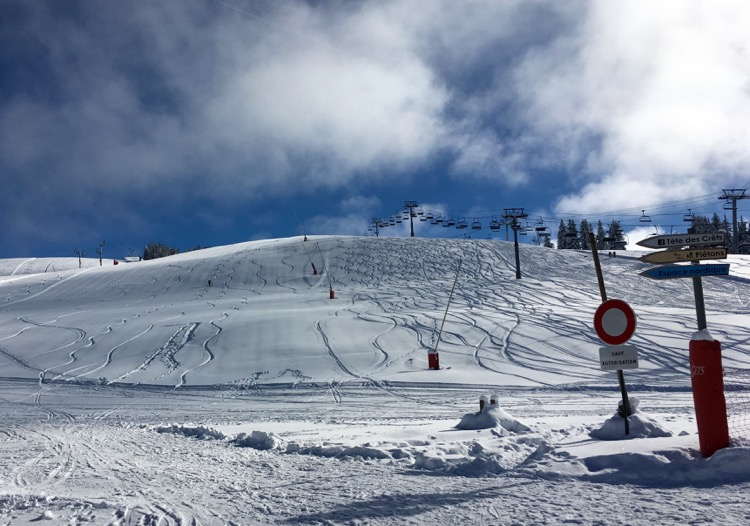 It was great to see so many people enjoying such a gorgeous day. I've dreamed about being somewhere like this for the run-in to winter for many years now. To experience the excitement of everything ramping up for the season and the arrival of the snow is a real treat. It looks like we might have picked a good one as well. There's quite a bit of excitement around after the last couple of years and there's a lot of talk about it being the most snow anyone's seen in years at this time of year. Fingers crossed *massive grin*! Keep it coming!