It's high time for a direction change and from here on in, Up-Stix will be veering a little bit 'off-piste'!..
There'll be more of the same but there'll be much more of it and plenty of different too. Ooo! Mysterious eh?.. (Or just painfully vague perhaps. Haha!)
Anyway, I'll explain more as we go along, but in this post, I'll give you the gist.
(The photo at the top of the page is one we took of an ACTUAL fork IN the road in Morzine… It's a couple of years ago though and we don't know if it's still there but it's a fitting photo for this post even if it did take a while to find!)
As you may know, we started Up-Stix when we moved to Les Gets four and a half years ago. We started it to record our journey and to share our new life 'en-famille' in the French Alps.
The move was an awesome decision! We have loved it. Lovely people, country, amazing scenery, 'proper' weather, mountains, bikes, boards, skiing, swimming, other countries on the doorstep, tonnes of cool experiences and great times!
We loved nurturing Up-Stix too, I discovered how much I really love writing and Nina got chance to develop her talent for taking stunning photos. She's taken things to the next level recently but I'll explain more about that later on as well. Below is a little teaser: 'Fresh Snow on Mont Chery' on brushed aluminium. They look amazing reflecting the light in the 'flesh'.
At some point we thought we might evolve Up-Stix into more of a business with even more specific posts about the local area, activities, businesses and features. We could then generate more income from sponsorship, advertising, links to local business, affiliated products, brands and the like.
We were building great momentum, with our blog posts regularly registering many thousands of reads, some in the 10s of thousands (!). We were getting some lovely feedback and the time was right to take it to the next level… But there was something else bubbling away in the back of my mind, something I needed to have a go at first…
I'd been chewing over an idea for an app (I know, I know, who hasn't?). There wasn't anything exactly like it out there though and I thought it could be really useful to people and could make a positive impact. I really believed it could be worthwhile, ethical and lucrative and I had to give it a go. It had real purpose and meaning for me and I set off in pursuit with gusto!
Spoiler Alert! It didn't work out. Haha!..
Anyway, for a couple of years I poured a lot of effort and attention into it until earlier this year I realised I needed to pull the plug.
I just couldn't get it going and whilst at first I bounced back easily from the setbacks, after a while I was bouncing back a little lower each time until it was less of a bounce and more of a splat. To add to it, other similar apps with bigger backers and more credible creators were gaining exposure… I'd missed the boat.
Ironically this thing was a mindset app. I'd written a book to accompany it but somewhere along the line I'd stopped practicing what I was preaching and I was doing a pretty good job of unravelling myself.
It was time to scoop myself off the canvas, give my head a shake, get back to practicing what I preach and figure out what the heck to do next.
I hoped the answer would come if I stayed positive and open. Then very recently, when I was feeling particularly tip-top, I had a bit of a revelation!
I immediately felt like a weight had been lifted, so I'm trusting my gut and going with it.
I realised that I was craving clearer focus and authenticity!
I've been dithering around with different projects, following conventional wisdom and trying to fit different subjects into specific niches but I realised I was just splitting my energy and my attention all over the place.
I love to write and rather than trying to juggle hats by doing it here, there and everywhere, I've decided to share more of things I'm interested in, find funny and love here on Up-Stix. Hopefully it'll be more personal, authentic and even better than before! There'll still be plenty of bikes, boards, mountains, Les Gets and the Portes du Soleil, because I flippin' love all that but there'll be a bunch of other stuff too.
So, never mind off-piste! Up-Stix is going full freeride!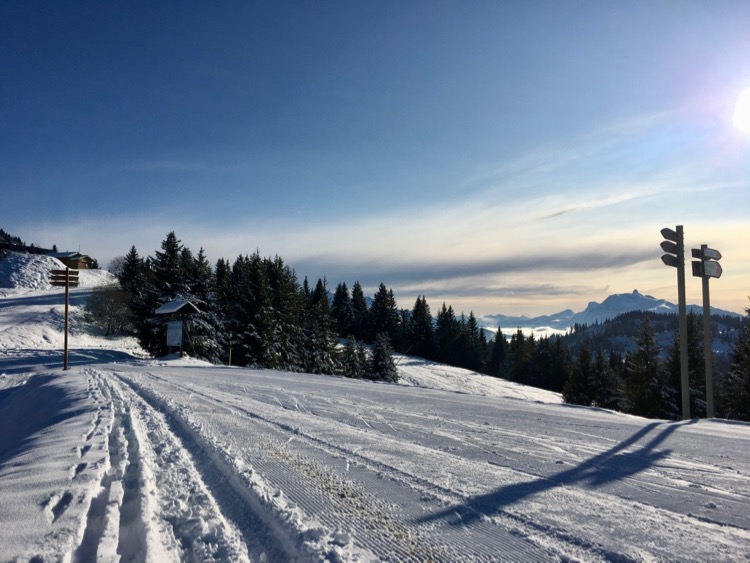 We always wanted Up-Stix to feel light, uplifting and positive for our visitors and I hope the next step will make it even more so. There's enough negativity,  division and worry 'out there' at the moment and if we can add a little bit of ballast to the brighter side of the balance then that would be terrific!
I hope the changes will make Up-Stix even more entertaining, personal, fun, funny and uplifting. Everything in life is much better when your spirits are high and hopefully Up-Stix will be another place you can check in to regularly for a little pick me up.
In another maverick move and in the interests of autonomy and authenticity, we're ditching those plans for sponsorship, advertising, affiliate marketing and all that jazz.
If we like something, write about something or share something, we want you to know that it's because we like it and we rate it, nothing else.
In place, we're setting up a 'Keep It Real' button. If you enjoy the blog and are entertained, informed, amused, uplifted or inspired then you might like to support us with a contribution from time-to-time.
For me this is the perfect model: Simple, direct, authentic and honest.
Instead of us creating content and then trying to lead a merry dance, coaxing you into buying things from someone else in the hope you'll buy it and we'll get a small commission to fund the blog, it's just us and you. If you like it, you can contribute, if you don't, you can piss off! Haha! Just kidding. (Update: November 2020 – Several months on and two donations later, this model proved unsustainable… Thanks for your support guys but it's back to the ads…)
Well, it's early days and it's going to take a bit of time to get into the swing of things with a new tempo and a new format so please bear with me and let's see what happens! It could be a monumental error in which case it'll be business as usual and we shall never speak of this again!
Feel free to let us know what you think as things start to change.
Thanks again though for visiting, liking, sharing and supporting us so far. I really hope you enjoy the new direction and I hope Up-Stix goes from strength to strength!
Get yourself kitted out for Winter
Winter's coming and it's always a treat getting your new kit sorted!.. Our affiliate partner Blue Tomato is THE leading online shop for winter and trend sports, streetwear and fashion with over 450.000 products from over 500 well-known brands. Click here to see if they've got anything you fancy.