Well… An eventful week by all accounts and what a season opener for Earth 2021!.. 'Real life' is about as settling as an episode of Ozark right now!
New Covid strains rampant in the UK, 'insurrection' in the (not so) US, plane crashes, snow on the streets of Madrid and humans seemingly going slightly 'bonkers' left, right and centre. At least Brexit's out of the way so that won't cause us any more headaches… 🤪
It was also interesting to see that world events and viruses didn't pay the blindest bit of attention to our requests for an immediate end to 2020 shenanigans and instant improvements with arrival of the New Year… How very rude.
Over here, we were all wondering what would happen as the 7th January approached.
Before Christmas, the French Government announced that restaurants and bars would remain closed until 20th January and ski-lifts would be closed over Christmas and New Year. After a swell of resistance from mountain communities and businesses, they subsequently dangled the 'petite carrotte' that lifts 'might be able to open from the 7th of January, if infection rates reduce'.
I'm not sure anyone thought that was a realistic possibility but as the date approached we were certainly expecting an announcement of some sort.
Nothing appeared to happen until a briefing on the morning of the actual 7th, saying the lifts wouldn't be opening that day. (No s***, Sherlock). A press conference in the evening confirmed it, and that there'd be another announcement on the 20th. Restaurants and bars would have to remain closed to patrons beyond the 20th with another announcement in February. They also said to expect that things might get worse and tighter… Ominous.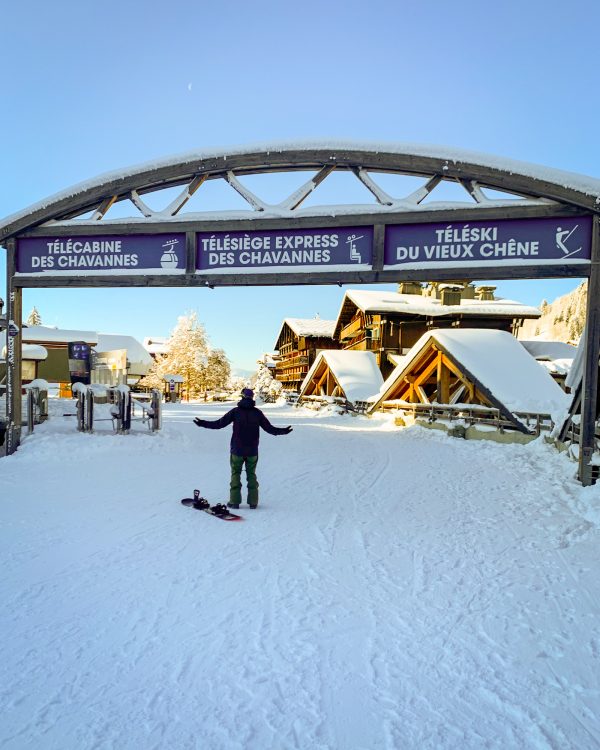 But… So be it… It is what it is… This too shall pass…
The virus also struck closer to home, clobbering my brother and his family in the UK. After a few days feeling rotten, they appear to be on the mend which is great!
Given that and given that huge swathes of other people that have had another crappy week, I do feel rather bad sharing that we've had a pretty good one…
First off, we've been treated to some lovely weather in this area of the Alps. Blue skies and temperatures in minus double-digits have preserved the snow in-situ and provided a few days of brightly-lit, magnificent natural beauty.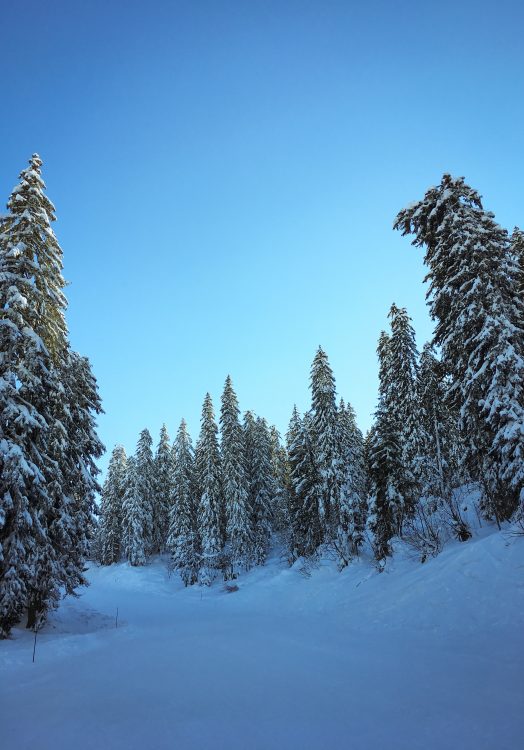 When it's good, you've got to pounce and it feels like this week, that's just what every man, woman and their dogs have been doing! "Profitez bien!" the French say.
It's also really nice because a lot of people who live out here are normally working tirelessly at this time of year. This year though, they are getting to go out with family and friends and enjoy the things they moved here for in the first place. Some have dusted off kit they haven't used in years!
It mightn't do much to alleviate the longer term financial worries but it certainly lifts the spirits.
With the nice conditions this week, my new splitboard has proved to be a revelation!
After Monday's test run up Mont Chéry I caught up with friends I haven't seen for a while on Wednesday and did it again! We came down the front face of Chéry this time and scored some lovely powder lines through the trees on the way down.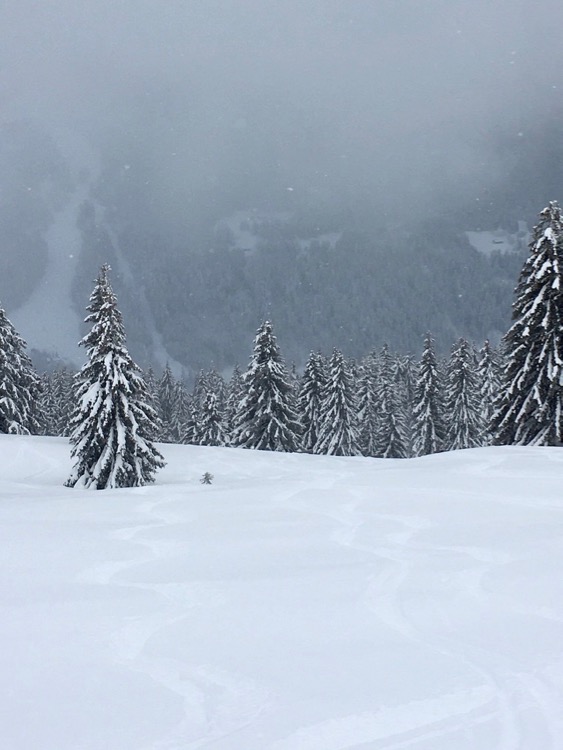 On Thursday, Nina and I headed out to spend a bit of time together, get some exercise and get some shots for her photographic-artwork. We drove over to Montriond and hiked from the bottom of the Ardent telecabine to Lindarets and then on to the top of the 'Burton Stash Freestyle Park'  before ripping back down alongside the Prolays trail through some more sweet powder. 👌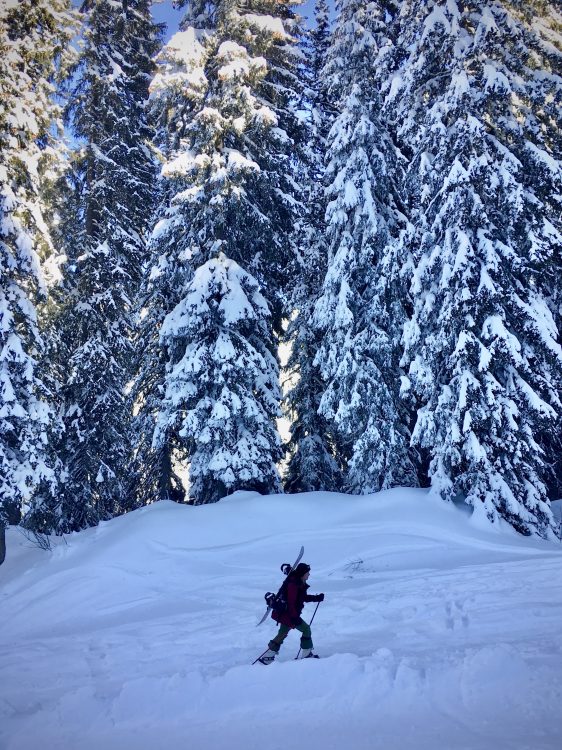 That wasn't it though…
On Friday, I met some more friends, two of whom would normally be in full 'graft mode' at this time of year and we headed over to the Prodains lift to Avoriaz. This lift is effectively a public-transport route to access the town and as such you can currently take your kit up on it and tour on from the top.
My luck with the excellent conditions though, had run out… We'd left behind a lovely, still, crisp day in Les Gets and whilst it was already -12°C on the drive over, the howling wind at the top of the Prodains lift was sending the temps plunging way below that.
We had debated heading up into the Fornet bowl but the angry-looking cloud, cloaking the peaks and pouring over the ridge from Switzerland and down into the bowl convinced us to stay closer to base and head up the Arare instead.
The biting wind was super-chilly on the ears, nose and fingers on the way up but the splitboard (dare I say it?..) is making the climbs a pleasure… 😮
Despite the easier movement, extra stability and less load to lug, there's even something mesmeric about watching them slide out in front, one after the other. The only downside so far is having to ditch my gloves when it's chilly to unclip clips, remove/replace skins and switch the bindings over, all while everything's doing it's best to freeze into position. More dexterity-practice needed with the big gloves on, me thinks. 🤔
We'd heard avalanche control blasts when we were buying tickets at the bottom of the lift and now we were higher up, it looked like they might have been set-off to release a huge cornice on the shoulder of Hauts Forts. (Post: Hiking Hauts Forts before the snow arrives)  We could see the crisp line of the head wall and the trail of avalanche debris spilling into the Crozats freeride bowl below.
It also looked like the wind had scalped a lot of the snow below us. There were a few rocks exposed and would likely be some wind loading hiding in the sheltered aspects beneath.
It wasn't quite the flawless powder-field descent we'd all secretly hoped for and the range of snow conditions we crossed were about as varied as it gets…
The avalanche debris crossing rattled our bones, then there was shallow cover here, hard-packed there, floaty pow here, scrape of a hidden-rock there, lumpy bit here, dodgy slab there….
Not the most flowy of descents, sketchy in places and 'well-tracked' lower down… Having said, it's always good-times just being out on the boards, great to catch up with mates and there were still a few super-fun sections to give it some gas and really get the grins going. There was even a cafe low down selling 'take-out' so we bagged some coffees and had a chat.
So that's the first week of 2021 done and dusted. It looks like the clear skies will be clearing off for a while making way for some new snow over here. Goodness only knows what the world's got in store for us this week though…
Whatever's it is, there's a lot of people to think of at the moment and a lot of people to thank. If you're helping out, thank you 🙏 and if you're having a hard time, wherever you are and for whatever reason, we wish you the best… Onwards and upwards. 🤗👍
Oo… And thanks very much for reading.
Get yourself kitted out for Winter
Winter's coming and it's always a treat getting your new kit sorted!.. Our affiliate partner Blue Tomato is THE leading online shop for winter and trend sports, streetwear and fashion with over 450.000 products from over 500 well-known brands. Click here to see if they've got anything you fancy.