Well, there's been a bit of a gap since our last post but it's not for lack of activity… Quite the opposite!
The run up to Christmas always gets a bit nuts and this one was no exception. In amongst all the usual Christmas preparations, we were lucky enough to have a couple of family visits in December. Nina's cousins and family popped over for their first forays into the Alps and despite the absence of 'proper' snow, we still managed to give them a little taste of boarding and skiing. We also managed to squeeze in plenty of eating, drinking and dragging them around as many of our new favourite haunts as possible.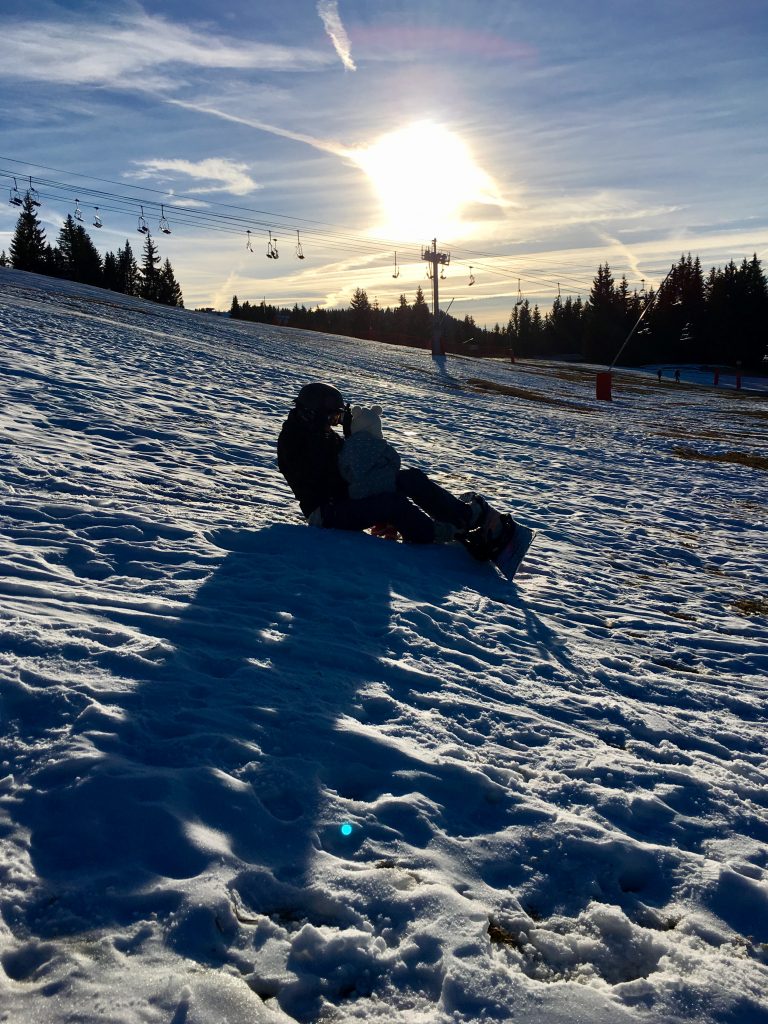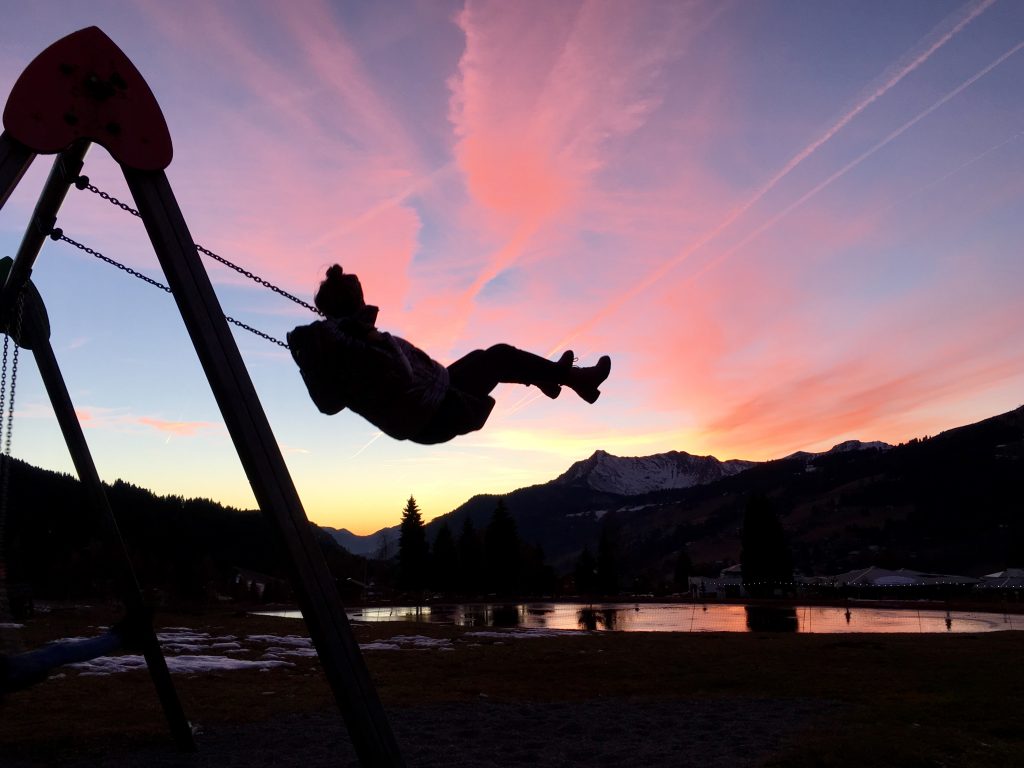 Friends from last winter started drip feeding back into town for this season and we enjoyed catching up properly with them as the buzz of Christmas and the winter season continued to build. The place was in full festive swing with events, markets and fireworks. The kids even got through a full week of ski school and earned their first official badges! Unfortunately, we managed to intermingle all the good stuff in December with bouts of sickness, fluey things and even a nasty bacterial blood infection. Eww!
Anyhoo, by Christmas we were all back on form (if a little frazzled), presents were wrapped and Christmas letters had been posted. We'd visited Père Nöel and his band of nutty 'lutins' (elves) in the woods by the lake above Les Gets, and our turkey and veg were chillin' on the balcony ready to go.
There was a twist on the cards though. A couple of days before Christmas, Nina popped round to our French buddies next door and returned with an invitation to join them on Christmas Eve. We have recently learned that this is when the French dudes have their main Christmas feast. We didn't really know what to expect but these guys are good friends now and they throw a quality gathering (see here). We were honoured to be invited, as well as super-keen to share the celebrations the French way, snails and all!
We knocked on the door at 8.00pm on Christmas Eve armed with a bottle of red and a tasty 'tarte septimontaine'. (A pretty tasty blueberry pie thingamabob we'd collected from a patisserie in nearby Samöens following a hearty recommendation from friends.) We ducked in from the chilly darkness to a warm, cosy Christmassy scene. There was a huge table set and ready, pretty decorations galore and a massive pile of colourful presents radiating out from the Christmas tree in the corner. Family and friends were hanging about chatting, laughing and catching up. The kids ran off to play together as we worked our way round, saying our 'bonsoirs', 'ça-va's' and being introduced to a couple of people that we'd heard loads about but never met before.
Drinks appeared in our hands, then presents… Yikes! we'd brought something for Iz's friend but no-one else and it turns out they do their present opening on Christmas Eve, too. Oops!
Now we can't comment on how it is in the rest of France but one thing we have really appreciated about being here in the Alps is how people seem to be more in touch with the nature around them. There's an awful lot of foraging, growing, sourcing, preserving and sharing that goes on. In the summer, you constantly come across people collecting berries on the hillsides and mushrooms in the woodlands. There's even a still on a trailer that moves from town-to-town where folk book time slots to take their apples, pears or grapes and cook up a batch of traditional local spirits for themselves. I can't imagine you'd get away with that in the UK, I believe it's even illegal to collect and drink rainwater!
In advance, Nina had mentioned her trepidation at the prospect of eating snails and we were all having a good laugh at her expense. However, as we listened to the unbelievable effort that had gone into their collection and preparation by René and Marthe and the sight of them sitting in pretty ceramic shells, daubed in a delicious home-made garlic and herb butter, we realised we were in for a real treat.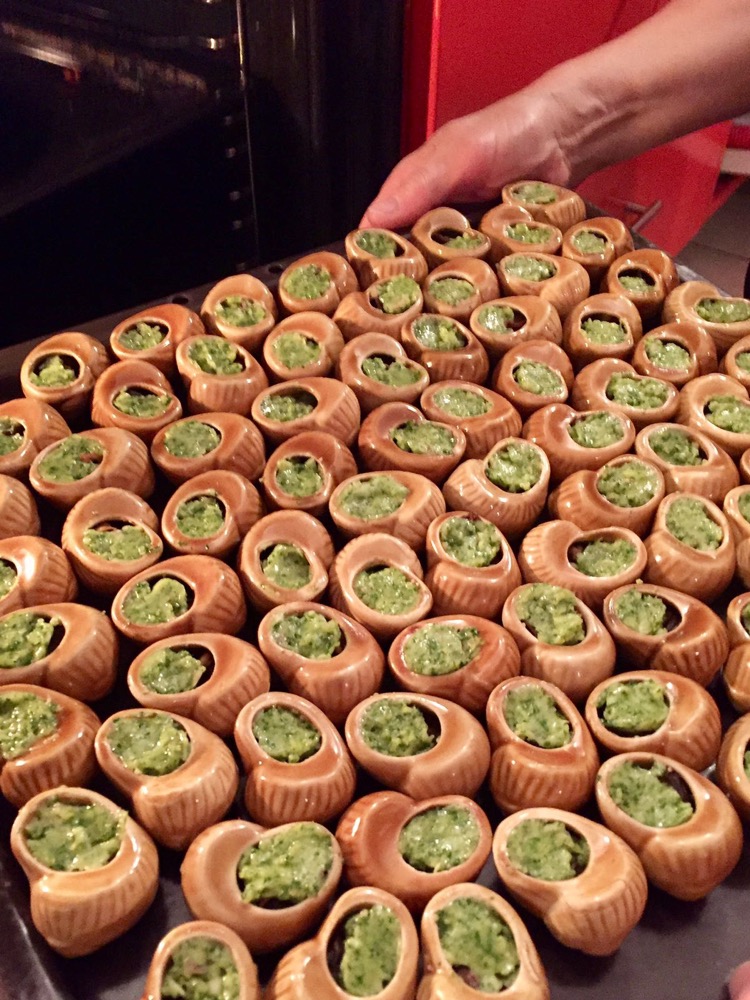 The next few hours proved to be a social and gastronomic pleasure. We kicked off the meal with a 'vin jaune' from the nearby Jura region and Fois Gras, followed by the snails which were terrific! Nina even enjoyed hers and I was offered seconds and ended up having 12 of those bad boys!
We followed this up with a Pierrade hot plate where you slap on a cut or two of meat and cook it yourself. There was 'serf' – venison, ('provided' by René), 'sanglier' – wild boar ('provided' by René) and 'dinde' – turkey (not sure where that came from but I'm sure René had something to do with it). This was accompanied by salad, a huge selection of sauces (thumbs up from me as a big sauce fan!) and dishes and dishes of creamy dauphinoise potatoes (you guessed it… grown by René).
If Donald Trump ends up hitting 'the button' in a fit of rage because someone says his Mum's fat, I'll be sticking to René and Marthe like glue.
The food was accompanied by delicious wines and after a while, René cracked open his own brew, Génépi to aid the digestion. Génepi is a flower that grows high in the mountains and him and his mates go out and collect it at certain times of the year to make their own Alpine Génépi liquor.
It went down beautifully and with an appreciative audience, he reappeared with a basket of various other bottles for us to sample and compare. Gentiane, Calvados and Marc de Raisin to name but a few! Oh-oh! Here we go again! 🙂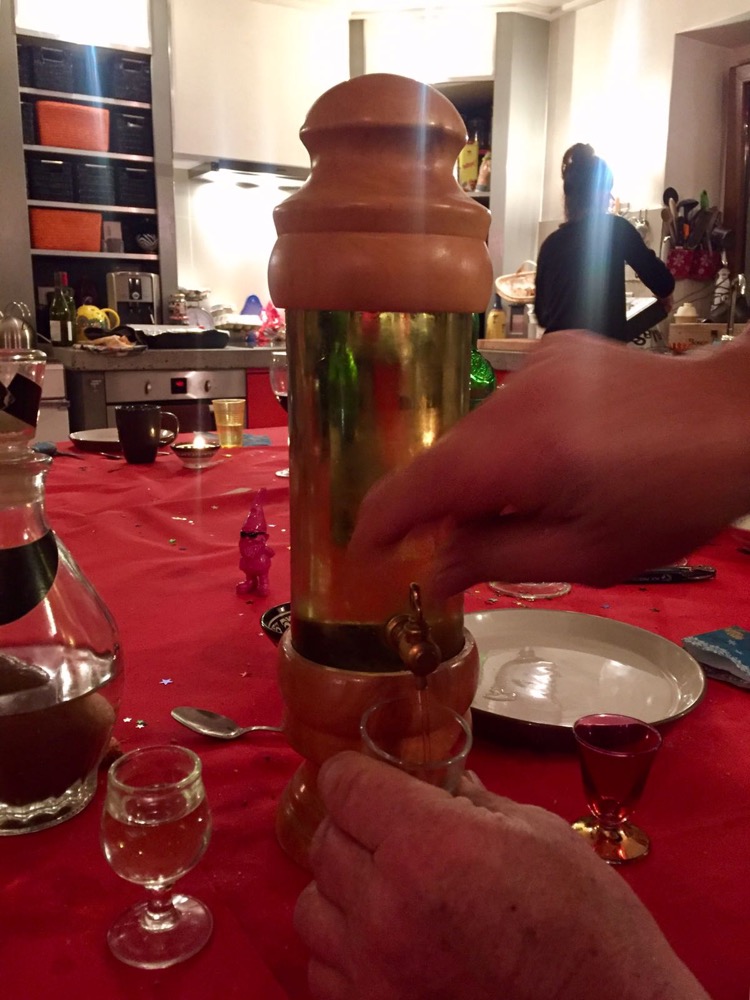 All in all, a fabulous evening of food, drink, lovely company and good laughs. Everything was a little blurry as we said our goodbyes and we caved in as everyone insisted that we return tomorrow to help finish off the meat. We dipped back out into the darkness at about midnight and set off on our colossal 20 metre walk home.
We had a few things to organise but eventually got to bed before being woken what felt like a couple of minutes later. It was 6.20am and the kids couldn't contain their excitmement any longer! We clattered downstairs and Father Christmas had indeed been, drank his Baileys, eaten his homemade ginger cookies and left a pile of pressies in return. The kids tore through them and we discussed the invite for today's lunch. We didn't want to impose but they had insisted and we had agreed. We decided the turkey could chill for another day.
We spent the rest of the morning pottering with our new stuff, making a start on the Lego and FaceTiming family in the UK and Australia to wish them a Happy Christmas before sprucing up and heading back next door for more of the same.
No snails this time and I declined the grog as we wanted to drive up to the Chavannes in Les Gets for a Christmas day slide 'en famille'. Nina, however, was met by our new hero, René, and a bottle of his best home brew – the gentiane! Within 5 minutes of arriving, she had duly sampled the lovely gift and enjoyed the warm glow of French hospitality all over again!
It was a more informal affair on Christmas day and Jerome told us that this was know as 'à la bonne franquette' which – loosely translated – means having a relaxed meal where there is no pressure. We like it! A lot. 🙂
We eventually said our Joyeux Nöels and headed off to hit the slopes. We'd said for ages that we'd really like to do a family board and ski on Christmas day. It was 4pm by the time we got there but it was lovely and quiet by then and we enjoyed a couple of lovely refreshing descents with full stomachs and a beautiful backdrop of the sun setting over the Alps.
Cheers guys, for making us feel so welcome, and a very Happy Christmas everyone!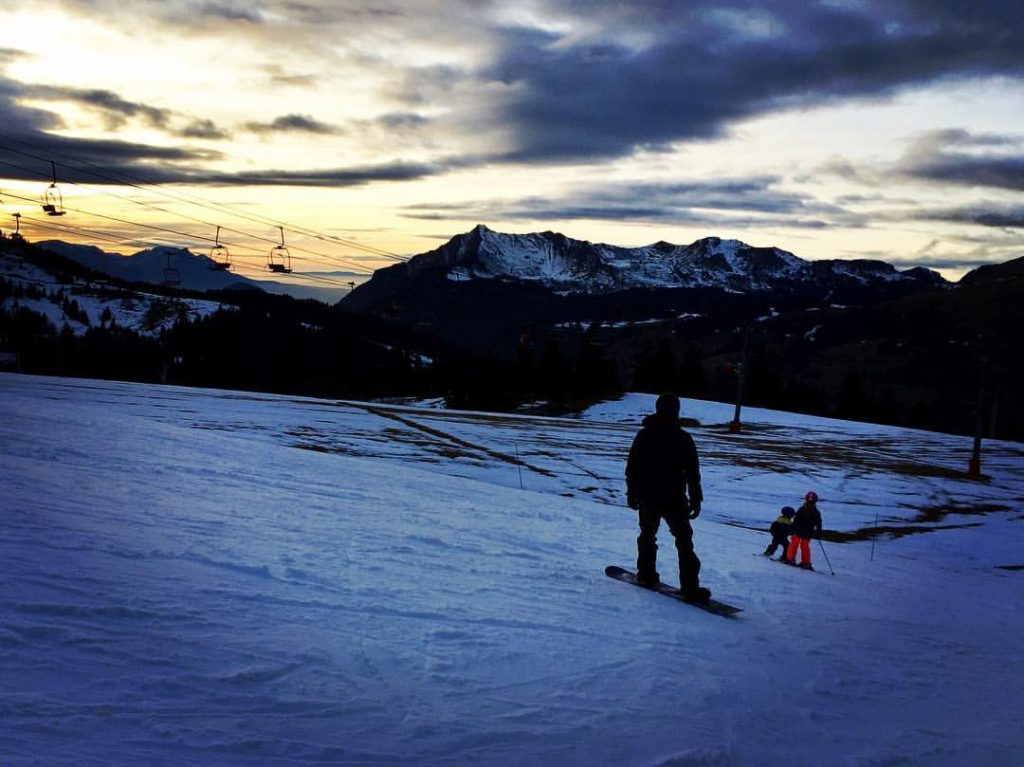 Don't miss out on any new posts by entering your e-mail address and subscribing to our new post mail-out list.
Feel free to comment below and if you do enjoy the blog, don't forget to like, comment and share. Cheers!