T's been hankering after another bike ride on the downhill trails for the last few days. The girls didn't fancy it, so T and I got kitted up, gave the bikes the once over and headed out for a few runs.
It's so much fun getting out on the bikes with the kids. It's obviously a lot slower and it can be hard work jumping off our bikes to push them up and lower them down the steeper bits. The excitement factor is off the chart, though. As we rode down the road to town and the lifts, T didn't stop jabbering and at one point said "this is the best day ever!" Bless.
Here's a little video of our ride with T tackling, berms, roots, table tops, single track, fire roads, breaking bumps – the lot!
It's pretty funny too as he's only 5 and there's not a lot of little kids out there. He gets lots of cheers from other riders, especially when the trail goes under the lift. Hikers stop to watch and one of the faster riders that came past us yesterday had stopped around the corner to take a video of T coming down, shouting "Allez, allez allez!" as he went past. I think he's enjoying the attention but we'll have to make sure we keep his feet on the ground. 😉 Haha!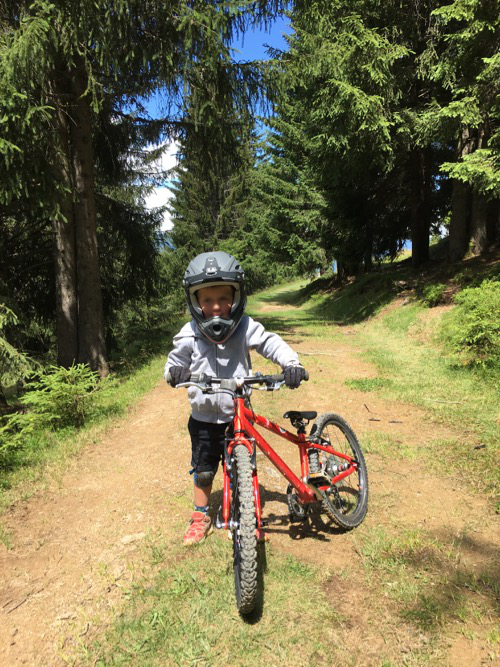 He's obsessed with progressing now and wants to "do another blue [run] we've not done before, Dad." So much fun!
Get yourself kitted out for Winter
Winter's coming and it's always a treat getting your new kit sorted!.. Our affiliate partner Blue Tomato is THE leading online shop for winter and trend sports, streetwear and fashion with over 450.000 products from over 500 well-known brands. Click here to see if they've got anything you fancy.