Yesterday was our first day downhill mountain biking with the kids in Les Gets and it was an absolute corker! It was another one of those days we've (I've) dreamed about for years and when it happened it was even better than we'd hoped for.
Crankworx struggled it's way through a week of heavy rain and thunderstorms. Yesterday's weather decided to give us a taste of what we'd been missing and unleashed a 27°C belter… 27!
I was so filthy after Tuesday's short solo ride in the pouring rain that I had to wash my clothes outside in an old cattle drinking trough before putting them through the washing machine! I even briefly considered joining the "I live here, I only go out when the conditions are good" brigade. Nah!
Well, yesterday conditions were good, the ground was still a bit wet but was drying quickly in the heat. We picked the kids up from school at lunchtime, popped home for a soup, salad and baguette lunch then loaded the van with bikes and kit and rolled out.
We had a bit of a lift ticket situation to sort out first and it wasn't going to be straight-forward. We needed summer season lift passes with VTT (mountain bikes) each as well as a 'Multipass' each. The Portes du Soleil Multipass allows you to use the lift system as a foot passenger and gives you access to a whole bunch of other activities (50 in total) like the swimming lakes, buses, the outdoor pool in Morzine, mini golf etc etc.
Jeeze! This was going to get complicated. 'Nina! You'd better do the talking…' 😉
There was a 50% discount on offer for the Portes du Soleil VTT pass when you presented your winter season pass. Having arrived part way through the season, we only had winter ½ season passes but had hoped that we might get some kind of discount. These things add up when you're buying for the whole family. I'd bought my VTT pass last week and had paid full price. I had hit a 55 year old, stony faced, female brick wall when I'd asked if there was any chance of a discount available… "Non!"
We'd also found an offer saying that we were entitled to a free Multipass with purchase of VTT pass. Jeeze! This was going to get complicated. 'Nina! You'd better do the talking…'  😉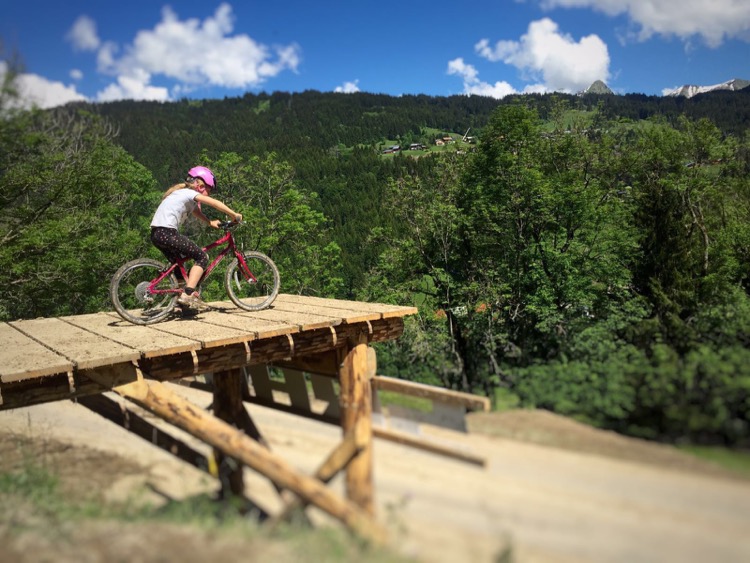 We wound down the road to the Mont Chery lift station figuring that it'd be quieter there today and give us more time to go through our issues. We parked up, walked round the corner and as the 'law of sod' would dictate… A coach-load of pensioners had formed an orderly queue for lift tickets. We joined the back and the kids set about getting impatient and fidgity.
We finally made it to the cashier's desk and two poor souls joined the queue behind us, oblivious to the fact that they'd be stood there for another 15 minutes or more. Nina did the business and the lady behind the desk was lovely. Three phone calls to her boss later and we had a free (Les Gets only) VTT pass for T on account of his age, 50% discount for Nina and Iz and a 50% refund on mine. Brilliant! Thank you, kind lady – we owe you a drink! The free Multipass offer was only valid for short stays and holidays so no change there. Fair enough. The sun was shining, we'd just dealt with a lovely lady and saved several hundred €s on our summer tickets. Perfect! What a brilliant start to the afternoon!
We kitted up, got the bikes from the van and pushed them up the steps to the telecabine. I've dreamed of this for so long and the kids were buzzing with excitement. We boarded the bubble and rode to the top whilst bull spotting (a family favourite) in the fields below.
We turned right out of the top station and flew down the freshly tarmaced road before dropping onto a track for the start of the 'La piste des Biquettes' green run. I've said before that the rating for the bike trails are much looser than the piste equivalents. This green was no exception. There were plenty of road sections and fire-roads but there were also some fairly steep and boggy switchbacks through the trees. Quite a lot for a 5 year old to handle on his first run out, but he did and he loved it! Although he did have to keep stopping to rub his hands because they were aching from braking so much.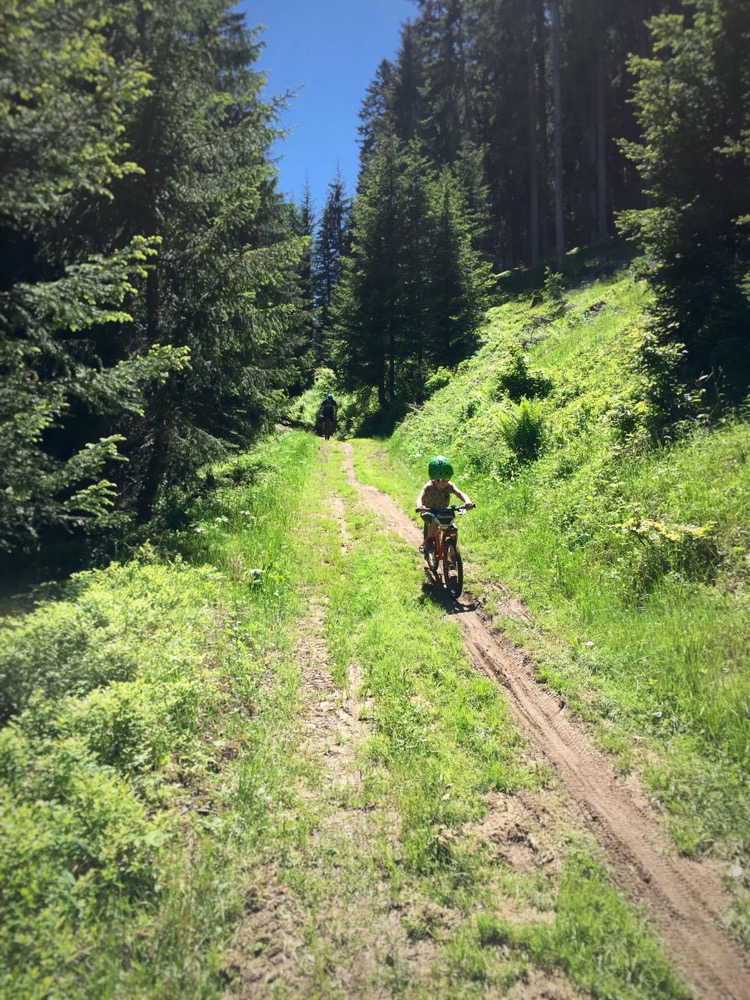 Iz loved it, too and she was off out in the lead! I'll be taking her on some of the more adventurous stuff in no time. She even said to Nina that she preferred it to skiing!.. "Mountain biking is better because you get covered in mud!" That's my girl. Thankfully Nina's got the bug as well, so there'll be plenty more of this for us.
The run finished on the road and we nervously negotiated our way through town. A unanimous vote decided that we'd head up the Chavannes chairlift for another run down. Two runs might not sound like much but bear in mind, the first had taken yonks! Crashes, falls, hand-rubs, wilderness-wees, stuck in mud, photos and getting sidetracked by interesting things meant we weren't breaking any records in terms of pace. We put the bikes on the Chavannes chair for a ride up the other side of the valley. This was our first family summer chairlift ride in the blazing sunshine. Beautiful!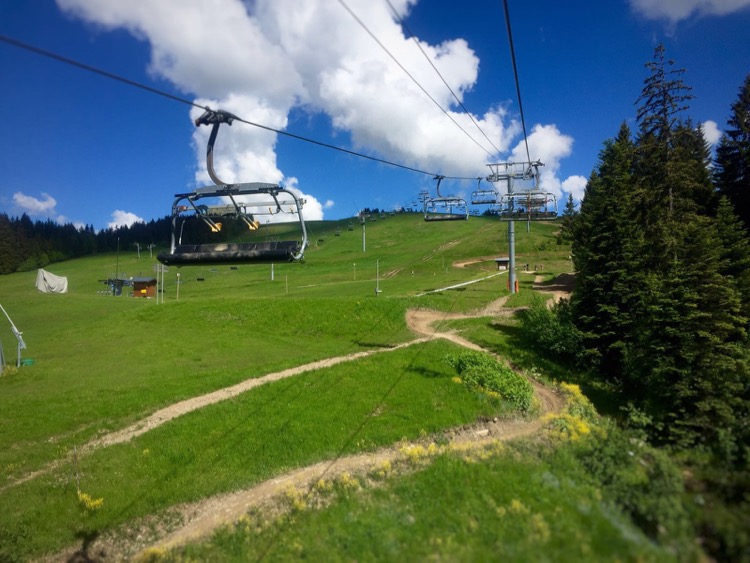 Iz's confidence was growing fast and she was even quicker down the next trail… "Wait for us, Iz!"
We set off down 'La piste des Ecureuils'. This is a tricky little run in places, especially for little'uns.  They did a great job though and we even sessioned a couple of puddles to get some action shots!
Confidence got a bit too high for Iz when she took a substantial stack, flying over the handle bars, grazing her chin and shoulder. Funnily enough, this occurred moments after declaring to Nina "I can do it just like Daddy!". Now we've established that they're interested, we need to get some body armour and pads sorted.
We eventually made it to the bottom and the kids were super excited to ride through the jump park. Perhaps the biggest draw of the day, however, was getting to wash the bikes at the jet wash station.
What a day. Sunshine, mountains, woods, bikes, happy kids, happy wife, happy me. Our first day downhill mountain biking with the kids and another entry for 'one of the best days ever' memory bank. Joy. 🙂