The atmosphere is really building now. The Crankworx Les Gets jumps and pump track are getting the finishing touches and you can see the huge drop-in for the downhill course up on the terrace of the Grand Ourse restaurant on Mont Chèry. They started appealing for Crankworx volunteers a few weeks ago so my friend Beth from Rush Adventures and I thought we'd like to do our bit and lend a hand.
With kids, work, daily-life and not wanting to miss the action, we were hoping there'd be some opportunities to help when it was convenient. When signing up, volunteers are required to specify at least 2 days' availability, one of which, for Beth and me, was yesterday! We headed down to the volunteer centre in town to await our instructions.
Around 130 volunteers will be doing everything from marshalling the courses, transfer driving to the airport, liasing between the event organisers and the athletes, placing banners around the courses and generally helping run the event. You get fed, watered (breakfast and lunch) and a 'Crankworx Crew' t-shirt for your troubles. You also get to have a good nosey at the inner workings and there's a volunteers party at the end of the week with loads of goodies in a prize tombola. It turns out that people come to lend a hand from far and wide across France, neighbouring countries and the UK.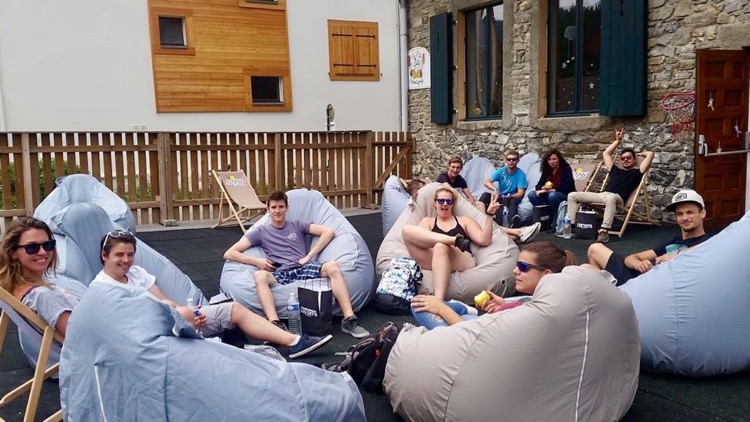 Yesterday was the first day of volunteering and it got off to a slowish start with around 10 of us volunteers waiting for a food and drink delivery to arrive and unload. We were also hoping for a compressor to show up to blow up the inflatable chairs for the volunteer centre. No such luck… We got on with the job with a bike track-pump that was handy and some of the others got cracking blowing them up like balloons. The food van turned up and activity notched up a level with all hands on deck. The morning's hard work and the blisters (!) from the track pump proved well worth it as it turned out that some of the food delivery was our lunch and the chairs were for the volunteer centre and therefore for us to sit in while we ate!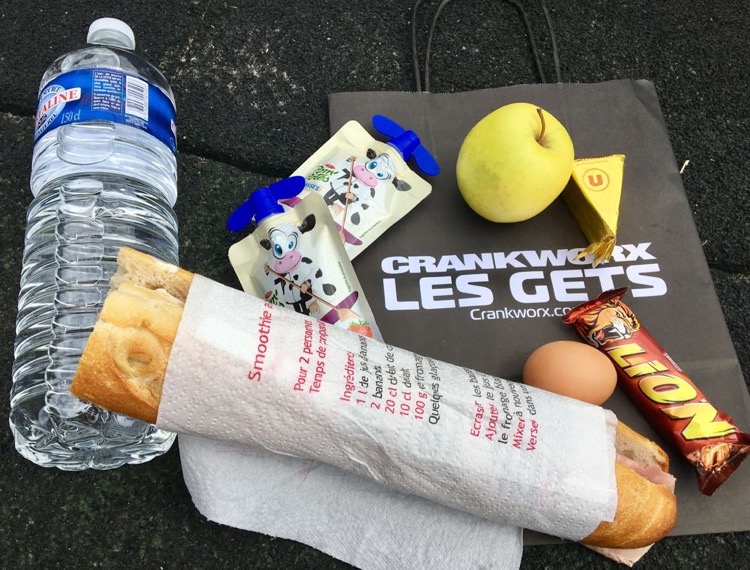 Throughout the lunchbreak, more volunteers arrived from out and about, probably putting up signs and stuff. In our experience of living here, the French are a really friendly and sociable bunch, especially during mealtimes. The new arrivals took the time to go round and greet everyone before settling in for some food and a chat. An excited group of lads from the UK arrived from the airport and got stuck into their lunches in the sunshine. Just as the boiled eggs (?) were starting to stink and our lion bars were melting, we headed indoors for a re-group. Following a quick briefing, a large group disappeared off to Mont Chèry for instructions on how to marshall the downhill course.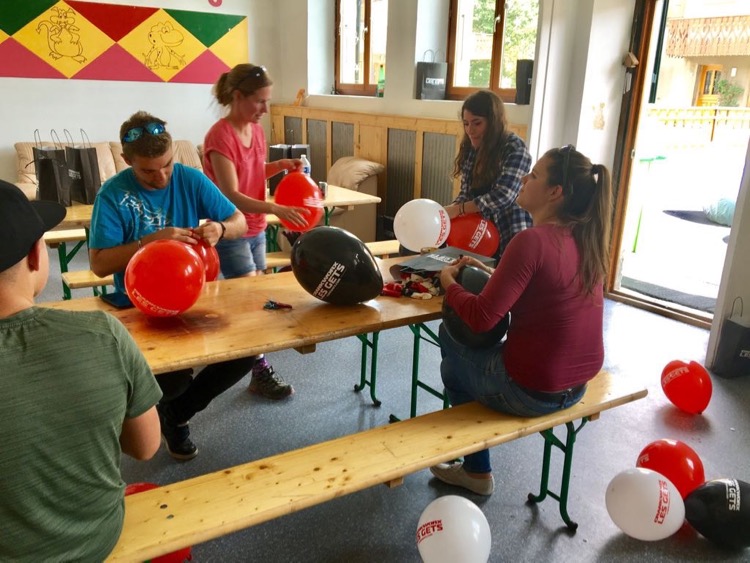 In the muggy heat of the afternoon, our remaining crew battled the lightheadedness of hyperventilation while we set about blowing up Crankworx Les Gets balloons. With about 50 done, we packed volunteer goody bags before heading outside to move crowd barriers into place around the slopestyle and dual speed & style course.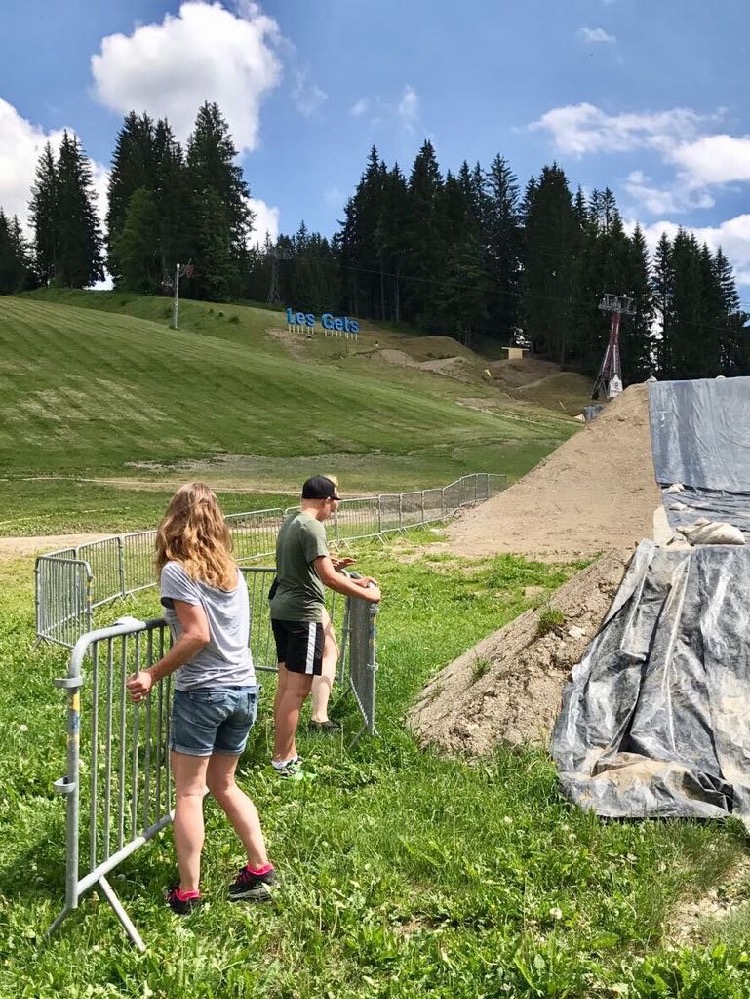 It was good fun and an interesting day and now we're really looking forward to an exciting 5 days ahead! It all kicks off in the morning with the main event at the end of the day being the 'Whip-Off Finals' where riders hit a massive kicker, turning the bike sideways – and almost backwards in some cases – before straightening up for the landing. Air and style gets the prize!
There's plenty to do and watch everyday with training and qualifying starting everyday at 8.00am and going right through to the evening. Each day there's competition finals as follows:
Wednesday – Whip Off  – 19.00 – 20.00
Thursday – Dual Speed and Style – 17.30 – 19.30 – Live webcast
Friday – Pump Track Challenge – 20.00 – 22.00 – Live webcast
Saturday – Downhill – 15.30 – 17.30 – Live webcast
Sunday – Air Downhill 11.00 – 13.00 and then the big one! The most spectacular Slopestyle – 15.30 – 18.00 – Live webcast
Times may change if the weather does but you can find all the official info on the Crankworx website as well as the live webcasts and more details if you fancy volunteering.
Fingers crossed this good weather holds (unlike last year) and we wish all the competitors a safe and successful competition. T's keen to take on the Kidsworx pump track event so you never know, maybe we need to get the trophy cabinet set up!! ;)).
Get yourself kitted out for Winter
Winter's coming and it's always a treat getting your new kit sorted!.. Our affiliate partner Blue Tomato is THE leading online shop for winter and trend sports, streetwear and fashion with over 450.000 products from over 500 well-known brands. Click here to see if they've got anything you fancy.