The last week or so has really been something else! Crankworx Les Gets 2017 was 'incroyable'!
It's actually taken a couple of days to readjust from the elevated excitement levels before writing this. On Sunday night I could have written a book but we all woke in a daze on Monday morning and wandered around like zombies for the next couple of days.
Everything kicked of last Wednesday with Les Gets sparking into life and with the kids getting to meet the guys from the Santa Cruz team after bike club in Morzine! Two and a half weeks of summer-bod calorie-counting came to an abrupt end with a big, fat, juicy burger from Boomers and a couple of delicious, calorie-laden beers watching the 'Whip off' finals.
After last year's wash out, the heavens decided to get their grumble out of the way early doors this time, with deep rumbles signalling a premature end to the whip off final. Thankfully, the storm made way for sun, blue skies, burnt marshals and Crankworx good times!
The next four days were a complete whirlwind of bike related fun, meeting up with friends, riding, eating, drinking, suncream, dirt, spectating, gasps of wonder and stumbling across loads of the stars of the sport.
These aren't main-stream sports and whilst most riders aren't household names, most people will have seen them, their amazing skills and feats of biking bravery in video edits on social media and TV as well as in clips from events like Red Bull Rampage, World Cup Downhill, X- Games and the RedBull Valparaiso urban downhill. Once you get your eye in, wandering through Les Gets during Crankworx is a who's who of gravity biking glitterati.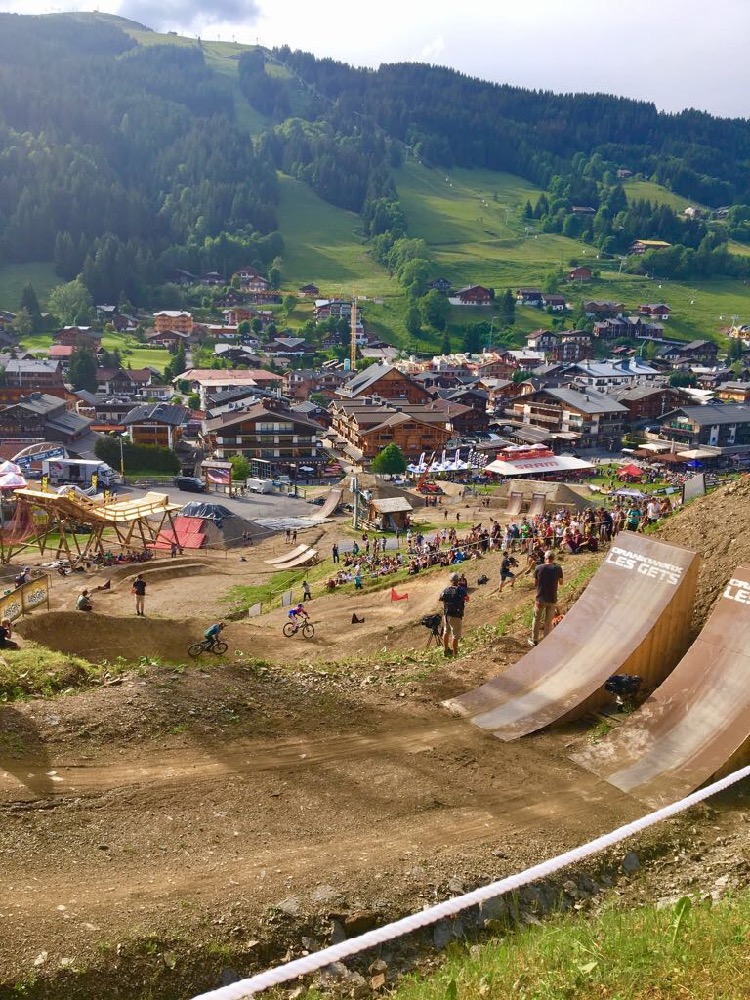 We met up with some friends on Thursday night to watch the Dual Speed and Style which never gets the crowds of the main events at the weekend but is highly entertaining. It's a 1-on-1, knock-out competition where riders race side-by-side down a course gaining bonus seconds for the tricks they pull on the way down. Filled with inspiration, Nina and I headed out for a few downhill laps on Friday morning before watching some of the pump track practice and qualification. After school, we absorbed a bit more atmosphere in town before heading home early for a good night's sleep ahead of the kids' big day on Saturday…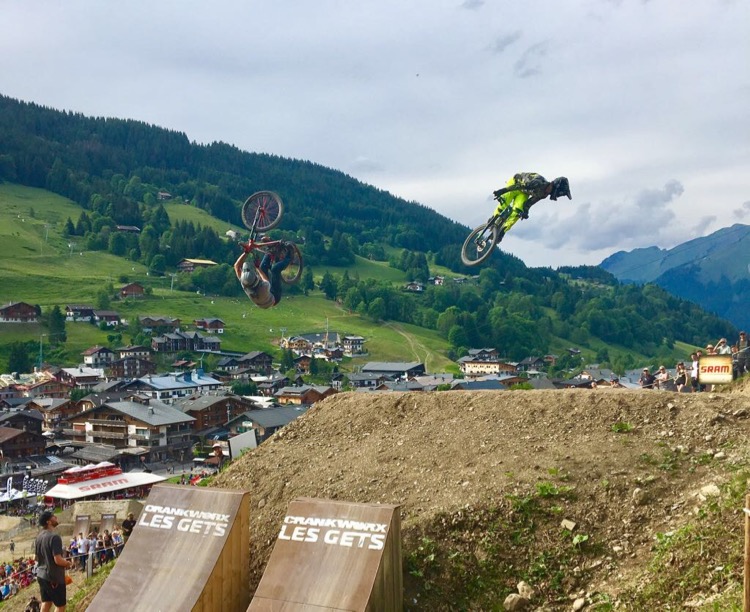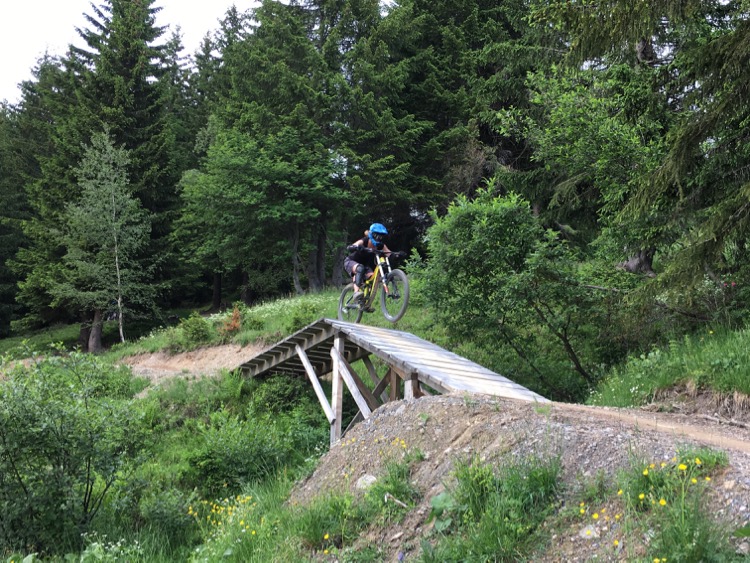 The 'big day' would consist of their first taste of real competition. Enticed in by the prospect of a competitor goodie bag, Nina had signed them up for the Kidsworx pump track challenge. Practice was in the morning before a spot of lunch at Snack 412, sitting next to slope-style masters Nicoli Rogation, Cam McCaul, Logan Peat et al. Then it would be the competition itself and an award ceremony before we'd head over to Mont Chèry for the downhill final.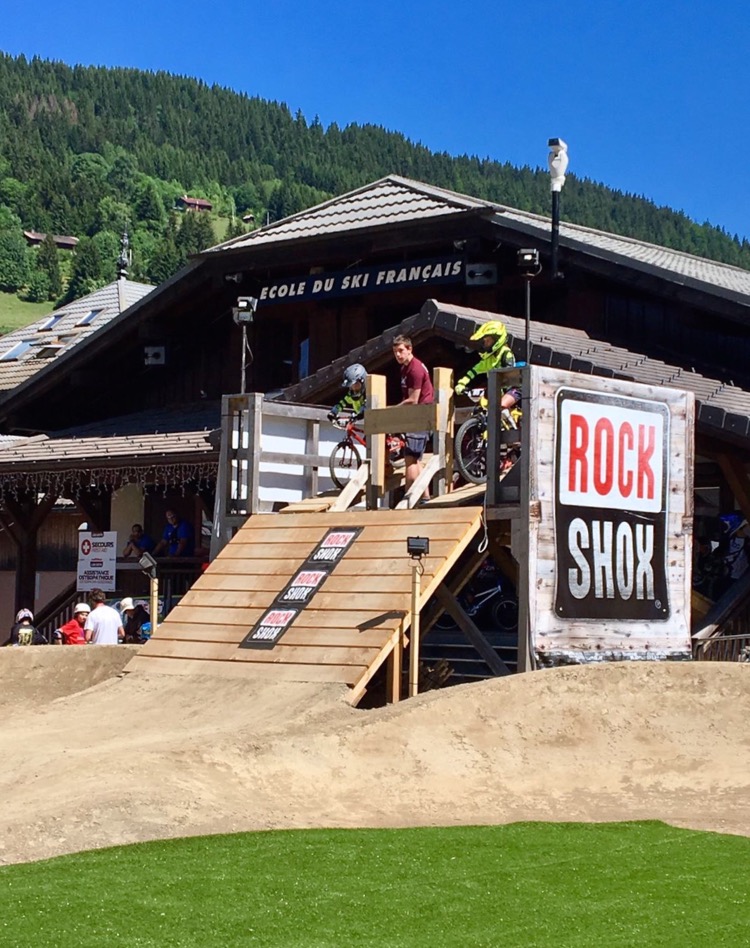 The kids were amazing! It came as a bit of a surprise to us that they'd be dropping in from the same start as the adults. By the time they were up there, though, it was too late to get them off but they just got on with it! Even after seeing another kid landing in a painful looking heap at the bottom before being helped away…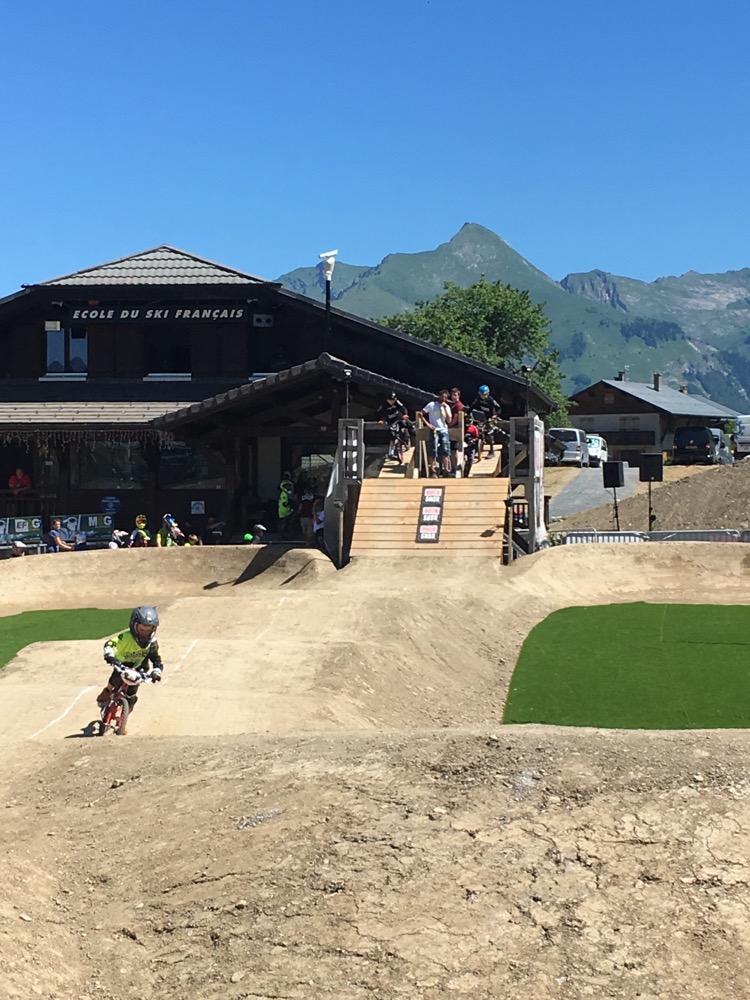 Some of the other kids were displaying some serious talent and apparently some travel with the Crankworx Bonanza and are getting plenty of practice. Having just turned 6, T was the third youngest in the whole comp and Iz was one of only two girls. They progressed noticeably in their practice and competition runs but it wasn't enough to make it into the top 8 for the finals. They were hooked though and after we'd watched the Slopestyle final on Sunday, they insisted on getting their bikes and practicing again… and again until they were soaked in sweat!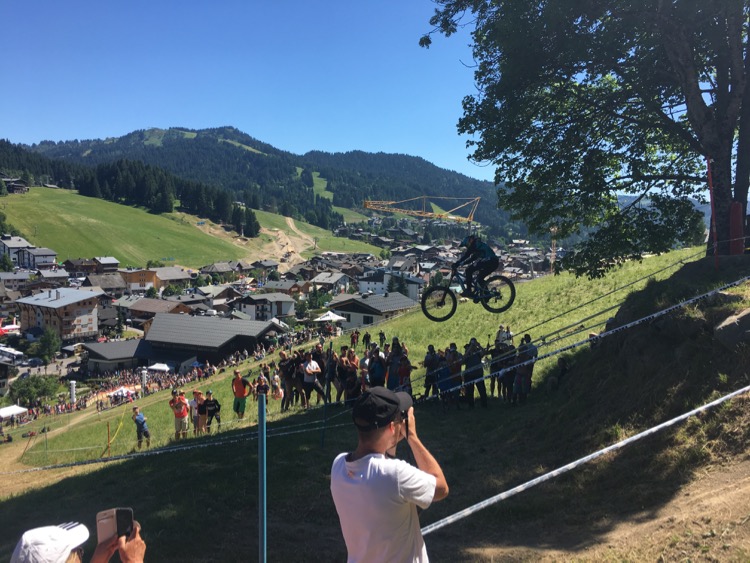 With their competition done and dusted, we watched the kidsworx medal ceremony, complete with fizzy apple juice to spray. (I could see T eyeing that up for the future!) In the searing heat, we wandered over to the bottom of the downhill course. The competitors were dealing with an awkward step-down gap before pedalling like fury to the finish coral. As we all started to melt, we caught the bubble up Mont Chèry and headed for the shade, walking back down the course to catch the riders hurtling through the woods and meadows. Reports had been coming in all week that the riders were loving the course during practice with 3 time world champ, Greg Minaar saying: "Haven't raced such a sick track in years." It might have been getting a bit blown out by Saturday but it certainly looked like they were still having fun and totally pinning it!
Boiling hot, sticky, sweaty and dusty, we went home for a welcome shower and another good night's sleep before the Crankworx festival's big draw the following day.
Sunday is slopestyle day. There was an extra event added this year, the 'Air Downhill' with all-comers racing against the big boys and girls on a more jumpy course than the downhill (although, arguably, it was less jumpy…). We decided to skip that one and headed up for a family ride instead and a very pleasant Father's Day lunch up at Lhotty's. We rode back down into Les Gets, dumped the bikes in the van, bumped into a few friends and wandered up to the start of the Slopestyle course.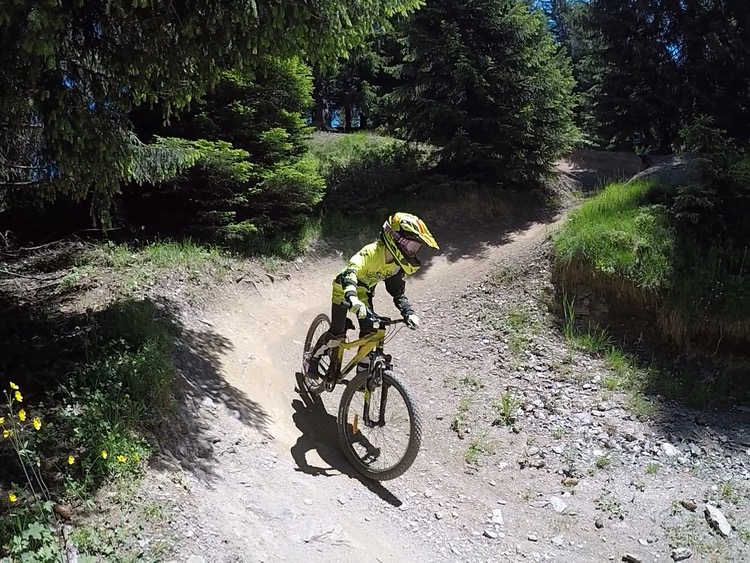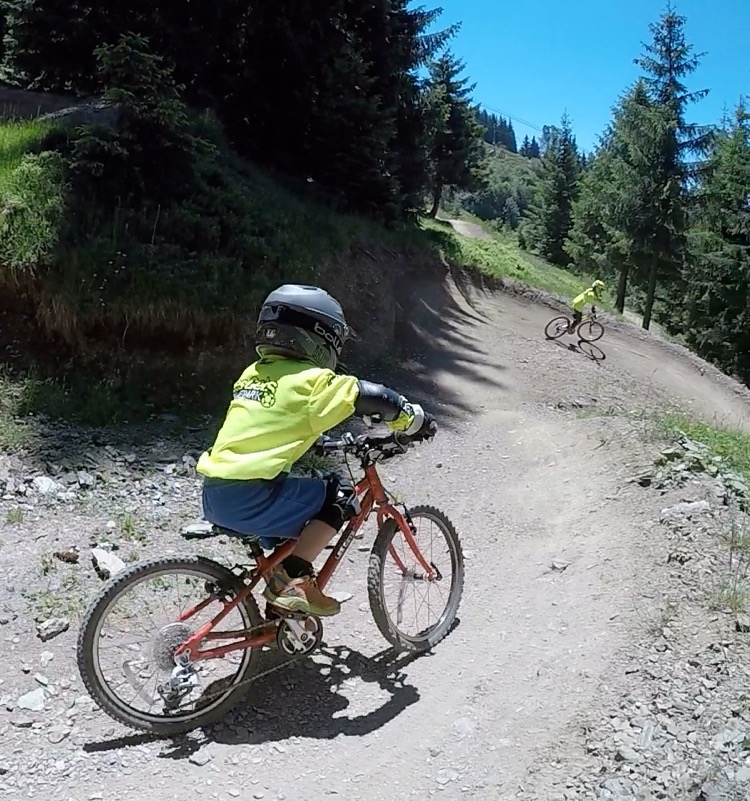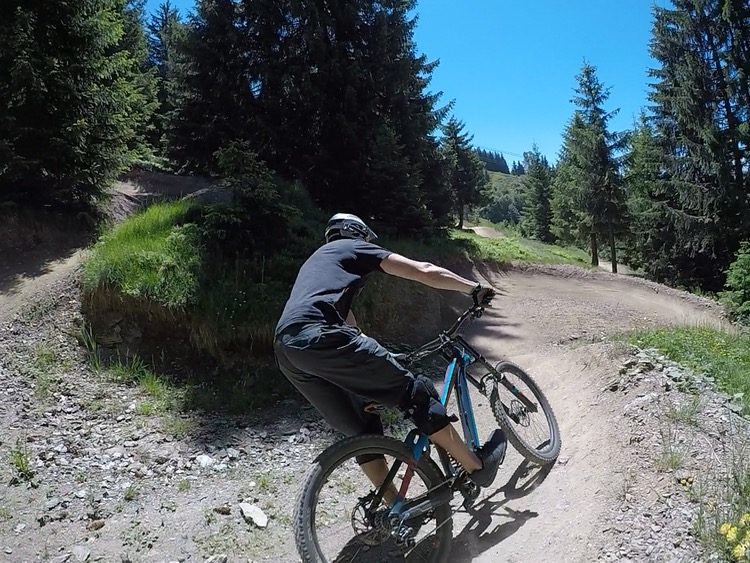 The crowds had really turned out for the blue ribbon event with the weather teetering around 30°C and the course looking tip-top. The sound of Cam McCaul, Brett Tippee and the Red Bull TV crew broadcasting live and over the PA really added to the atmosphere. The riders started dropping in and the falls came thick and fast with the crowd wincing at some really hefty bails. Each of the 18 riders gets two runs in the final to pull out their biggest tricks and impress the judges. After a couple of hours of breathtaking action and balls of steel, Canadian Brett Reeder took a well-deserved win.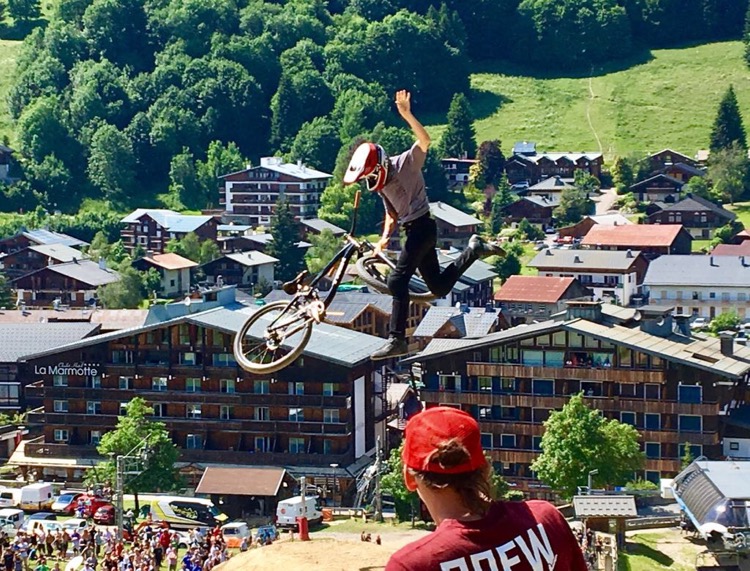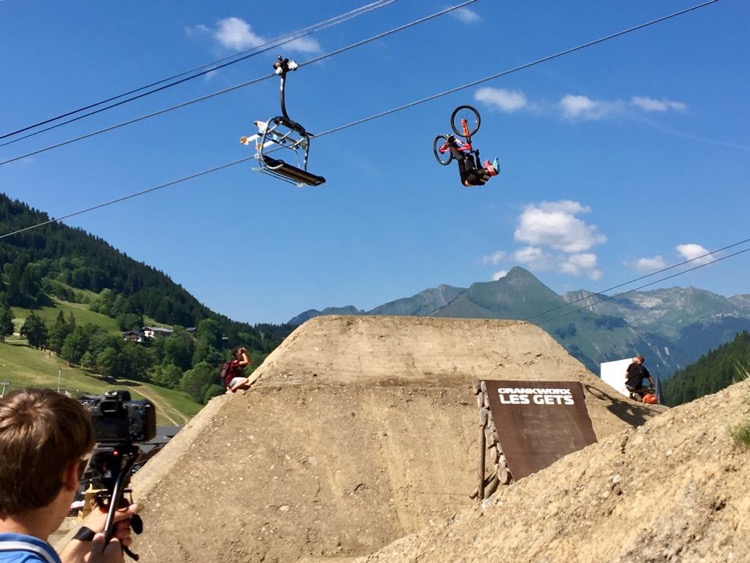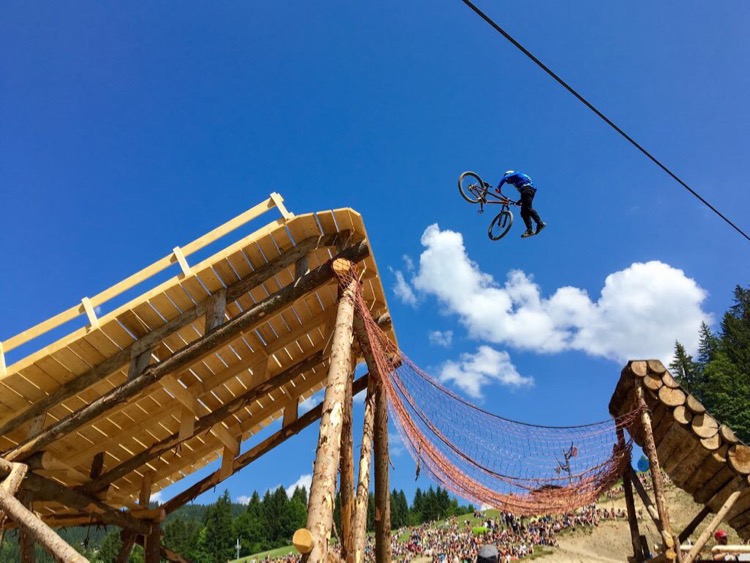 As the crowds started to filter away we bumped into more friends and stopped for a couple of beers at the Après Bar while the kids rode the pump track before wandering down to Case K2 for a mighty fine burger (Click here for our Les Gets foodie favourites). If Carlsberg did fathers' days, it would have looked a lot like this!
What a week! The weather was magnificent, the spectacle and competition were superb. Seeing the kids grow in confidence in their first taste of competition was a pleasure to watch. We took a gamble moving here and whilst we already spend a good amount of our time pinching ourselves, a few days like this really brings it all home. To be at an event like this, literally on the doorstep and to be able to bump into so many friends who are here for the same activities and lifestyle, grabbing a bite to eat or a beer while the kids ride bikes, scrabble in the dirt and climb kickers is just another of the experiences we'd dreamed of before we came.
Next year is the last of Les Gets' 3 year Crankworx contract. We don't know if that might extend yet, but if you're into gravity biking, I'd definitely whack this one in the calendar. Accessible from Geneva, a chance to shred the trails alongside the world's best and to watch them battle it out in so many different disciplines in such short space of time is awesome! Chuck in food, drink and good times and what's not to love?! You could even enter! 😉
Feeling very lucky! Thanks Les Gets and thanks Crankworx!
Get yourself kitted out for Winter
Winter's coming and it's always a treat getting your new kit sorted!.. Our affiliate partner Blue Tomato is THE leading online shop for winter and trend sports, streetwear and fashion with over 450.000 products from over 500 well-known brands. Click here to see if they've got anything you fancy.