We'd never even heard of Coupe Icare but a speed-flying friend of ours had highly recommended it. We headed out on Saturday for a day of wing-suits, hot air balloons, planes, parapenters, speed-flyers, hang-gliders, costumes and a jet-man! The recommendation was spot on and we hereby pass it on! Just in case you're in France… Near Grenoble… This time next year…
Coupe Icare (the 'Icarus Cup') is an annual festival of free flight which takes place in late September in the towns of Saint Hilaire du Touvet and Lumbin. Both towns are located in the Isère valley between Chambery and Grenoble. Lumbin sits on the valley bottom and plays host to the landing zone while Saint Hilaire is perched high above on a picturesque cliff-lined plateau and is the location for the flyers' take-off ramps.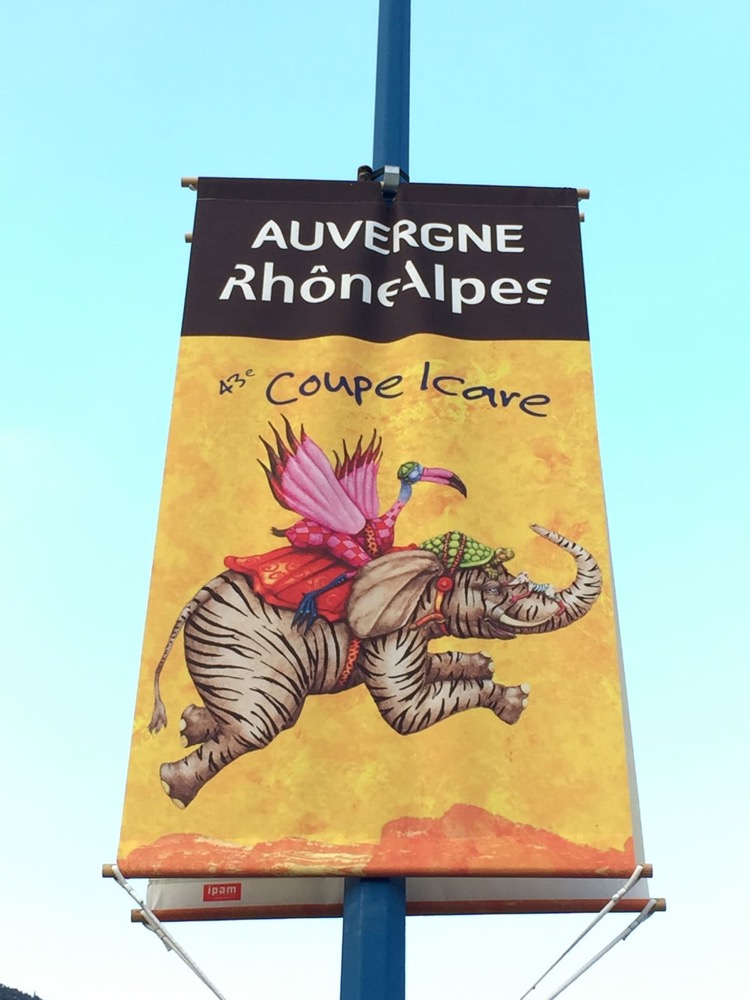 As well as every means of free flying you can image, both towns have an array of games, museums, expo-tents, stages, bands, entertainment, displays and even a cinema. In addition, there's plenty of fantastic food and drink to gorge on while you're craning your neck to the sky over this 4 day long flying festival.
Lumbin's only a couple of hours' drive from Les Gets, out towards Annecy then south past Chambery. Setting off on Saturday morning at 9ish, we were treated to a lovely cloud inversion on the road down to Taninges. Within half an hour Iz asked "What's the plan? Are we stopping for lunch soon?"…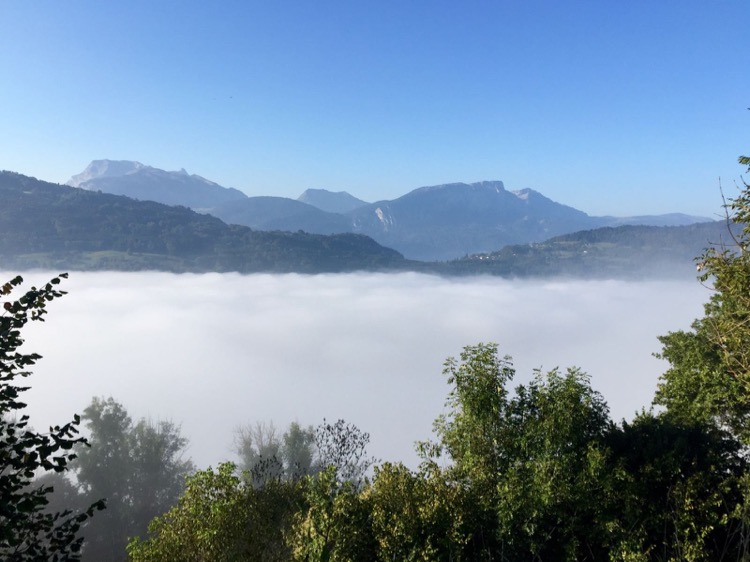 We arrived in Lumbin at about 11.00am, parked up near the landing zone and walked back down the road while watching a steady stream of paragliders, speed fliers and hang gliders descending from above. Many of them were in costume, fancy dress or were flying with huge designs in tow. This is a big part of the festival and there are prizes at stake. We arrived at the entrance, which was free admission and they checked through Nina's bag. This was the first time we've really felt the heightened security in France and in addition to the bag checks, there was a significant military presence around and about the place.
We wanted to let the kids burn off some energy after the journey so we headed for the excellent kids' area which had boomerangs, disc golf, model planes, kite making and slack lines. It didn't take long for the whole family to get obsessed with the slack lines. We might need to get one of these bad boys! Great for the core, apparently. "That's got nothing to do with flight!" I hear you say, but some dude was in fact scheduled to slack line between two hot air balloons later on in the day!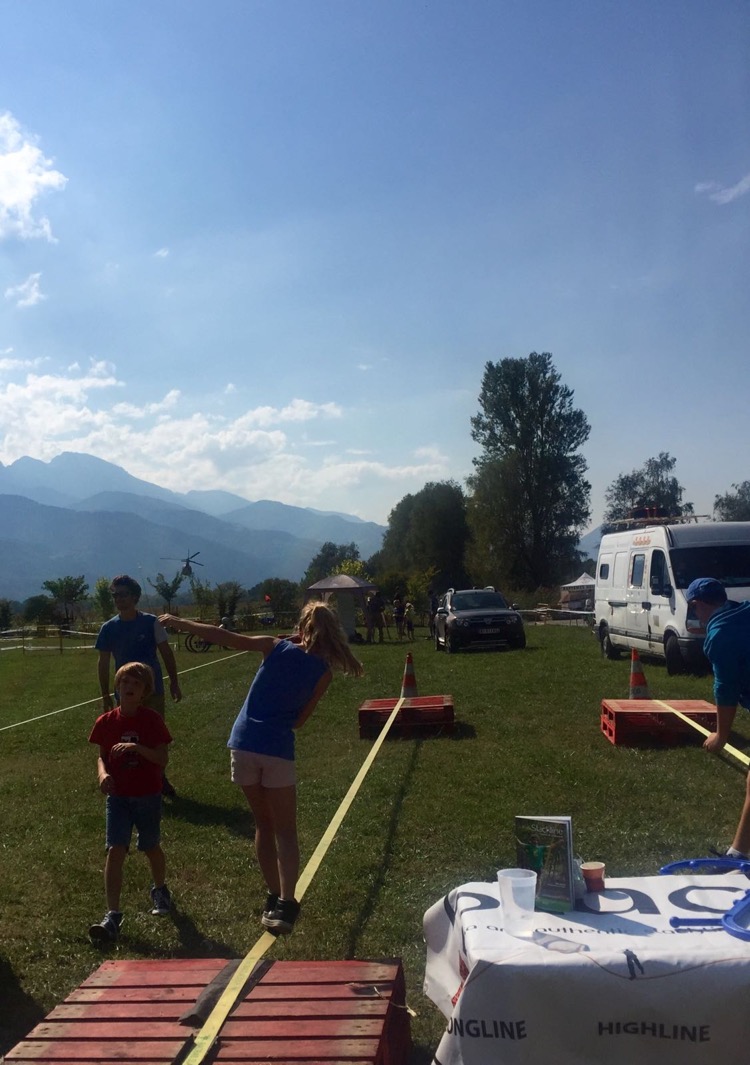 It had turned into another scorcher so, sweaty from our core workout session, we found some shade and filled up on warm hot dogs, pommes frites and juice. The kids then asked to spend some of their pocket money on their own bodies' volume of candy floss. An afternoon of stickiness and hyperactivity beckoned (because that's a lesson we never seem to learn!!).
As the 'pink fluffy parent pain' started working it's magic, we headed off to check out the take-offs at the top.
We made contact with my mate and his mate who had come down on Friday night and camped up top in Saint Hilaire. We had a catch up and watched the 'acro' (acrobatics) guys together on the parapents and speed wings; spinning, looping and spiralling their way down in spectacular formation. Speed-flying is like paragliding but uses a smaller wing which means the pilot is in more of a controlled fall than a glide. Seeing the two side by side, the speed wings looked twitchy, fast and responsive. Watching these guys speeding down towards the ground just in front of us before pulling up at the last minute to avert disaster and skid to a halt was super impressive and got massive cheers from the crowd!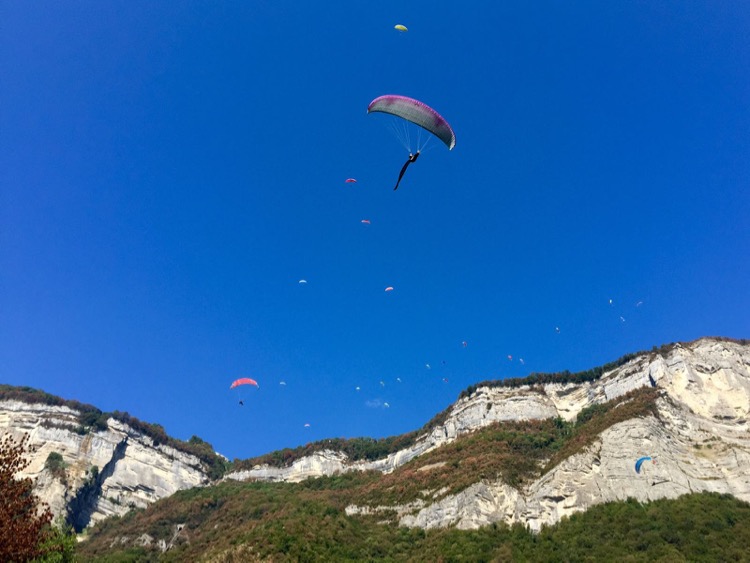 As the pink fluffy parent pain started working it's magic, we decided to leave the lads to a peaceful afternoon and headed off to check out the take-offs at the top. Our plan was to hop on the spectacularly steep funicular and hang around Saint Hilaire for an hour or so before heading back down.
We bought our tickets for the next available train, received instructions to book our return ride as soon as we got to the top and sat down in the sunshine to wait. At just before 4pm, we arrived at the top and queued again to book the next available descent… in almost 4 hours' time at 7.50pm.! "Can we walk down?" we asked (in French… well, Nina did…) "Yes, but you've not got the best footwear for it and it'll take 1 and a half to 2 hours. Or, there are free buses but they could also be a couple of hours' wait to get down…" Blimey, this place was busy! T'riffic!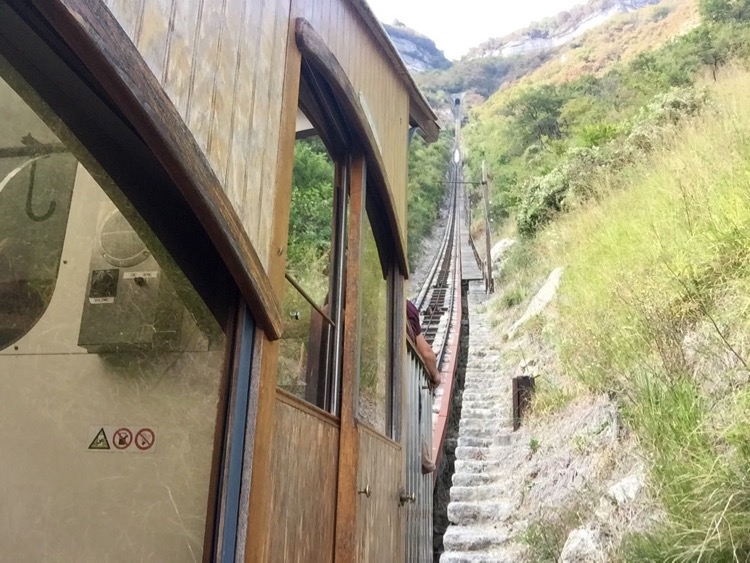 Slightly miffed but excited to see some more flight, Nina's bag was checked again as we made our way out to the surprisingly steep, astroturf take-off ramp. It was just in the process of being flooded by spectators. With something big obviously brewing, we joined the crowd and found a spot to lay down and wait for the next part of the show. This turned out to be totally brilliant! A beautiful sunny day on a high plateau in the Alps, lying on your back watching all sorts of cool stuff happen in the sky above AND below us.
There were vintage single propeller planes doing loop-the-loops and acrobatics. As T chased bugs around the plastic grass, we admired the serene beauty of a huge glider stalling, falling, swooping and rolling through the sky to the soundtrack of Adele's Skyfall. A group of sky divers leapt out of another plane and joined in freefall formation before splitting off and pulling their chutes. Next up, the wingsuit guys tumbled out of the encroaching clouds before ripping wide across the sky in opposite directions before pulling their rip-cords and floating back down to earth.
I'd spotted the jetman in the programme but after his start time had been and gone and with the kids getting decidedly twitchy, we decided to set off to start looking for the bus stop to get back down again. On the walk through St Hilaire we heard the whoosh of the jet engine as he rocketed past and we stopped to watch as he blatted around the sky for ages. Very cool! One of those is going on my Christmas list! (The jet-pack, not the man!)
As we walked through town, we had a genuine 'Bisto' moment as we literally changed course and followed our noses to locate the source of a delicious smell. It turned out to be a local speciality: 'Diot' sausages, cooking away in fried onions and wine. We'd forgotten to get cash before we came so we 'coppered-up' and bought more sausage butties to share while we queued for the bus. We had some entertainment as we waited with another hill just in front where punters were trying out parapenting and seeing who could make it the furthest. There was a good crowd gathered to watch and cheers went up for the best flights and the biggest faceplants. Apparently someone got stuck in a tree on Sunday!
The journey down was windy and slow and as we crawled back along the valley to and through Lumbin we could see the hot air balloons taking off. We couldn't see any sign of the slack-liner but it was home time now. We'd also be missing the lanterns after dark but the kids were pooped and we still had a couple of hours' drive to get back home. It had been a great day out though and an excellent event. In our opinion, it was well worth a visit and next time we'll definitely camp for a night. If you fancy a visit or would like to find out more, here's a link to the Coupe Icare website.