Hello! We hope you're having a lovely Christmas 2020…
We certainly are… It's been different though, obviously, and despite not being able to make our annual pilgrimage back to the UK to spend it with our families, we've still had a great time. We've caught up with friends and had a couple of stellar Christmas dinners (thank you Alba, thank you Boomers, thank you Rush Adventures!). We were even treated to a proper 'white one' with snow falling from Christmas Eve right through Christmas Day. Magic!
The 'jammy one' has been getting his daily fix of lift-accessed ski training while the rest of us have had to make do with the odd shuttle run up and down the Chavannes, which, to be fair, have been a lot of fun.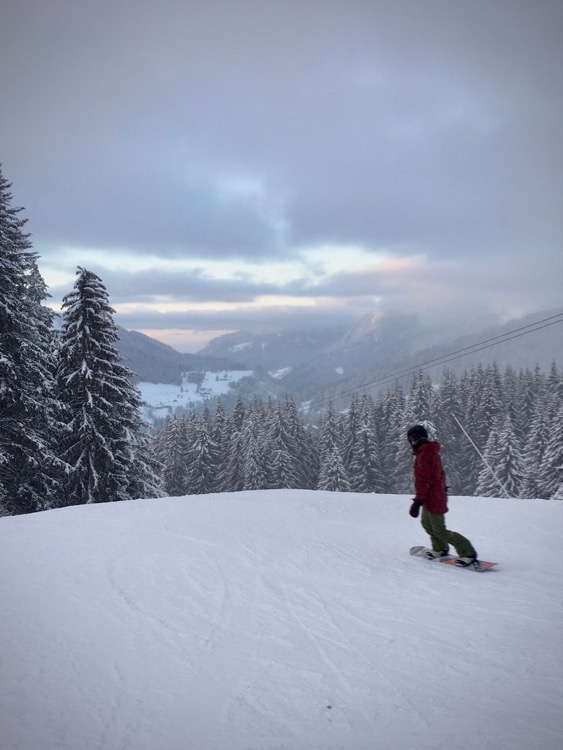 The lift opening for licensed club members to train has attracted clubs from far and wide and whilst we can't enjoy them, it's great to see the serious contenders ripping the slopes up. Seeing people skiing seems to have caused confusion for some visitors, though. We've seen cars veering off towards oncoming traffic as they have a good old swivel-neck on their way into town.
Christmas week was relatively quiet compared to normal service in Les Gets and Morzine but there was still a lively buzz about the place.
Father Christmas did the rounds in his sleigh on Christmas Eve and Les Gets went ahead with the Christmas Eve fireworks display. They'd asked everyone to watch from home rather than gathering in crowds and to respect the 8pm – 6am curfew.
The use of face masks in town is obligatory by order of the mayor and local businesses continue doing whatever they can to satisfy visitors and turn the cash-flow on, all whilst staying within the guidelines.
Most restaurants and bars have decamped onto the pavement with 'take-away' counters, soups, stews, waffles, crepes, hot chocolate and vin chauds. Although, despite the 'please-do-not-congregate-in-groups' signs, people tend to 'take-not-very-far-away' before chinning the mask and getting stuck into whatever warming treat they've just purchased.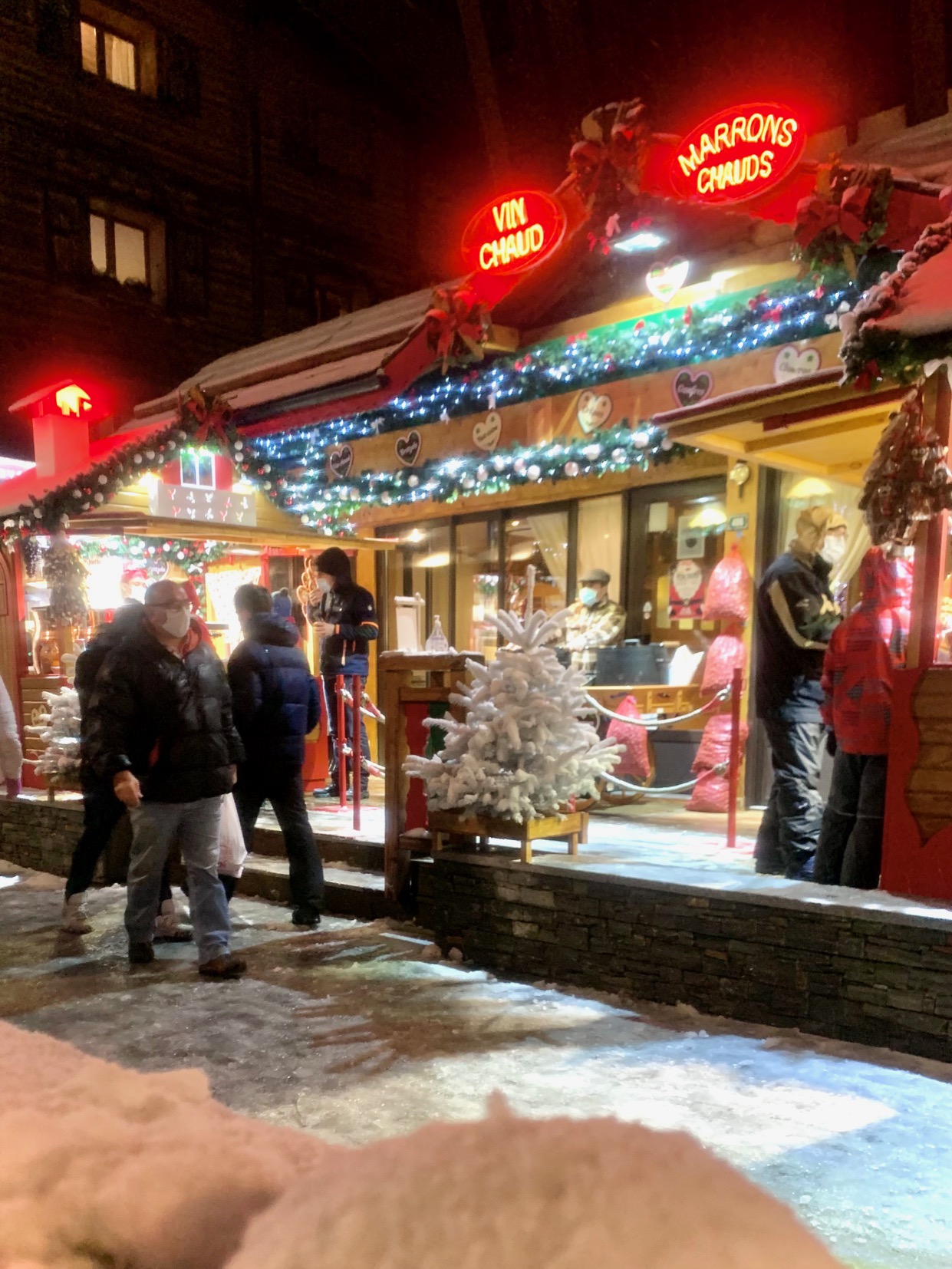 With the ski lifts closed, the ice rink hasn't missed a beat and is a natural magnet for families. Ski rental shops are focused on sledges, snow shoes, cross country skis and touring skis. Despite the lower numbers, the staff are apparently just as busy as usual because of the time it takes to set people up with ski touring (randonée) skis and skins. Rather than the norm of renting regular skis for a week, they are having to turn them around (including a detailed demonstration) after 1/2 a day, 1 day or 2 day rentals. We've also heard that an awful lot of people are surprised how much effort it really takes to earn your turns!
The base slopes in Les Gets have been fenced into a 'sledge resort' and ESF are still managing to instruct the little ones and a few beginners by hiking and dragging people around the place.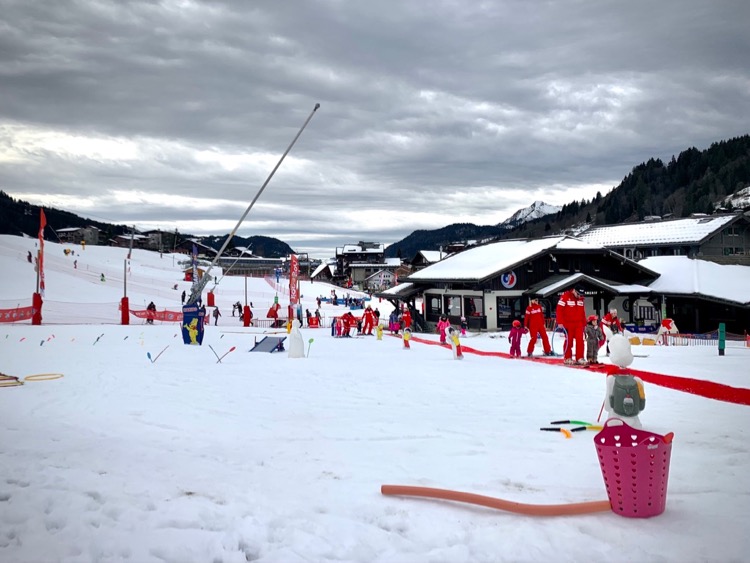 The free 'Navette' bus service is in full effect but looks a little bit 'Covid soup' for my liking… The most popular bus seems to be the route up the Chavannes which is boarded by a steady stream of punters holding snow shoes, sledges and cross country skis. Bus drivers are turning away regular skiers because most of the pistes are officially closed and they don't want to encourage people to use the bus as an uplift service.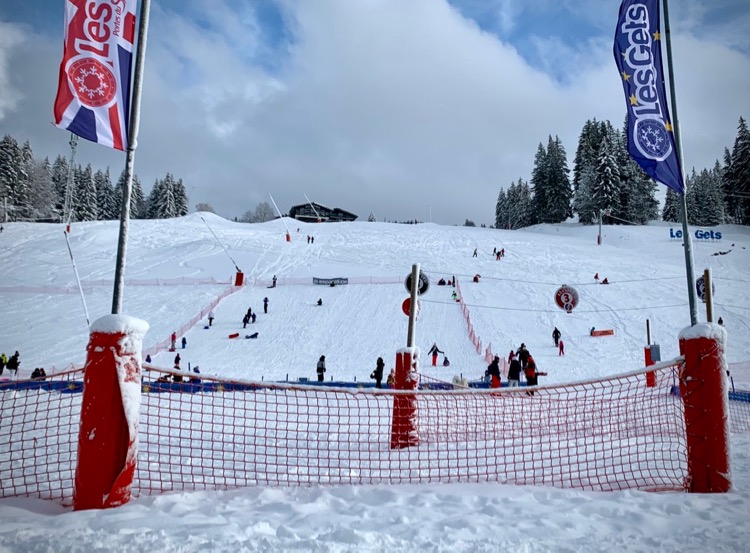 There's usually a good reason for those closed signs as well… An unprepared piste can be a proper handful, especially if the snow cannons have been building huge mounds and the snow-cats have started shifting heaps of the stuff around the place, leaving holes, steps, ruts, divots and huge ice balls. We've already heard a painful tale of woe from the last week with someone renting skis then coming badly acropper on an unprepped piste. Low light, poor vis, too much speed, confidence and the expectation that 'it'll just be like it was last time' will all make matters worse.
While I'm at it, here's a couple of warning tales from friends of mine that have happened over the years:
One mate hiked up to get first tracks on a powder day. When he reached the top, he ducked under the 'closed piste' barrier to drop into a black run and was literally blown off his feet by the shockwave of a nearby avalanche blast! He high-tailed it out of there quick-smart before anyone saw him, dished out the mother of all rollockings and probably revoked his lift pass!
Another mate dipped a barrier and was motoring down a closed piste in poor viz. At the last second he spotted something hurtling towards him at neck height and only just managed to throw himself to the ground before it whipped his head off… It was the winch cable from a snow cat. Some pistes are too steep to groom without the use of a cable winch and when the weight of a snowcat is hanging off an anchor point, the cable can be extended 100s of metres and is like a rock-solid egg-slicer if you hit it at speed! He was spotted, chased and right-royally yelled at from a distance.
Needless to say, it was a lesson learned in both cases, thankfully without disaster. So remember… Closed signs are there for a reason and it's often to keep us alive!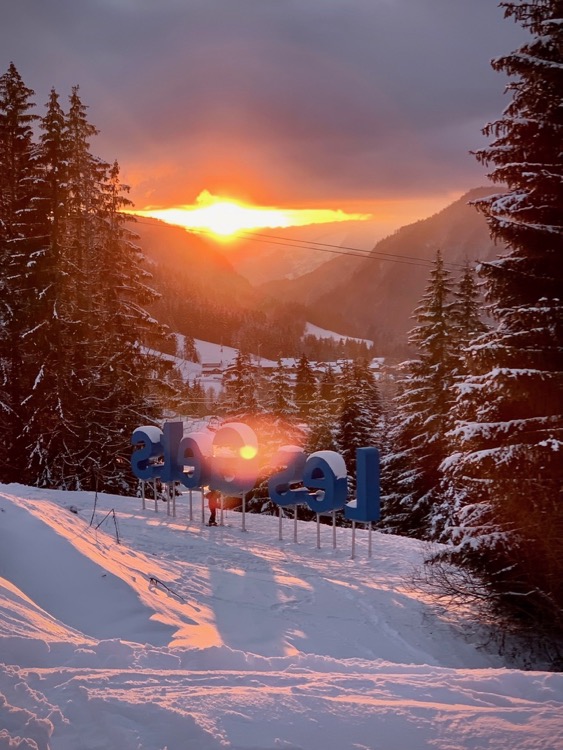 Extreme caution is needed heading further afield as well. The increase in use of touring gear this year means more people are exploring the area. The early season hazards of shallow snow cover, buried trees, branches, rocks, tree stumps and the like are now giving way to increased avalanche risk. The decent helping of snowfall in the last week has been shipped around the place by high winds which leads to unstable, windblown slabs masquerading as gorgeous, pristine and tantalisingly tempting powder fields. We did a post a while back about avalanche awareness if you fancy a read.
Whilst Christmas week was mellow, there seems to have been a considerable influx of visitors over the weekend for 'New Year' week. Nowhere near normal numbers by all accounts but without spreading out on the pistes, town feels just as busy and when you're used to the quiet of inter-season plus confinement, it feels like Piccadilly Circus.
Well, that's it for Christmas 2020, next stop New Year and at least we can enjoy it a little bit more with some of the dread of a cliff edge, no-deal Brexit alleviated… Hopefully.
Having said that, I personally will be feeling a little downhearted about this one…
If it wasn't for our membership of the EU, we might not be living here. Regardless of the shortcomings, I always felt privileged to have the freedoms our EU membership gave us. I've always liked to travel and move and I like experiencing new places for longer than just a fleeting holiday. I'll be very sorry to see 'our' right and our kids' right to freely move, live and work across the diverse nations of EU member states disappear.
I've also always enjoyed the idea of being part of that larger diverse community and always thought our greater success in the world depends on more unity and understanding, not more division and separation but hey-ho, 'that's the way the mop flops', as my Dad says. The past's in the past, just got to look forward and focus on the next chapter…