In our opinion, these are the best restaurants to eat in Les Gets… There's a great range of eateries in Les Gets and something for every culinary occasion. We wanted to share our favourite discoveries – whatever eating experience you're looking for.
Best place for breakfast in Les Gets – Sherpa or 'L'Epi Gêtois'
The local Sherpa in the Perrieres area is the only supermarket style shop that remains open all year in Les Gets. The friendly owners and staff work so hard and they have fresh coffee and freshly baked delicacies – croissants and the best baguettes around (be sure to ask for a 'tradition').
For a bit of brekkie – Français stylee – try L'Epi Gêtois. We have it on very good authority that this is THE "place to be" which, incidentally, is the same term the French use, too! It's a bakery with an excellent range of tasty offering like baguettes, croissants, pain au chocolate etc. and great coffee. It's a bakery first and foremost, so dining is informal with a few high tables inside and picnic benches outside to eat/drink at. It's a favourite pre-work haunt for local workers and therefore well worth a look. They're generally open year round, so just call in!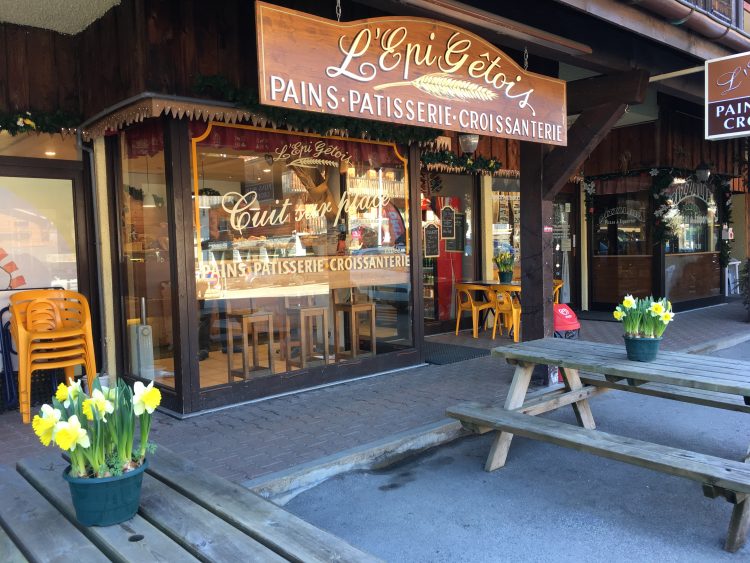 Best place for lunch with a view in Les Gets – 'Les Chevrelles' or 'The Grand Ourse'
Les Chevrelles is a summer favourite of ours. The food is traditional (cheesy, bacony, potatoey, salady) Savoyard fayre and is pretty decent. It is, however, the venue that really draws the crowds. Les Chevrelles is a gorgeous little chalet building nestled just shy of 1500m on the Mont Caly/Chéry ridge. It has incredible views down over Les Gets and on to the Mont Blanc Massif. Stunning! It's accessible by car when the snow melts or is a good destination for one of the many mountain biking, walking or snowshoeing trails over and around Mont Chéry.
Bookings are recommended – especially if you want a table on the sun drenched terrace! Call +33(0) 450 79 85 40.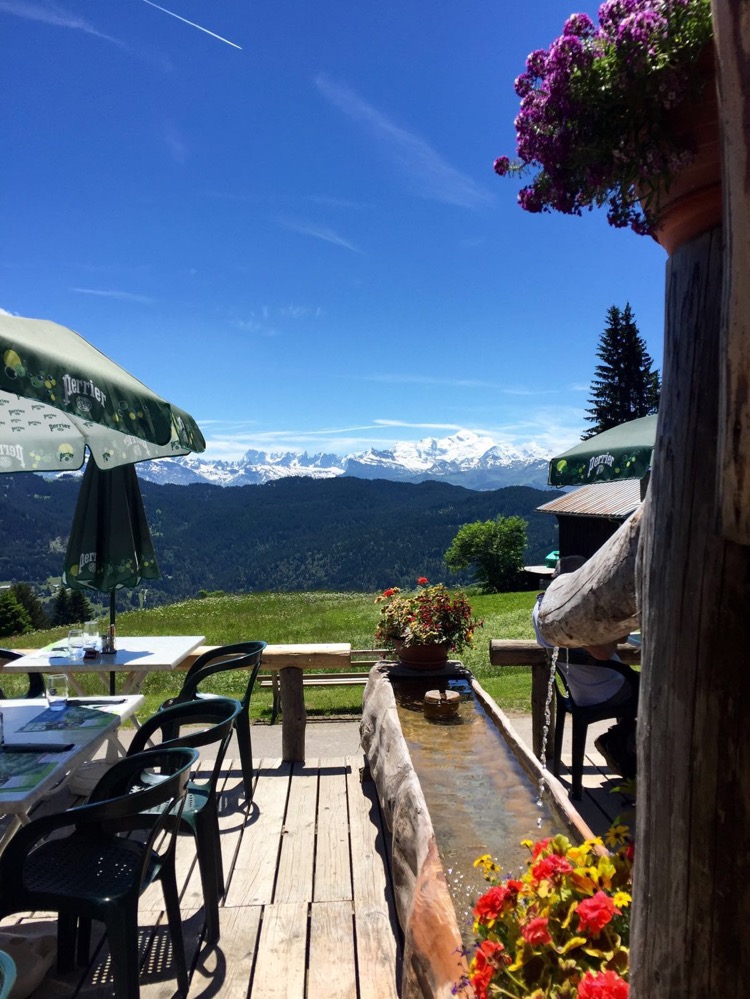 La Grand Ourse is another favourite with a great view but is only open during the winter. They are higher up on Mont Chéry with the same stunning views of the Mont Blanc Massif as well as over the wider Portes Du Soleil. The restaurant is only accessible by piste, ski lift or on foot but they do offer an evening dining experience which includes transport from town using snowmobiles or in a passenger piste basher to ferry diners up and back down again afterwards.
Hog roasts and bands on the terrace are a regular occurrence throughout the winter and it's a brilliant place to take refuge and warm up with a coffee when the weather is wild and wintery.
Give the friendly (British) staff a call on +33 (0) 679 42 58 86 and visit their website here.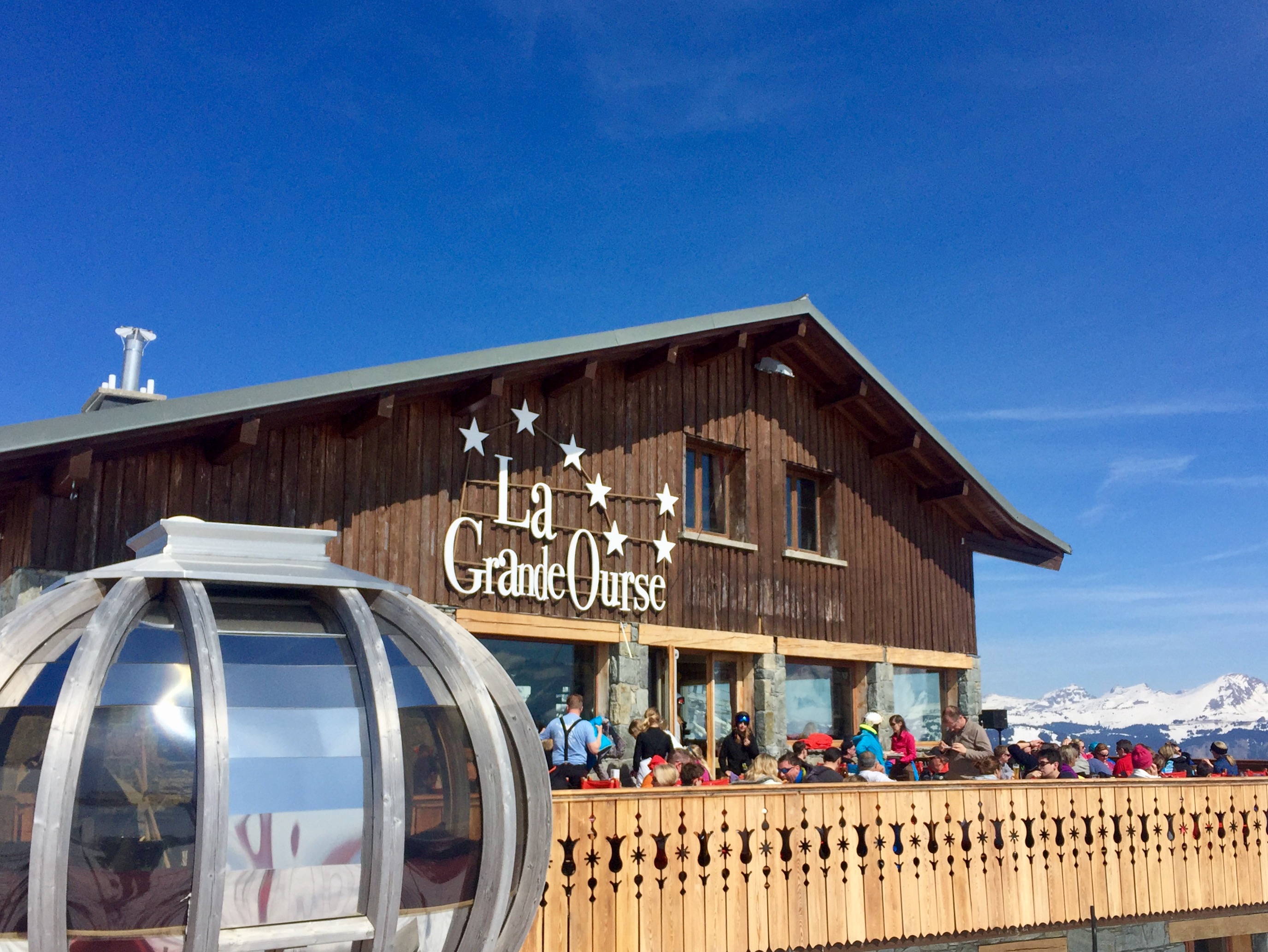 Best place for a steak in Les Gets –
We are open to suggestions on this one!
We can highly recommend La Rotund in Morzine and the fabulous Les Fontaines Blanches in Avoriaz but we haven't had any recommendations for Les Gets in the 2019/20 season… Get in touch with yours!
Best place for cheese (fondue, raclette, etc…mmmmm… etc) in Les Gets – 'La Fruitière des Perrières'
When in France, cheese is an omnipresent force and if it's cheese you're after, why not go to the source? The fromagerie at Fruitière des Perrières is the local Les Gets cheese maker and their cheesy dishes are second to none! The restaurant is a low ceilinged, low lit, atmospheric affair and they accompany the meal with other local favourites like Génépi (traditional Alpine herbal aperitif).
There's also a shop selling all their milky, cheesy wares… A good friend has developed a thing for their milk and cream which he says are out of this world! Bookings are essential, so be sure to ring ahead and book your table.
Their number is +33 (0) 450 79 70 04 and their website is here.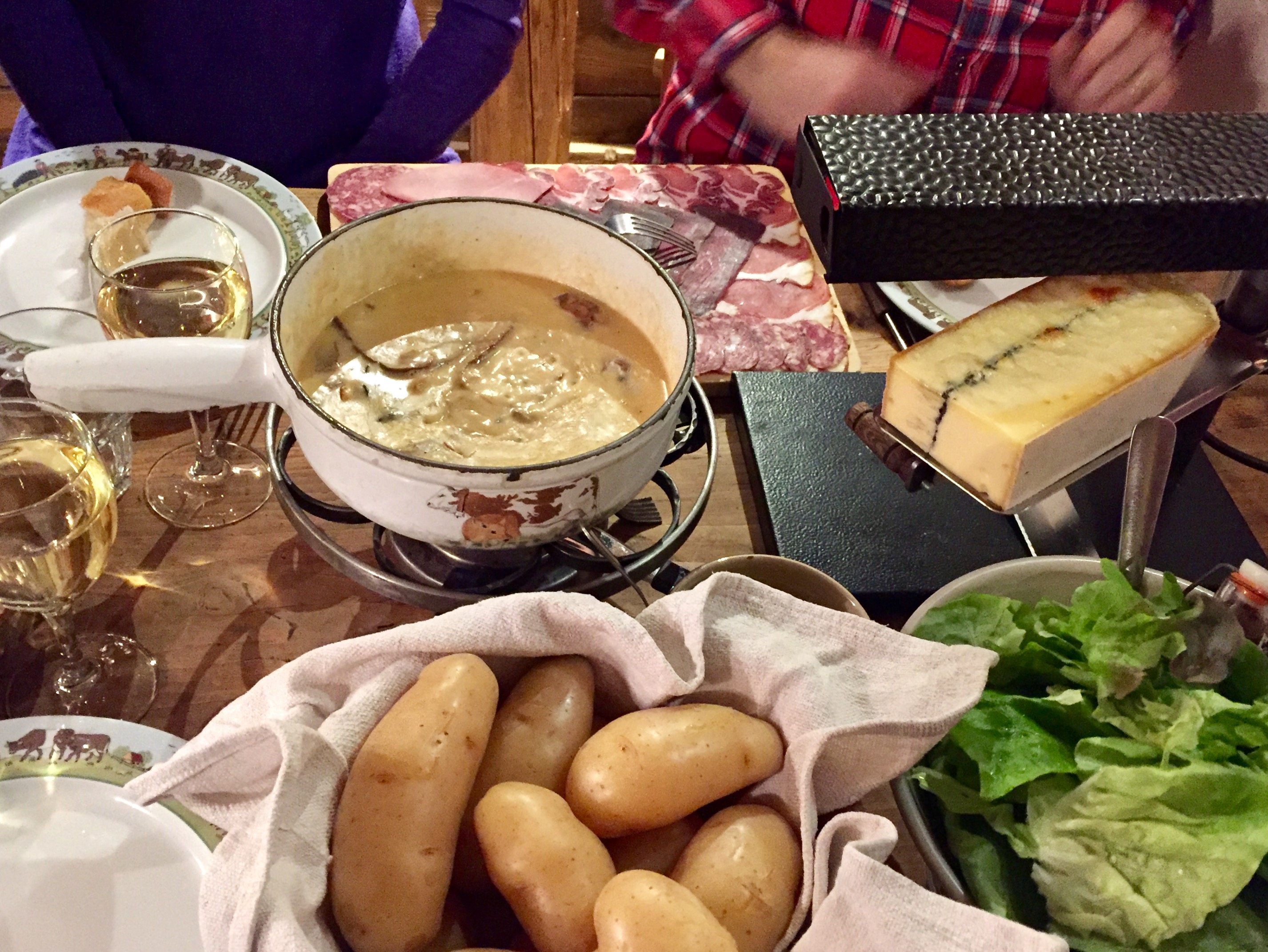 Best place for a family meal in Les Gets – 'Le Boomerang'
The Boomerang ('Boomers') is an Aussie themed bar/restaurant and is a firm family favourite for a meal out. In fact, Le Boomerang just about ticks every box for any group dynamic or occasion. JM, Lisa and the staff make everyone who walks through the door feel very welcome. There's good beers, great wines and an extensive gin 'n' tonic list to add to the informal food menu, ranging from fish 'n' chips, burgers, ribs and pizzas to thai green curry and a great selection of tapas.
Book ahead on +33 (0) 450 37 76 12. Their website is here.
Best place for a burger in Les Gets – Home Burger (or go to Ô Chalet in Morzine if you can!)
Home Burger deliver a pretty tasty burger when you're in the mood. Their menu includes hot dogs, fish & chips and they have canned pop and beers in the fridge, too. Friendly local staff and outdoor picnic tables mean that if you don't want to takeaway, you can soak up the central Les Gets location and just relaaaax!
Best place for a pizza in Les Gets – 'Le Tyrol' or 'Pizzalino'
For a sit down pizza, Le Tyrol offers wood fired delicious circles of fantasticness… For a take-away pizza try the 'new' 'Pizzalino'… Although you can take away from Le Tyrol too. Their pizza menu leans more towards the French, Savoyarde palette. We like that, though and they are blinking tasty! Le Tyrol also serves a full French 'Savoyard' menu including a delicious tartiflette, fondues, raclette and the popular hot stone meat treat!
Pizzalino has a more extensive, 'international' topping menu which may suit some visitors more. There is no delivery service at Pizzalino, but it opens from 6pm daily. Give them a call on +33 (0) 450 74 74 10 or pop in and order from the menu (in English and French) and call back later to collect your freshly made pizzas. They have a small seating area and a fridge so can offer cold drinks, or pop over to the Chamois D'or for a quick pint while you wait! During high season, make sure you place your order nice and early to avoid disappointment.
Best place for a meal without the kids in Les Gets: Les Copeaux
Les Copeaux does some top-notch progressive food in a beautfuly furnished restaurant. It's been our destination of choice on two special occasions this year and I even had snails again to start one time, although in all honesty, whilst they were good they weren't as good as Rene and Martha's Christmas snails. Great place for a nice meal out though and beware of the 'sliding' toilet door. We've watched many a diner waiting patiently for the loo after trying to give it a push and a pull!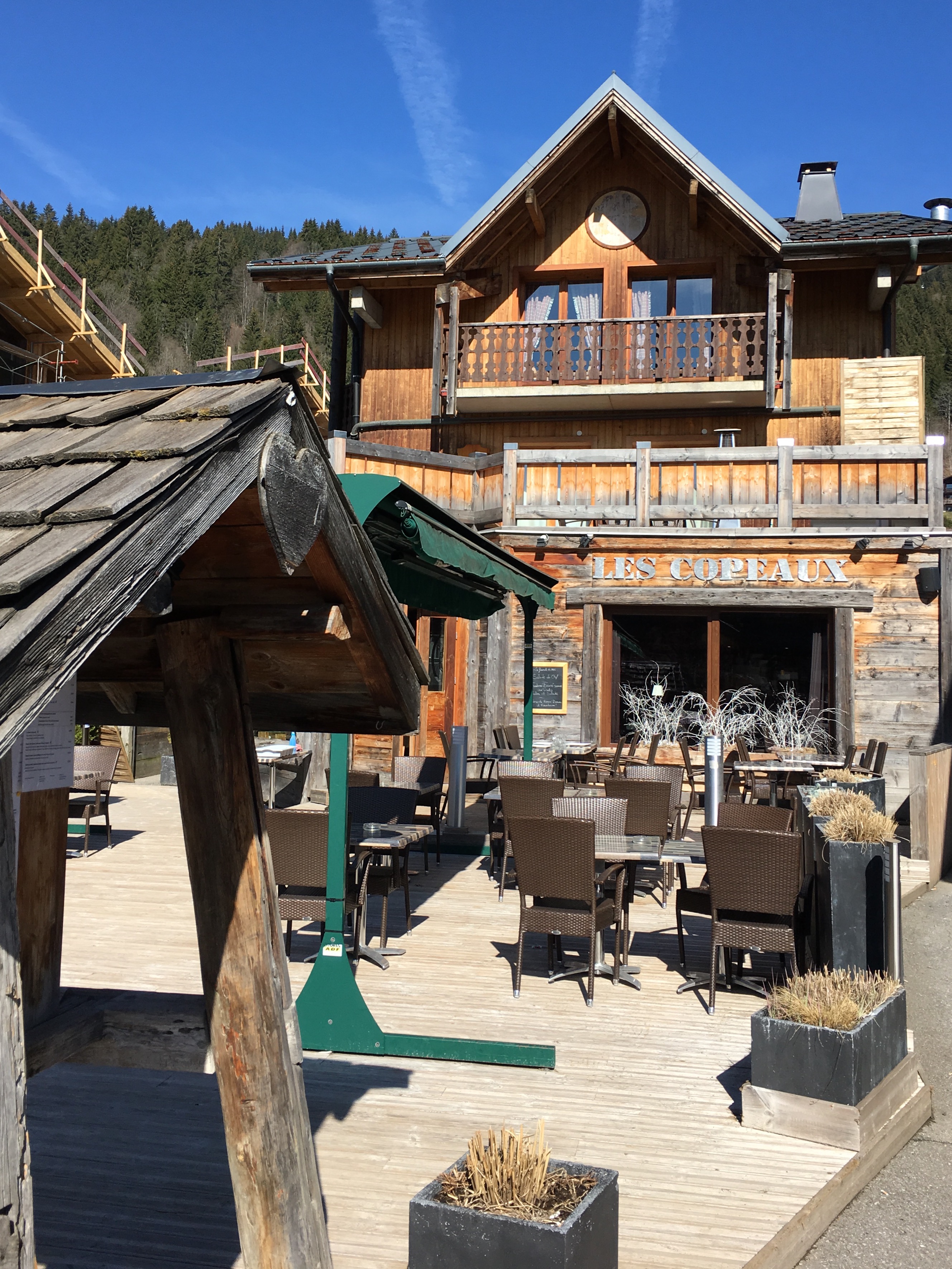 Best place for a meal on the slopes in Les Gets/Morzine – 'Le Vaffieu'
Our favourite place for a meal on the slopes so far is Le Vaffieu. Although you'd never know it in winter, it's on the golf course and at the top of the Folliets lift from Les Gets or the (world's slowest!) Nabor lift from the top of the Pleney, Morzine. I keep having the Mille Feuille which I always thought was a pastry but in this case is layers of several different cheeses rolled in local cured meats accompanied with sautéed potatoes and salad. Mmm! This little beauty has elicited food envy from fellow diners in the past and is now gaining a loyal following!
Their phone number is +33 (0) 450 79 09 43. Lunchtime bookings are essential.
Best place for a healthy lunchtime snack – Wild Beets Cafe'
Wild Beets offers salads, wraps AND bacon butties! With English tea, healthy smoothies and vegan cakes to boot. Pay them a visit and feel good!
Well, we've very much enjoyed doing the research for this post and there's still plenty more to try so we'll keep at it.
If you have any further recommendations, please let us know and we'll be happy to try them out! Bon Appétit!
Don't miss out on any new posts by entering your e-mail address and subscribing to our new post mail-out list.
Feel free to comment below and if you do enjoy the blog, don't forget to like, comment and share. Cheers!