Whilst we love our kids to bits, being a parent is hard graft! Frustratingly, it's often even harder on a ski holiday when you're supposed to be recharging your batteries. Your little love-loves are full of beans, their routine is all over the place and they've got a constant Nutella/hot-chocolate/'chamallow' (marshmallow) buzz going on! Finding a good place where you can sit down and have a nice peaceful drink while they let off some steam is one of life's little pleasures. Here's our roundup of the best places to go for a winter drink in Les Gets while the kids let off steam:
Hotel Bellevue – L'AprèSki Bar
If you've been to Les Gets in winter or summer, you've probably already stopped off here for a drink. The L'AprèSki Bar at the Hotel Bellevue commands a prime location at the foot of the slopes. It has tables, chairs, deck-chairs, heaters, shelter, entertainment, a crèpe stand and friendly staff at the cool outdoor bar! Better still, the kids can happily tear about in the snow. There's a small 'official' sledging area just in front of the Chavannes lift but it's never long before the 'bigger' kids are half way up the piste. If they're anything like ours, they'll be hurtling down at speeds that'll make you need another drink! 😉
If you're there in good time and it's still open, bigger kids can still do laps on their skis or boards up the Boule de Gomme button lift.
The bus stop and petit train stop are within sight outside the Chavannes ticket office to get you home safely when you're ready to go.
Restaurant du Lac
This is another good one, but if you don't know it's there, it's easy to ski/board right past. As you come down the red or blue pistes from the Chavannes, look left when you reach the point where the two pistes rejoin and you'll see Restaurant du Lac behind the trees. There's actually a decent sized playground here so you can grab a drink, pull up a deck chair and admire the magnificent view down the valley towards Taninges and the magestic Pointe de Marcelly with your precious sprogledites safely within sight. This is also a great spot to catch a magnificent sunset.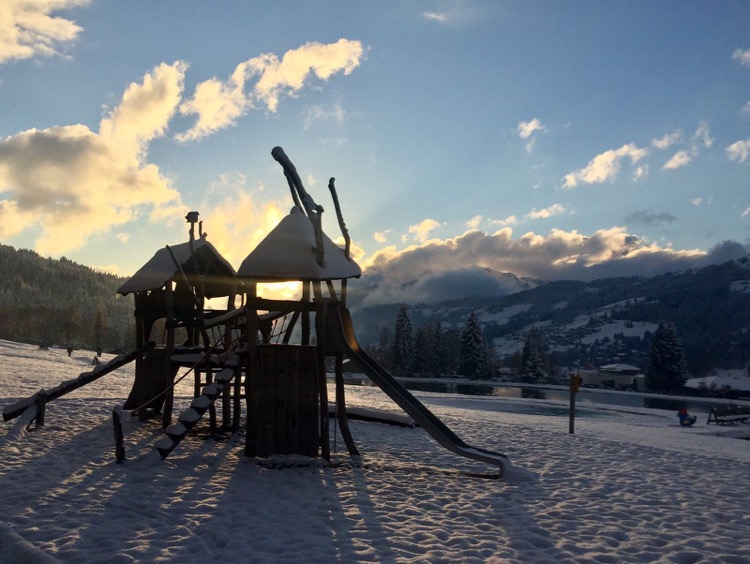 A quick heads up: The bigger kids will invariably disappear into the woods to play, so be prepared to wade through knee-deep snow to retrieve them when it's time to go!
Le Belvédère
The Belvédère is at the top of the Mont Chéry bubble lift. It was a great spot for a drink this summer, as they had trampolines and bungee trampolines up there.
There's not as much for the kids to play on during the winter, apart from a tiny plastic play house underneath the deck. This actually keeps our two occupied for way longer than it should (they are 9 and 6!). There is, however, plenty of space for snowballs, snowmen and general messing about.
The bubble ride up is always fun and the 'pommes frites' here have always been tip-top. Hot chocolates and chips will keep them occupied while you enjoy a relaxing drink and take in the stunning view across the Les Gets bowl and the Mont Blanc Massif beyond.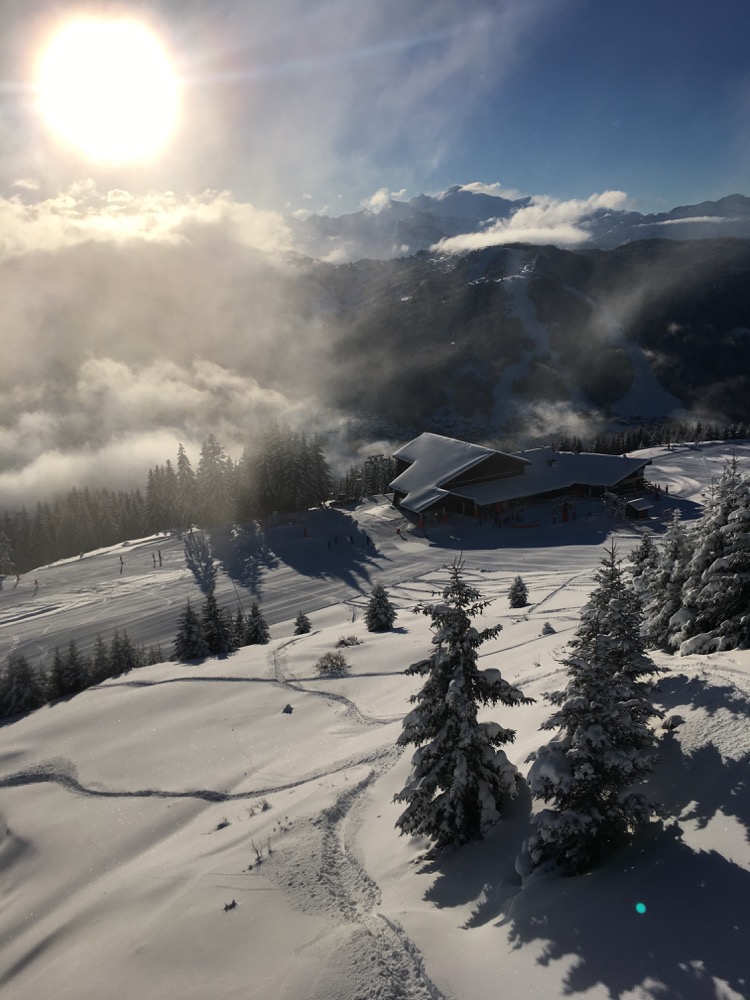 La Croix Blanche on the Chavannes
Another good one if you're out on the hill is La Croix Blanche up at Les Chavannes. It has a large outdoor terrance and is great for food as well. They have an outdoor grill enticing you in with the aroma of sizzling steaks! There's a couple of small play houses for the little kids and the bigger ones can lap the Croix chairlift while you keep half an eye on them from the sun-drenched terrace.
Alpine Tavern
Alpine Tavern is in the centre of town not far from the ice-rink and just around the corner from Bar Bush. There's a playground right in front of the terrace so you can order a drink and leave the kids to it.
L'OpTraken
L'Op Traken is a bar / restaurant located on the main 'square' in Les Gets where a lot of action takes place. It's across the road from the tourist office and near the (usually open) ice rink. If there's not a mahoosive pile of cleared snow for the kids to play on, there'll be something else to do… Every Monday during the winter season, Les Gets host a welcome night with free 'vin chaud' (mulled wine) and hot chocolate. Bambins des Bois pitches up on a Tuesday with wood craft, fun and games for all ages.
Older kids can be left to their own devices on the ice rink and the oldest carousel in France is making a return this winter for the littl'uns.
Our search will continue this coming winter season around the Portes du Soleil. In the meantime, let us know your opinions and if you've got any further recommendations. Santé!