We've got a strong contender for the best day of the season! Mont Chery has already generated a hefty back catalogue of excellent powder day memories for us and this Monday was a beaut'!
The rain that pillaged snow conditions at the start of last week gradually morphed into snowfall as the week went on. It kept falling over the weekend and the forecast promised it would hold steady for some decent snowfall on Sunday afternoon and overnight.
This was looking very promising! The weekend crowds would be gone, leaving us alone with a nice deep fresh dump of pow to play in.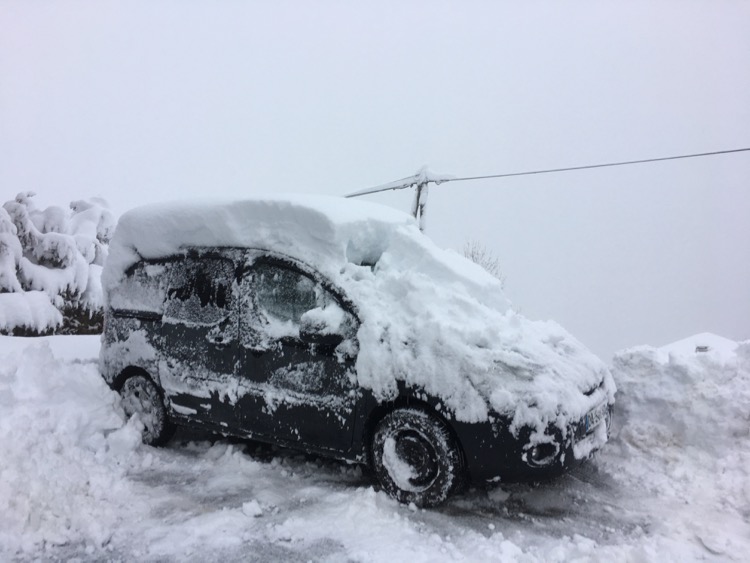 The weather forecast plays a prominent role in most peoples' lives here. As Sunday night approached, we were all thinking the same thing. The chatter and excitement intensified throughout the evening and a plan crystallised. A sizeable crowd of us would meet up on Mont Chery in the morning. Mont Chery is accessed by walking (or hopping on the free road train) through the centre of Les Gets, away from the rest of the Morzine/Les Gets ski area. With a lot of the steeper black and red runs in the resort, it is perfect on a powder day. Notably, is usually pretty quiet – so keep schtum! 😉
With all the excitement, I struggled to sleep on Sunday night. However, when the alarm piped up, I hopped out of bed like a spring chicken. We wolfed down extra large bowls of museli, did some stretches, kitted up with our avalanche gear and dropped the kids off at school.
10 minutes later, Nina and I were first up the steps at the Mont Chery lift. A couple of paces behind were a large posse of staff and friends from 'Le Boomerang'. (One of our favourite hangouts in Les Gets!). We exchanged excited greetings and more of our mates appeared at the top of the steps with big grins of their own. This was going to be good!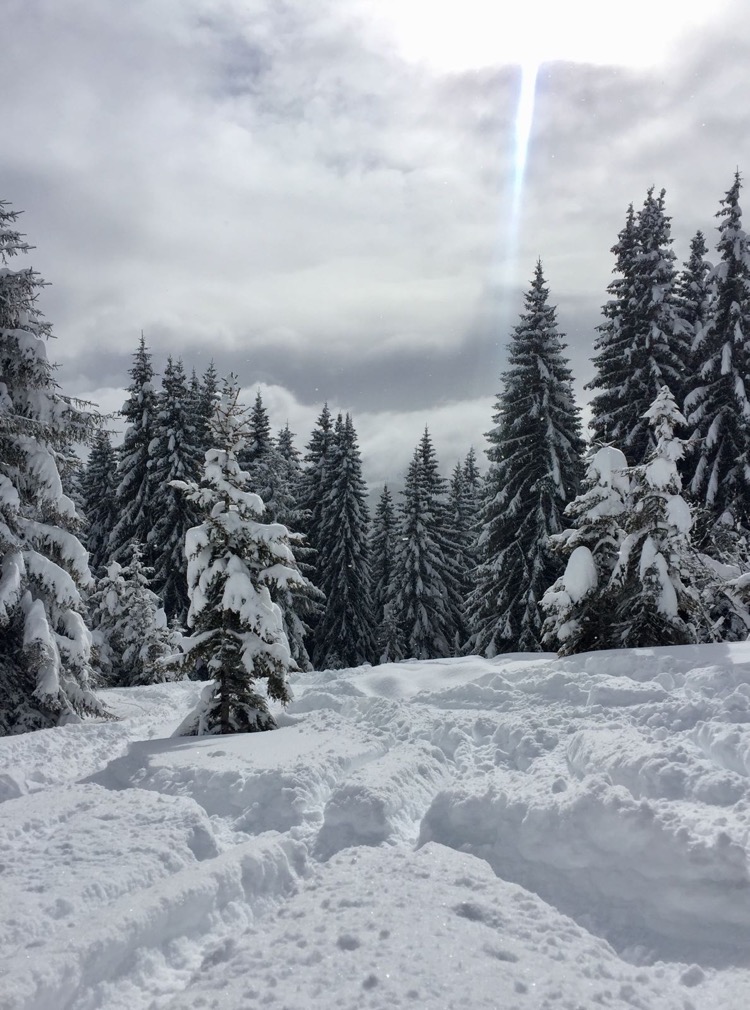 The lifty opened up the doors and we all streamed in and boarded our bubbles. There's always a delay before the 'De La Ponte' chairlift to the top of Mont Chery opens, so we headed for a lap on the 'Grande Ourse' chairlift. Moments later, we were told it was closed due to a broken piste basher on the slopes. We were all starting to flap mildly with excitement levels at fever pitch. Fresh pow everywhere but nowhere to shred! The only option for a quick fix was to blast back to the bottom of the bubble lift on the red Chamoix run. After a mad scrabble to get strapped in, we were off and "whooping" our way back to the telecabine through some nice deep untouched snow!
It got heavier as we got lower and thighs were burning all round by the time we got to the bottom. We jumped straight back on and headed back to the top and on to the black runs on the backside of Chery.
We spent the rest of the morning tearing all over Mont Chery. Hooning at high speed through every bit of fresh powder we could find. We were on the very verge of control (and quite often beyond) as we took it in turns to wipe out in giant explosions of fluffy snow. As the morning went on, we met up with and bumped into loads of other friends and they came and went as did the cloud and visibility.
We found new sneaky cut throughs and people shared knowledge of secret stashes and cheeky tree runs. By lunchtime, our legs were really flagging and we pulled in at Les Chevrelles over on the Col de L'Encrenaz for a bite to eat and to replace some fluids.
Due to the poor snow start to the season and the lifts opening late for yet another year, these Mont Chery restaurants have been hit hard. No lifts = no customers, so if you're coming here for a holiday they're well worth a visit. Do make sure to pop in and support them. We've talked about the Grand Ourse before and can now highly recommend the food down at Les Chevrelles as well!
Predictably, the pace slowed after lunch and people started drifting away for work, business, child collection and other responsibilities. Either that or they were forced off the hill by broken kit or reluctant bodies. I had a couple of runs left in my legs (at least my head thought so, my legs weren't convinced!) After boding farewell to my buddy, I rode back home along the Mont Chery ridgeline to Mont Caly and down. I got stuck one more time within sight of home and barely had the strength to dig my feet out. What a day!!