After our night in a bog standard car park in Miramar, we woke to a text message from Nina's Mum to check we were OK. Not wanting to upset the kids with such despicable news, we got on with our day as planned. Time to check out one of those promising looking beaches of Cap Benat.
We'd driven past the entrance to L'Estagnol beach during our meanderings the night before and we set off back there. The rest of the coast we'd driven from Cannes was lined with homes and businesses but here there were just vineyards, cork trees and olive groves. The entrance to the beach pulled off a quiet road in a vineyard into a gladed parking area. It was €10 to park for the day but there were showers, toilets and two lovely looking beach restaurants. If you went on foot or two wheels, there was no charge. This looked like just the ticket.
We bagged up our beach gear and walked out onto an utterly stunning crescent shaped cove with perfect fine silver sand and crystal clear azure water. The water even had sparkles of silver in it glinting in the sunlight. It actually does as well. Something to do with the mica crystals in the sand.

The water was shallow and clear, just perfect for the kids and we wasted no time getting stuck in to some beach play. The peace didn't last though and as the day went on it filled and filled and filled. We dipped out for a fab meal at the beach restaurant and I had my first 'moules frites' (mussels and fries) of the trip. They were coooked in a crème fraîche and garlic sauce and were delicious! Moules frites is the local speciality here and they do them in a whole range of sauces including curry which I'll definitely have next time!
When we got back after lunch we were surrounded. Personal space no longer applied. Our kids can usually clear a buffer zone but even the family practically resting their heads on our feet weren't deterred. Escaping into the water for a bit of space made it just about bearable.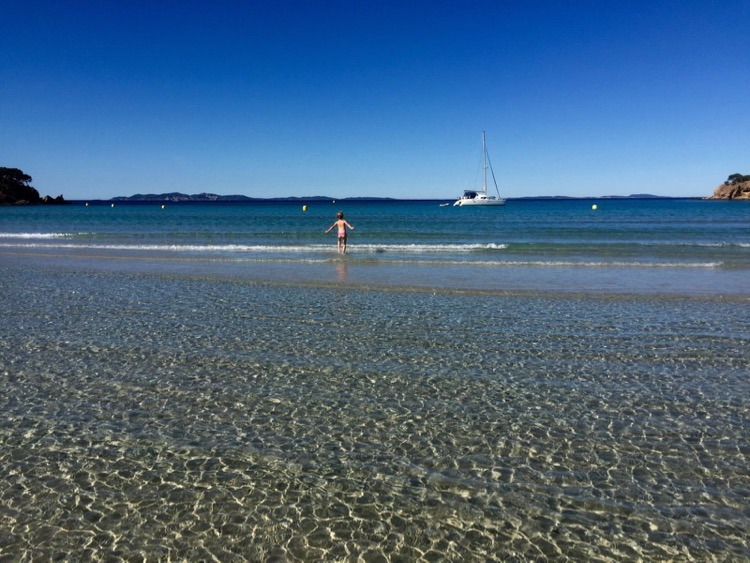 A lovely day and a fantastic beach, even with crowds, which is really saying something for us. It was time to find some accommodation again and we sleepily chugged back towards Le Lavandou. Winding through the bush and cork trees, we passed a small rustic looking site with a 2 star rating. It looked nice, it looked lazy and relaxed. The French love a campsite and many of them are mega affairs with all the whistles and bells. This one, however, looked right up our street and was reasonably quiet. Jackpot!
It was even better than expected. Brand spanking new facilities and spotlessly clean! We set up camp, hung up a ton of washing and fired up the camping stove for supper. Having forgotten to pack any pans, I cooked a spag-bol special in the camp kettle! Magic!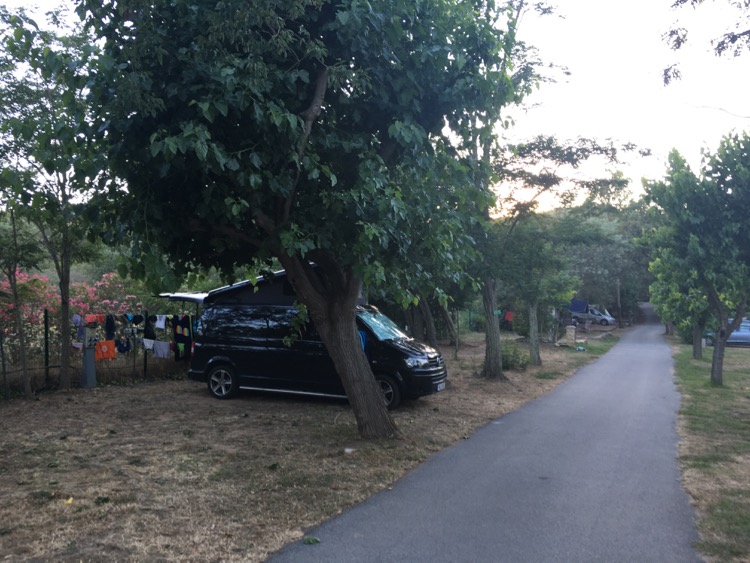 We hit the jackpot again the next day with another terrific beach at nearby Cabasson. Three results in a row. Parking was €8 this time but the man said for €12 you can stay in your camper overnight. Bingo! We'll alternate between this and La Griotte Campsite next time we come.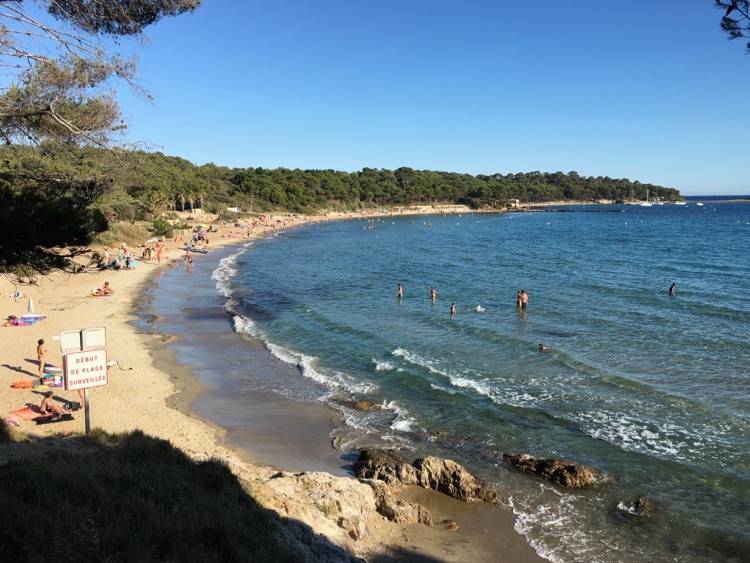 After a few hours in the sun, a couple of swims and the completion of two massive holes in the sand for the kids, I tried to convince someone to come with me for an explore 'round the coastal path. No takers, surprise surprise, so I went on my own and had a bit of a run. I am assuming that the beaches are all open to the public but the land behind is privately owned. In this area it looks like the majority is owned by vineyards and there are only a few that have been opened up with access and paid parking. In between these, there are more beaches which are just as stunning but because of the difficult access, attract a fraction of the people. I'll be dragging everyone along next time! 😉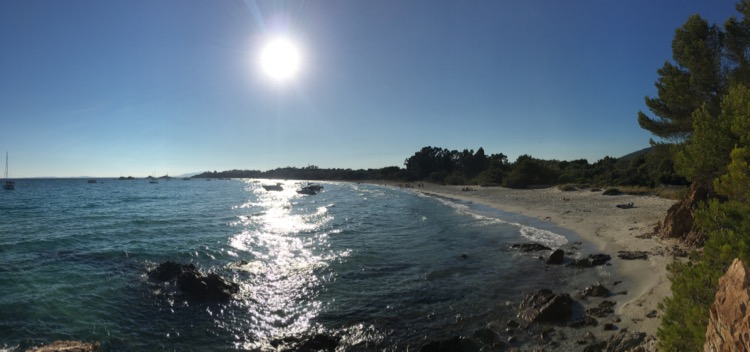 I'm looking forward to another visit to these beaches of Cap Benat, using this area as a base to finish off exploring back along the coast towards Italy. Ever the optimist, I'm sure that this busy week was just due to the Bastille day week and next time it'll be much more sensible…
Last day of the holiday tomorrow before heading home. Not before a sunset hike and a grisly find on our last wild camp!
Don't miss out on any new posts by entering your e-mail address and subscribing to our new post mail-out list.
Feel free to comment below and if you do enjoy the blog, don't forget to like, comment and share. Cheers!