We hit St Aygulf beach for an hour in the morning before treating the kids to the double-scoop ice creams that I'd promised them for being so good, for so long, travelling in the van.
Before we left home, we'd picked out an area on the map where the motorway peeled a bit further away from the coast. Google Earth had revealed some nice looking sandy beaches in this area. Nina's research en-route told us there was a mountain range that separated this piece of coastline from the main motorway. This could be our best bet for some quieter beaches and wild camping. Our destination for the day was set and we'd have a nice little drive though St Tropez on the way.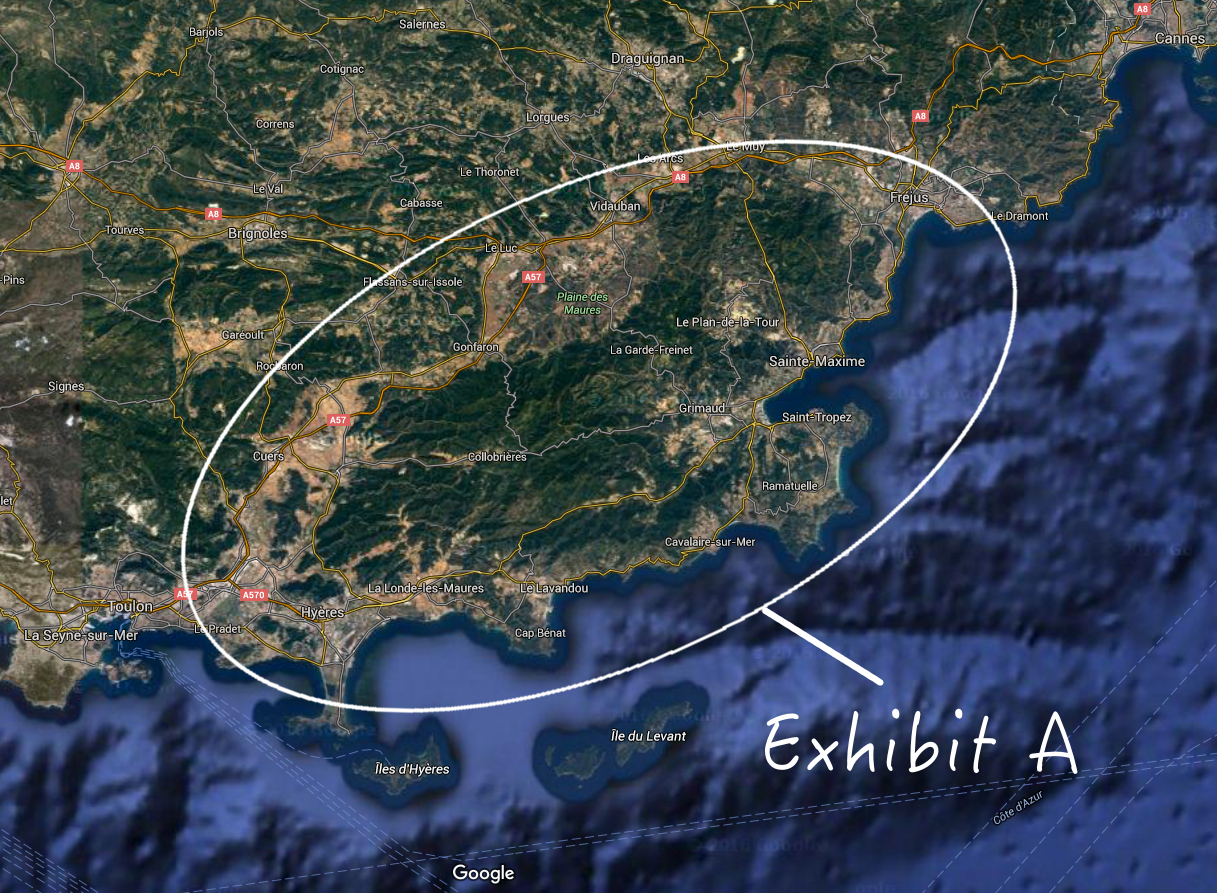 As you drive towards St Tropez, you can see the mega yachts moored off the coast and the size of some of them is incredible. I looked up these types of yachts for sale and to rent this week and found one that sleeps 16 at a mere €1,000,000 a week! Gulp! "This time next year, Rodney".
Anyhoo, it's nice to have a nosey and after a little pootle around some of the backstreets of St Tropez, we found ourselves driving along a lovely narrow street. It did seem to be getting narrower though which was a slight cause for concern and the only other vehicle was a beautiful old Bentley about a hundred metres ahead. He appeared to be struggling with a tight dogleg between the shops and buildings ahead. There were also a few very smartly dressed people who were having to squeeze against the walls as we drove past. We got to the dogleg and waited patiently while more rich and beautifuls squashed themselves against the walls for us and we only just squeezed through. Phew! Panic over…
We rounded the next corner and the panic returned like a slap in the face! We'd driven out onto the main marina of St Tropez! There were THOUSANDS of people wandering around, lunching in cafes and looking at the endless line of superyachts moored up to our right hand side. The Bentley had disappeared completely and there were so many people that we couldn't see whether there was even a road in front. The absence of any other cars suggested there probably wasn't but we crept forward though the crowd and it slowly opened up and swallowed us. I couldn't really take in the spectacle properly as I was so busy trying to make sure I didn't run over anyone. In hindsight, I wish Nina had jumped out and got a photo of the van in amongst all this… and I wish I'd washed it.
We played it as cool as possible and finally made our way out and had a good laugh at our first memorable visit to St Tropez.
Back on the open road, we set our sights for Le Lavandou. We wanted to do another wild camp and having realised this wasn't going to happen near the coast, we'd found a track on Google Maps. It appeared to snake into the mountains above Le Lavandou and after picking up some supplies (not easy at 7pm on Bastille Day) we wound up through town to look for it. We found it but it was quite exposed and access was strictly prohibited. Damn! Back to the drawing board. The drawing board consisted of driving aimlessly west-ish for the next hour or so, through vineyards and olive groves without finding a single suitable place to stop. Feeling pretty pooped, we eventually followed the crowds and drove into a town called Miramar.
The entire population of the surrounding area seemed to have the same idea and traffic was queuing into town and people were filtering through the streets and towards the port for the Bastille Day celebrations. We joined the queue of cars and ended up in a large car park. Sod it! This would have to do for tonight. We scrubbed up and joined the stream towards the port. We'd heard there were fireworks but after (another) pizza and a French staple of 80's style live music (imagine Bucks Fizz with Bryan May on drums), we flaked out and went back to the van. We must have been tired because if there had been fireworks, we didn't hear them.
I did hear my phone buzz at 2.00am though with a text from my Mum saying "There's reports of an incident in Nice, are you all OK?". I checked the news, reassured Mum and tried to get back to sleep feeling saddened at the pain being endured just up the coast.
Over the next couple of days we found the gems we'd been hoping for.