After months of planning and preparation (not many months to be fair), we've finally arrived in Les Gets!
We've no place to stay, not even for tonight, we're tired and a little anxious but excited and the next chapter of life is pretty much a blank canvas. Happy days!
Quick question though… 'Where's the snow?!'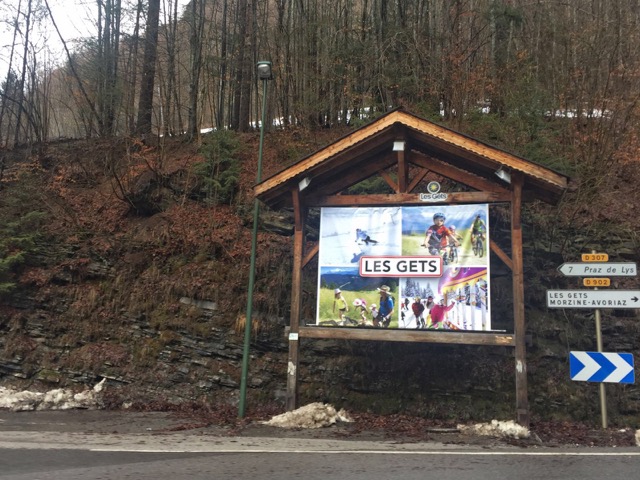 The snow situation is pretty desperate for a place who's economy relies largely on the winter season. The drive in was a bit depressing and the lower pistes on the Mont Chery side of the village rising up to the west are brown and bare.
We parked up in a small car park on the opposite side of the road from the library and the kids tumbled out and headed for the nearest pile of snow. We've been promising them snow for weeks and T has constantly been telling us that we have to send a photo to Ruby in his class who says it only snows on Christmas day in France!
Iz came clumping back to the van in her brand-spanking new snow boots but a shade of orangey brown caught my eye. "STOOOOP!.. Don't move!" Time slowed and my consciousness zoomed into focus on the new 'chaussures'. I realised to my dismay that both boots were coated in dog crap. Noooooooo! Dog poo is my kryptonite. I love dogs but I haven't given in to the pleas of "can we have a dog!" (yet!) purely because of the poo. On family walks I lead the way, tirelessly pointing out piles of turd for everyone to avoid.
As my perspective began to pan out and my eyes and brain assessed the whole area, time moved into slow motion again and I realised that, like a scene from Jurrasic park, we were surrounded! Everywhere I looked there were small piles of slimy brown poo!
Weeks of snow had melted to reveal layer upon layer of buried wretch-inducing little parcels.
Iz's new boots have some fantastic deep treads for extra grip in the snow and my first 15 minutes in Les Gets were spent snapping twigs off a tree and scraping it out of them whilst trying not to gip at the smell. A smell, I might add, that seems to linger in the nostrils for the rest of the day!
Welcome to Les Gets!
I'm feeling much better for getting that off my chest…
Next stop – the tourist office for somewhere to stay. The kids, being kids, didn't learn the lesson or pay any attention to my chunnering and proceeded to head for every pile of remaining snow in sight which, it turns out, are the accepted burial grounds for K9 feacal matter. Ah well… Deep breath and move on.
We popped into the tourist office and headed over to the accommodation reservations desk. A bit of rusty Franglais and couple of hours later, we were unloading the contents of our van into a lovely little flat 300 metres down the road and breathing a sigh of relief. We could only book it for the week but it gave us a base to start getting ourselves organised properly.
Another hour later and the old lady who owns the whole building (living on the first floor and letting a shop on the ground floor and two apartments, including ours, on the second) tapped on the door and presented us with a jar of her homemade jam with lots of smiles and fussing over the kids in French. Lovely!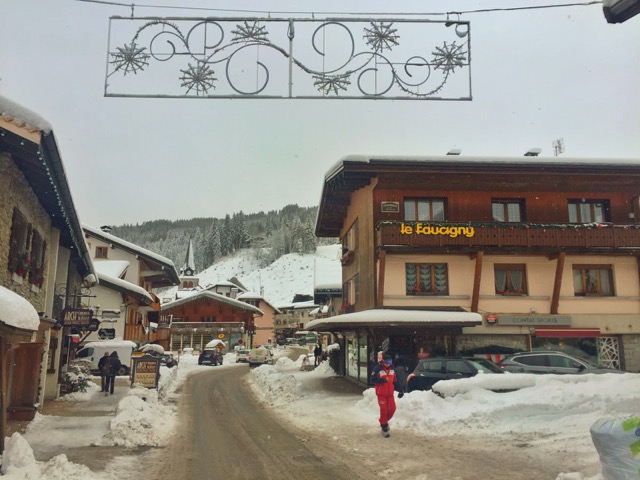 We quickly discovered that this building was hotter than the sun. The heating didn't respond to being turned off and the place was hot enough to biscuit-fire ovenware!
We didn't hang around for too long before heading out for some cool fresh air, a walk around town and a very tasty pizza at a nearby restaurant, L'Op Traken (we'll be back there!). Stuffed and satisfied, we headed 'home', changed into our shorts and had couple of cold beers before hitting the sack ahead of our first day's boarding in the morning!