We've spent a year in Les Gets! And what a year! In fact, last Wednesday was the anniversary of our arrival in Les Gets but it's been another busy couple of weeks and we've only just got round to finishing this post!
I had a couple of mates here over the weekend for four days of full-on boarding and a good catch up. We had a cracking few days with crispy cold temperatures keeping the snow conditions very nice indeed! A couple of gorgeous bluebird days allowed us to make the most of eating, drinking and ripping our way round the Portes du Soleil. I dropped my mate Baz back at Geneva airport on Monday morning and drove all the way back to Les Gets in the rain!.. Eek!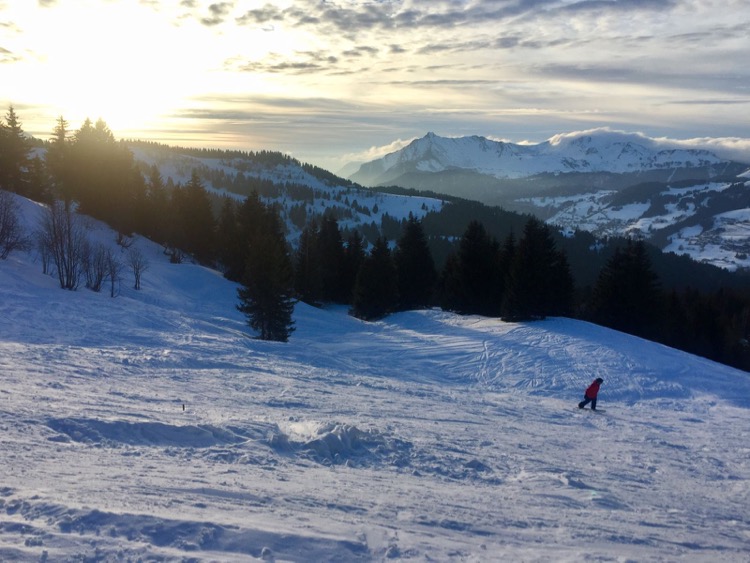 The temperatures had turned and they decided to stay that way, bringing rain with them for the next two days! The dismal weather ravaged the limited snowpack and the heartbreaking soundtrack of water cascading from the gutters returned to permeate our sleep. Anxious faces returned to town…
By the time we got to Wednesday, everywhere was looking just a little bit ropey again, pretty much the same as it did when we arrived last year. Ironically, just like last year, we were also back in accommodation hunting mode. When we signed up for our apartment long-term, the owners had already booked to come and use it during February half term. Their friends are renting neighbouring apartments so we need to move out.
We've known all along where we stood and that this was on the horizon but given that it's the busiest and most expensive week of the season we hadn't got anything lined up yet. We knew that if push came to shove, we could always stay a bit further out and just suck up a lengthy school run for a few days. Luckily, our great French buddy dudes next door kindly agreed to store most of our 'stuff' for the week and after a few leads fell through, another friend hooked us up with a nice little apartment in Morzine for the week! Result!
The kids are beside themselves with excitement to stay somewhere else for a few days, so we're treating it as a chance for a good clear out and a family mini break – of sorts! 😉
With somewhere to stay in the bag, the rain kindly stopped and the skies cleared. No school on a Wednesday afternoon meant there was no better way to celebrate our 1 year anniversary than with a family shred and some airtime in the Chapelle snowpark!
We loaded to van, picked the kids up, grabbed a bite before driving up past Lac Montriond to the Ardent lift. 20 minutes later we were ripping through the park in blue skies and sunshine. Happy days!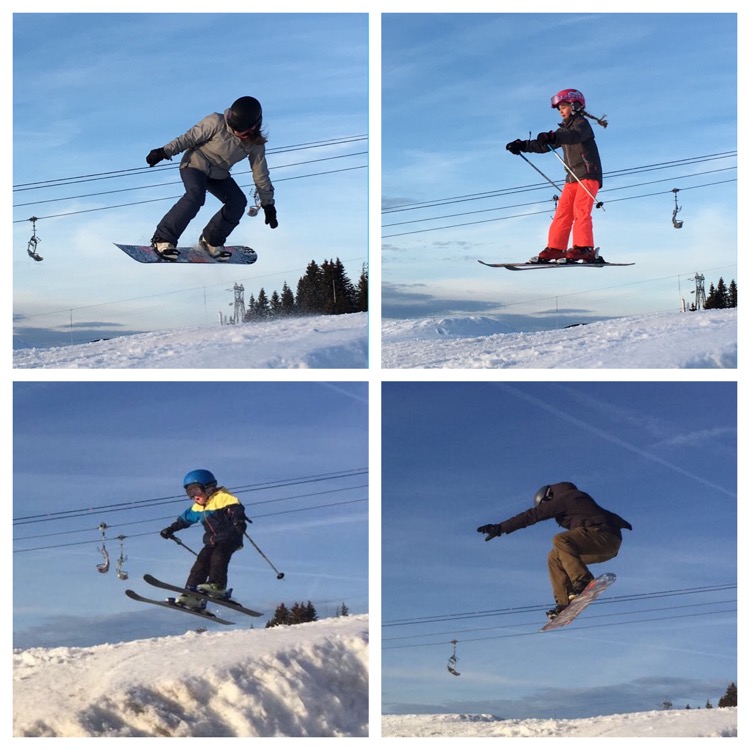 Reflecting on a year of being here, a friend of ours suggested we should put more of the bad bits of our experience out here in the blog. To be honest though, there aren't that many and we try not to dwell on the bad bits in life any longer than is necessary. We talk about it, figure out what we need to do to improve things and look forward again, finding new good stuff to get excited about.
A ski resort is an interesting place to live though and it's not always easy. The cocooned nature of living somewhere like this in the mountains as well the extreme contrasts from season to season AND the changes in vibe from week-to-week, even day-to-day(!), can leave you feeling a little off balance. Different demographics and nationalities are constantly arriving and leaving in varying numbers. Throw in the unpredictability and importance of the weather conditions and the dynamic is in a constant state of flux.
Another challenge is the fact that the majority of people here in the winter and summer are here for a weeks holiday. We, on the other hand, are going about our day to day lives trying not to get carried along in permanent vacation mode (one day!). A lot of people reach a point where they just need to get out of the mountains and away for a few days. Some have moved away for good and just pop back to visit. 'Mountain fever' they call it. Despite all the amazing advantages of living here, there's no doubt we have to make a concerted effort to keep things running smoothy.
Life's always got it's ups and downs and although we've mentioned a few along the way, (did I mention dog poo? ;D) we generally like to focus on the positives and even laugh at the crap bits if possible. There's plenty to worry about in the world these days but dwelling and stewing on them won't make any difference. Look for solutions, focus on the good stuff, be grateful, be happy, be kind and love life! That's our mantra.
And on that note, there's more snow on the way!!! Wahoo!