Not gonna lie… I'm missing those bike lifts, big time! The old 'inter-season belly's creeping in. 'Get down boy!'
Apart from the odd day here and there, the weather's been a bit crumby recently, which saps a bit of the motivation to get out and pedal. The thought of getting blasted by accident by a hunter drains a bit more.
I've been out practicing my wheelies and endos with the kids but an e-bike's the future. That wouldn't help with the weather, or the hunting, but maximising the fun-to-effort ratio would help overcome the inertia and get me out of the door and up the hill.
I did go trawling the bike shops at the end of the season for ex-rental e-bike bargains but €3000 seemed to be the lower limit. You can get a brand-spanking new bobby-dazzler with all the warranties for not much more. But… The kids'll be needing another round of bigger winter kit soon and I'm waiting for the new Shimano motor to make it onto the YT Decoy, so project e-bike remains on pause.
The leaves are turning, the ice rink's under construction and summer flower beds are all getting pulled up. Off-season construction is full-steam ahead as usual with some big projects taking shape and evolving the face of Les Gets once more.
The most prominent and obvious developments this year are Kinabalu next to Annapurna near the Col des Gets roundabout. Several nice looking chalets are nearing completion on the Route du Rocher. The humungous new 'Stella' on the site of the old Hotel Stella has finally sprouted above ground and is already two stories up.  Then, opposite Carrefour is the new 'Vieux Chêne' development which will also be The Boomerang's new home from this winter onwards.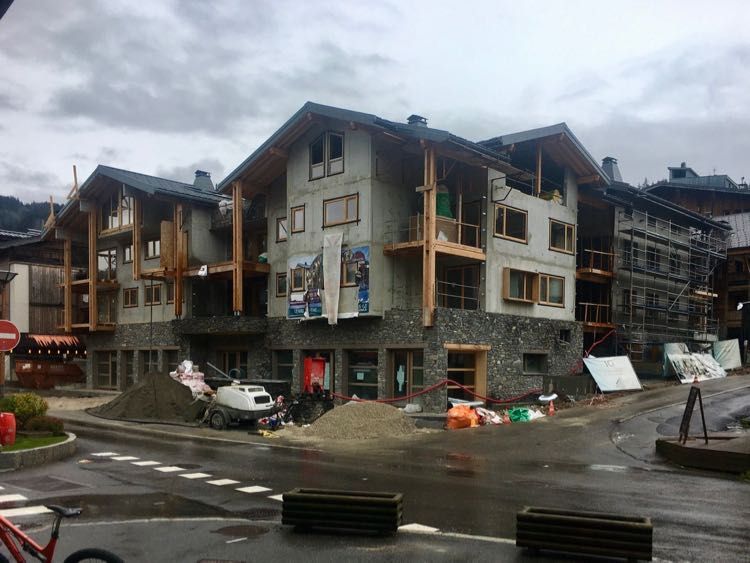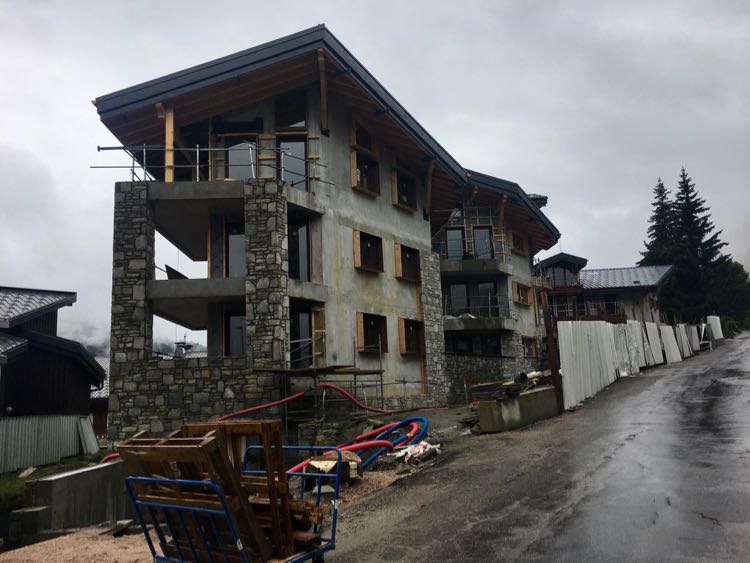 We did a post with a little 'drive around' video in September 2018 showing the developments going on then and maybe we should do another because so much has changed in just 2 years.
You probably also saw on social media that we've been getting a bit more snow. Not really much to write home about yet and it's been melting/washing away quickly but we did have a drive up to Avoriaz to see what it looked like up there and to lob a few snowballs. Whilst I'm reluctant to see the back end of summer, it was nice to be messing around in the white stuff again.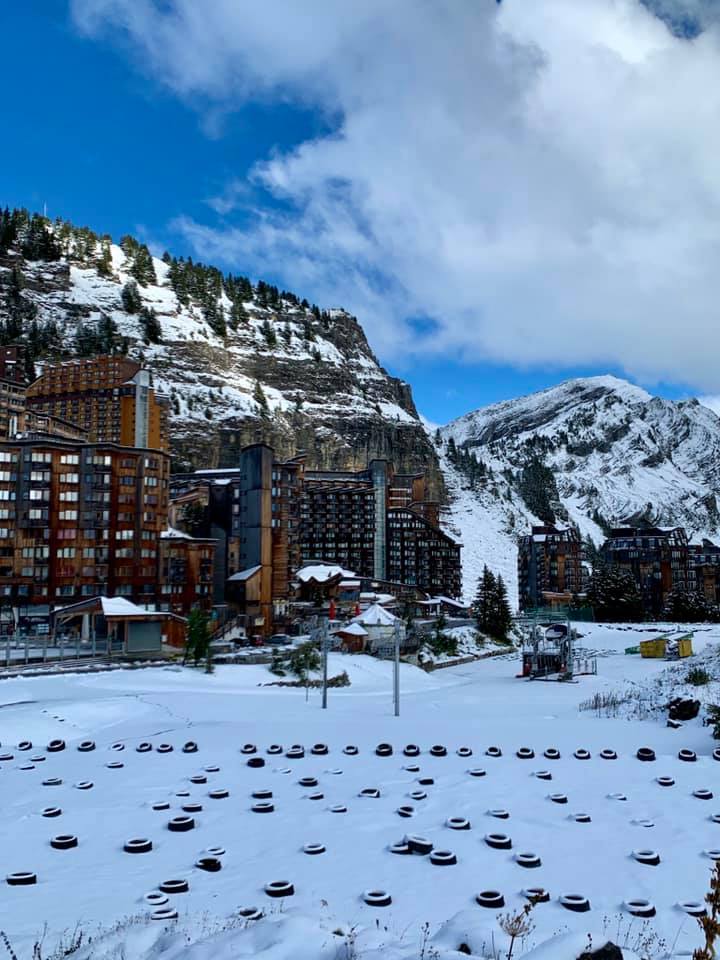 Talking of winter, people keep asking: "What's it looking like for winter?"
Well, from here it seems to be 'all systems go!' As far as the mayors, towns and businesses are concerned anyway. The winter market is essential to the survival of a lot of local businesses,  especially in the face of uncertainty and as we've seen over the summer, if they can open to visitors, they will. France is the most visited country in the World and obviously winter's a biggy, so it's a pretty safe bet that the French government will be making every effort to welcome people in when the time comes.
If you're a UK visitor, it'll likely be the UK's position that will have the biggest impact. It's all kicking off again here and there so we'll have to see how the next few weeks pan out and what restrictions or quarantine Boris & Co decide on at the time.
This is also a very uncertain time for lots of businesses out here with the looming reduction of freedoms and access for UK workers and Brit-run businesses in the EU. The effects of the new reality are mounting and are causing a considerable amount of additional anxiety for a lot of people.
Despite all this, they're doing all they can to plan, mitigate, improvise, adapt and overcome and there's all sorts of guarantees and incentives from accommodation providers, lift companies, ski instructors and other businesses to try and reduce the risk for customers and reassure people about booking in advance, but I guess we'll just have to see.
The resorts have also published information on the COVID-19 measures that will be in place. Here's a link to Les Gets'.
On a lighter note… We had a nice little day out over in Les Contamines beyond Saint Gervais Les Bains the weekend before last. There was an event, offering biatholon and ski jump training. T loves a bit of airtime and throw in some air rifles (which Iz turned out to be a sharp shooter with) and you're on to a winner.
I was pretty nervous… T's first time back on skis after finishing last winter out-of-action for a month, with a jump-related knee injury, would be sending it off a ski jump! 😬
I didn't want my nerves to affect his confidence and kept my mouth shut. Off we went, nailed it and loved it! Check out Eddie the Eagle MKII below. He fancies his chances on the big one next time!
As I'm writing this, T's away at a trampoline park for the day and and the girls have gone shopping, it's tipping down outside but d'you know what? I'm off for a ride! Catch you in a bit!..
…
I'm back! And jeeze! This isn't supposed to be a 'law of attraction' related post but check this out:
May I draw your attention to my comments in the early stages of this post… I'll give you a re-cap:  "Wah wah… I miss the bike lifts – Wah wah… It's been rainy and cold – Wah wah… Hunting – Wah wah… I want an e-bike."
A lot of negative bike-related vibes there eh? Well:
My pedal crank came loose, almost to the point of escape… Twice.
I had to do extensive seat adjustments after the angle I've had it at for car park jibbing nearly tore me a new one when I slipped on the climb.
I took a rogue, trail-spanning bramble to the face, at speed which drew blood. Not much to be fair, but blood.
I rode straight through an electric fence that I didn't see until it was too late… I was bleating about an electric bike, and I got one… Sort of… Careful what you wish for, eh? 🤔🤣
I stopped and checked the fence and it looked OK apart from a couple of strings lower down so I'm going to have to find out who's it is, 'fess up and maybe cough up. If it's yours please give me a shout.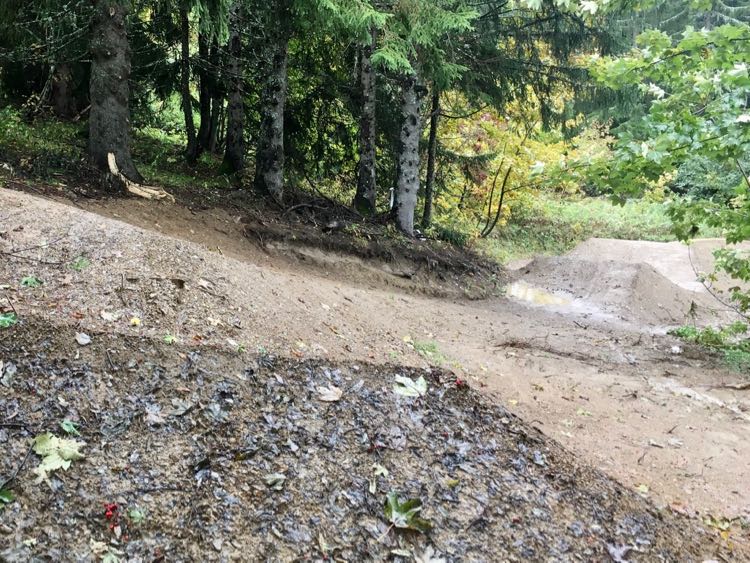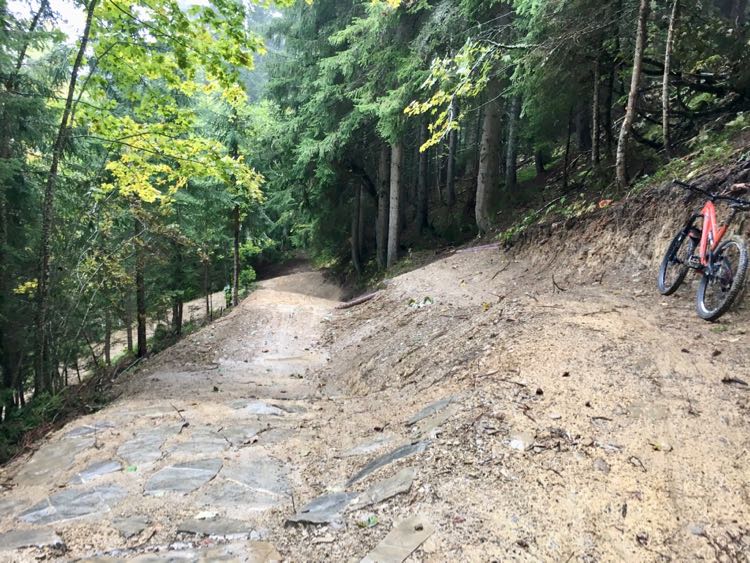 Still a fun ride though. Nice bit of exercise and I had a little nosey at the new look 'Dans Le Gaz'. Yep, the 2020 Bike Park Les Gets revamp continues and has spread across the valley to Mont Chéry now. Looks like the changes will be pretty sweet, once it dries out and beds in.